Portugal Property Investment Pack 2021
Editorial Inspiration Lifestyle
Ideal Homes Investment Pack 2021 - discover the property hotspots presenting the best opportunities in 2021. Find out how to invest with just 10% deposit and learn how to achieve 10%+ rental yield on properties in the Algarve.
Property in the Algarve
is generally considered a good investment. One of the most popular tourism destinations in the world, Portugal's sunny southern region is also a fabulous spot to retire to, raise a family in, or even work remotely from. As a result, property investment here can yield excellent
rental returns
and with the expert guidance of the team from Ideal Homes, you can
buy low, rent and then sell high
. With financing available (80% for non-residents and 100% on some bank repossessions) you can use the bank's money to gain return.
The Investment Pack includes a detailed
case study of a client who made €200,000 in less than three years.
Ideal Homes International
is a forward thinking, independent real estate agency that works hard to ensure that your property investment is as profitable as possible. They can guide you to the best opportunities, getting you in ahead of the general market.
Ideal Homes Mortgages
can assist with financing, and
Ideal Homes Rentals
will take care of the rental operation for the investment property, generating revenue for you from your property.
See the information below from Ideal Homes about their Investment Pack 2021.
To receive the free Invesment Pack, simply sign up
here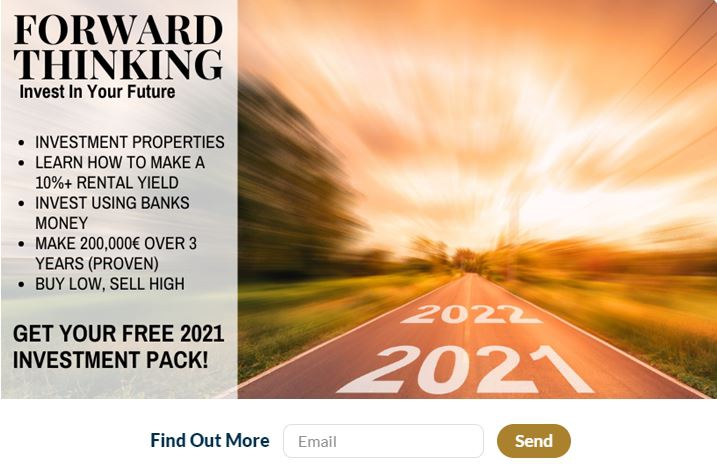 ---
Ideal Homes releases its new and updated 2021 Investment Pack.
Their investment pack includes:
- All of the property hot spots, where you can buy property with discounts up to 30%
- A detailed description on how you can invest with only a 10% deposit
- A case study of a client who made 200,000 euros in less than 3 years.
In 2021 their investment model is "Buy Low, Rent, and then Sell High". The aim is to offer you a safe investment that will give you a greater return than the banks can offer, whilst using the bank´s money. In the guide, they explain how you can borrow up to 80% as a non resident or 90% as a resident, with interest rates at 1%. They´ll also give you access to bank repossessions, where the banks are willing to offload their properties with up to 100% financing.   
Ideal Homes has a massive buying power in the market, and pre arranges developments in the market with pre sale discounts - an example of this is our clients have bought properties worth 450k at 350k, in amazing locations. 
Hands off investment
Ideal Homes as a rentals division looks after your property 52 weeks of the year. We also set the property up for rentals and can do this without you ever stepping foot in Portugal, only charging 10% commission.  
Freedom
With 2020 feeling like you have a lack of freedom, you now have six months to apply for Portugal's Golden Visa. Ideal Homes has the expertise to assist you throughout the process, giving you the freedom to move around the 26 countries of the Schengen Area.   
---
You may also like: