Top 10 Winter Watersports and Boat Tours in the Algarve
Adventure Sports Top 10
Our Top Experiences and Tours in Algarve:
If youʻre booking your trip to Algarve last minute, we have you covered. Below are some of the top tours and experiences!

Thinking about the Algarve as your next holiday destination? Whether you are visiting this stunning region of Portugal during winter or summer, you shouldn't leave without enjoying the Atlantic coast. Many watersports and boat tours in the Algarve are more suited to the summer months, but quite a few can be enjoyed all year round.

To help you make the most of the Algarve's breath-taking Atlantic coast during the low season, here are some top boat trips and sea experiences to enjoy during Fall and Winter.

Surfing in the Algarve

There are some amazing surf experiences to be enjoyed in the Algarve! The best surf spots tend to be along the west coast - the Costa Vicentina, although there is some great surfing on the south coast too, particularly for more novice surfers.

Check out the

best surf spots in the Algarve.

At Carrapeteira on the west coast, you can join a surf lesson where you'll learn the basic surf techniques, to stand up and enjoy a wave. Perfect for beginners.

Find out more about

surf lessons on the west coast

And if you are a more experienced surfer, there is a range of surf camps and schools from Sagres in the South, and along the Costa Vicentina that offer surf holidays all year round.

Scuba diving

The Algarve is an increasingly popular destination for divers. The conditions are generally good for diving all year round, and there are some superb dive sites - everything from wrecks to artificial and natural reefs, and, since September 2023, there's even an underwater art gallery!

Check out these

top dive spots in the Algarve

Find out about the

EDP Art Reef

just off the coast of Albufeira - made up of 13 pieces by Portuguese artist Vhils. The submerged art is the foundation of what will become a thriving marine ecosystem and a unique destination for divers, the only one of its kind in Portugal. Initially created by man, it is nature that will continue to create the beauty of the reef.

There are dive courses available in Albufeira too, for both beginners and experienced divers.

Find out about

EasyDivers Scuba Diving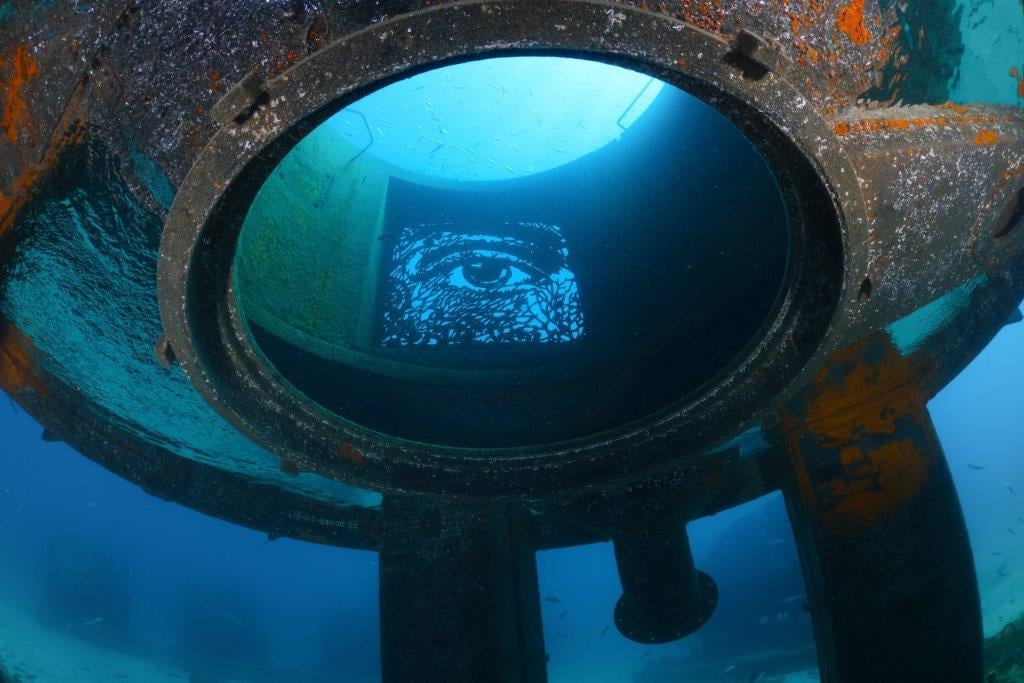 Grotto tour of Lagos
The caves, grottoes and rock formations of the western Algarve are renowned worldwide.
The scenery is magical and the water is incredibly clear. Join
Bom Dia Boat Trips
on a fun exploration of the amazing landscape that is
Ponta da Piedade
. Departing from Lagos marina, sail the coastline and feast your eyes on the stunning scenery. These are short 1 or 2 hours boat trips, perfect for winter sailing, or a short summer sea adventure.
Find out more about
Bom Dia Boat Trips
Find out more about
Ponta da Piedade
Kayak tour of Lagos
Did you know that Lagos has won multiple tourism awards thanks to its stunning and unique rock formations? If you're looking for a good way to see Lagos' impressive sweep of coastline while keeping fit, grab a kayak! A kayak tour of Lagos allows you to discover the coastline from
Lagos
to Ponta da Piedade by sea, under your own steam!
Travelling by kayak is a quiet and tranquil way to appreciate the natural environment and to admire the beautiful cliffs, caves and hidden beaches. The tour takes around two and a half hours and includes stops at secluded beaches, where you can rest and enjoy a refreshing swim.
Find out more about Kayak Tours with
Ponta da Piedade Tours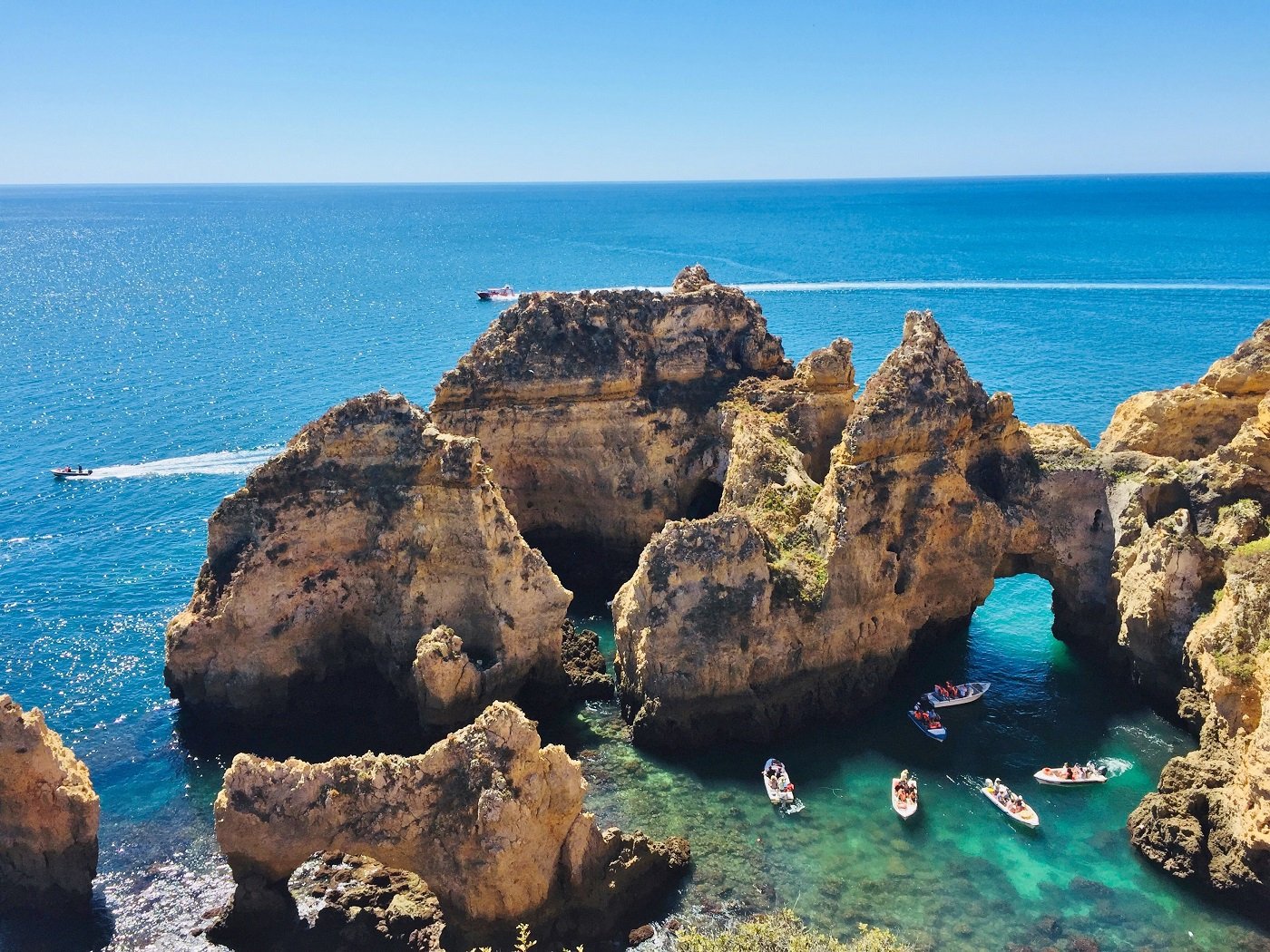 Benagil Boat Tour
If we're talking about caves in the Algarve, we have to mention the marine cave of Benagil. The
Benagil cave
is the largest and most impressive in Portugal and it's an instagram star too! A huge, domed cave it is, quite simply, spectacular.
During the Fall and Winter one of the best trips to the Benagil cave is on a speedy RIB from Portimão. Zip along the coast, admiring the wonderful scenery as you pass Ferragudo, Carvoeiro, and the many caves and sea grottoes that are found on this part of the coast, before reaching the marvel that is Benagil.
Find out more about
Benagil cave boat tour from Portimão
Dolphin-watching boat trips
Dolphin-watching is a genuine adventure, as the dolphins are living in their natural environment and we are lucky enough to cross paths with them. Thanks to experienced skippers, the success rate in finding dolphins is around 90%. There's always a small risk of not encountering any marine wildlife, but the boat trip is a great experience in itself. But just in case you don't see any dolphins, it is possible to book a trip with a
money-back guarantee
. The rib is powerful, fast and a lot of fun, and there are some amazing sights to see along the way. The trips are usually about 2 hours long, making them a super winter boat trip.
There are dolphin-watching boat trips available across the Algarve.
Find out about
dolphin-watching boat trips from Albufeira
Find out about
dolphin-watching boat trips from Portimão
Find out about
dolphin-watching boat trips from Lagos
Caves and dolphins from Albufeira
This trip is the perfect combination of the two most popular things to do in Albufeira: cave boat tours and dolphin watching. This boat trip is a great way to enjoy the remarkable coastline between Albufeira Marina and the Benagil area. During this tour you will have the chance to discover beautiful caves and rock formations, including majestic sea-arches at Praia da Marinha and the wonderful Benagil cave.
On the return journey, the boat travels away from the coast to start your search for wild dolphins. This trip is a real adventure, however, while we can't guarantee that you will see dolphins, the odds are pretty high.
Find out about
Cave and Dolphin Boat trips from Albufeira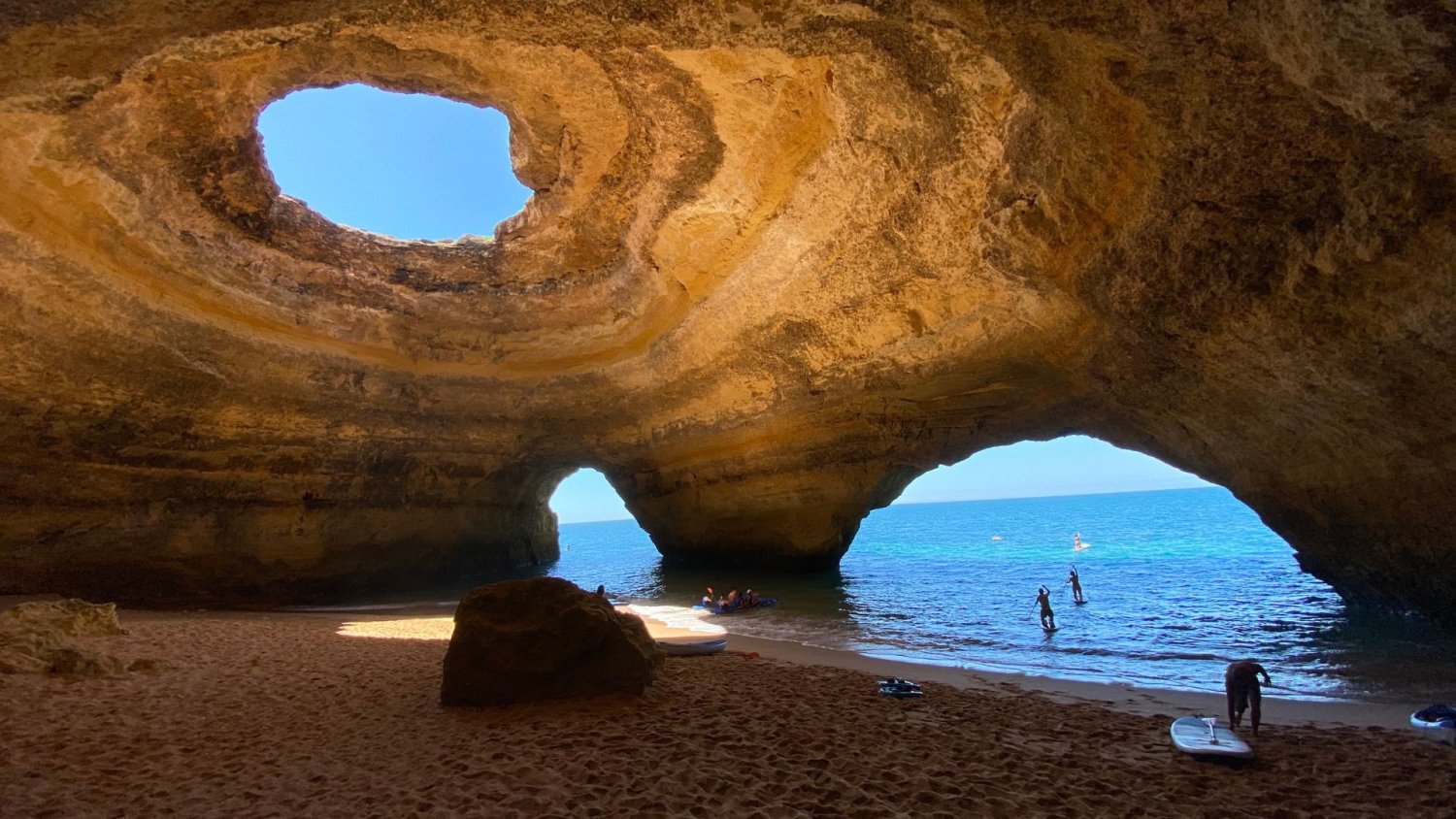 Fishing Trips from Vilamoura
The waters off the Algarve coast are rich in sealife. The fishing is good here all year round, making this a great option for a winter or fall sea activity. Reef fishing and Shark fishing (catch and release) experiences are available all year round with
Cruzeiros da Oura
, departing from Vilamoura marina. the experienced crew know the best fishing grounds and they supply all the equipment and bait required.
Find out about
Fishing Trips from Vilamoura
Sail boat trips from Portimâo
There is something quite special about cruising the ocean powered by the wind. The Santa Bernarda is quite a unique boat, Like something out of the Pirates of the Caribbean, this is a graceful wooden boat with two masts and seven sails, cutting a majestic swathe through the Atlantic waters. The Santa Bernarda offers regular boat trips along the coast all year round. Wind and motor power is used, depending on the conditions.
Find out more about
Santa Bernarda boat trips
Cruise the Ria Formosa
The Ria Formosa is a protected area that runs from Quinta do Lago to beyond Tavira. It is an intricate maze of lagoons, salt marshes, and pristine islands, a haven for both avian and marine life, and a tranquil refuge for harried humans. The Ria Formosa captivates visitors with its natural beauty, showcasing an awe-inspiring tapestry of diverse ecosystems that teem with remarkable birdlife and sea creatures.
See our
Guide to the Ria Formosa
There are walking routes and biking paths to explore the area on land, but nothing beats the discovery of this unique spot by boat.
Sunset Sailing
runs regular boat trips from Faro, setting off to explore the Ria Formosa islands, such as Ilha Deserta where there is only 1 man-made structure (a restaurant that serves fabulous seafood!), and Culatra, where a traditional fishing community still lives.
Find out more about
Sunset Sailing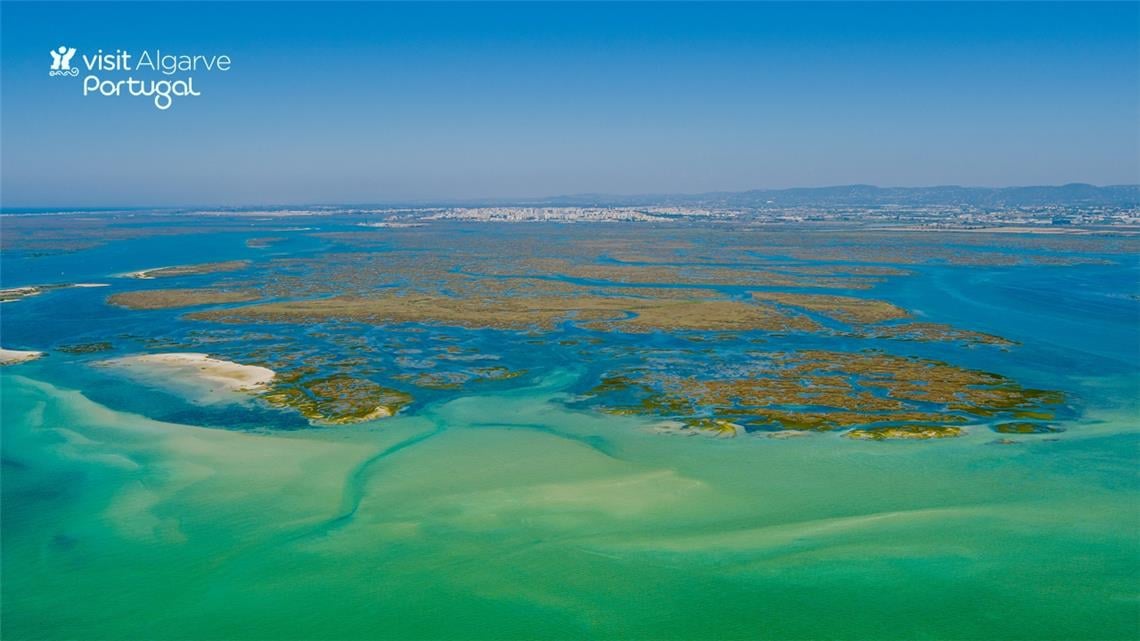 Bonus Tip! Coasteering between Lagos and Sagres
Ever heard of Coasteering? It's an amazing way to explore the Portuguese coastline. Coasteering involves moving along the coast between the tides of the stunning rocky shore. To progress along the shore, you'll be swimming, climbing, jumping into the water and walking a little too.
For adrenaline lovers, Coasteering is the perfect way to explore the coastline, hidden beaches, amazing cliffs, rock formations and clear ocean waters, and to learn about the marine environment and some of the local traditions.
Coasteering is one of the ocean activities that can be enjoyed all year round, depending on the weather and ocean conditions.
Find out about
Coasteering near Lagos and Sagres