Algarve Festivals
The best festivals and fairs all year round
Find the
best festivals in the Algarve
. Hot list of summer music festivals, concerts by the beach, Black & White nights, Medieval festivals, food fairs and sporting events - all year round you can find great festivals and events in the Algarve, from the traditional to the modernly edgy. Below you wil find information on the best
annual festivals in the Algarve.
This information is updated regularly so check back for new dates and details or check our
Events Calendar
to find out what's on.
Summer Festivals in the Algarve
Craft Beer Fest at the Biergarten – 1st June 2018. Free entry
The first edtion of the
Porches Craft Beer fest
has live music by Dead Combo, plenty of cold craft beer and lots of tasty beer for food.
Carvoeiro Black & White Night – 16 June 2018. Free entry
The first big party of the summer, there are several stages with live music through the night at
Carvoeiro Black & White Night
. Plenty of street entertainment food and drink. The main festival area is at the square by the beach. The party kicks off at 8pm and carries on into the early hours.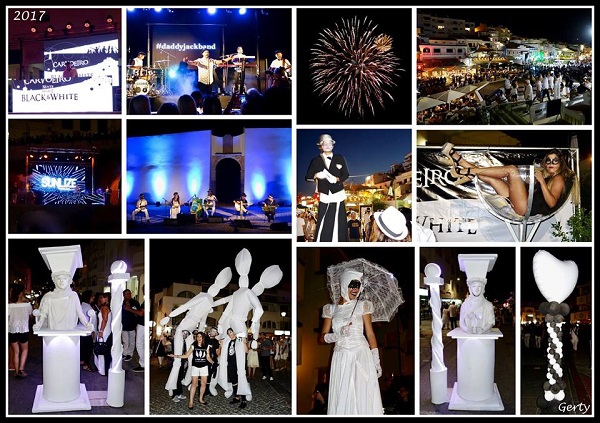 Carvoeiro Black & White Night
Festival Med, Loulé - 28 – 30 June 2018. Ticketed entry
Festival Med World Music festival in Loulé
with live performances over 3 days on the 9 stages within the area. Tickets are available online. Under 12s go free.
Albufeira WaterFest – 30 June 2018. Ticketed entry
Albufeira WaterFest
is the biggest boat party of the year. Board the
Algar Experience
catamarans for a boat party where other catamarans and private boats can join in, with DJ sessions transmitted simultaneously to all the boats. Over 18's only. Tickets available from Algar Experience.
Alameda Beer Fest - 5 - 7 July 2018.
This years edition of the
Alameda Beer Fest
has over 200 varieties of beer on offer! Sample some amazing craft beers from around the world as well as some local stars, brewed in the Algarve. There's plenty of live music to keep the party going.
Silves Beer Fest - 12 - 15 July 2018
A great
annual beer festival
in the historic town of Silves. Entrance to the festival is FREE and visitors get the chance to sample some unique flavours of their favourite brew. There's also crafts, gastronomy, workshops and showcooking, plus a programme of live music to keep everyone entertained.
Baixa Steet Fest, Faro - 13 July - 24 August 2018
Baxia Street Fest
is an international festival of street art held every summer in downtown Faro. The event attracts a wide varierty of street entertainers from busking musicians, living statues and fire eaters, to the unique and bizare! Great fun and well worth a visit!
Al-Buhera Festival, Albufeira - 25 - 28 July 2018
Albufeira's Fisherman's Square is transformed into a world of Arab culture for the
Al-Buhnera Festival
. There are live concerts, numerous stalls displaying beautiful pieces of craftsmanship, from leather and cork goods to jewelery, and plenty of food and drink vendors offering regional delicacies, such as cheese, honey, chouriço, sweets and regional wines.
Silves Medieval Festival - 10 – 19 August 2018. Ticketed entry from €3.
Probably the biggest and most popular summer festival, the
Silves Medieval Fair
should definitely be on your list of things to do in the Algarve. The old Moorish capital of the region turns off its lights, hits the switch on all things neon, dresses in medieval garb and celebrates the town's rich history in a lively and fun fair.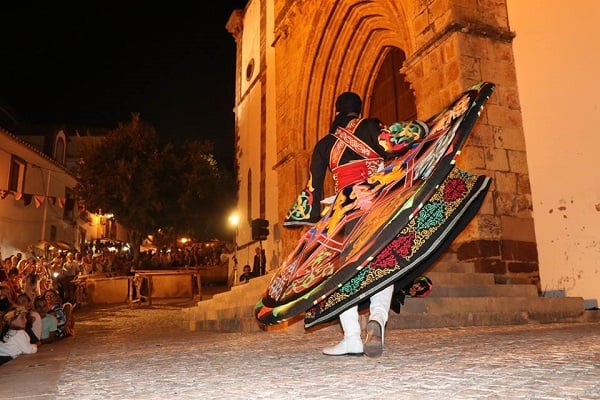 Summer Sound Portimão – 17 – 18 August 2018. Ticketed entry.
Summer Sound Portimão
Electro music festival at
NoSoloágua
right by the beach. 2 days and nights electro music festival with international DJs, in association with MTV Summer Sessions at NoSoloÁgua beach club in Portimão. Pool parties, DJ sessions and beach parties. Tickets on sale now!
FOLKFARO - 18 - 26 August 2018. Tickets required for Opening Gala
Traditional songs and dances of the world are showcased at
FOLKFARO
, the largest festival of its kind south of Lisbon. The event opens on 18th August with a spectacular gala and runs for nine days.
The BPM Festival Portugal, Portimão – 20 – 23 September 2018. Ticketed entry.
This is the 2nd edition of the huge House and Techno music festival, the
BPM Festival Portugal
brings thousands of music lovers to the beaches and clubs of Portimão and Praia da Rocha. 4 days, 8 venues, mega parties.
Festival F, Faro – 30 August - 1 September 2018. Ticketed entry.
Faro, the Algarve's capital welcomes
Festival F
for another edition of live music and performances.
Open Music Festival - 15 September 2018 - Algarve Stadium.
This is an all-nighter, so not for the fainthearted! This year's
Open Music Festival
kicks off at 6pm with a programme of top DJs throught the night until 6am. Plus there's street art, food and more.
Lagoa Jazz Festival – 22 – 25 June 2018. Ticketed entry.
The open-air
Lagoa Jazz Festival
takes place at the incredibly scenic Fontes de Estombar – the stage background is the Arade river winding it's way through the countryside. 3 days of top jazz in a fabulous location.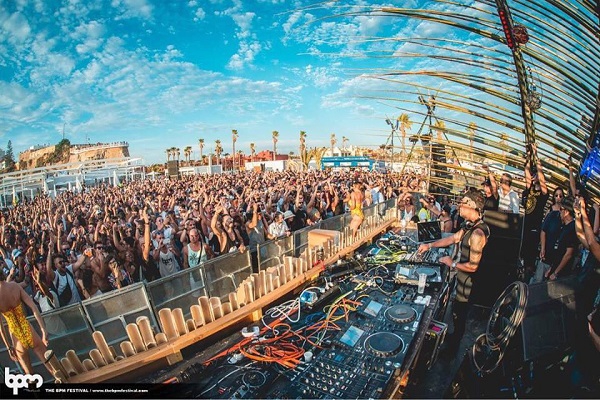 The BPM FEstival at NoSoloAgua
Sardine Festival, Portimão – 1 – 5 August 2018. Ticketed entry – approx. €3
The most famous
Sardine Festival
in the Algarve, Portimão celebrates this tasty fish with music and entertainment, plus lots of sardines grilled over charcoal.
Olhão Seafood Festival – Festival do Marisco – 10 – 15 August 2018. Ticketed entry
The
Olhão Seafood Festival
is a hugely popular celebration of seafood. Pile your plate high and enjoy the live music and concerts.
Pirate Week, Alvor and Senhora da Rocha. Free entry
Pirate Week
brings fairytales and history together in a fun recreation of the days of piracy. Great family entertainment. At Senhora da Rocha 20 – 24 July 2018 and at Alvor 24 – 28 August 2018.
Medieval Days in Castro Marim – 22 – 26 August 2018. Ticketed entry from €3.
A recreation of
Medieval days at the Castro Marim
castle. Jousting tournaments, on foot and on horseback, street theatre performances, banquets accompanied by medieval music and a handicrafts fair.
Lota Cool Market, Portimão – 18 – 22 July 2018. Free entry
The
Lota Cool Market
is a five day event packed with entertainment, art, design, gourmet and street food on Portimão's riverbank.
Autumn Festivals in the Algarve
Oktoberfest, VILA VITA Biergarten, 27 September to 6 October. Free entry
Enjoy a real Bavarian
Oktoberfest at VILA VITA Biergarten
– there's tasty bavarian food, lots of good humour, an oompa band and beer….lots of beer.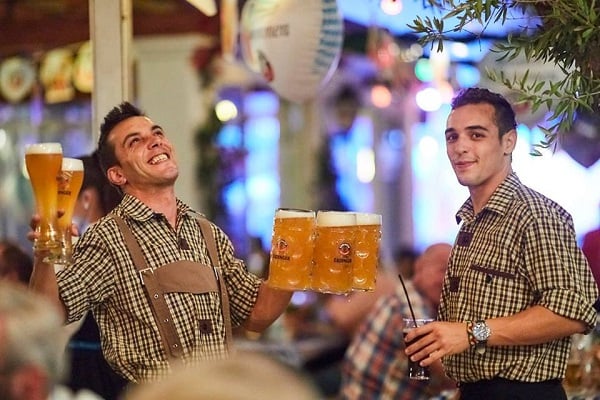 Sagres Birdwatching Festival 2018 - 4 - 7 October
Each October, Sagres, on the Algarve's stunning west coast, hosts a mega
birdwatching festival
at a time when the Sagres peninsula becomes the main crossing point in Portugal for many varieties of migratory birds, as they head towards the warmer climes of Africa.
One of the most important birdwatching festivals of the year.
Algarve Smooth Jazz Festival, VILA VITA Parc – 16 – 21 October 2018. Ticketed entry.
VILA VITA Parc hosts another edition of the
Algarve Smooth Jazz Festival
bringing jazz lovers and musicians together in a relaxed celebration of jazz. Daily concerts, jammin' sessions and more.
LUZA Festival 2018 - 1 - 3 November 2018
LUZA
- Algarve International Festival of Light in Loulé, brings together Portuguese and international artists who use light as their raw material. A stunning show!
Loulé White Night
– this happens every 2 years, next edition is in 2019.
Keep going....there's more!......
.
Winter Festivals
Plan your festive get away here (updated in October) -
Christmas and New Year in the Algarve
.
Paderne Medieval Festival – 2019 dates to be announced.
Usually held over the New Year period, the Paderne Medieval Festival is great family entertainment.
Loulé Carnival – 2019 dates to be announced.
A fun carnival that casts an irreverent eye on portuguese political happenings, with music, samba and lots of fun.
Traditional Festivals
Festival da Mãe Soberana - Sovereign Mother festival, Loulé
Held at Easter, the
Festival da Mãe Soberana
is a traditional and religious festival in honour of the town's sovereign mother, Our Lady of Mercy. The statue is paraded through the streets of Loulé and the festival is attended by thousands.
Festa das Tocha Floridas - Flower Festival - São Brás de Alportel
The
Easter Flower Festival
is one of the most colourful festivals in the Algarve. The streets are lined with flower displays, the paths coverd with petals, residents decorate their homes and terraces. The highlight is the Resurrection Procession when beautifully crafted flower "torches" are carried through the town.
Festival do Perceve - Goose Barnacle Festival - Vila do Bispo
Held in September each year the
Goose Barnacle Festival
celebrates this tasty seafood delicacy, revered by top chefs around the world.
Querença Sausage Festival - Querença
Quernça is a beautiful village in the central Algarve hills and home to the
Sausage Festival
where you can sample all sorts of locally made chorizos and sausages.
If you like this, you might also like:
Written by:
My Guide Algarve
PUBLISHED: May 29th 2018 | UPDATED: Oct 13th 2018