Top 10 Music Venues in the Algarve
Arts & Culture Hot List Lifestyle Parties Top 10
Hot summer nights call for cool tunes!
Hot summer nights call for cool tunes! At any time of the year, not only summer, you can enjoy great live music at venues across the Algarve, running the gamut in styles from classical to rock, from Fado to folk and everything in between.
Music is a very important part of Portuguese culture and each region of Portugal has its own musical style. Traditional Portuguese music such as Fado and Portuguese Folk, have been kept alive by each new generation of young musicians in Portugal. However, in the Algarve, you'll find that 20th Century music has many international influences and there are some great music festivals and events celebrating this diversity such as Festival Med in Loulé. Whatever your taste in music, the chances are you'll find it here in this sunny southern corner of Portugal. Here are some of our favourites to help you find your rhythm. (Yes, there are a lot of Irish bars on here, but hey, if you want live music.....)
The Shack
The Shack is Quinta do Lago's laid back, good vibe and good times bar - perfect for the whole family. Open all day until late, you can enjoy all your favourite tipples as well as great food and live music. There are live musicians performing here during the summer months, on Thursdays, and Sunset Parties every Wednesday during July and August.

The Shack has a relaxed holiday feel about it - it's a great place to be during the summer, but it's also a cool year round venue, with parties to celebrate special dates such as St. Patricks Day and Halloween.

Set right by Quinta do Lago lake the deck at The Shack has fab views of the lake and the Ria Formosa. 
BJ's Oceanside
There's a warm welcome and a friendly, relaxed atmosphere waiting for you at BJ's Oceanside, where you can enjoy a varied programme of music on Friday and Sunday afternoons, featuring popular local bands and artists as well as some guest performers from the UK and beyond. Right on the beach, this fabulous restaurant, set between Vale do Lobo and Quarteira, guarantees a lively time for all the family, as well as a tempting menu which includes fresh fish and seafood, plus a good selection of wines and cocktails. With the bands performing in the afternoon you get to enjoy great music in the sunshine. Perfect to dine, drink, listen, dance, relax and enjoy.


The Black Stove
The Irish-owned Black Stove bar in Alvor has brought a bit of Ireland to west Algarve, with its classic Irish pub décor, a great pint, scrumptious pub grub served all day, and live music every single night. Don't miss the Merchant's Week Irish Music Festival, when the Black Stove will be hosting some of the best Irish Trad musicians.
Resident musician Keith and a range of other artists keep the beat going with lively performances of Irish, pop and rock classics. As is the tradition of any Irish bar worth the name, The Black Stove welcomes all ages and nationalities and "cráic" is had by all!
NoSoloÁgua
NoSoloÁgua has two great party venues on the Algarve coast, one on the long sandy Falésia beach, between Vilamoura and Albufeira, and a second set within Portimão's marina at Praia da Rocha. These superb beach bars serve great food and drinks during the day, but the magic happens during the sunset beach and night parties. Glamorous, cool and sand-between-your-toes chic is where its at when NoSoloÁgua parties! Renowned for hosting the hottest sunset beach parties in the region, with top national and international DJs on board to guarantee some of the best music on the planet.

Two hot music events not to be missed at NoSoloÁgua beach club in Portimão are Summer Sound Portimão - a two day and night electro music festival with international DJs, and The BPM Festival: Portugal 2018 - a Mega House and Techno festival held over four days, with eight venues of music, dance and parties, bringing top DJ talent to Portimão and Lagoa. 
Check the My Guide Algarve events calendar for the latest NoSoloÁgua summer parties.
With NoSoloÁgua, the party just goes on and on and on……
O'Neills
O'Neills Irish bar is right on the stunning Vilamoura Marina with a great deck for people and yacht watching. Open every day, from mid-morning until late, O'Neills serves up a mixed platter of great food, fab music and top fun with some of the best Irish and Portuguese live music acts performing seven nights a week during the summer season. As the night goes on and the beat gets louder, even the staff take to dancing on the tables!
If you're looking for quality live music and a great night out, you're looking for O'Neills.
Izzy's Beach Restaurant
This laid back chic venue is literally on the beach - Vale do Garrão beach, in the Algarve's Golden Triangle. Every Saturday and Sunday lunchtime you can experience Izzy's legendary live music sessions, filled with uplifting rhythms and plenty of fun. Dine or just enjoy an amazing cocktails, while you relax and listen to the great sounds with the sand between your toes.
The Irish Pub
The Irish Pub is exactly as its name suggests, a typical Irish bar in maybe the less typical location of Vilamoura Marina. But combine the two and you have one of the liveliest nightspots in the Algarve, geared up for those who want to party until the early hours. After a hot day on the beach, The Irish Pub is a great place to chill out with a perfect pint or cool jug of Sangria. And, once you've chilled, you can dance the night away to the sound of great music.
This place really rocks – bring your dancing shoes!
Stevie Ray's Bar
Located in the beautiful west Algarve town of Lagos, Stevie Ray's is famous as one of the best live music venues in the region. Open from Tuesday to Saturday, with live music on Friday and Saturday nights, you can expect to be entertained by some great performers. Sit back and be soothed by the sounds of jazz, blues, funk, soul, rock and everything in between, washed down with whatever your favourite tipple is.
Café Inglês
Located in Silves, the amazing historical and cultural centre of the Algarve, Café Inglês oozes character and style. Nestled beneath the walls of Silves Castle, its excellent bistro-style cuisine and magical atmosphere have made it a popular meeting place for live music, art, poetry and all things cultural.
Live music is generally on the menu on Friday, Saturday and Sunday nights, and the programme offers an eclectic musical mix including jazz, Latin, African and Brazilian. On summer nights, artists perform for diners on the Café's enchanting terrace and, during the cooler months, Café Inglês hosts live music in its charming indoor dining area, which has a log burning stove and bags of ambience.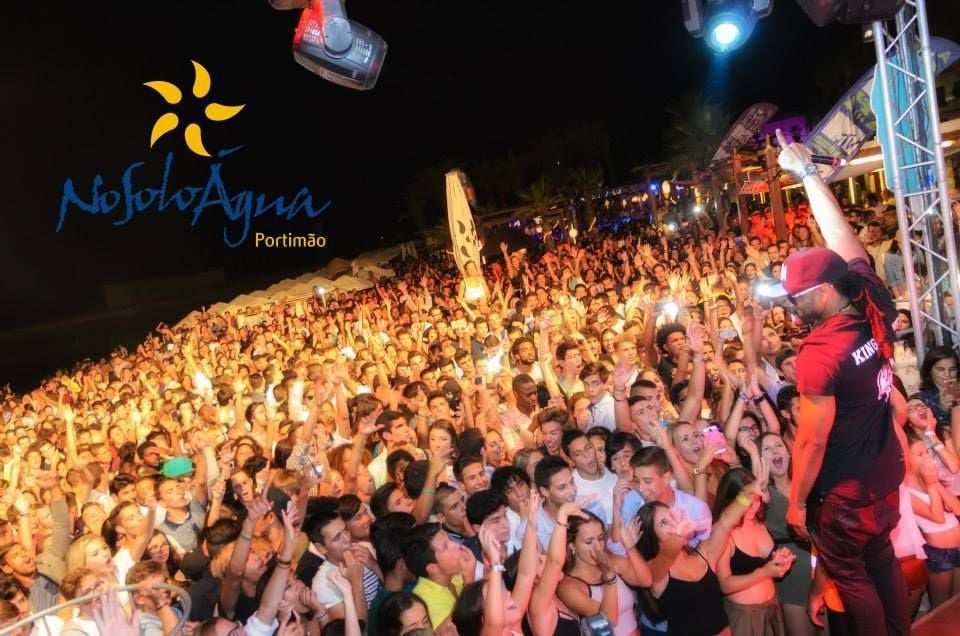 Club Nau
The peaceful, tropical setting of Club Nau is perfect for chilling out to the sounds of the saxophone on a hot Algarve afternoon, appreciating the cool ocean breeze as you enjoy smooth evening melodies, or hotting up the nights with some lively rock sounds.
Located on Praia Grande in Ferragudo, Club Nau offers a wide range of cocktails-to-die-for and a menu of great food, which is served throughout the day and evening.
Special mention too for the many concerts that are held across the Algarve by local cultural organizations such as Ideas do Levante  and their fabulous Opera Nights, the São Bras Friends of the Musuem association who regularly host great jazz evenings, and of course the excellent concerts by the Algarve's own Classical orchestra (Orquestra Classica do Sul) and Jazz orchestra (Orquestra de Jazz do Algarve).

YOU MIGHT ALSO LIKE