Festival Guide 2023
Festivals in Portugal! Coming to Rolling Loud? Afro Nation? Find the best places to eat, party and play during summer festivals in the Algarve. Find out about parties and festival fun, transport to the festivals, taxis and rideshare, what to do in Praia da Rocha and Portimão. Get all the inside tips for the best Festival experience in the sunny Algarve in our Festival Guide: Algarve.
The party is gonna be HUGE. See you on the beach!
---
Get ready to party from 28th to 30th June 2023, when Afro Nation returns to Praia da Rocha.
Find out more -
Afro Nation 2023
Rolling Loud Portugal 2023!
The biggest hip-hop festival is back on 5th, 6th and 7th July 2023.
Find out more -
Rolling Loud Portugal
---
2023 Festivals
To make the most of your festival fun in the Algarve, click on the links and images below for tips on parties, nightlife, restaurants, the best beaches and fun activities.
While you're here, how many of these 23 Things to do in 2023 in the Algarve will you do?
Download the VISIT PORTIMÃO app for inspiration and information
Download from
Google Play
Download from
App Store
RESTAURANTS
Eating out in Portugal is affordable and delicious and there are
amazing restaurants in the Algarve
. There is a wide range of cuisines to choose from, everything from traditional Portuguese dishes to well-known international favourites, plus plenty of vegetarian and vegan offerings.
Seafood is one of the big attractions on menus here - look out for prawns, especially fried in garlic and with piri-piri! There is fresh fish, shellfish, oysters, crab as well as the humble sardine.
Steak lovers will find some great steakhouses, there is fabulous sushi to enjoy, and vegan and vegetarians will find options on most menus too. There are some great healthy brunch and lunch options, even when lounging by the pool - take a look at
NoSoloAgua pool club
.
- During the summer season, advance booking is a good idea to ensure you get a table at your choosen restaurant.
- Most restaurants accept card payments but do check before you order.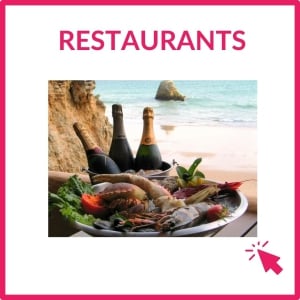 Click the image above to find great restaurants in Portimão, Praia da Rocha and Alvor, everything from chic beachside restaurants to typical Portuguese taverns.
NIGHTLIFE
Nightlife in the Algarve ticks a lot of boxes. It's loud and fun, it can be indoor and outdoors, it's by the beach or even at sea!
Check out the
Best of Algarve Nightlife
for insider tips on the best places to party across the Algarve, includng the nightlife hotspots at Albufeira.
For many coming to the Summer Festivals in Praia da Rocha, boat parties are on the must-do list (check out the
Ophelia Catamaran
). Pool parties and sunset sessions happen at NoSoloAgua, a super day to night club by the sea.
For late night fun, the main avenue at Praia da Rocha is home to great bars and clubs where the party goes until dawn.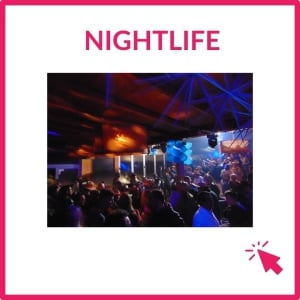 Click the image to see some of the fun nightlife spots in the area, to enjoy cocktails at sunset and late-night fun
.
BOAT TRIPS
One of the most popular things to do in the Algarve is to take
boat trip along the coast
. The scenery is absolutely amazing, plus you may get to see
dolphins in the wild
!
Portimão and Praia da Rocha are located close to the famous
Benagil cave
, so be sure to book a boat trip to see it. It's a massive, domed cave with natural openings and is only accessible by sea.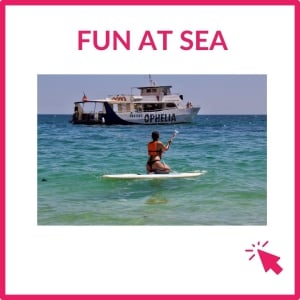 Click above to find fabulous boat trips along the amazing coast, departing from Portimão. Discover how to visit the famous Benagil cave, enjoy sunset boat parties, or search for dolphins in the wild!
THINGS TO DO
If you prefer to stay on dry land, there is plenty of fun there too.
Off-road adventures
are always popular - riding 4-wheel drive jeeps up and down dirt tracks through the countryside! There are plenty of sports on offer too - from golf, to tennis and padel, beach tennis and
mini-golf
, speedy fun on the
karting track
, and for adrenaline junkies, there's always
skydiving
.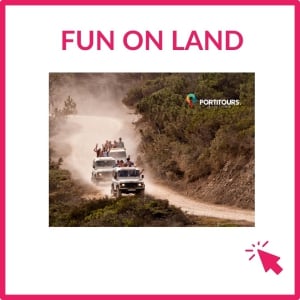 Click above to discover the best activities in the area, from off-road adventures to sky-diving!
LOCAL TIPS AND FAQS
Is the water ok to drink? Can I pay with cards or Apple pay? What about Uber - does that work? should I hire a car?
Get
answers to these and more questions about your visit to the Algarve
.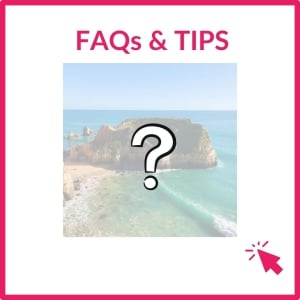 Click above for practical advice on what ATMs to use, what to do about tipping and where to shop.
BEACHES
The Algarve is considered to be one of the best beach destinations in the world. And when you get here, you'll see why. There are miles and miles of fabulous beaches to choose from. There are long stretches of golden sands, small cove beaches, beaches where you can enjoy drinks and great food at a restaurant, or beaches where you can get away from it all. And all this within a relatively small area, which means you can enjoy a different beach experience every day if you wish.
The summer festivals are held on Praia da Rocha beach, near to the marina. Close by you have picturesque
Praia do Vau
, which in turn leads to Praia do Alemão. Backed by ochre cliffs the coastline here is made up of rock stacks and secret coves, before opening out into the massive
Alvor bay and beach
.
There are watersports to enjoy at the beaches, and plenty of sunbeds for hire.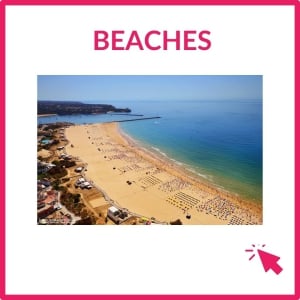 PORTIMÃO
The second largest city in the Algarve, Portimão is a busy residential town, with the bonus of superb beaches close by. There are lovely beach and cliff walks in the area, an interesting local museum, known as the
Sardine Museum
, to visit. There are some lovely local eateries and shops to discover in the city centre, as well as a large shopping centre on the outskirts of town.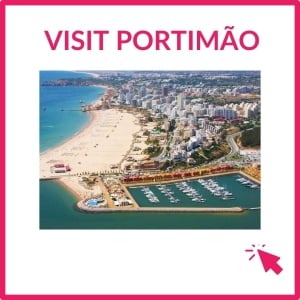 TRANSPORT
Getting around in the Algarve is quite easy. You can use public transport, which is not expensive but which you do need to plan in advance. Or you can opt to
hire a car
which gives you great independence. For short journeys, taxis or rideshares are good options.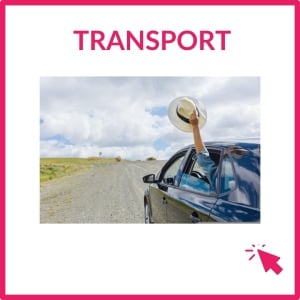 Click the image to find out about car hire, transport from the airport, taxis and rideshare apps.
Find out about public transport, including airport routes and Tourist Passes with unlimited travel.

HEALTHCARE
Public healthcare is available to all EU citizens. it is also available to UK citizens with an EHIC (European Health Insurance Card). Private and public healthcare is available in the Algarve, and generally, the service is considered to be very good.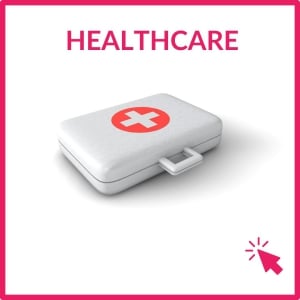 Click above for information on private healthcare in the Portimão area.
There is both private and public healthcare available in Portugal.
Looking for more inspiration? Check out:
Sponsored by:

Main image: Diogo Pereira / Mai Magazine