Algarve Expat Guide
Useful information on living as an expat in the Algarve
Welcome to our Algarve Expat Guide! Whether you are already living here or are planning to move to Portugal in the future, you'll find plenty of very useful information here. From info on local markets, to financial advisors, schools, home services, UK TV and satellite systems, pools and pool maintenance and more.
Need information on D7 visas, on schools and healthcare, on tax in Portugal and popular places to live?
Check our
MOVING TO PORTUGAL
guide

NIF - Número de Identificação Fiscal
One of the very first steps to take when moving to Portugal is to get a NIF - your Portuguese tax identity number. You need a NIF to rent or buy property, for example, to open a bank account, register at a health centre, set up a phone or wi-fi contract, as well for tax purposes. All residents and non-residents can have a NIF. However non-residents require a fiscal representative (resident in Portugal) to complete the process.
You can apply for a NIF at your local Finaças office or apply using online services.

Opening a Bank Account in Portugal
In order to request a visa, or complete a property transaction, you will need to have a Portuguese bank account. An account can be opened in person of course, at the bank of your choice. However, it is also possible to open a bank account from anywhere in the world using online services.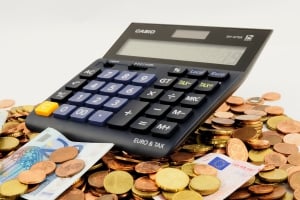 Financial Advice, Planning & Pensions in Algarve
Get advice and insights on how to manage your money affairs in Portugal. Find out about possible tax breaks such as NHR - non-habitual residency, what your rights and obligations are and get help from those expert in making the transition to life in Portugal as smooth as possible.

Gaining Residency in Portugal
There are advantages to residency in Portugal (see the tax information above) and residency is not just available to EU citizens. You can obtain residency in Portugal through property investment - the Portugal Golden Visa programme, or by apply for a D7 visa where no property investment is required.

Education
As an expat living in the Algarve, or if you are planning to move here with your family, your children's education is an important concern. There are both private and public schools available.

Public schools in Portugal start with kindergarden from 3 - 4 years of age, then primary school (years 1 - 4), then middle school (years 5 and 6), then junior high school (years 7 - 9) and high school (year 10 - 12).

Private schools are fee-paying schools, frequently offer international curriculums and prepare students to continue their education abroad.
Home Services
Find Home Services in the Algarve
.
Internet Services
Fast and reliable internet is a must, not just for leisure, but for work. As more and more people opt to work remotely, with many Digital Nomads choosing to make the Algarve their home, it's good to know that speedy internet services exist.
Supermarkets
International chains such as Aldi and Lidl are present in the Algarve, as well as national brands Continente, Pingo Doce and Jumbo where you can find great fresh produce and some international produce too. UK brands such as Iceland are present too, focusing on UK products.
Pool Services
For private use or for a holiday rental property, the swimming pool is an essential component. Find the best people to install a new swimming pool, renovate an old pool, to heat and maintain an efficient pool or to fit an energy saving pool cover.
In addition or instead of a pool you could opt to have a hot tub installed or even a sauna.
Property Services
Finding the right
real estate agent
can make buying property in the Algarve easy and enjoyable, with no nasty surprises along the way. They can also tell you about some of the
best places to live in the Algarve
.
Estate agents in the region will tend to specialize in a particular location. For example,
ONE Select Properties
have over 30 years of experience in the luxury property market in the Quinta do Lago and Vale do Lobo area.
Vendici Properties
is also a hyper-local real estate agency, whose indepth knowledge is of great advantage to their clients
The
Algarve Property Agency
not only offers property buying and selling services, but also excellent design and decor services in partnership with its sister company Gibson Design.
Ideal Home Portugal
works across the region, as well as in the Lisbon area. A very active and client-focused agency, they not only help buy and sell property, but have a great series of
videos
explaining how the whole process works in Portugal, Q & A sessions with a local lawyer, comparisons on life in the USA compared to Portugal and more on their
YouTube channel
.
Find Property Services in the Algarve
.
Builders and Construction
New builds or renovation projects, traditional or modern in design, finding a professional, reliable and high standard builder is vital.
Mestre Construtivo
not only provides quality building services, they do so with an eye to design, eco-efficiency and with full respect for artisanal skill.
Heating and Cooling
The wonderful weather in the Algarve is one of the big attractions for expats. However, when at home, you want optimal comfort - not too hot, not too cold.
Property Management and Rentals
If you do not live all year round in the Algarve you may need a property management company to take care of your home, pay the bills and deal with any unexpected issues on your behalf. These are just some of the
services that a property management company can provide
.
Local Deals and Airport Transfers
Moving to the Algarve often results in a rise in your popularity - you'll have lots of people coming to visit you!
Removal, Transport and Delivery - from Pets to Houses
Whether you're moving to or from the Algarve, making a local move or relocating to Portugal, and need transport for your wordly goods, you'll find a professional and efficient transport service available.
And of course, if you are moving, you won't want to leave your four-legged friends behind.
Language Schools in Algarve
Want to learn Portuguese? Get information on
Education and Language Schools in the Algarve
. Special mention for the fabulous Crash Courses in Portuguese at
Faust Language School
- and intensive 40 hour, 2 week course for those looking to get a fast-track handle on Portuguese. Plus they offer courses to prepare you for the
CIPLE-Exam
- a requirement for attaining Portuguese citizenship.
Driving in Portugal
Detailed and practical information on driving in Portugal - tips on toll roads, exchanging your driving licence and buying a car in Portugal, as well as sugestions for the
top scenic driving routes in the Algarve
.
Registering your residency in Portugal
If you live in Portugal for more than 6 months of the year, you should obtain a residency certificate from your local Town Hall. After living here for 5 years, you should apply to SEF, the Immigration and Borders Service, for permanent residency.
With the UK leaving the EU, if you intend to live permanently in Portugal, and want to benefit from the advantages of living here, it is very important to obtain your
residençia
in order to be properly integrated and registered.
For more information you can contact the British Vice Consulate in Portimão on (+351) 282 490 750 or via email
portugal.consulate@fco.gov.uk
Address:Edificio A Fabrica, Avenida Guanare, 8501-915 Portimão
Healthcare
In the Algarve you can opt for private healthcare or, if you have registered your Residency in Portugal, you are entitled to join the state healthcare scheme (SNS), which provides a high standard of healthcare - on a par with that offered by the NHS in the UK.
There is a growing number of private healthcare providers in the Algarve offering a wide range of general and specialist health services, such as primary healthcare provider
The Orange Medical Centre
in Albufeira.
Finding work
If you are not yet ready for retirement, it is wise to have work sourced before you relocate. Europe Language Jobs is a great resource for
jobs in Portugal for expats
.
Sports and Activities
Whether you're resident here, or just visiting, the Algarve is the perfect location to keep active and maintain a healthy lifestyle. There are many great
walks
, hiking and biking trails, and a wealth of sports and activities to suit all ages and abilities. Whether you're a pro athlete or just looking to keep fit, you will find plenty of sports facilities and organised
events
all year round in the Algarve.
Expats with Pets - Home and Pet Sitting
Living as an
expat with pets
in the Algarve raises the questions of what to do with your pets when you travel? Finding reliable home and pet sitting services can be tricky.
Dog Hotel Algarve
, also known as Hotel do Cão, is located between
Portim
ão and Monchique and offers boarding for dogs, training, grooming and transport services for your four legged friends. Spacious and modern, this is doggy heaven. Next door is the Cat Hotel Algarve, for your feline friends.
Iron Dog Algarve
in
Quarteira
, is a dog hotel as well as a training school which can help with obedience, bahavioral issues and socialization.







More Useful Information for Expats in the Algarve