Top Tips for Buying and Selling Algarve Property
Editorial Inspiration Lifestyle Top 10
Insider tips from independent property agents in the Algarve
Insider tips from experienced property agents about buying and selling property in the Algarve.
We asked some of the region's most experienced and successful
independent real estate agents
for their tips and suggestions, garnered from years of experience in the
Algarve property
market.
You've made the decision to buy property in the Algarve. The lure of a wonderful lifestyle and fabulous
weather
, with clean air to breath and fresh food to eat at wonderful
restaurants
is difficult to resist. Whether you are buying property as a family home, holiday bolthole or as an investment, this is a pretty momentous decision. As with many buying decisions, a little bit of research can go a long way to ensuring that the outcome of your property adventure in the Algarve is a positive one. Take a look at this guide to some of the
best places to live
in the region.
There is a wealth of information online about the
buying and selling process in Portugal
which can differ quite significantly from the process in your home country (check out this
guide by the British Portuguese Chamber of Commerce
). You owe it to yourself to do some research and become familiar with the steps involved in each transaction. To bolster that research here are some words of wisdom from a selection of property companies and real estate agents in the Algarve.
Lisa Lokkerbol – LWL Properties in Tavira
Work with one or two trusted agents only
Lisa from
LWL Properties
specializes in properties in the East Algarve, particularly in and around the
Tavira
area. In Portugal it is common practice for properties to be listed with multiple agents. However, Lisa says that many foreign buyers do not know this and wonder why the same property can be seen listed with so many different agents, sometimes at different prices. This creates confusion, wastes time (as a vendor you will have the same people from different agencies view your property and as a buyer, different agents will take you to a property you have already seen). She recommends, whether you are buying or selling, to
work with one or two trusted agents
. If you are buying, a good agent, armed with your wish list, will be able to source suitable properties. Your viewing visits to the Algarve will then be more efficient with no crossover viewings and with properties that tick your boxes.LWL list a number of properties exclusively, guaranteeing top serivce to both buyer and seller.
Find out more about
LWL Properties
Luis Ledo - Casas do Barlavento
Find an agent who listens to you
Luís Ledo
is managing director of
Casas do Barlavento
, a real estate agency specialising in the western Algarve - Lagos and
Praia da Luz
, Alvor and the
west coast
area around Aljezur - and with over 16 years experience in the west Algarve property market. He believes that every client has their own unique requirements and ideals and that it is up to the agent to
listen carefully
and consider all their needs and preferences. He says "The success of the whole process is
based on the trust the clients place in us
. We believe that one of the key points to our success is to understand the clients' wishes". At Casas do Barlavento they aim to find a house you wish to buy, rather than push you towards a house they want to sell. They are a
one-stop-shop
for all things property related. They can help you buy or sell your property, as well as assist with rentals if you want to put your property to work for you, or they can manage your property in your absence.
Find out more about
Casas do Barlavento
Ineke Thijse – Abacoz Properties
Keep it real
Based in
Lagos
, and with a portfolio of properties across the region, but particularly in the western Algarve,
Abacoz
has gained a reputation for effective property marketing, matched with realistic pricing and efficient service.
Ineke Thijse, Abacoz director
, emphasises that setting an
achievable, realistic and fair property price
is essential to a smooth buying and selling process. She advises vendors to list their properties with one, or at most, a select few agents, and to be wary of listing with agents who give an inflated value for the property, hoping to bolster their portfolio, but making the property less attractive to potential buyers. The property will sit on the market for longer than necessary and as the price drops, which it will if it has been over-valued, the perception among buyers is that there may be issues with the property. She also recommends working with
experienced negotiators
. Any sales transaction will involve a certain level of negotiation – better to have those skills on your side of the table.
Find out more about
Abacoz Properties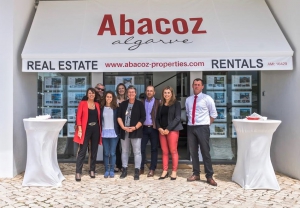 Frances Belo - Este Algarve -

specialising in the sale of properties in the East Algarve
Get expert advice from people on the ground
Frances has many years of experience in the Algarve property market – for over 25 years,
Este Algarve
has been helping people to buy and sell their properties across the region. With particular focus on the
East Algarve
and with offices in Tavira, Frances firmly believes that buying property in the Algarve is a very
sound investment
. Not only does it have all the fun stuff – fabulous beaches and weather, great food and wine, easy access via international flights at
Faro airport
– you can generate income from your holiday home before retiring there in the future. The Eastern Algarve is still authentically algarvian, quite different from the central and western areas, with miles of smooth, golden beaches, and the immense natural beauty of the Ria Formosa, where flamingos roam, to enjoy.
Frances urges common sense throughout the buying and selling process. Her advice is to
always consult with
lawyers
and tax advisors before buying and selling
. Portuguese processes can vary from your home country and national laws and tax regulations can change, so advice from local experts is essential. The initial outlay for expert advice is offset by avoiding potentially expensive mistakes during the transaction. And a local agent, such as Frances, will have their fibger in the pulse of the local market and is best placed to give accurate advice.
Find out more about
Este Algarve Real Estate

There are many, many real estate agents in the Algarve. Some are independent companies such as those mentioned above, some are franchise outlets from worldwide brands such as Remax and Era, and resorts such as
Quinta do Lago
have flourishing real estate sectors – join the
Lagula Breakfast club
for a visit to one of the resort's exclusive villas. Whatever agent you choose, or location your opt for, some due dilligence should always be part of the plan.
Financial and Legal Advice and Assistance
Buying a property is a big committment and you owe it to yourself to research the financial implications of buying a property here whether in terms of mortgages or tax implications. Experts such as the team at
All Finance Matters
can be a huge help here, helping you structure your affairs in the most efficient manner possible. At
Blevins Franks
you can receive advice and strategies on tax planning, estate planning and pensions. If you are struggling with the bureaucratic matters such as licencing, car registration as well as tax returns,
Algarve Assistants
can help. And of course, legal advice is always recommended and the advice of a
professional lawyer
can save you time and money.
Removal and transport
Once you've chosen and purchased your Algarve property, you may need to move all your wordly goods to the Algarve, or you might just need to transport a few boxes, a boat or even your pet to Portugal. You'll find a professional and efficient transport and removal service offered by
Removals to Portugal
and
Euro Pet Transport
take care of transporting your pets.
Setting up your new property
As you settle into your new life in the Algarve, check out our
Algarve Expat Guide
for advice and recommendations on the best
services
and suppliers for your home and garden, for your
swimming pool
and how to run it efficiently, information on
hot tubs in the Algarve
, for information on registering in Portugal, on language schools, financial and tax consultants, or where you can find assistance with bureaucratic issues and where to find an expert range of
insurance
services. If you are looking to earn income from your new property, then speak with
holiday rental
and
property management companies
- they can streamline all the process for you. If you are looking to renovate or extend your property, while keeping it authentic and sustainabale, the
Mestre Construtivo
can help.
You might also like: