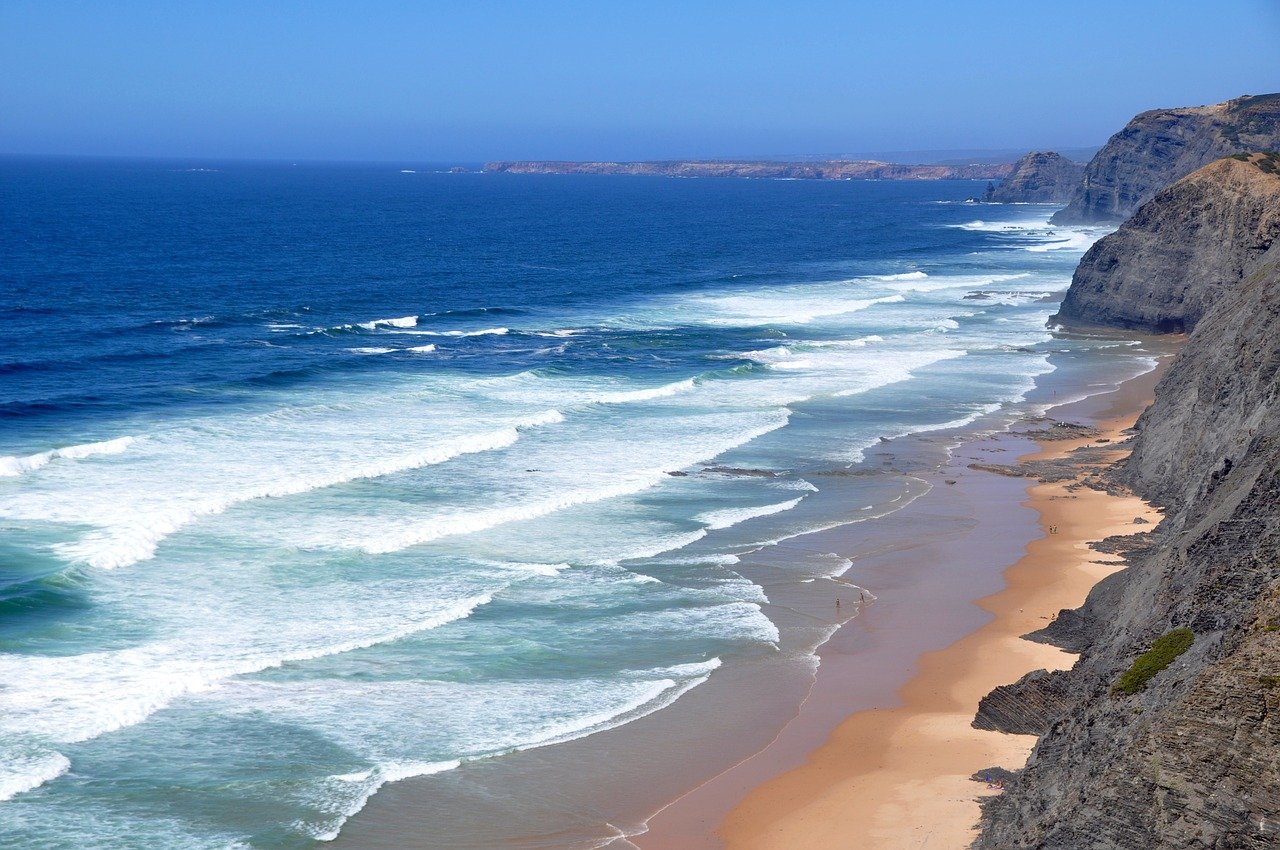 Costa Vicentina
an unspoilt paradise in the Algarve West Coast
The Costa Vicentina is the Western coast of the Algarve. Stretching from Odeceixe to the North right down to Burgau near Lagos on the South, the area is a protected Natural Park. Here peace and tranquillity reign supreme. The most usual background sounds are birdsong and the crashing of waves on the pristine beaches.
The Natural Park covers over 74,000 hectares of rolling hills, marshland, imposing cliffs, rocky coves and broad beaches. Declared a protected area in 1995, the park has a hugely rich fauna and flora that varies according to proximity to the ocean. No fewer than 750 species of flora have been identified in the park – 12 of which are unique in the world. Seaweed alone accounts for 460 different species! Over 200 different species of birds have been spotted in the park. The cliffs are a favourite stopping off point for migrating birds and an ideal nesting ground. All these factors have made the Costa Vicentina of immense interest to all Nature lovers. And in October bird watchers flock to Sagres for the annual Bird Watching Festival.
The Costa Vicentina Natural Park has over 80 kms of Atlantic seaboard. The beaches range from broad expanses of sand to tiny inaccessible coves. Sports anglers flock to the Costa Vicentina to fish the waters rich in sea bass, dory, conger eels and bream. The area is also a surfer's paradise. The unbroken waves rolling in from the Atlantic are perfect for training and perfecting surfing skills. Even in the height of the summer season you can find almost deserted beaches along this coastal paradise. And the sunsets are breathtaking. Inland from the coast the park is dotted with tiny villages where traditional agriculture is still practised.
You can explore the Costa Vicentina by following the coastline from Sagres and Cape St. Vincent and head north. Or alternatively, travel from the Monchique Mountains through the country side over to the coast and then turn south.
Suggestions:
Odeceixe - a tidal beach that is fantastic fun for the family. Kids will love exploring the rocks and floating along on the tidal pools. Be careful though, as the open sea here has very strong currents.
Monte Clerigo - a very picturesque village with a magnificent beach at it's feet. Lots of interesting rock pools to explore.
Bordeira - an amazing expanse of beach backed by dunes and cliffs. There is a wooden walkway which provides great photo-ops and viewing points.
Praia do Amada - a favourite with surfers.
See our Beach Guide for more information.