Blevins Franks
Cross-border tax advice, financial planning, pensions and estate planning in Portugal
Financial Services Business Services Accountants
Blevins Franks provides expert wealth management advice on cross-border tax issues, estate planning, pensions and investments to their clients in Portugal and across Europe. With offices in Loulé, Algarve, (as well as in Lisbon), Blevins Franks offers integrated advice and financial services to expats living in the Algarve and the rest of Portugal.

If you're a UK national living in or planning to move to Portugal, it's important to review your financial planning. This should look at how your income and assets will be taxed and effective tax planning solutions, and how your estate planning, investment strategies and pensions can work most favourably for you and your new life as an expat in the Algarve. With personalised financial advice from Blevins Franks, you can make the most of what you have while keeping up with the complex tax rules in both Portugal and the UK.


See the articles listed below for insights into estate planning, retirement planning, taxation and property matters by the experts at Blevins Franks.


Blevins Franks has had an office in Portugal for over 25 years. It has 10 advisors living locally who are qualified to at least Diploma (QCA Level 4) level. Behind this local advisory service lies a substantial company with over 250 staff committed to meeting their clients' needs. This includes several teams of highly skilled specialists who keep up to date with changes to taxation, estate planning, UK pensions, financial regulations, investment and currency markets.

Portugal offers some very attractive tax benefits for UK expats, not least of which is the Non-Habitual Residency programme, which can essentially allow you to receive some foreign income tax free, or at a beneficial fixed rate. It is Blevins Franks' experience that many UK nationals can save money in tax by moving to Portugal. And they are on hand to guide you through the process to ensure that you have the best financial outcome. For some insights, download the free Blevins Franks Guide to Taxes in Portugal.

---
Blevins Franks has a series of free-to-download guides covering topics such as D7 visa guide; your pension in Europe, Portugal Tax guide and Golden Visa guide.
---

Blevins Franks also specialise in cross-border estate planning to help ensure the reconciliation of your wishes with the current legislation in both the UK and Portugal. Investment strategies can also be created specifically for you, to match your risk profile and objectives and to put your money to work efficiently for you.

Blevins Franks offers a wealth of knowledge, insight and experience that they use to your advantage. They can help ensure a strong financial foundation for a relaxed and secure retirement in the sunny Algarve. The company also has offices in Cascais, near Lisbon, as well as in Spain, France, Cyprus, Malta and the UK.



Blevins Franks - Services
Tax Advice and Planning
Estate Planning
Pensions
Investment
Residence

Blevins Franks Cascais office is located at Rua Armando Villar, 42 r/c esq, 2750-777 Cascais, Portugal .Tel. +351 214 819 999



Articles by Blevins Franks


2023 Tax in Portugal Guide now available
Download the free Blevins Franks: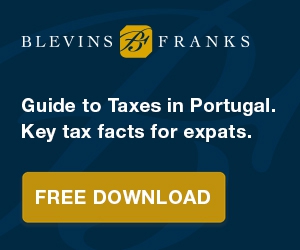 Blevins Franks Guide to Visas and Residency in Portugal, post-Brexit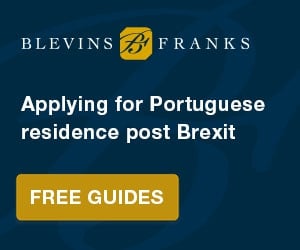 Will your family be hit by UK inheritance tax? Click below to find out more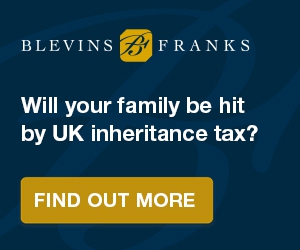 Budget
Best For Whom
Business Travellers
Expats