Guide to the Ria Formosa 2023
Inspiration Lifestyle Mini Break
Nestled along Portugal's stunning southern coastline lies a breathtaking treasure known as Ria Formosa. This remarkable natural park, with its intricate maze of lagoons, salt marshes, and pristine islands, is a haven for both avian and marine life, and a tranquil refuge for harried humans.
The Ria Formosa captivates visitors with its natural beauty, showcasing an awe-inspiring tapestry of diverse ecosystems that teem with remarkable birdlife and sea creatures.
For many visitors to the Algarve, their experience of the
Ria Formosa
is limited to glimpses from the plane as they come into land at
Faro airport
. Surely one of the most scenic landing paths around, the view is one of azure and turquoise waters, white sea foam and golden sands. To become better acquainted with the beauties of the Ria Formosa, there is little to surpass the experience of a relaxing boat trip along the tranquil waters, with a knowledgeable crew to share local insights and history.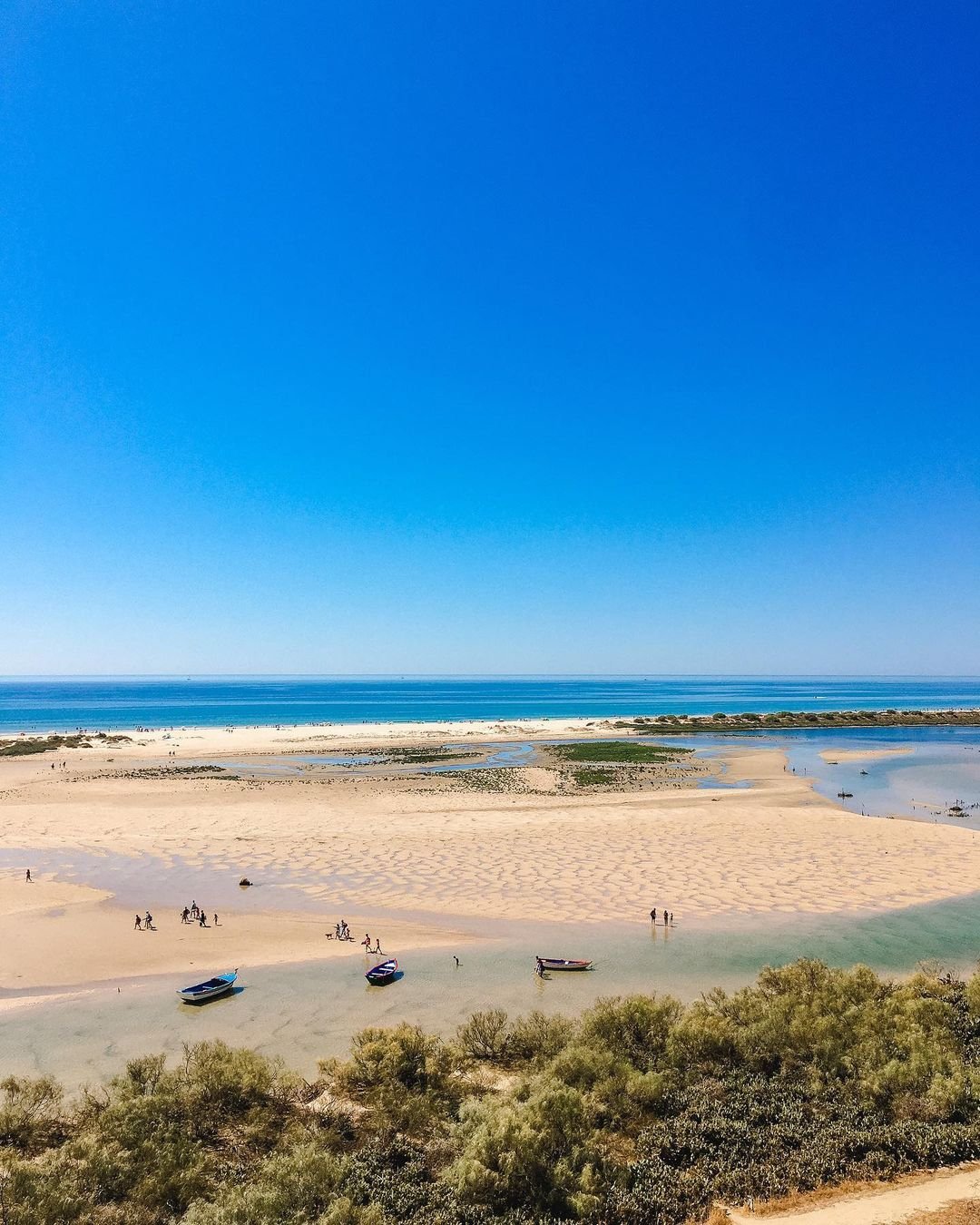 Cacela Velha
Sunset Sailing
operates private catamaran charters departing from Faro. A fabulous way to explore this protected area, crew Carla and Armando, combine friendly hospitality with great local insights. Armando grew up sailing these waters and knows every inch of the Ria Formosa park. Exploring the park with them really gives an insight into the deep connection that exists between the local population and this natural haven. They know the other sailors and fishermen in the area, they know where the shy migratory birds like to rest. Their bespoke boat trips allow you to discover the islands and wonders of this amazing place, stopping off at enticing spots throughout the day, or heading out to sea to look for dolphins in the wild. Their local connection to the area creates a wonderful bridge between you and the amazing beauty of the Ria Formosa, allowing you to see it in all its glory.
The Ria Formosa is a
natural park
that stretches for
60 km along the coast,
forming lagoons, salt marshes, sand dunes and a chain of barrier islands. The park is a unique and diverse ecosystem that is home to a large number of bird species, as well as other wildlife. Stretching from
Quinta do Lago
to
Tavira
, the scenery here is very different to the western Algarve. There, you see the dramatic cliffs and caves, here you have a gentle landscape of miles of fine sands, the clearest water imaginable, and small fishing communities living on the barrier islands.
The Ria Formosa is made up of several different types of habitat: barrier islands, salt marshes, sandbanks, mudflats, dunes, freshwater ponds, brackish water lagoons, and agricultural areas — all of which allow for the incredible biodiversity of the region.
Birdlife Extravaganza
Renowned as a
globally important wetland
, the Ria Formosa boasts an extraordinary array of bird species, making it a dream destination for avid birdwatchers. With over 200 species recorded, including some rare species, the park serves as a vital stopover point during migratory seasons. Whether you are a seasoned ornithologist or a curious nature enthusiast, the Ria Formosa promises unforgettable encounters, and a knowledgeable guide by your side helps you appreciate what you see. You may spot elegant herons, egrets, spoonbills, as well as flamingos.
Natural Aquarium
Beneath the waterline, the Ria Formosa is brimming with life. The lagoons with extensive marshes and tidal channels (total area of 18000 ha) maintain connections with the sea through six inlets, which guarantees daily renewal of water and nutrients with the changing tides.
The
seagrass meadows
are home to an endangered community of
seahorses
. This area was once home to one of the largest seahorse communities in the world, however, the numbers declined due to illegal fishing and the decline of the seagrass meadows. In recent years, safe havens for the seahorses were created within the Ria Formosa park, and the population is increasing. There are certain areas and channels within the park that are off-limits to boats and visitors, in order to protect the delicate balance of the ecosystems.
The park is also home to the seafood and
shellfish
for which the Algarve is famous, including oysters, clams, mussels and razor clams. If you savour a dish of clams or crack open some fresh oysters while you're in the Algarve, chances are, they came from the Ria Formosa.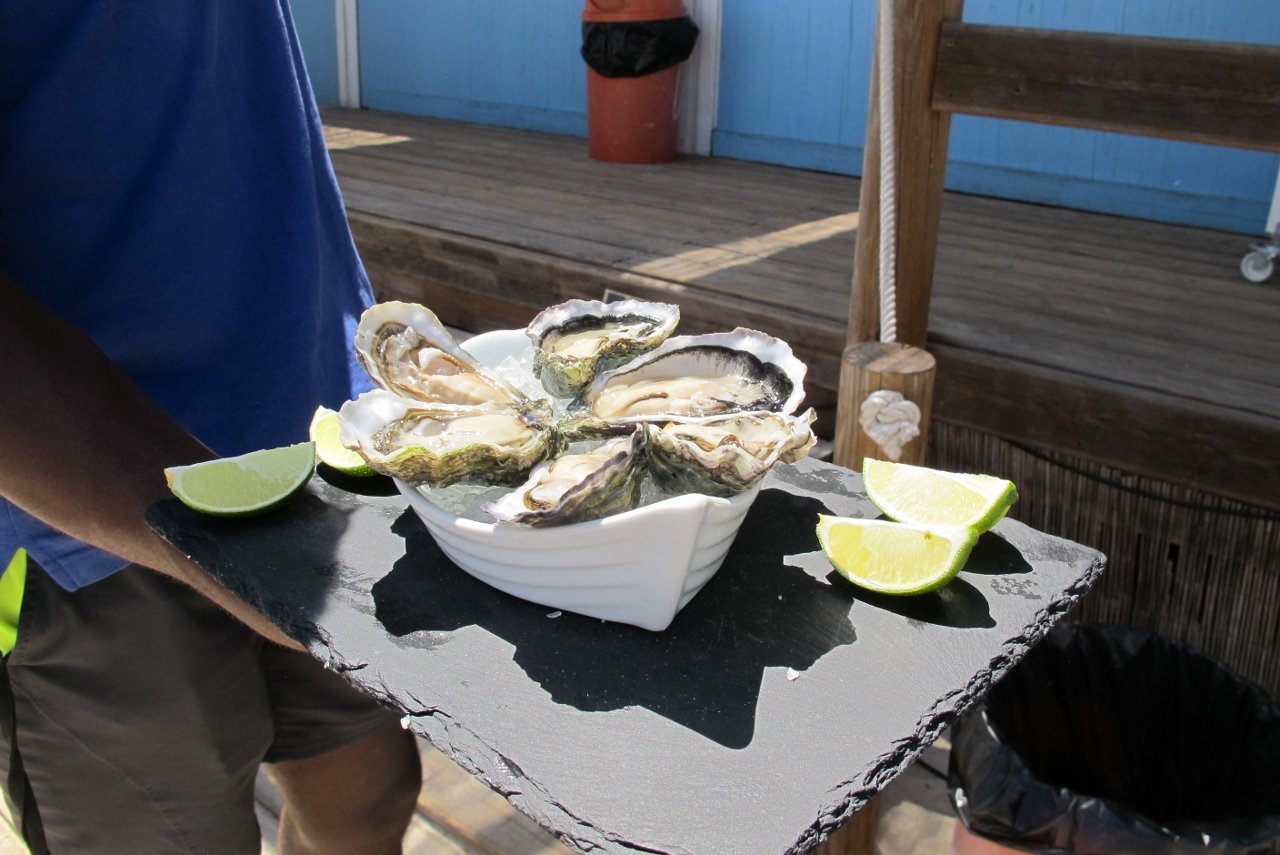 The Ria Formosa Islands
Ilha de Faro:
known as Praia de Faro, you can travel here by boat or by land - there is a bridge that spans the estuary, crossing from the mainland to the island. Very popular in the summer, there are holiday homes here, restaurants and cafés, and plenty of water sports. The beach stretches for miles and you can choose between and ocean swim or an estuary swim.
Ilha Deserta:
True to its name, Deserted Island is an untouched paradise where nature reigns supreme. As an uninhabited island (well, almost uninhabited – there is one local who has lived there for decades), it offers an unspoiled and tranquil environment, making it an ideal retreat for those seeking solitude and serenity. Deserted it may be, however, Ilha Deserta is also home to a
fabulous restaurant,
pretty much the only man-made structure on the island, and serving up the freshest seafood you can imagine. Food lovers make the pilgrimage to Ilha Deserta to sample the glorious food and enjoy the tranquil setting.
This island is also known as Ilha da Barreta, and most southern part of continental Portugal is found here at
Cabo Santa Maria
. There are regular boat services to Ilha Deserta from Faro.
Ilha da Culatra
: Culatra is a captivating island, home to a proud fishing community that lives there all year round. Here, you'll find a harmonious blend of traditional lifestyle and natural surroundings. Stroll among colourful houses that stand as a testament to the vibrant local culture. A
car-free island
– there are no roads, just walkways - people and supplies reach the island by ferry and water taxi. The amazing beaches and clear waters on the southern side of the island are a siren call for visitors and promise idyllic days in the sun.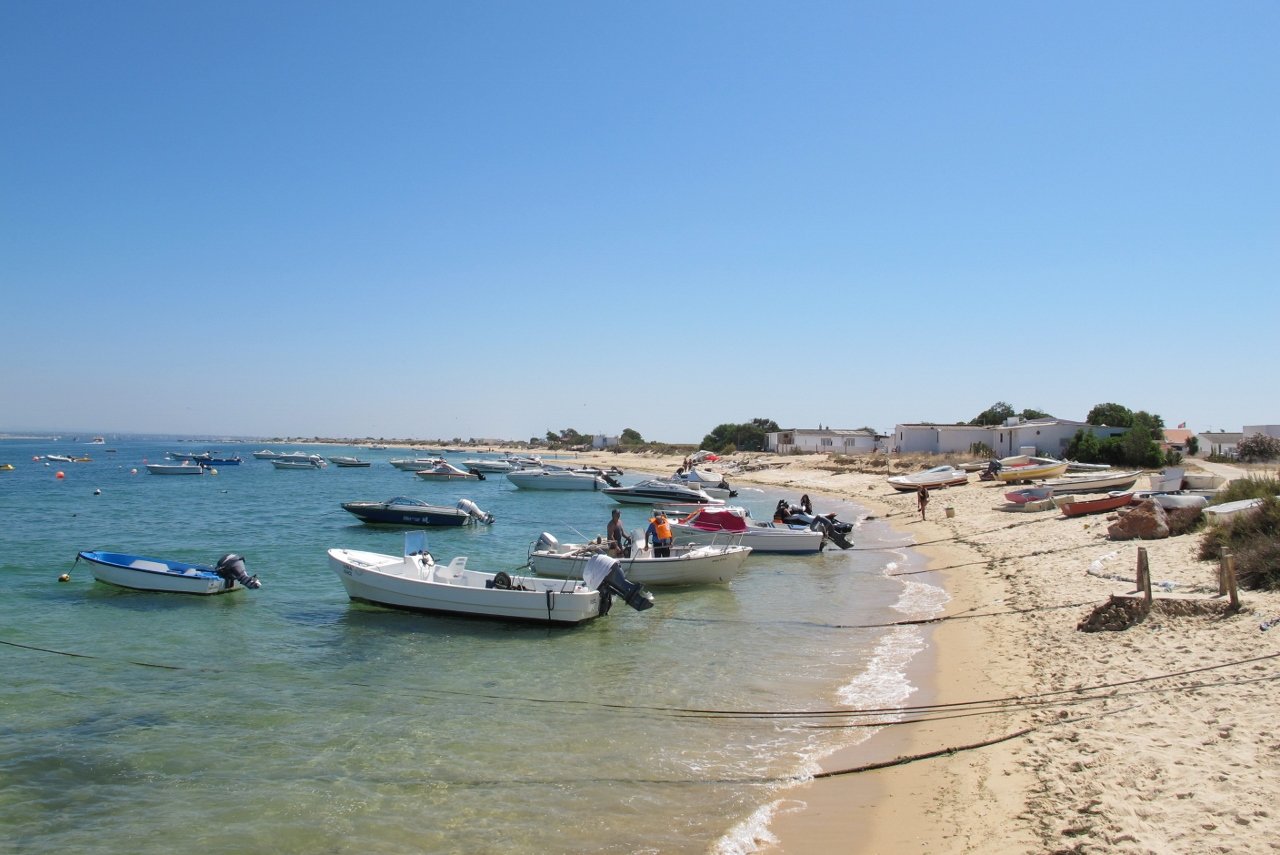 Ilha do Farol:
This is actually the same island as Culatra, but is a separate community and area. Farol Island is easily accessible with regular ferry and water taxi services operating. A very popular spot in the summer for a super beach day, there is a small settlement on the island with some houses, a shop or two, and a few restaurants where seafood reigns supreme. There are also a couple of great spots for
cocktails at sunset
.
Also on Culatra, is a third community or area, known as
Hangares
, the name arising from the use of the area as a naval aviation centre used by French seaplanes during World War I before passing to the Portuguese navy.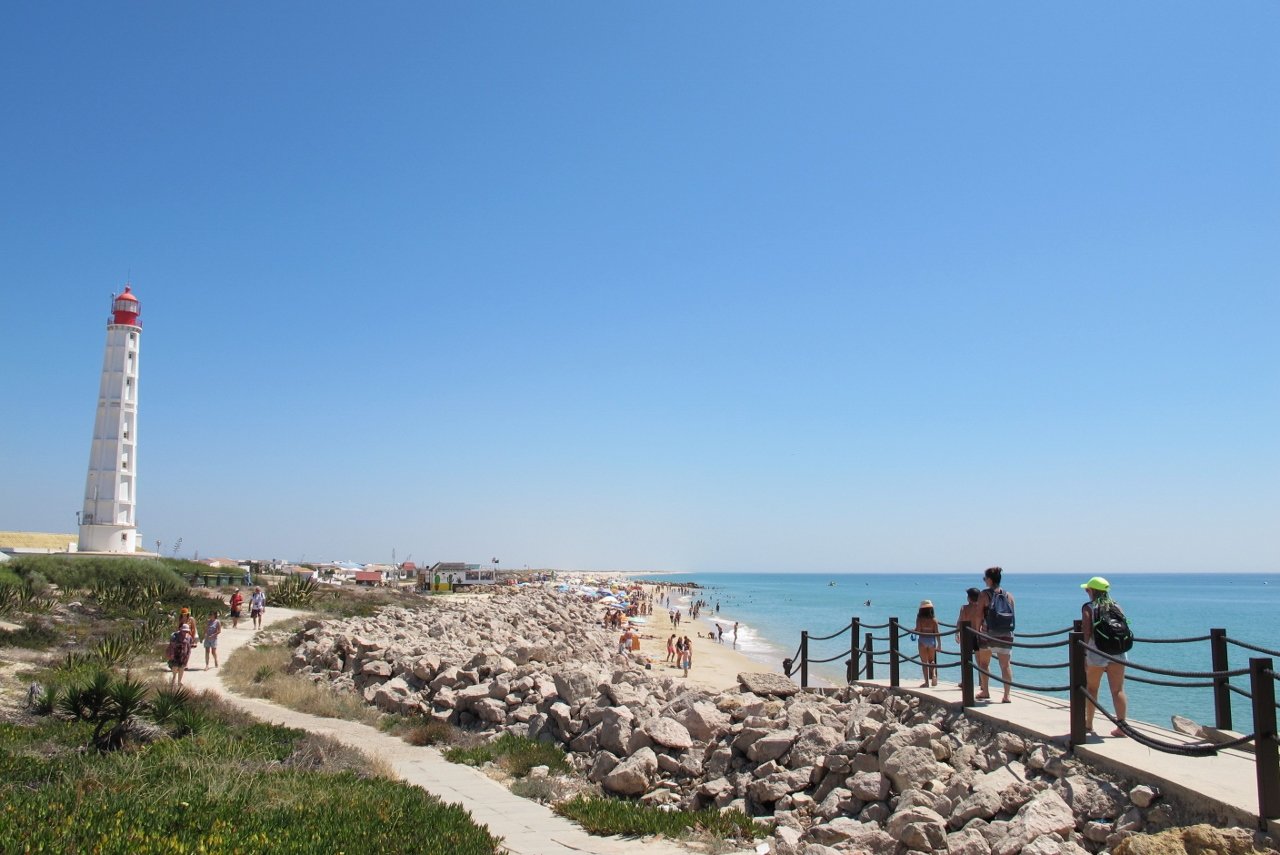 Ilha do Farol
Ilha de Armona
– Armona Island has over 6kms of beach, some seaward, some washed by the estuary. Reached by ferry or water taxi from Olhão, this is another car-free island that is a popular tourist destination. There are many small houses on the island as well as a campsite, where visitors can enjoy the peaceful and slow pace of island life.
Ilha de Tavira
– Tavira Island is 11kms of golden sand washed by warm waters. The long stretch of sand encompasses several different beach areas – Tavira Island, Praia da Terra Estreita, Praia do Barril. The area can be reached by boat from Tavira at Quatro Estradas, by water taxi from Santa Luzia, or even by a tourist train from Pedras del Rei.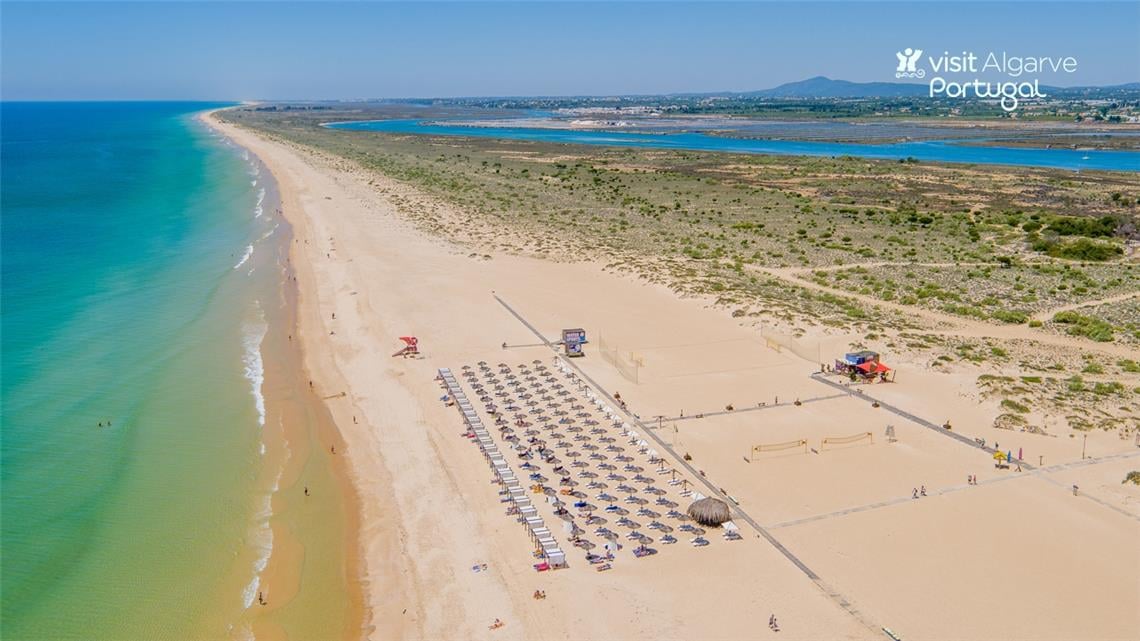 Ilha da Tavira
Cacela Velha
– at the eastern limit of the Ria Formosa park is Cacela Velha. An utterly charming hamlet perched on the mainland above the sandbanks and lagoon, and small boats take people to the island beach.
Ria Formosa by Boat
Portugal and the Portuguese have a bone-deep connection with the ocean. This is particularly true of the Ria Formosa area. Generations of local families have dug for clams, enjoyed fish from the waters and navigated the water channels, and they continue to do so today. Exploring by boat is the best way to really appreciate the unique beauty of the Ria Formosa.
There are boat tours and charters available from various spots along the coast.
Sunset Sailing
, which offers private catamaran charters,
departs from Faro
, with easy access from the town's marina. As all the charters are private, the itinerary is flexible. There are full and half-day charters available, and even the possibility of overnight or several-day charters. The experience of sailing beneath the stars in the peaceful setting of a natural park is unforgettable.
Find out more about
Sunset Sailing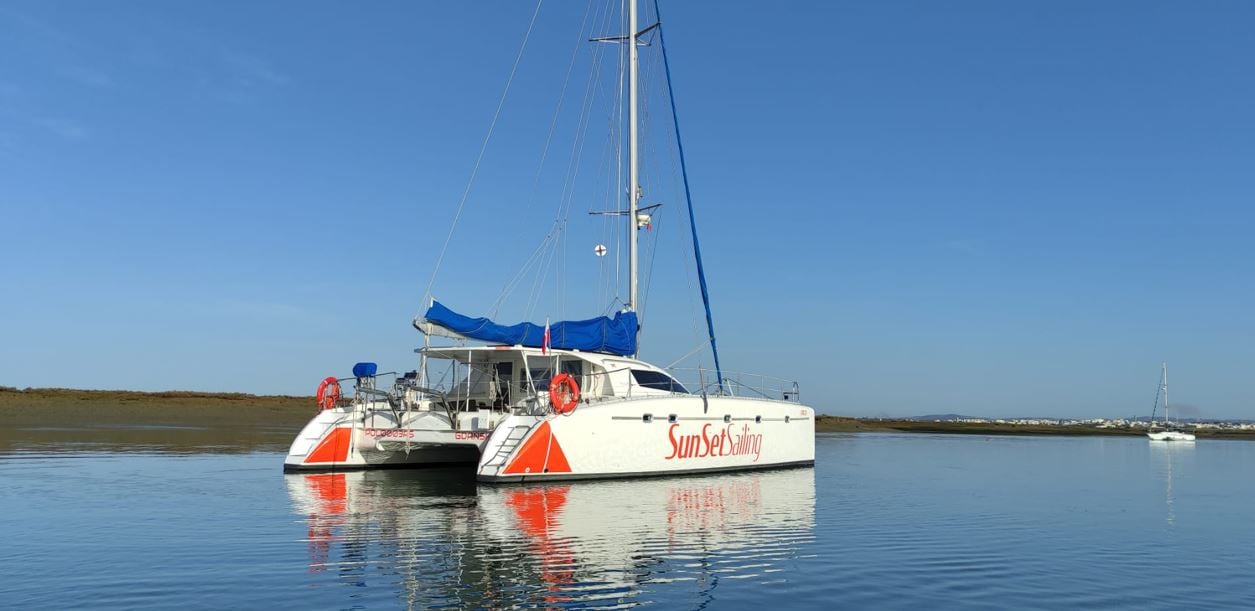 Sunseeker Portugal Lifestyle
also offers private charters exploring the Ria Formosa, departing from Vilamoura marina. The sleek yachts add a touch of style to complement the natural beauty of the area. Again, as private charters, the itinerary can be set to suit your preferences - exploring the islands, swimming in the clear waters, and meandering along the waterways.
Find out more about
Sunseeker Portugal Lifestyle
Regular ferries and water taxis depart from Olhão, heading to Armona island. There are also private boat companies operating here and private charters available, such as a sailing experience around the island aboard the "Break Free" by
Cruzeiros da Oura
.
Ria Formosa walks
As well as exploring by boat, there are some pathways and
walkable trails
to explore, perfect for weekend strollers as well as birdwatching enthusiasts. There are wooden boardwalks that run along the beaches from
Praia do Garrão
just west of Quinta do Lago. They join up with the Ludo Trail, which runs from Quinta do Lago / São Lorenço to Faro.
The
Ludo Trail
is 7kms long, and offers a range of different sceneries and landscapes, from the wetlands, where you have lagoons on either side of the trail, to the more wooded section close to the São Lorenço golf course, and even saltpans where you may well spot some flamingos.
There is a visitor centre at
Quinta de Marim
, just outside Olhão, which has information and a 3km trail that has some bird hides and a tide mill that is now a museum.
As the sun sets over the tranquil lagoons, casting a golden glow across the Ria Formosa, it's hard not to be captivated by the sheer beauty and serenity of this natural marvel. A world well worth discovering.