Top 10 Algarve Wedding Venues
Inspiration Top 10
With so many magical locations to choose from, you'll be spoilt for choice.
So you've checked out all the reasons to get married in the Algarve and you've decided that it's the right destination for you – great choice! Now all you need to do is find the perfect venue. There are so many possibilities we thought you may need a little help. So, to get you started, here are our top 10 suggestions for your Algarve wedding.
Benagil Sea Cave – a little off the wall
If you're looking for an out-of-the-box idea for your special day, how's this for an unconventional location for the wedding ceremony - a secret sea cave, accessible only by boat!
The Benagil Sea Cave is probably the Algarve's most iconic cave. It offers a natural venue for your wedding or civil partnership that will never be outmoded and it's just a short boat ride from the beach at Benagil, a small typically Portuguese village between Carvoeiro and Armação de Pêra.
The cave is a massive dome-shaped hollow with a large opening at the top, set on a smooth golden beach. The cave is lined with layers of sedimentary limestone that has built up over millions of years. The sun streams through the cave's opening, while the ocean flows in through the cave's two mouths, creating a magical grotto – a magnificent and truly memorable setting to celebrate your union.
Getting to the venue can be as stylish or as unusual as you want it to be – by yacht, catamaran, speedboat or even kayak. There's plenty of excellent accommodation and many top class restaurants in the area too, so organising the whole shebang won't be difficult.
Note: it is no longer permitted for boats to drop people off in the Benagil cave, so holding the actual cermony in the cave is not possible. However, the cave is still an amazing place to see and you should add a boat trip to your wedding fun plans. Perfect for the Day After party.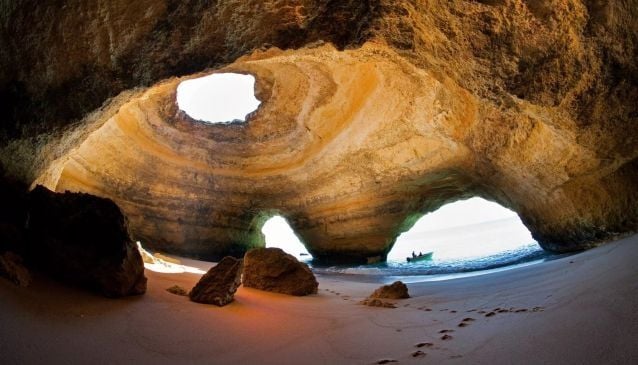 Quinta do Lago – a magical destination
At the heart of the Algarve's Golden Triangle and set in 2000 acres of the Ria Formosa Natural Park, the Quinta do Lago resort is definitely dream wedding material.
The resort offers an outstanding range of scenic settings for your wedding or partnership ceremony and an excellent choice of venues for your reception - lakeside at Casa do Lago or Bovino Steakhouse (stunning decor and food), on the beach, in a luxury villa, at the renowned Casa Velha restaurant for some french inspired chic or even on the golf course. What's more, the resort provides an experienced events team who will work with you to shape your dreams and ideas into a unique, magical and memorable celebration of your special day.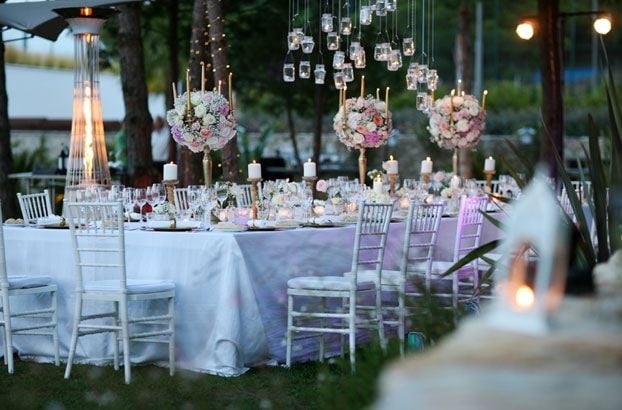 Vila Vita Parc Resort & Spa – a romantic luxury landscape
Awarded membership of The Leading Hotels of the World, Vila Vita Parc Resort excels in providing the perfect venue for every kind of wedding or partnership celebration. This five star resort offers a choice of nine venues to host your event, including its renowned two-Michelin star Ocean Restaurant and a private yacht, waiting to take you and your guests on a stunning  cruise, or to sail you away into the sunset – what a great way to start your honeymoon! And for something quite unique, visit the Cave dos Vinhos, a wonderful wine cellar - 9m underground and home to over 7.000 bottles of superb wines and ports. Enjoy wine tasting and tapas here, in the company of the Chef and Sommelier - the guardians of the wine.
Romance is part of the landscape at Vila Vita Parc – an oceanfront setting, world class cuisine, a range of contemporary luxury accommodation, elite guest facilities and a 22 acre backdrop of lush parkland, guaranteed to impress your guests and enhance your wedding photography.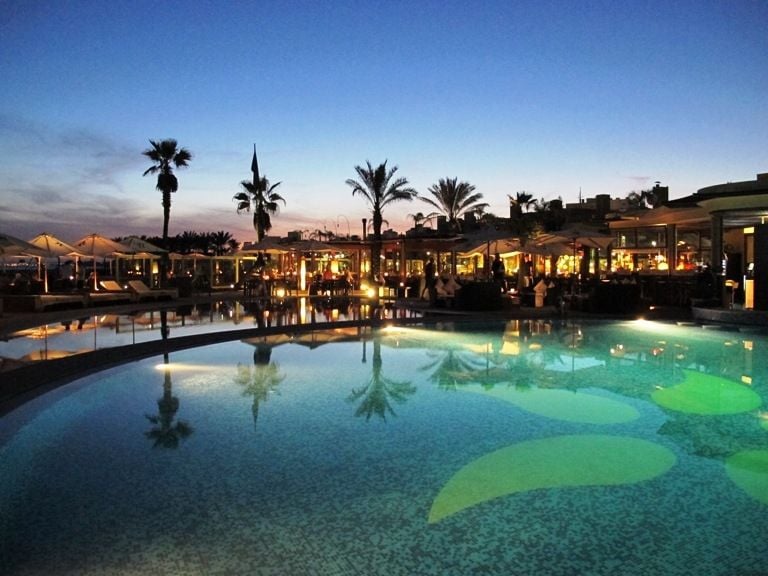 NoSoloÁgua

NoSoloÁgua – a stylish choice
If you dream of getting hitched by a beautiful beach, NoSoloÁgua could well be your dream come true. Located on the marina at Praia da Rocha, NoSoloÁgua is considered one of the coolest venues around. Combine NoSoloÁgua's exciting atmosphere and exotic décor, with creative cuisine, quality music, entertainment, fireworks and plenty of champagne and you have the makings of an unforgettable ocean side wedding or partnership celebration.
The NoSoloÁgua team can help you plan every detail of your event and will literally roll out the red carpet for your special day.
Azure Lux Charters – the ultimate celebratory experience
Make your wedding day ultra stylish and truly memorable for you and your guests, aboard a luxury 50-foot Sunseeker yacht. Bask in the glorious sunshine while feasting your eyes on the unique coastline, visiting amazing caves like the Benagil sea cave, exploring secluded cove beaches, coming ashore for lunch at a beachside restaurant or tucking into some on board catering.

Azure Lux Charters offer personalised luxury yacht charters from Vilamoura marina. Champagne, wine, beers, soft drinks and snacks are served throughout each trip, and for full day charters, and on request, on board catering can be arranged - everything from snacks to sushi to special dietary requests.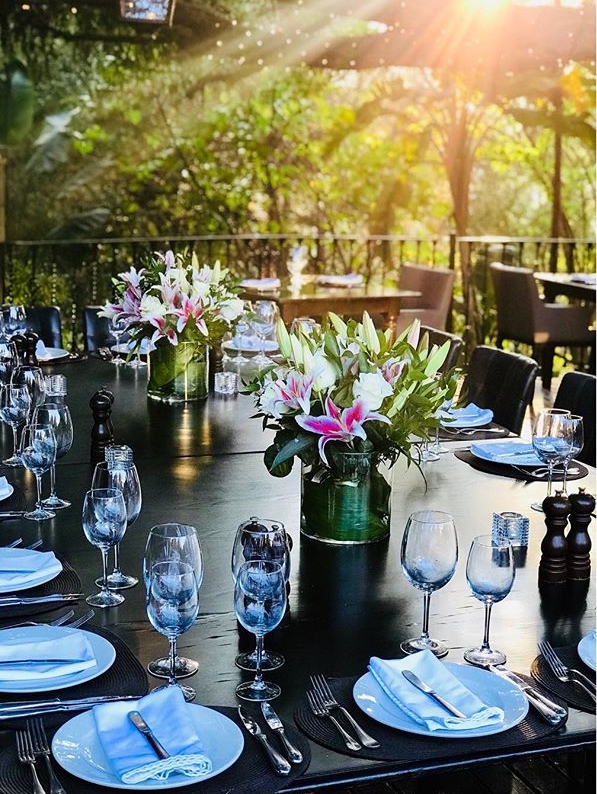 Parrilla Natural
Parrilla Natural – an enchanting place
Parrilla Natural is as much about excellent food as it is about magical ambiance. Close to Vale de Lobo and set in a vast natural landscape of pine trees and Mediterranean plants, Parrilla Natural is an ideal location for a grand wedding party or a small intimate celebration. The menu offers a good mix of tempting meat, fish and vegetarian dishes, including Parrilla's renowned organic beef steaks.
Parrilla Natural is recognised for its warm South American hospitality and an experienced team that offers a contagious enthusiasm, certain to ensure your wedding day is extra special. Sister restaurants Gourmet Natural and Parrilla Beach Club are also super wedding venues. Gourmet Natural is stylish and intimate, like a magic world apart, while Parrilla Beach Club has an amazing beachside location and fab roof terrace for sunset parties.

Brasserie Marina Restaurant - fine dining with Portuguese soul

A much-loved restaurant with a long history, Brasserie Marina is under new management since 2021 and is quickly (re)gaining must-visit status. The food is modern, innovative, beautifully presented and generously served. Located close to the famous Praia da Marinha beach, with its magnificent sea-arches and stunning scenery that is perfect for photos, the restaurant has a cosy indoor dining room and a sunny, leafy summer terrace. 

Brasserie Marina can cater for groups of up to 60, creating bespoke menus to suit your wishes.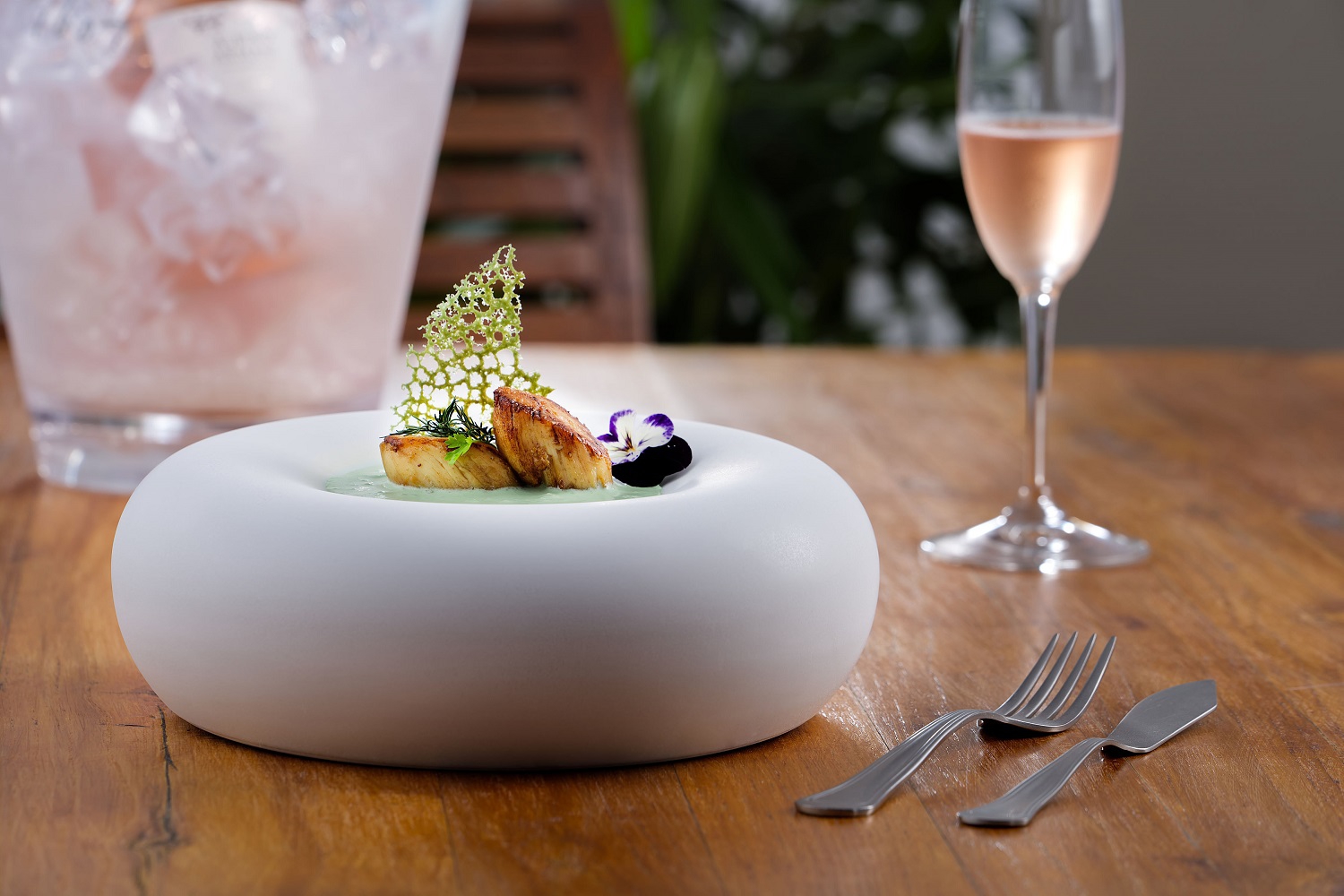 Brasserie Marina
Casa do Campo – a beautiful traditional setting
If you're looking for a truly traditional Algarvean setting for your wedding celebration, this charming restaurant near Almancil could be the answer to your dreams.
Once a typical farm house, Casa do Campo dates back to the late 1800s and has a 200 year old fig tree as its centre piece. The traditional style and charm of both the building and the outdoor area have been preserved to create a tranquil ambiance – a beautiful setting for a wedding party.
The cuisine at Casa do Campo is a wonderful mix of Mediterranean and Algarvian dishes, with most of the fresh fruit and vegetables used picked fresh from the restaurant's own farm. There is a good selection of delicious events menus to choose from and a range of excellent local and Portuguese wines. Hosts Jacqueline and José Caniné, an Irish-Portuguese team, will help you to plan your wedding menu and all the finer details that will go towards making it a very special day.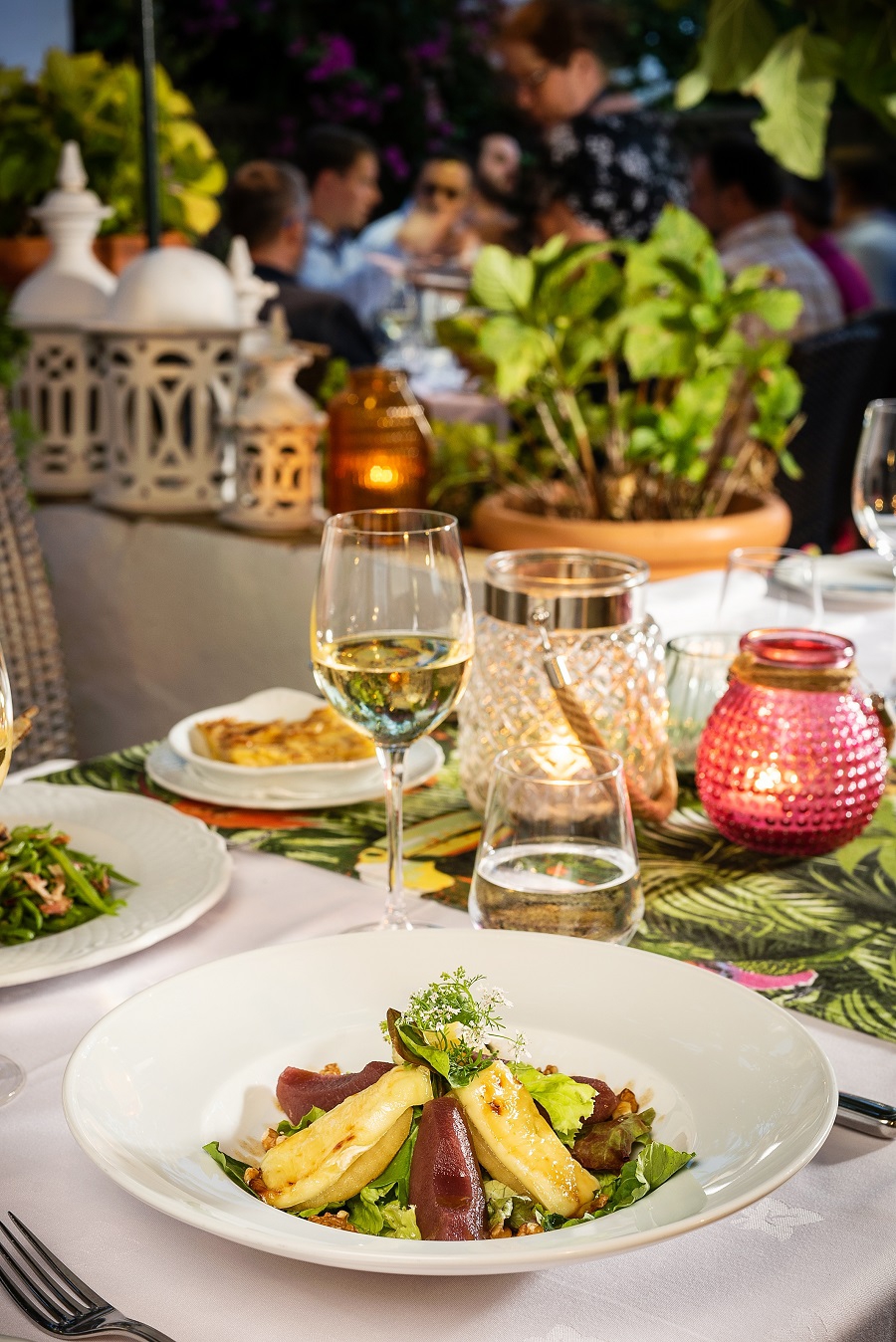 Casa do Campo

Pestana Viking Hotel - unforgettable views

If you want stunning views to be the backdrop to your wedding snaps, The Pestana Viking Hotel's cliff-top, beach-front location won't disappoint. This stretch of coastline has some stunning caves and rock formations, such as the Benagil sea cave and the sea arches at Praia da Marinha and  the Viking Hotel's gardens and pool area are on a promonotory that stretches out into the crystal clear ocean, with cove beaches on either side and amazing views of the iconic Senhora da Rocha chapel - one of the most romantic places in the Algarve and a popular spot for Algarve weddings. See the feture image above.

The Pestana wedding planning team have a range of options to make your special day as perfect as possible. 
 
Boutique Hotel Vivenda Miranda – a promise of natural harmony
Originally the home of a local noble family, this cliff top estate in Lagos dates back to the 17th century. Today Vivenda Miranda is a stylish bijou hotel with an ambiance that instils harmony and relaxation, and where the views don't get much better – the perfect setting to celebrate your marriage.  
Vivenda Miranda is experienced in hosting weddings and civil partnership ceremonies, with a focus on the inclusion of local natural produce and ethically produced goods served at the hotels fine dining restaurant Mirandus. The hotel's wedding support team can help you arrange every detail of your special day, from suggesting authentic organic food to create your wedding day menu, to sourcing Fairtrade and ethical products and services to enhance and complete your unique event.
Vivenda Miranda is also available for two-day or weekly exclusive rental, for a maximum of 52 guests. Yes, you can rent the whole hotel and hire the full staff for your wedding! There is an upper VIP terrace overlooking the pool area. The restaurant decor, with lighting By Beau, has mesmerizing medusa aquariums and a wonderful outside summer deck. The DJ stage is set atop the pool and there are private booths as well as day beds all along the poolside.
---

YOU MIGHT ALSO LIKE