Algarve Proposal Ideas that will make you want to pop the question
Hot List Inspiration Lifestyle
Where to propose in the Algarve - the most romantic spots for that important moment
Looking for proposal ideas? Wondering where to pop the question in the Algarve? Check out our suggestions of romantic locations to make your Algarve wedding proposal a highlight of your very own love story.
Known as a super
wedding
destination, the great weather, fabulous
wedding venues
and eye-popping scenery are just some of the reasons why
getting married in the Algarve
is a smart move. It's also a great place for a unique propsoal.
You've found your soul-mate, your true love forever and you're ready for wedded bliss. But first, you've got to ask the big question. A vital part of any couple's shared history, a story to be told over and over, the proposal is as meaningful as the wedding day itself. And just like any special occasion, a little planning can go a long way in helping to make it perfect. While we can't guarantee the answer you'll receive to that all important question, we're pretty sure the suggestions that follow will set a
perfect stage for a glorious wedding proposal in the Algarve
.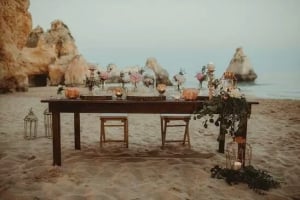 Ocean deep
The amazing
natural beauty
of the Algarve coastline evokes an emotional response in even the most weary of hearts. Romantic inspiration is all around from the picturesque
cliffs
and rock formations, the secluded
coves
and
awe-inspiring sea caves
and the ever-changing colour of the ocean. Here are some ways to harness all that gorgeousness for your proposal.
Private yacht charter
- take your beloved on a
romantic cruise
along the coast. Enjoy day time relaxation in the sun or ramp up the romance with a sunset cruise, sipping champagne as the sun sinks below the horizon - surely the perfect time for a proposal?
Lux Charters
offers private trips aboard their stylish yacht from
Vilamoura
, just you, the crew, your partner for life and a world of possibilities. Or go green and sail by
solar power
on the Flor do Sol boat run by
Alvor Boat Trips
, exploring the clear waters and rocky outcrops near
Praia do Vau
and Praia do Alemão.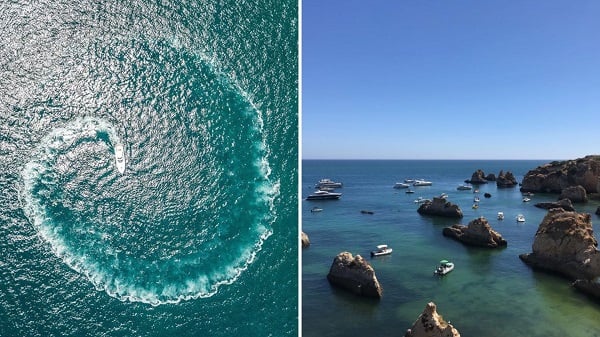 Benagil Sea Cave -
the most famous cave along the coast, the
Benagil cave
is undoubtedly beautiful. If you want to come ashore in the cave, take a
SUP (Stand Up Paddle) tour to Benagil
early in the morning so you can enjoy its tranquil beauty. The natural spotlights of sun streaming through the rock openings are the perfect spot to pop the question. There are plenty of
boat trips
that also take you to the cave but you can't come ashore.
Ponta de Piedade
- not quite so famous as Benagil, but just as bewitching, is
Ponta da Piedade
, near Lagos. A fantasy landscape of caves and coves, of strange rock formations and incredibly clear water, this is romance by nature. Stay atop the cliffs for vast views of the horizon or descend for fabulous views of the rock pools and arches.
Bom Dia Boat Trips
runs boat trips from
Lagos
on colourful, traditional Portuguese sail boats.
Ria Formosa
- a vast expanse of waterways, lagoons, islets and sandbanks, the
Ria Formosa
's tranquil beauty is stunning at any time of year. The gentle waters are conducive to lazy, languid days on the islands of
Farol, Armona
or
Culatra
.
Salt & Sea Boat Tours
allow you explore the Ria Formosa by
private boat charter
or on their
hop-on, hop-off
island express. You can enjoy magnificent sunsets just about everywhere along the Ria Formosa.
For a truly romantic setting for your proposal, book a night or two on board the
Ilha da Culatra
house boat
- immerse yourself in nature, sleep beneath the stars, enjoying privacy and tranquility as well as a panoramic bedroom and wonderful outside sun lounge.

Land of Love
Opportunities for romantic proposals in the Algarve aren't just at sea - there are picturesque settings from East to West.
VILA VITA Parc Wine Cellar
- Nine metres beneath the pristine lawns of
VILA VITA Parc
there lies a hidden treasure trove of wines and flavours - the
Cave dos Vinhos
or Wine Cellar. The brick-walled, vaulted cellar is home to some
7.000 bottles of wine
. Here you can sample wine by the glass, taste some freshly prepared tapas and imbibe the amazing atmosphere of a secret haven. A more perfect spot for a proposal would be hard to find. (And VILA VITA Parc resort would make the perfect honeymoon spot too).
Caniçoo
- as romantic a setting as you could hope for,
Caniço
is not only a superb restaurant (and wedding venue) perched above the ocean, it is actually
set within the cliffs
, like a romantic nook with views of starlight and surf. Access is by elevator that takes you from the cliff tops, out through a rock corridor and to the restaurant.
Vivenda Miranda Boutique Hotel
- set amid
Vivenda Miranda's
lush gardens that over look the ocean and Porto Mós beach, near Lagos, there is a pretty gazebo surrounded by flowers and sunlight, that is private and perfect for moments à deux. In fact, the hotel is a great
venue for intimate weddings
, offering tranquility, privacy and the option to
reserve the entire hotel
for your group.

There are some incredibly
romantic places in the Algarve
. For some picturesque history to set the scene, you could always drop to one knee in the centre of Tavira's
ancient roman bridge
. The seven-arched bridge is incredibly evocative, a thread of continuity over thousands of years of use by friends, foes and lovers. Or visit the quaintly charming
cliff-top chapel at Senhora da Rocha
, set on a promontory, surrounded by the Atlantic and wheeling seagulls. There's even a great wedding venue nearby, at
Pestana Viking hotel
.
Tony's Tuk Tuk Tours
- And for something truly original, ask that all important question aboard a
Tuk Tuk!
Take a
private Tuk Tuk tour of the coast and countryside,
stopping off at a picturesque location to pop the question. Tony and his team are Albufeira locals and they know all the best scenic spots, plus they'll pick you up from your hotel and drop you back too.
Adrenaline Lovers
Skydive Algarve
- the sky is the limit, literally. Share an adrenaline surge like no other with a tandem skydive experience with
Skydive Algarve
, leaping from a plane at 15.000 feet into an exhilarating freefall, then whoosh, as the parachute opens and you float back to earth. A fabulous way to celebrate the leap into a new life together.
YOU MIGHT ALSO LIKE