Best Walks in the Algarve
Inspiration Lifestyle Sports
Walking routes from East to West Algarve
Southern Portugal, Algarve is a popular year round destination for walking and hiking holidays, and a great location for nature lovers and those who enjoy an outdoor lifestyle. Naturally beautiful, the Algarve offers a variety of landscapes to explore, from the hills of Monchique and the Serra do Calderião near Tavira, to the stunning coastline near Carvoeiro and Sagres, to the wetlands and estuaries of the Ria Formosa and Ria de Alvor, and the tranquil banks of the Guadiana River.

There are so many mapped walking trails to choose from in the region, that you're bound to find a walk that suits you, whether you are a keen hiker or an occasional stroller. Here, we've pulled together a selection of walks from east to west Algarve, which should suit all ages and abilities, including four-legged walkers. You can find details, maps and GPS information of these and other walks by downloading this guide to walking trails in the Algarve by Turismo de Portugal.

Seven Hanging Valleys - Carvoeiro to Porches
Best coastal walk - 5hrs to complete the whole walk.
Considered the Best Walking Destination in Europe in 2019 by European Best Destinations.

Secluded beaches, awesome sea caves; a working lighthouse; unique flora; colourful butterflies; sea birds and magnificent rock formations, all in one amazing walk.

The 12km (there and back) Seven Hanging Valleys walk starts at Vale Centianes, just east of Carvoeiro, and continues east across the coastal cliffs to Albandeira. Unsurprisingly, the walk passes through seven hanging valleys. A hanging valley is a geological feature formed by a watercourse flowing from the top of a cliff into the sea, which erodes the limestone rock creating a small valley. The route has several access points, so you can choose to do a section of the walk, between beaches, or to complete the whole walk, which takes around 5 hours.
The ochre cliffs, which sweep down to the ocean, are a beautiful feature of the landscape, and this walk offers a wonderful opportunity to discover picturesque cove beaches that can only be accessed by boat, and to appreciate the truly spectacular views.
The route will take you close to Alfanzina lighthouse and past Praia do Carvalho, often referred to as Smugglers Cove, this beach can only be reached on foot via steep steps and a tunnel through the cliff. The next landmark on the Seven Hanging Valleys trail is the world famous dome-shaped Benagil Cave. This impressive rock formation is the result of a gradual build-up of limestone, layers of which are believed to have formed some 20 million years ago! Further on from the Cave, you may want to make a stop at one of Europe's most beautiful beaches - Praia da Marinha, before embarking on the final leg of your walk to Albandeira in Porches , a delightful rocky cove with a small sandy beach.
With so much to take in, it's easy to overlook the many seabirds, such as Gulls and Cormorants, which can be seen sheltering in the ragged crags along the cliff walls, the beautiful butterflies and the dense evergreen Juniper above Praia da Marinha, which comes into flower in spring.

Safety: The route is clearly marked on rocks and posts in both directions, but may not be suitable for young children or those with reduced mobility. Always make sure that you keep a safe distance from the cliffs edge and stay behind the fencing around the sinkholes.
TIP: This walk is wonderful anytime of the year, but check the weather forecast beforehand, as it's not so enjoyable in windy or stormy weather. Don't forget to take a camera.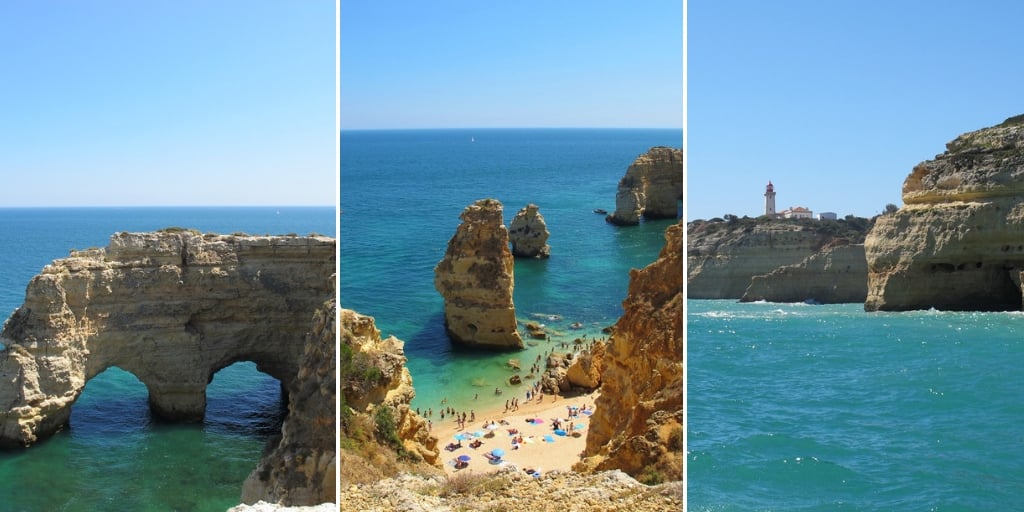 Seven Hanging Valleys walk

Masmorra Trail
Best for avid hill walkers - 2hrs
The Masmorra Trail (dungeon trail) in the Serra do Caldeirão is a circular 5.5km walk with amazing scenery and views. However, the highlight of this trail is the Anta da Masmorra or dolmen, a megalithic burial site, around 3m in diameter and made up of 9 vertical rocks, believed to be constructed somewhere between 3000 to 2001 B.C. - intriguing!

This walk is hilly and can be tough going, especially in the heat, but it's well worth the effort if you're up to it. Aside from the glorious landscape, the route takes you past palheiros (roundhouses constructed from natural materials), across a river bed and close to old windmills, now in ruins, but interesting nevertheless. If you reach the Anta da Masmorra on a clear day, you can see as far the Beja hills, about 70km away.

The start of the walk in Mealha can be easily accessed just north of Cachopo. Follow the EN397/EN124, where you'll find the road to Mealha well sign-posted to the left.

TIP: In spring this walk is both colourful and aromatic, as the hills are coverd with lavender and cistus.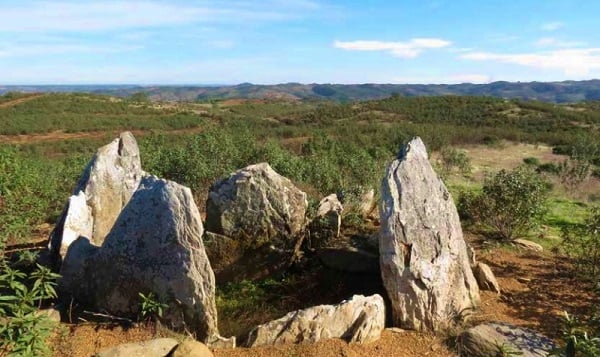 Ria Formosa - Ludo and Quinta do Lago
Best family walk - take long as you like!

Classified as a Natural Park in 1987, the Ria Formosa Nature Reserve is a tranquil estuary of fresh and saltwater lagoons, islands and marshes. Voted one of the Seven Natural Wonders of Portugal, Ria Formosa covers 170 square kilometres and stretches from Tavira in the east to just west of Faro, where it meets Quinta do Lago.

Together, the protected areas of Ludo and Quinta do Lago form one of the most beautiful and interesting corners of the Ria Formosa. Perfect for family walks, with marshlands, amazing lagoons, salt pans, pine woodlands and plenty of opportunity for bird spotting and watching. Traditionally used for salt farming, the area is now popular with shell fish farmers. When the tide is out you'll be able to see the locals working on their clam farms.

From 2021, there is a great wooden boardwalk, that runs from Praia do Garrão, starting at Fin's Beach Restaurant, right over to Quinta do Lago and the Ria Formosa area.

You can access the Ria Formosa at Ludo or Quinta do Lago.

TIP: This is a great location for walking anytime of the year, but the best times to enjoy this section of the Ria Formosa are early mornings and also at sunset during the summer months, when you can experience fiery orange sunsets reflected in the calm waters.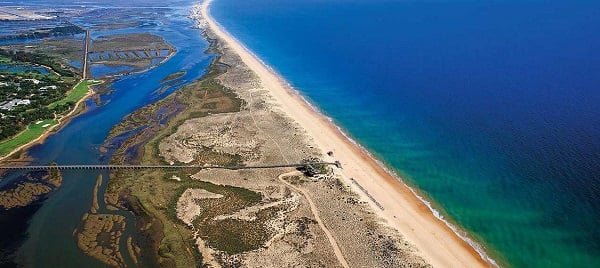 Aerial view of Quinta do Lago

Fonte Benémola
Best walk for dogs and owners - 1.5hrs

Fonte Benémola is a reservoir which is set in 400 hectares of protected land, near Loulé; a rustic landscape of meadows, woodland and rural farmland. The walk takes a circular route around the site, which is abounding with natural beauty and tranquillity. You'll come across freshwater springs, damns, watermills, old lime kilns and ancient waterwheels (noras - norias in English), as well as a wide variety of fauna and flora. In this bird's wonderland, you'll have a good chance of spotting Kingfishers and Herons, among many other species, and you'll breathe in the fragrance of wild herbs as you walk. Visit in the spring and you'll catch the delicate and colourful wild orchids as they start to flower.
The Menalva stream crosses the protected area and, at one point, forms a natural waterfall. This 4km walk can be enjoyed by the whole family and dogs love it too, as it's primarily flat and there is plenty of shade and water.
Fonte Benémola is situated just off the EN124 near Querença. Look out for the brown Fonte Benémola sign - it's right on a bend. There's a large shady parking area at the start of the walk.

TIP: Head up into Querença after your walk. You'll find a choice of bars serving food and drinks in this traditional Algarvean village. If you're in the area in January, don't miss the annual traditional sausage festival. Check the dates on our events calendar.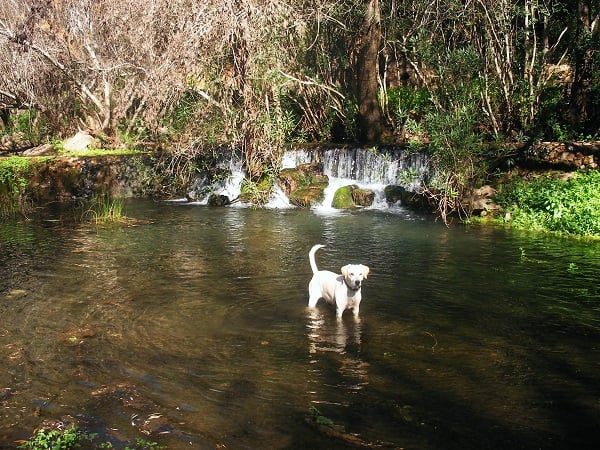 Fonte Benémola

Rocha da Pena - Loulé
Best walk for serious hikers - 2 to 3 hours

The Rocha da Penha trail is a circular walk between the Algarve's Serra (mountain range) and Barrocal, an area of exceptional rocky outcrops. The walk is around 6.5.km, takes about 2 to 3 hours and involves some serious, but rewarding climbing.

The trail will take you on a steep climb up the 50 metre high rocky face of Rocha da Pena and across the top, a flat table of rock stretching for about 2km. From here, the views are magnificent and you'll feel like you're on top of the world. Don't miss the stone battlements - these are believed to date back to the Iron Age. The trail continues down the opposite side of the hill to Penina, a typical Algarvean village, where you'll be able to take a break and refresh yourself ready for the walk back.

Depending on the time of year, on this walk you'll see many varieties of wildflower, including many different species of orchid, as well as several species of butterfly and bird. Large birds of prey, such as Bonelli's eagle can be spotted here, as well as the colourful bee-eater, which you'll probably hear before you see it, as it has a distinctive, melodious call. The area is also home to rabbits, foxes, hedgehogs and a small species of wild boar. Early in the year, the scent and sight of almond blossom along the lower levels of the walk is fabulous.

Safety: The ground is very rocky in places making the walk unsuitable for those with reduced mobility.

The recommended place to start the walk is at the foot of Rocha da Pena, in the hamlet of Rocha, just north of the EN124, between Benafim and Salir.

TIP: Route markings are clear but can be missed if you're distracted by the view, so look out for them.

Alvor Boardwalk - Estuary and Beach
Best walk for those with reduced mobility and young children - 45mins to 2hrs

This is a great walk for everyone and is beautiful anytime of the day or year, and it is the type of walk that can be as long or as short as you like.
You can join the extensive wooden boardwalk by Alvor's quaint little harbour and follow it as it winds its way through estuarine wetlands and shallow lagoons. At various points, it leads off to the vast, sandy Praia do Alvor (Alvor beach). The boardwalk is suitable for children's buggies, wheelchair users, and those with reduced mobility, and it is easily accessible from the parking area.

This protected natural haven is a feast for nature lovers. Each spring and autumn the estuary becomes a staging post for thousands of migrating birds, waterfowl in particular. It's a great area to spot marine birds too - look out for the Caspian and the tall, pink and elegant Greater Flamingo. The estuarine ecosystem also supports numerous animals, plants and insects and, in late January, the Yellow Broomrape dots the landscape with bright yellow flowers - stunning!

When you reach the breakwater, by the small lighthouse, you can either double back along the boardwalk, or walk back to Alvor harbour along the golden sands. The boardwalk extends beyond the harbour, following the beach all the way eastwards to the Praia dos Tres Irmãos. As a bonus, when the tide is low, you can walk by the gorgeous cove beaches at Prainha and Caniço, or follow the cliff top route from Prainha, past Praia do Alemão and onto Praia do Vau.

TIP: If you visit Alvor on a Sunday, check out the market by the harbour. It's open all year round, selling a great range of fresh local produce.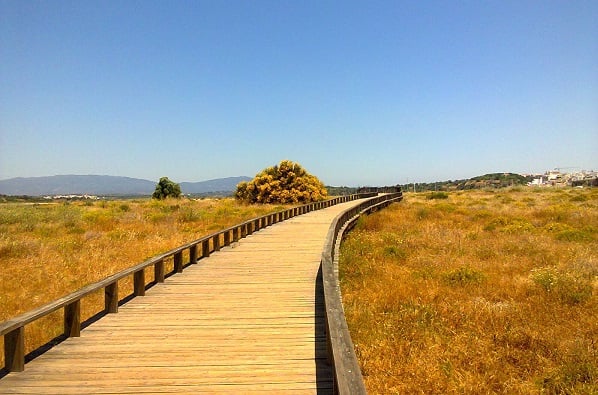 Alvor boardwalk

The Historical Way - Vila do Bispo to Cape Saint Vincent
Best walk for keen hikers

Walking is a wonderful way to explore the history of southern Portugal. Rota Vicentina's acclaimed Historical Way is a 230km trail, broken down into 12 sections, which lets walkers rediscovered the routes once taken by pilgrims, travellers and locals, on their journeys through the region. The trail starts in Santiago do Cacém, in Portugal's Setúbal district, and finishes in the Algarve at Cabo de São Vicente (Cape of Saint Vincent), the southwestern most point of Portugal and of mainland Europe.

The Algarve section of Rota Vicentina is a 14km stretch running from the charming town of Vila do Bispo, in the municipality of Sagres, and across high cliffs, from which the views can only be described as breath-taking. It's here in Sagres, on the peninsula, that each autumn ornithologists, birdwatchers and nature lovers gather to witness the annual migration of thousands of soaring birds and seabirds. Along this trail you'll cross the Sagres Biogenetic Reserve. At a glance, the vegetation may not appear to be exceptional but, in fact, the reserve is a sanctuary for botanists because of the rare chalk soil plants, species unique to the world and species which were thought to be extinct but have reappeared here. The undergrowth is a heady aromatic mix of gorse Erica, thistles, Lithodora lusitanica, rosemary, thyme, violets and hyacinths.

In the final stage of this trail you'll pass an area called Vale Santo. For centuries Vale Santo was part of the pilgrimage route of devotes of Saint Vincent, who were en route to the Franciscan monastery at Cape Saint Vincent. The monastery was largely destroyed by the 1755 earthquake and Cape Saint Vincent lighthouse was constructed on the site in 1846. The lighthouse is now open to visitors.

All 12 sections of the Historical Way are fully marked in both directions and are suitable for walking, hiking or cycling. This is just one of several routes on the Rota Vicentina.

TIP: Allow a whole day for this walk and take a good pair of binoculars and a camera. If you plan your walk at the time of the annual Sagres Birdwatching Festival, apart from the chance to spot some amazing birds, you will have the opportunity of watching or taking part in other activities when you reach the Sagres coast.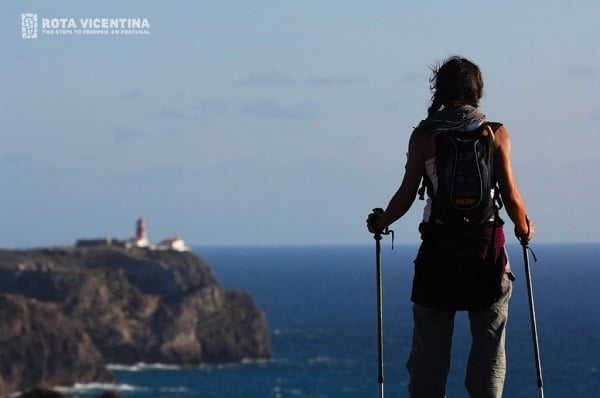 Sagres, Rota Vicentina

GR15 - Great Guadiana Route - Vila Real de Santo António to Alcoutim
Best nature walk - 18 hours divided into 4 stages

The far east of the Algarve, where the Guadiana River separates Portugal from Spain, is one of the least known areas of this region. It's a great area to explore on foot, from Vila Real de Santo António, via Castro Marim, to Alcoutim. The trail is named The Grande Rota (GR15) and extends over 65 km, over the lower Guadiana, through mountain, barrocal and coastal areas, along the Guadiana River.

There are four stages of the GR15 route:
GR15- 1: Vila Real de Santo António - Junqueira - 11.5 km / 3hours (easy)
GR15- 2: Junqueira - Odeleite - 17.3 km / 5 hours (moderate)
GR15- 3: Odelete - Guerreiros do Rio - 18 km / 5 hours (moderate)
GR15- 4: Guerreiros do Rio - Alcoutim - 18 km / 5 hours (moderate)
There's so much to experience and enjoy along this route, which passes through many villages and hamlets. You'll see a
broad spectrum
of flora and fauna
and a
diversity of landscapes
, from
beaches
to the south, the
mountain ranges
to the north and the
Guadiana River.

TIP: As you pass through Guerreiros do Rio, take some time out to visit the River Museum and learn more about the Guadiana and the fishing traditions of this ancient hamlet.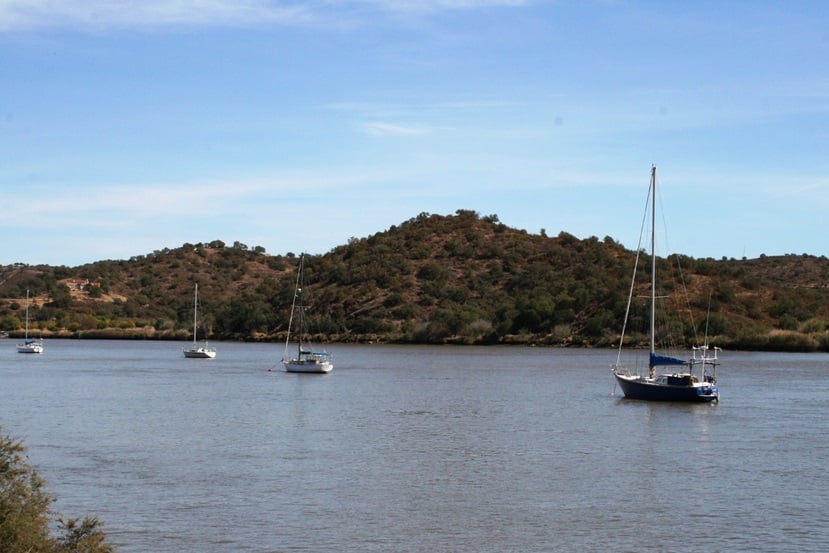 Guadiana River, GR15
Vilamoura Nature Trail
5kms - great for bird watching and family strolls
Set within the Vilamoura Environmental Park (Parque Ambiental de Vilamoura) this is a 5kms trail that runs by the agricultural area, with crops such as barley, rye and wheat, as well as the humid areas by the reeds and lake. A lovely peaceful walk it is great for birdwatchers - there are two obersavation points with guides to what birds you might spot. Find out more about the
Vilamoura Nature Trail
.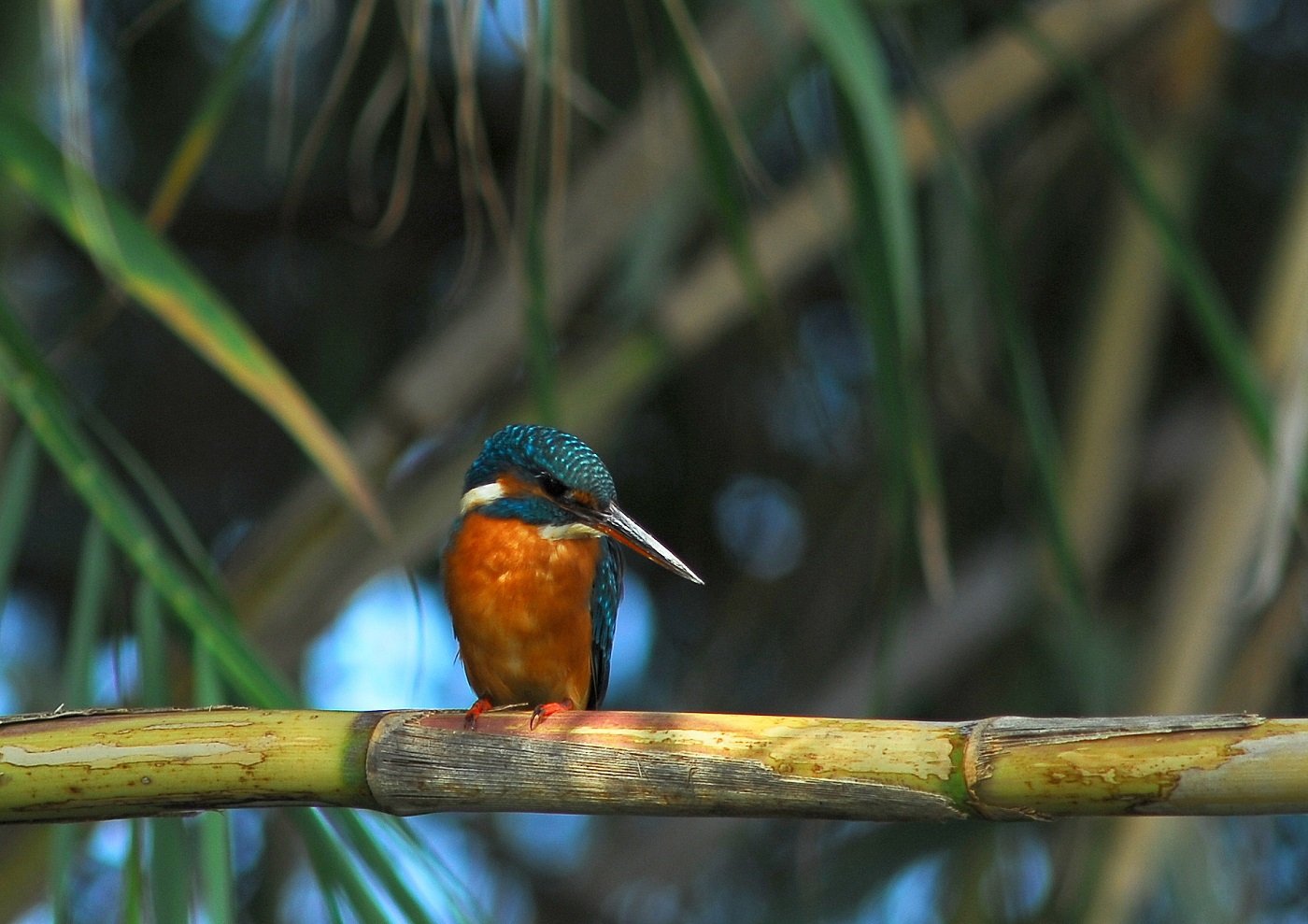 Walking in the Algarve
is a brilliant way to see and experience the magic of the countryside and coastline. What's more, it's the perfect way to keep fit and active. Whatever the time of year, when you're out walking in the Algarve, always make sure you have a good supply of water and sunscreen with you. Wear sensible, comfortable footwear and clothing, remembering that temperatures can drop rapidly when the sun goes down during the winter months. Pay attention to signage and respect fencing - if a path is fenced off, it is for your safety.
Get out there and enjoy the Algarve, but leave only footprints behind.
---
You might also like: