Walking in Algarve
Adventure Inspiration Sports
Walking holidays in the Algarve are becoming increasingly popular
Walking and hiking in the Algarve. Follow country roads and hillside routes, exploring the beautiful Monchique countryside. Join a guided tour or follow some of the signed routes in the region.

The Algarve is famous for sand and sea. However, there is a different world waiting to be discovered a mere few kilometres from the hustle and bustle of busy holiday resorts. Turn your back on the beach and head inland, choosing the road less travelled…
There are plenty of things to do in the Algarve, but the region's name generally conjures thoughts of long sun-soaked days, golden beaches lapped by clear waters, chic resorts and hotspot nightclubs. However, walking holidays in the Algarve are becoming increasingly popular for a variety of reasons – plenty of flights to Faro airport and a huge range of accommodation are the obvious ones. Stunning natural scenery, a great variety of flora and fauna and a relatively untouched landscape a stone's throw from popular resorts are also important factors. Rising from the coastline, the scenery changes from blue to green. Undulating hills, speckled with tiny cottages, colourful wild flowers and majestic cork trees spread before you like a fresh green blanket, enticing you to walk, ramble, picnic and explore.
Moving inland from the coast, the road soon begins to rise, winding its way through the town of Monchique itself, before reaching Fóia, the highest point in the Algarve, standing at 902m above sea level. The views from Fóia are totally stunning. On a clear day you can see the towns of Lagos, Portimão, Albufeira, and even as far as Vilamoura on the southern coast. To the west you have the Costa Vicentina natural park and to the north you can see the broad plains of the Alentejo, the Algarve's neighbouring province. It's easy to see why so many people choose to spend their holidays in the Algarve; the beautiful scenery is hard to beat.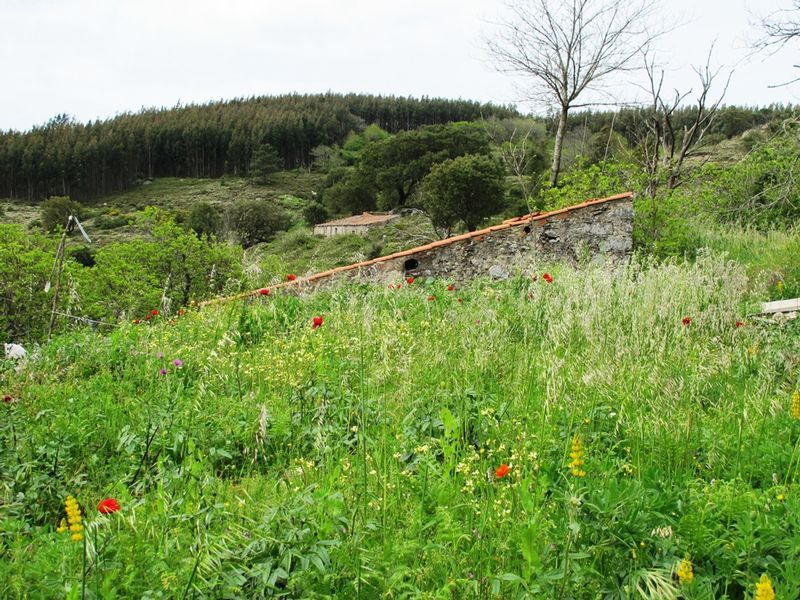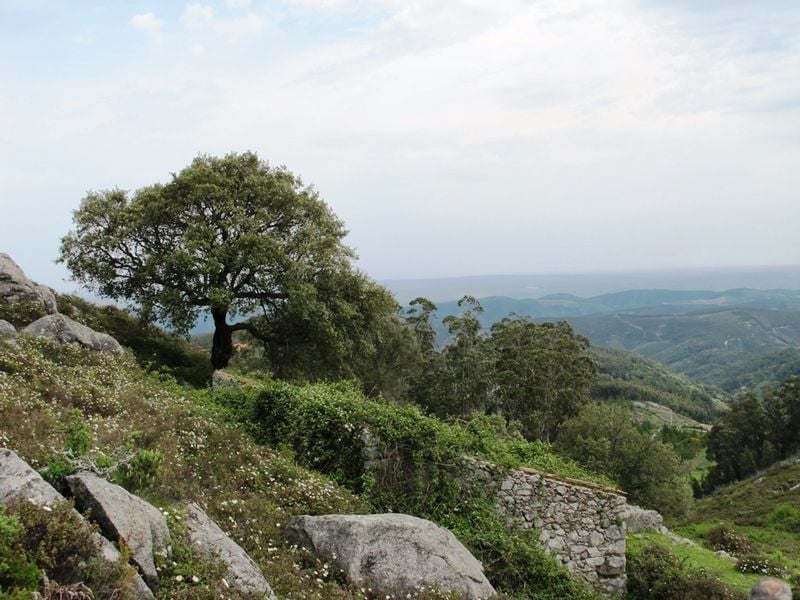 Fóia was the starting point for our recent ramble through this lovely countryside. We reckon this was a good idea – it's all downhill from there! With our guide Filipe leading the way, and well fortified by a substantial farmers breakfast served at Jardim das Oliveiras restaurant, we set off on our adventure. We followed country lanes, dirt-tracks, cow-paths and the Via Algarviana (an amazing 300km-long pedestrian path that runs right across the Algarve). We even followed the tracks of some wild boar.
In decades past, the countryside surrounding Monchique was more densely populated, with many small farms worked by family groups. As in so many rural communities, urban attractions enticed younger people to try their luck on the coast, leading them to abandon their traditional homes and farm work. We passed several small stone cottages, looking very picturesque, if a little sad, amid fields of poppies, with views across stone terraced fields sweeping down to the coast. Surely somebody's future dream hide-away?
We slaked our thirst en route at one of Monchique's many natural springs – delicious. The air was redolent with the scent of wild flowers and eucalyptus, and alive with all manner of small creatures flying and buzzing about. We visited A Moinha d'Agua de Poucochinho, a recently renovated – and functioning – watermill, set in a beautifully tranquil picnic spot, with a lively stream and some magnificent trees which give a very welcome shade from the summer sun.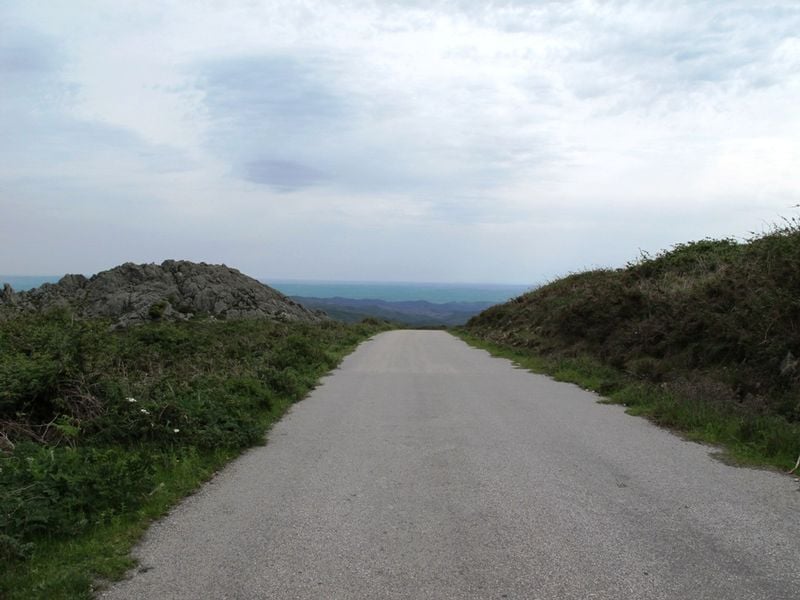 Monchique is famous not only for the fresh water springs but also for its firewater, known locally as Medronho. Made from the berries of the arbutus bush, medronho is distilled in copper alambiques and is said to cure pretty much anything that ails you. One sure fire remedy for the common cold is lemon tea with a generous dose of medronho. We visited a small distillery where this liquid dynamite is made; it's amazing what a few berries, some sugar and time can do.
Having worked up quite an appetite on our hike, our little group was more than ready for a hearty lunch at Jardim das Oliveiras, one of the most authentic restaurants in the Algarve. Nestled among olive groves, slightly south of Fóia, the restaurant offers traditional portuguese food. The food is locally sourced and cooked using age-old methods, the flavours seeming to call to some genetic memory of what 'real food' used to taste like.  We sampled locally smoked hams, blood sausages, local cheese, and we had another encounter with wild boar – this time on a plate -, incredibly tender and perfectly seasoned.
Walking in the Algarve is not a one-size-fits-all activity. You can choose to follow more or less demanding routes depending on your experience and fitness. There are local guides available who can not only show you wonderful routes, but give you a detailed and intimate snapshot of this under-appreciated area. Even if you're not a regular walker, just a country stroll through the hills will enrich your stay in the Algarve.
YOU MIGHT ALSO LIKE