Best Surf Spots in the Algarve
Adventure Family Fun Hot List Inspiration Lifestyle Sports
Discover the best surf spots in the Algarve, for beginners and advanced surfers, along the West Coast - Costa Vicentina - and the southern coastline. The surfing is excellent all-year round, with great surf schools for learners and lots of aprés surf fun too at beachside bars and restaurants.
With its wind-driven waves on the rugged west coast and its gentler breaks on the sun-baked southern beaches, the Algarve is a well-loved destination for surfers of almost all levels. The region may not get all the media attention of Nazaré to the north but, hey, how many surfers are really up to challenging colossal breaks? For the majority who just take pleasure in riding the waves (or want to learn to do so), the Algarve offers many great opportunities—with fabulous beaches and weather to boot.
Most of the surfing action is towards the west, focused on the Atlantic coast - the Costa Vicentina, where powerful swells and consistent waves are enticing for experienced riders, while still offering some more protected spots that don't intimidate the novice or intermediate surfer. The growing popularity of surfing — and of Portugal's recognition as a top surf destination in Europe — has led to a flourishing of surf schools, camps, and outfitters from Sagres all the way to Odeceixe and beyond. Once deserted beaches are now teeming with wave riders; surf-oriented holiday rentals are proliferating; sand-fronted cafés are now aplenty. It is quite the California vibe, especially at the peak of the summer.
The scene changes in the winter when the conditions are wilder, and only the hard-core head out to brave the bigger waves. The added reward, of course, is the stunning beauty of an emptier coastline.
On the more sheltered, south-facing coast, beaches such as Praia da Rocha and Praia de Faro are ideal for younger surfers or novices to learn. Still, while the gentler waves may not quite provide thrills for a surfer with some experience, surely the pleasure of being on some of the world's most beautiful beaches, basking in the sun, and having a delicious seafood meal afterwards might well be enough to round out the fulfillment.
Take note: The Atlantic is most certainly not the Caribbean, and the southern coastal waters are not quite Mediterranean. Wetsuits are practically a requirement. And when on the west coast, even if mid-summer, always bring an extra layer. You never know when a chilly wind might just blow in.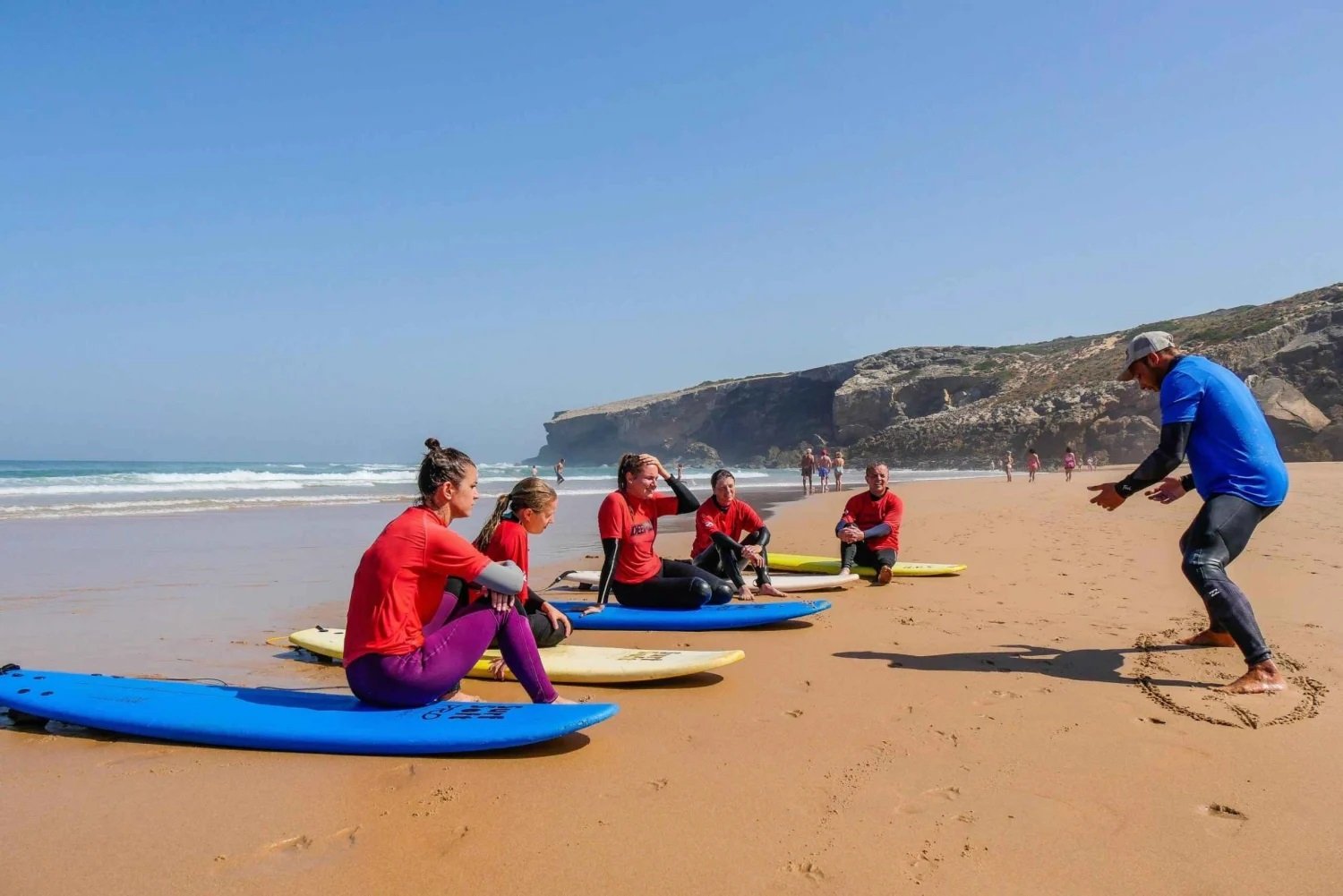 Ready to ride? We've picked out the top spots to hang ten. Best to check ahead on conditions at
surf-forecast.com/regions/Algarve
or similar online resources. And always be aware of the risk of rip currents.
Want to learn to surf? Check out this 2-hour beginner surf lesson - perfect for learning the basics about waves, currents, tides and equipment, how to paddle and handle the surfboard in the water in a safe manner.
West Coast - Costa Vicentina (from north to south)
Praia de Odeceixe
Separating the Algarve from the Alentejo on the Vicentina coast, the tidal Seixe river empties out at the sea at this picturesque white-washed village hugging the cliffs on the southern end. Good for intermediate surfers, the wave action is mostly on the far end of the beach below, benefitting from the convergence of the river; if you are arriving with boards, be prepared to lug them a distance, especially as parking is scarce in the summer. Otherwise, rentals and surf instruction are available at
Water Element
on the beach itself, where canoe and kayak rentals are also available for paddling on the river, tide permitting.
Bonus
: The restaurants! Indulge in fresh fish or try the odd-looking but ever-so-tasty
percebes
, aka gooseneck barnacles. It's a local speciality. If lucky, you might snag a table at
Restaurante Dorita
overlooking the beach.
Double Bonus
: You can go board-free and simply fling yourself into the river currents and enjoy the ride along the estuary, with the cliffs looming overhead. Great fun and one of our
recommended fun things to do this summer
.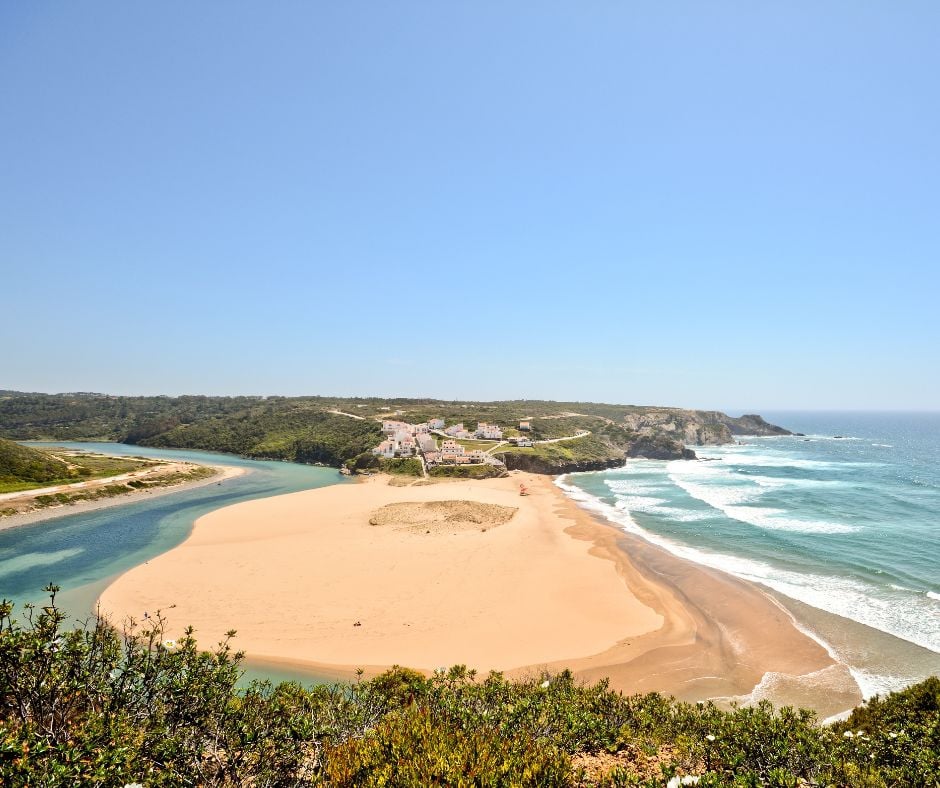 Odeceixe
Praia da Arrifana
When it comes to gorgeous settings, Praia de Odeceixe has this tough competitor. Built into steep cliffs overlooking a stunning curved beach, Arrifana is no longer quite the hidden gem it once was. Come summer, surfers and beach-goers flock to the beach below. Still, it holds onto its charm. Known for its surf breaks, it attracts surfers of various levels, even during the quieter winter months. The sandy bottom makes it safe for beginners, while protected from the north wind but facing west, it catches quite some swell. For year-round surf rentals and lessons, try
Aljezur Experiences
, also offering a choice of accommodations with surfers in mind.
Bonus:
Perched above it all, O Paulo restaurant delivers spectacular views with food to match.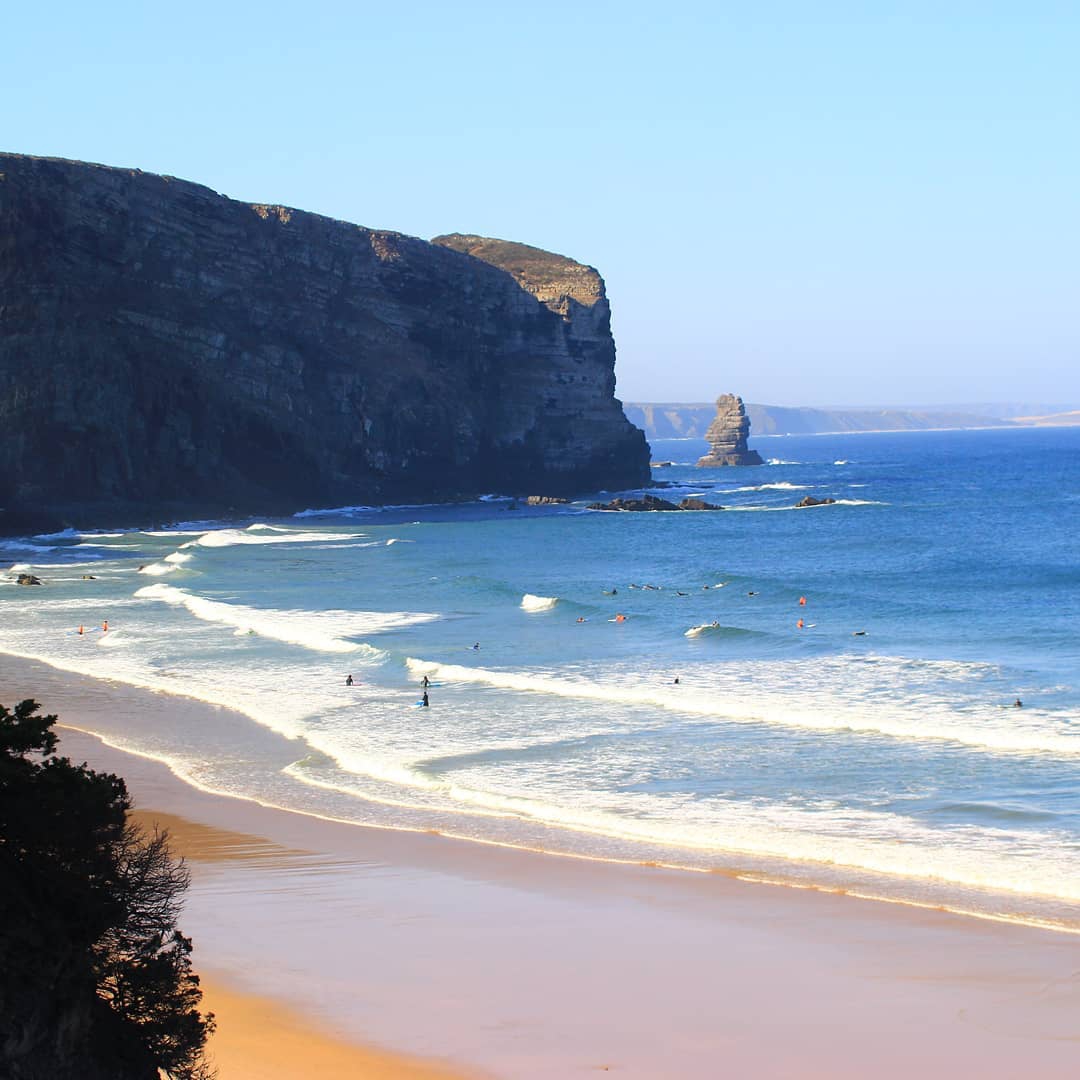 Arrifana
Praia da Bordeira
Located just northwest of Carrapateira, this pretty, seemingly endless beach surrounded mostly by sand dunes is a far cry from Arrifana and Odeceixe to the north. Fully exposed to the Atlantic winds, Bordeira is a true swell (and surfer) magnet with excellent conditions almost any day of the year — at least, for the die-hards. Its sandy bottom and varying waves make it popular for beginners and experienced as well. Surfers of all levels should keep rip currents in mind. For lessons and equipment rentals, try
carrapateiraextreme.com
..They run great surf lessons for all levels.
Find out more about
surf lessons at Carrapateira
Bonus:
Carrapateira, just inland, is a pleasantly laid-back village with casual eateries.
Double Bonus
: Even if you are not a surfer, the scenery here is fabulous, particularly from the viewing points above the beach.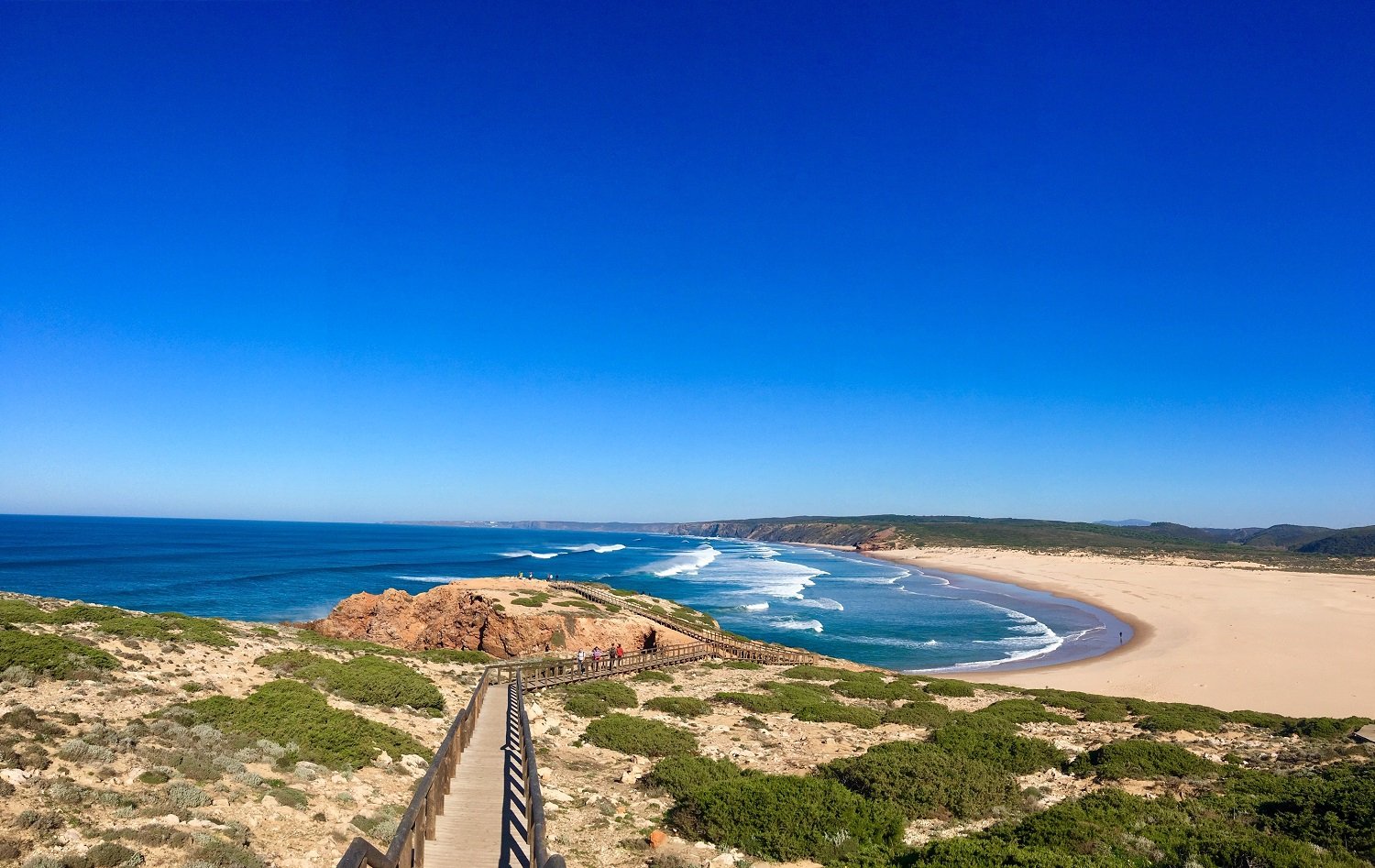 Bordeira
Praia do Amado
Another popular surfing spot located near Carrapateira, this cliff-backed beach offers consistent waves suitable for all levels (i.e. be prepared to share the waves). Somewhat protected when the north wind blows, it still catches plenty of swell. Keep hidden rock formations in mind. For surf lessons, gear rentals and holiday surf packages, try
Amado Surf Camp.
Bonus:
Relax alongside fellow surfers and beach-goers at one of the hip beach cafés.
Sagres:
Located at the intersection of the western and southern coastlines, Sagres offers versatility in options all year round. Within a short distance, sandy-bottom beaches and steady swells at
Cardoama
and
Castelejo
on the west coast can make ideal conditions for beginners while
Praia do Beliche
,
Tonel
or
Zavial
might be more apt for more experienced riders depending on the weather and swell forecasts. With conditions often shifting, book a lesson or a rental with a local company such as
Sagres Natura
or
Wave Sensations
and go with flow.
Bonus
: Sagres is a busy town, with a relaxed surfer vibe. There are plenty of great restaurants and bars to choose from.
Double Bonus:
Feel you're at the edge of the world when you visit
Cabo de São Vicente
just 5 kms outside of town.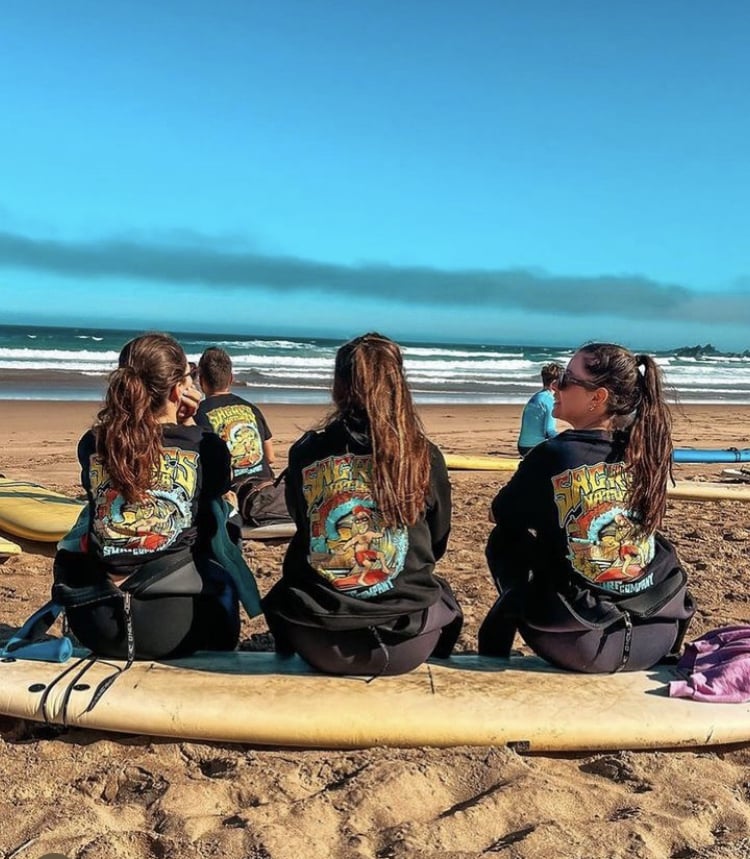 Sagresnatura
South Coast, West to East
The southern coast in the Algarve may not always have the spectacular surfing conditions of the west coast, but there is still plenty of great surfing to be enjoyed.
Praia da Luz
This charming, quintessential beach town is a good choice for beginners and intermediate surfers, especially with southeastern winds. Experienced surfers can best catch rides at the reef break in front of Rocha Negra on the eastern end of the beach. Board rentals are available at the
Salty Wave
, where you can check in on weather conditions and group lessons.
Bonus:
If the waves aren't cooperating, just frolicking in the water or grabbing a refreshing drink on the beachfront promenade can offer pleasure enough.
​
Praia da Rocha
This popular beach near Portimão offers the most consistent of waves on the south coast. Mostly gentle, they are suitable for beginners and learners. Book lessons or rentals through
Portimão Surf Club
, led by national surf champion Francisco Canelas, or through
Future EcoSurf
.
Bonus:
Kayaking, stand-up paddle (SUP) and bodyboarding are also on offer, and the water temperature is generally pleasant.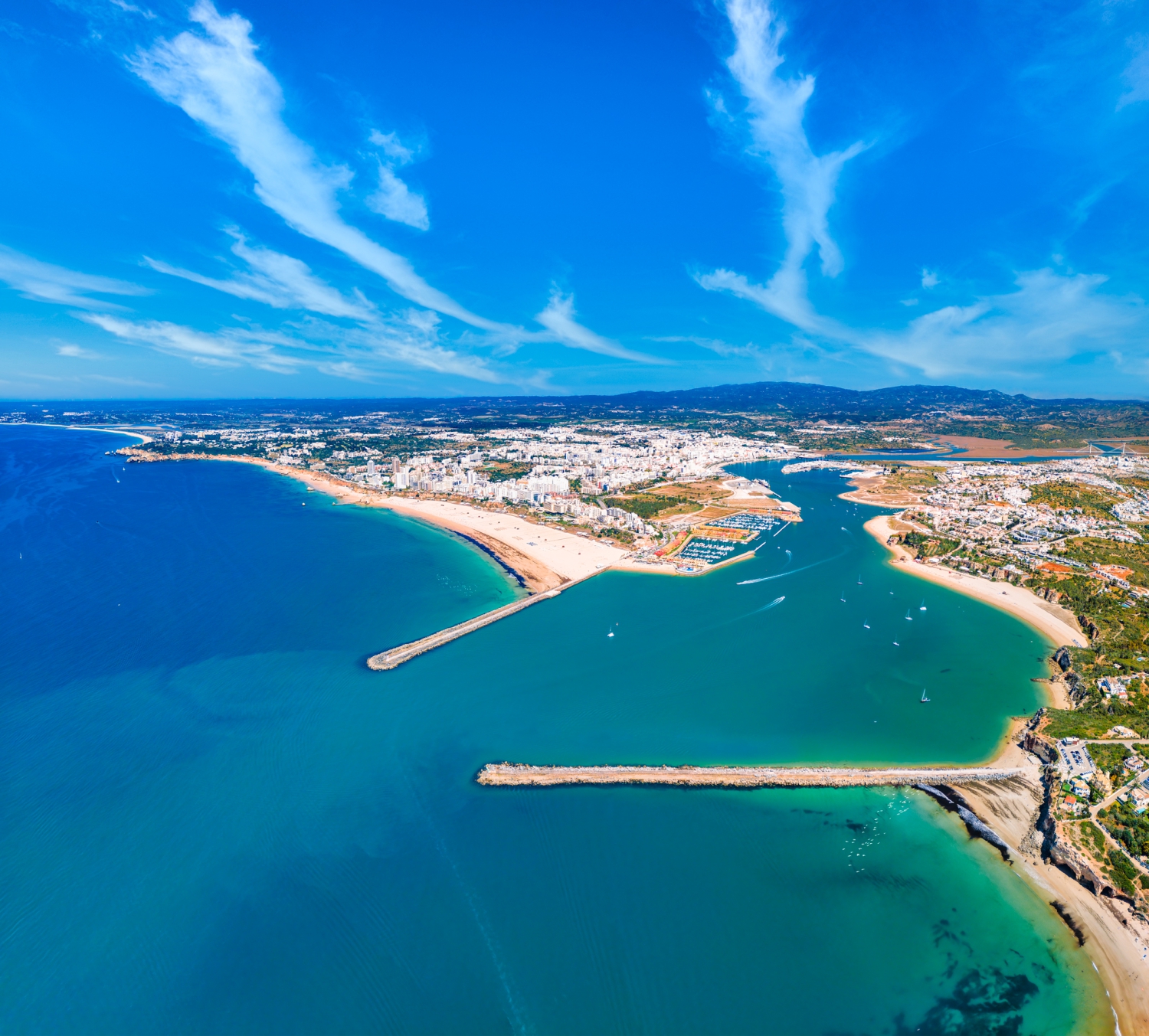 Praia da Rocha and Portimão
Praia da Galé
Close to Albuferia, this is a great spot to learn to surf. You can join a
2 hour beginner's lesson
where you learn the basics and take to the sea to try to catch your first waves.
Praia de Faro
Located just outside the town of Faro, close to the airport, and set within the Ria Formosa Natura Park, this beach provides good conditions for novice surfers primarily, with surf schools to accommodate. Try
AMAR Surfing Academia
or
Salty Experiences
.
Bonus:
Stroll the miles-long stretch of white sands along a nearly turquoise-colored sea, and you might well believe you're on a tropical island. The water temperature is often divine.
Double Bonus
: Explore the amazing
Ria Formosa
- a magical landscape of sandbanks, lagoons and small islands. There are boat trips running from Faro to the islands.