Best Guide to Carvoeiro, Porches & Ferragudo, Algarve
Family Fun Inspiration Mini Break
Two charming Algarvean towns and one of the region's oldest fishing villages.
Carvoeiro, Porches and Ferragudo are a triumvirate of small algarve villages that pack a charm punch that belies their size. Steeped in history and tradition, replete with amazing restaurants and gorgeous natural scenery such as the
Benagil cave
and Praia da Marinha - the Algarve's most photographed beach, they are well worth discovering while you're in the Algarve.
Carvoeiro
Formerly a traditional fishing village, Carvoeiro is now a busy coastal resort on the western side of the Algarve. However, it has managed to retain its original Algarvean charm, generally avoiding being developed into an area of high rise apartment blocks and hotels. With a small central beach and some of the most scenic beaches and coastline near by (the famous and romantic Benagil cave is just a short boat ride away) this is a very attractive town, a long time favourite with summer visitors and year round residents. Home to some excellent restaurants, including a Michelin star holder - see below. The centre of the village is quite small, ideal for idle wandering,the perfect place for evening strolls, enjoying a drink or an ice cream at a beachside bar.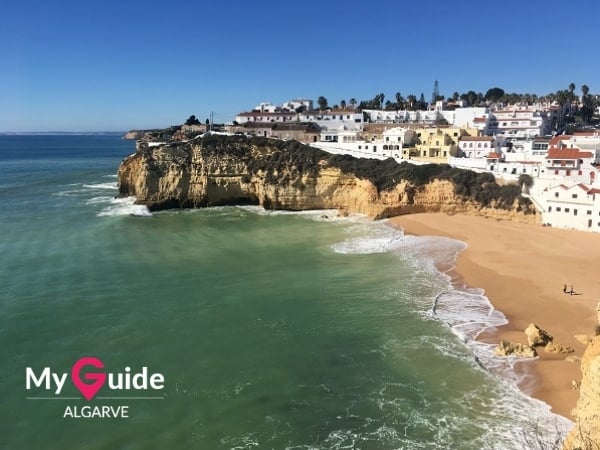 Porches
Steeped in history, Porches is a small, charming and decidedly cosmopolitan town, is the centre of the Algarve's pottery industry and it is also home to one of Portugal's very best hotel resorts - VILA VITA Parc. With spectacular coastal scenery such as the whitewashed chapel perched atop the cliffs at Senhora da Rocha, this is one of the most romantic areas in the Algarve and a popular wedding venue.
Ferragudo
One of the Algarve's oldest working fishing villages, this picturesque little place absolutely oozes charm, with fishermen pulling in their nets along the harbour wall and a labyrinth of cobbled streets that rise up from the main square to the typical country church overlooking the ocean - it's magical (and a popular setting for destination weddings). Set across the Arade River from Portimão, in front of No Solo Agua club, Ferragudo is home to some outstanding seafood restaurants. There are water taxis services from Portimão and Praia da Rocha to Ferragudo.

What to see
Carvoeiro Lighthouse: The Farol da Alfazina stands 25m high just east of the town, on the cape of Carvoeiro. The scenery is breath-taking and the views are spectacular. Great for walks along the trails, part of the Seven Hanging Valleys walk - find out more about this walk.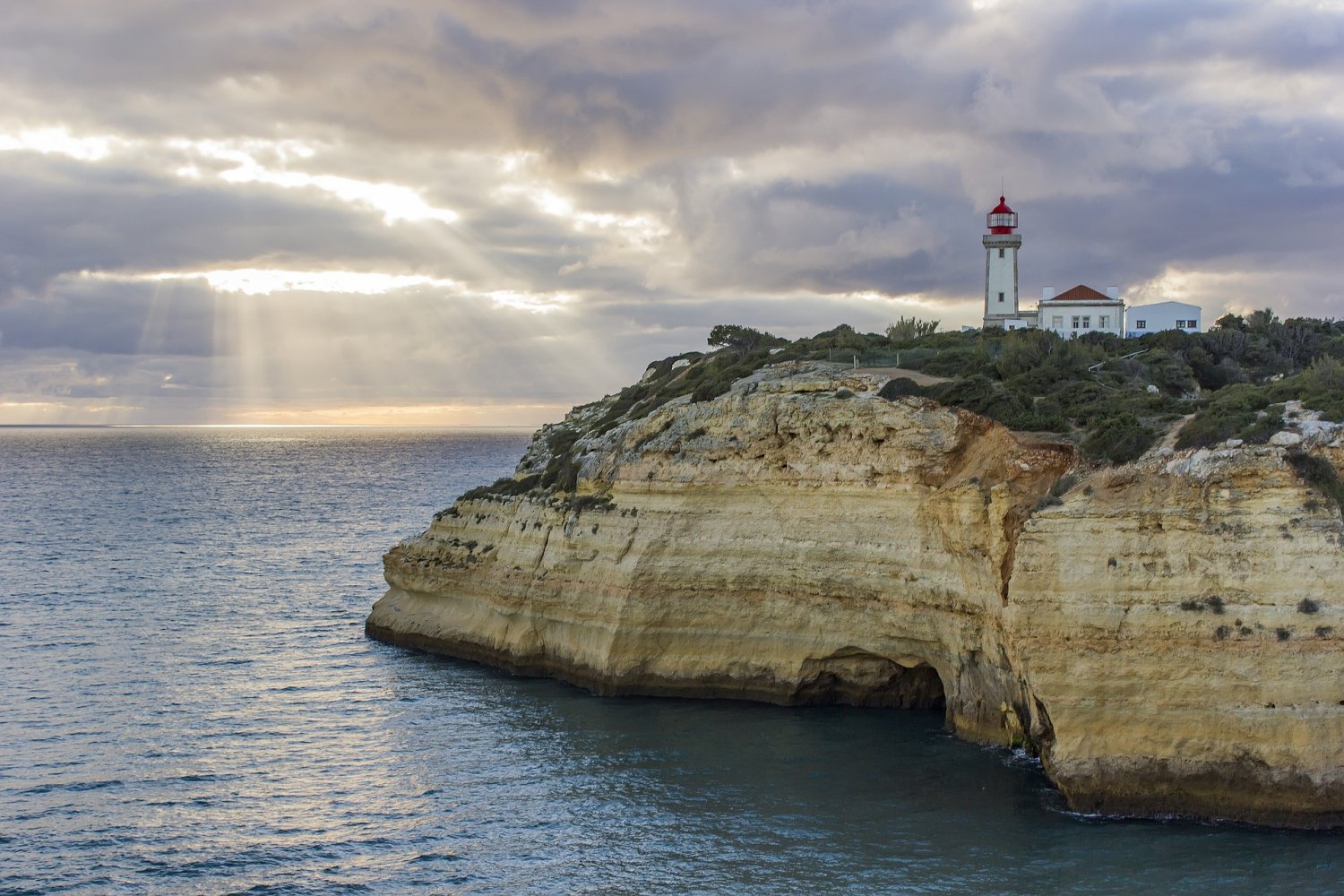 Fort and Shrine of Our Lady of the Incarnation (Nossa Senhora da Encarnação): You can't miss the chapel and the remains of the fort on the cliff above Carvoeiro town. The Fort dates back to the 17th century. The chapel, which houses the shrine of Nossa Senhora da Encarnação was completely destroyed by the great 'quake' in 1755, but was restored in 1942. In the light of the moon, it's a very romantic spot! The adjacent children's playground has the most amazing seaviews.

Ferragudo Castle (Fort of São João de Arade): Situated between Praia da Angrinha (the fisherman's beach) and the main tourist beach, Praia Grande, this intriguing fort was built in the 15th century and overlooks the river estuary. It's privately owned, so you can't look inside, but it's worth seeing from the outside.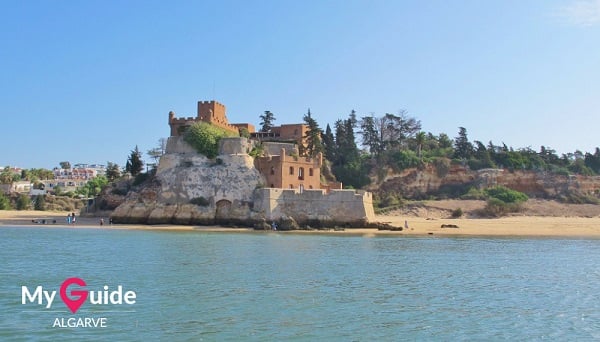 Where to eat
Carvoeiro town is small and quaint, but there's no shortage of bars and restaurant serving a variety of local and international dishes – from Michelin star and Portuguese flavours, pizzas and local pastries. Here are a few suggestions.



Michelin star restaurants:


Ocean Restaurant, Porches – This two Michelin star, restaurant in the Vila Vita Parc resort promises an exceptional gourmet experience in a remarkable setting where the Ocean is a constant presence - in the decor, the views and on the plate.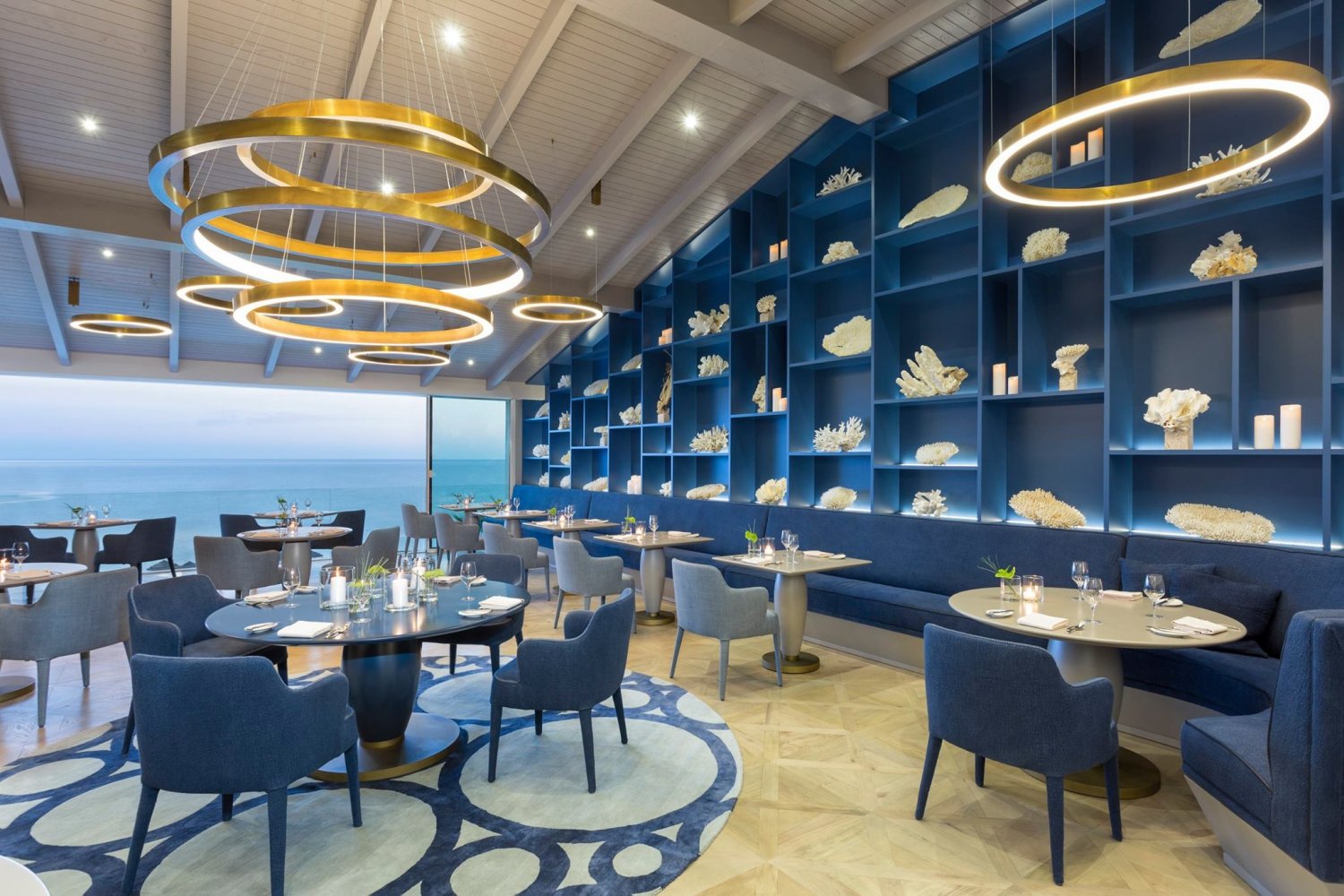 Bon Bon, Carvoeiro – This Michelin star restaurant serves beautifully presented and delicious food. A wonderful success story, Bon Bon is locally owned, the chef is Portuguese, and wining the coveted star was the culmination of a labour of love and dedication.



Favourite restaurants:


If michelin star restaurants are not what you are looking for, there are several superb restaurant options to tantilize your tastebuds.

Hexagone Restaurant, Carvoeiro - modern Portuguese cusine. The focus is on fresh and seasonal produce and the flavours are emblematic of traditional portuguese dishes but with a modern and creative touch.

Vila Vita Biergarten, Porches - A true taste of Bavaria in the Algarve. You must try Master Butcher Thomas Weber's home-made sausages! And in October, the Biergarten hosts a lively and authentic Oktober Fest.

Chef's Kitchen, Carvoeiro - Fresh, tasty and delicious - steaks and seafood, vegan and vegetarian, kofta and curries, burgers and buddha bowls.
 A  creative menu that brings plenty of flavour and uses fresh, local produce. Chef's Kitchen brings contemporary style to comfortable dining in Carvoeiro.
A Vela, Carvoeiro - a lovely, welcoming restaurant that serves international and portuguese dishes. Great hospitality, a lovely setting and delicious food. Your host Antónia makes every guest feel like a VIP.

Gurkha Kitchen - nepalese and indian cuisine in Carvoeiro. Tasty, authentic Nepalese dishes and flavours as well as all the favourite Indian dishes.

Mizu - contemporary Japanese cuisine at VILA VITA Parc. A fabulous setting and tempting menu. Book your spot at the Teppanyaki table for the best view of the chefs in action.

Porches Velho - a beautiful old building, over 200 years old, is now home to a lovely restaurant serving traditional portuguese flavours with a modern touch. Made with love and pride, this is a slice of the real Algarve.

Pashmina, Carvoeiro - a modern and fresh authentic indian restaurant. The food is delicious, made with home ground spices and quality products.

Rolha Wine Bar - serving cheese and tapas and a wonderful collection of Portuguese wines, Rolha is located on a narrow cobbled street in the Porches.

O Leão de Porches – Some of the most exquisite cuisine in the region, in a traditional Algarvean setting. The charming patio is perfect for summer al fresco meals.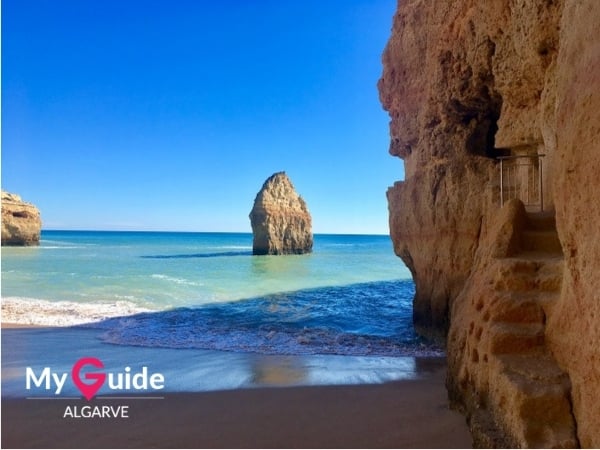 Praia do Carvalho
Things to do in Carvoeiro, Porches and Ferragudo

Have beach day: You won't have to go far to have a glorious beach day - there are so many to choose from. Here are a few suggestions:


Praia da Marinha

- a spectacular cove beach, famous for its limpid waters and fascinating rock formations, very popular with snorkellers and divers. Great for families too - as long as you don't mind the steps back up....Beautiful cliff top walks near to Marinha, with some really stunning scenery.


Praia do Carvoeiro

- a beach in the town, literally! If you want to be close to bars and shops, this one's for you. Sandy and wonderful.


Albandeira, Porches

- a small sandy beach, with calm transparent waters and awesome rock formations. Access is via wooden steps from the car parking area.


Praia do Carvalho

- a smugglers beach, access is via a hidden staircase through the rocks that opens out into the sandy cove. The adventurous climb the cliffs to the side (there are steps and passageways cut in the rock) and make their way around the headland before throwing themselves into the sea below.


Praia Grande, Ferragudo

- a large expanse of sandy beach on the south side of the Fort of São João de Arade, with great bars and restaurants actually on the sands. Praia da Angrinha, on the north side of the Fort, runs along the Arade river's wide estuary and is perfect for windsurfing.

Check out the rest here.

Take a boardwalk: It's a short but interesting boardwalk from Carvoeiro town to Algar Seco. There are several grottoes carved into the cliff by the sea, as well as many algares (where the sea has eroded the rock from beneath, creating deep holes) and spectacular rock formations, not to mention a rather nice 'watering hole' – Boneca Bar – nestled between the rocks at the Algar Seco end – particularly beautiful as the sun's setting.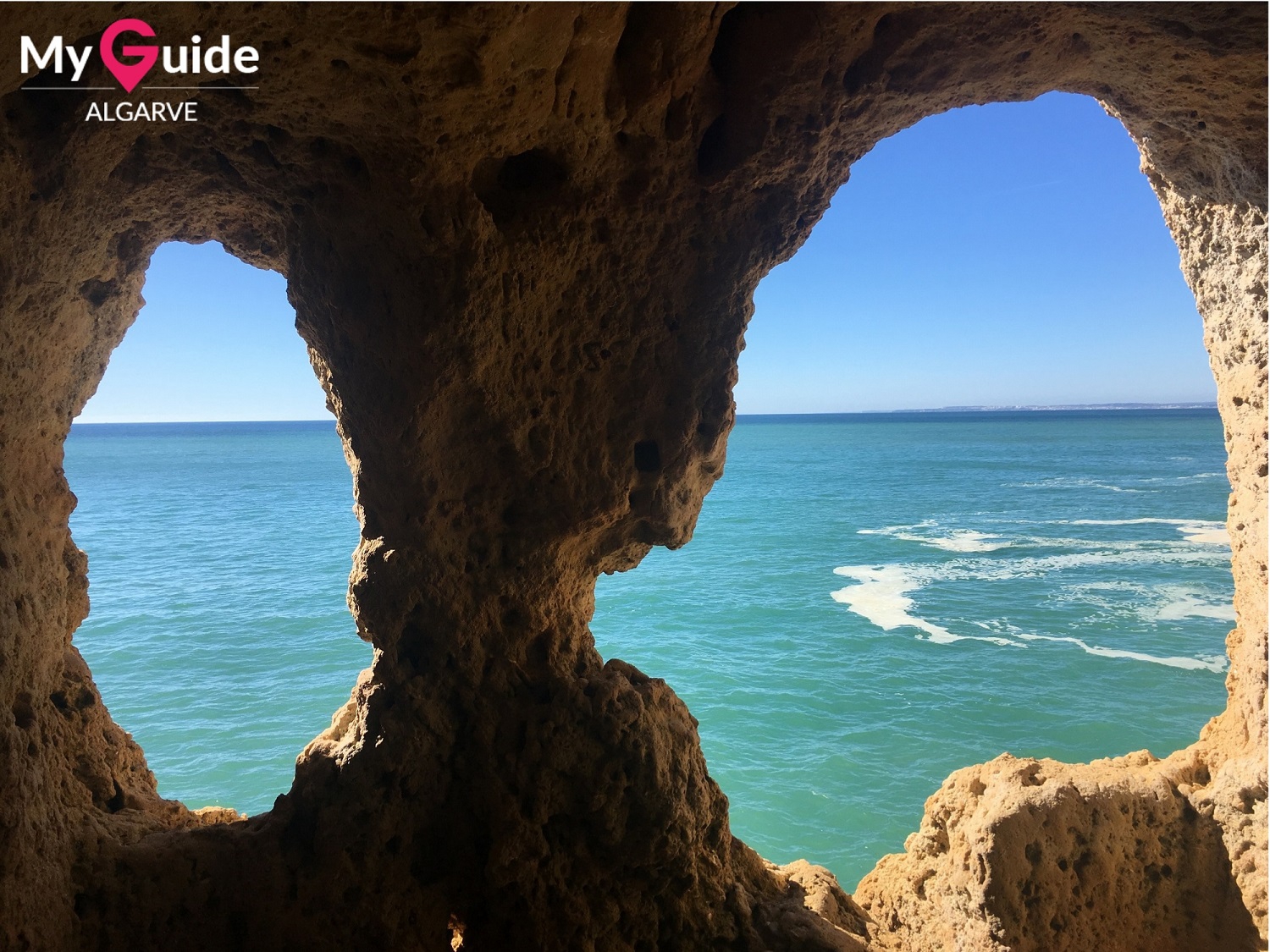 Visit LiR - LiR Gallery is located on the EN125 in Lagoa, just outside Carvoeiro. It is a fascinating gallery, as the corridors and walkways overlook the still working local wine co-op. With an urban vibe, LiR is quite different from other galleries in the region and displays fabulous works by local, national and international artists.

Visit Porches Pottery: Founded in 1968 by Irish artist Patrick Swift and his Portuguese counterpart Lima de Freitas, as a project to rescue the dying local artisan's craft of pottery, Porches Pottery is today a thriving business creating and selling a range of distinctive pottery – take a piece home with you as a memento of your stay in the Algarve.

Enjoy the Atlantic Ocean: Don't go home without seeing the Algarve from the ocean! It doesn't matter how old you are, there's an ocean experience that's perfect for you. Sail away into the sunset, head out to sea on a dolphin watching adventure, take a kayak tour along the coastline, or pump up your adrenaline with a banana boat or jet ski ride. Check out these Algarve boat tour and watersports providers for fabulous, memorable holiday experiences:

Carvoeiro Caves - small boats that depart right from Carvoeiro beach and take you on a discovery of the most beautiful and iconic caves in the area, including the famous Benagil cave. Several departures every day, you can get your ticket at the ticket shop on the beach.

SeaBookings – for fantastic boat tours, watersports and ocean-based activities.

AlgarExperience – for beautiful coastal and sunset cruises and the renowned Belize Boat Parties.

Charter a yacht or boat: If you're celebrating a special occasion or just celebrating being in the beautiful Algarve, why not charter your own luxury boat for a half day, a day, overnight or for a week!
Speak to the experts: Luxury Boat Charter Vila Vita Yacht Charter

Take a cruise: Sit back and relax on a costal cruise or meander up the Arade and visit the historic town of Silves.

Slide & Splash: The aptly named Lagoa waterpark that promises plenty of sliding and splashing fun for the whole family!

Discover wine: Much more than just a winery Quinta dos Vales in Estômbar is a truly unique project. It combines a winemaking estate with a selection of rather off-the-wall art, a small animal farm and a fantastic holiday retreat. For a quite unique wine experience visit the underground wine cellar or Cave dos Vinhos at VILA VITA Parc where the resident sommelier will give you a guided tour and you can sample some of the spectacular wines.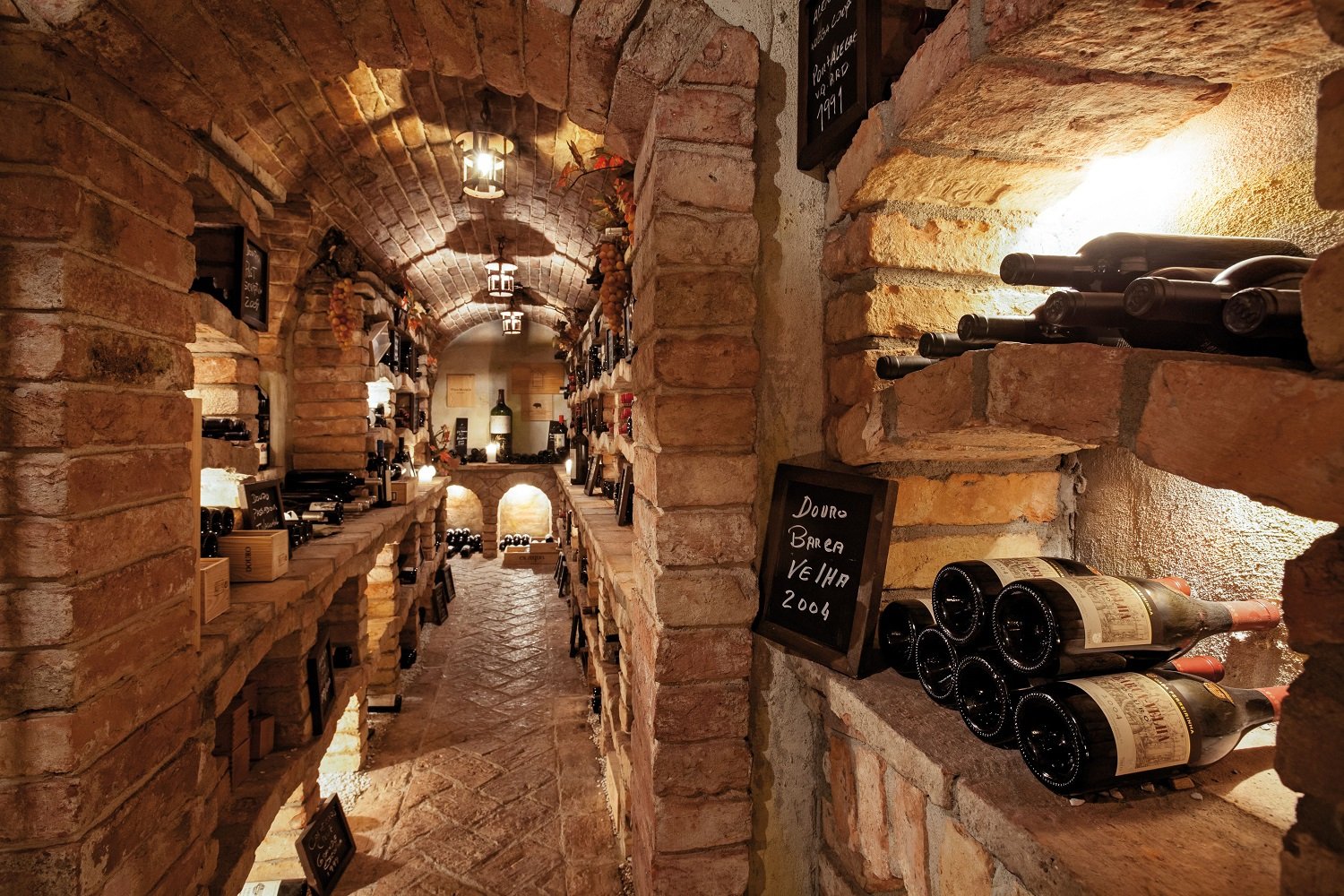 VILA VITA Parc Cave dos Vinhos
Play a round: If you're an avid golfer, there are two excellent 18 hole courses in the area: Gramacho and Vale da Pinta. Or if you're a keen learner, try Vale de Milho near Carvoeiro, a nine-hole course ideal for beginners or for a family golf day.
Enjoy live music:


Praia do Carvoeiro

– during the summer season there's music, other live acts and often dancing most nights in the main square, right in front of the beach.

Ferragudo Bar – this tiny little bar just behind Ferragudo's main square is a great place to grab a cold beer on a Friday night and listen to a variety of talented musicians – popular with the local expat crowd.



Black & White Night

– If you're in Carvoeiro in June, try to catch this superb annual event, with lots of excellent live bands and acts, and a great party-in-the-street atmosphere. One of the best Algarve Festivals.

Club Nau – On the beach - this is an idealistic Sunday lunchtime live music venue and there are some top local bands playing most Friday and Saturday nights too.

And if you're travelling with children, take them to the kid's playground in Carvoeiro. This may the playground with the best view in the world!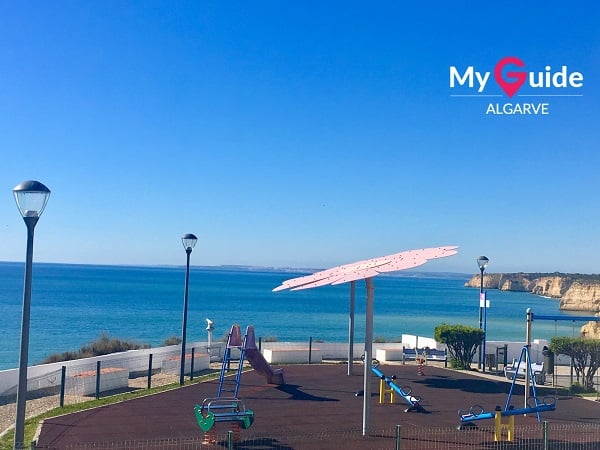 Where to stay
There's a wide range of accommodation in the area, from five star hotels and resorts, to luxury villas, self-catering apartments and B&Bs. Here are a few to check out:

Vila Vita Parc Resort & Spa – A member of The Leading Hotels of the World, this is truly la crème de la crème of hotel resorts; it's fair to say that Vila Vita Parc offers everything you could possibly need for a perfect visit.
Vale d'Oliveiras Quinta Resort & Spa – A 5 star resort in a tranquil setting, adjoining a beautiful golf course.
Casa Bela Moura Charming Hotel – As its name suggests, this is a charming and intimate hotel in a quite countryside location.





The practical stuff
Driving and parking
On-street parking is generally free in the area, however it is paid near Carvoeiro and Ferragudo centres during high season, within designating parking bays and car parking areas. But do make sure you observe the urban freeway signs, and the loading-only and disabled parking bays, as you will be fined if you park illegally. The main roads into the central areas are wide and modern, but many of the local streets are very narrow and unsuitable for large vehicles and motorhomes.

Access
Unfortunately, many of the old local streets aren't wheelchair-friendly and Carvoeiro and Ferragudo are both quite hilly. The main walkways along the harbour front at Ferragudo and around the main square in Carvoeiro are fairly accessible. Praia do Carvoeiro and Praia Sra da Rocha are classed as a Praia Acessiveis, meaning that they comply with disabled access requirements such as ramps, footpaths and walkways, adapted toilet facilities and parking places.

Tourist info
There's a tourist office in front of Praia do Carvoeiro (main square), where you can ask for help and information.

Local services
Transport – There are taxi ranks in all resorts, towns and shopping areas. If you need transport to and from Faro Airport, you'll probably get a better deal by booking ahead with one of the transfer companies.

There's a good public transport service in Portugal. EVA offers a regular bus service across the Algarve and to Lisbon, and is a cheap way to get around. The EVA website is available in English.

Portugal has an excellent rail network too, which offers a low cost way to travel. The nearest train station is Estômbar-Lagoa, located in Estômbar. You can get more information and use the easy online booking system on the Comboios de Portugal website (available in English).

If you'd rather hire a car, there are plenty of options, including Auto Rent.

Supermarkets –
You'll find numerous large and small supermarkets in the area. There's a great Intermarché store, conveniently located on the road rom Lagoa to Carvoeiro with its own car park, which stocks just about everything you could possibly need while staying in the Algarve, including a good range of national and international products, quality fresh fish, meat and fruit and veg. Plus there's a take-away range (the spit-roasted chicken is delicious) and a vast choice of wines. This store also offers an online shop with a collection service - Intermaché Drive.

WiFi - Many cafes and restaurants in the area offer free WiFi.

Banks – There are a number of banks in the area; most major banks provide cashpoint facilities. Millennium BCP and NOVO Bank have English-speaking staff.

Police Station – The GNR (Guarda Nacional Republicana) main office is located in Lagoa: Rua Francisco Luís M. Veloso (near the Health Centre and Lagoa Auditorium). T: 282 380 190

Medical Centre – Lagoa Centro de Saúde is located to the north west of the town on Rua Francisco Luís M. Veloso (near the GNR office and Lagoa Auditorium),
The Centre is open from 8am to 8pm, Monday to Friday. It has a minor emergencies and treatment facility, and will treat holders of EHICs (European Health Insurance Cards). T: 282 340 370.
Veterinary care – If you're travelling with pets, you may need a vet. There are a number of veterinary surgeries in the area that are open during normal working hours. SOLVET has clinics in Lagoa and Portimão, where they provide a full service, including an emergency service.
T: 282 087 996 24-hour emergencies: 919 141 281

Post Office – Lagoa has a main Post Office (CCT Lagoa) in the town, on Rua Coronel Figueiredo 42. It provides all the normal mail services and you can also pay A22 Toll Fees over the counter – just take your vehicle registration number. 

Payshops – you'll spot a few shops displaying the 'Payshop' sign. You can also pay A22 Toll fees here, top up Portuguese network mobile phones and even buy a Lotto ticket!

Enjoy your visit!