Sunday Lunch Restaurants in Algarve
Great restaurants to enjoy a Sunday lunch
Sometimes you've just got to have a Sunday Lunch with all the trimmings. So, with this in mind we have compiled some information on great Sunday Lunch options across the region. From traditional to the not so traditional, we hope you enjoy these suggestions!
Sunday Roast - tasty menus that tick the comfort-food and style boxes
Sunday Lunch at Parrilla Natural
Parrilla Natural Steak House Restaurant near Vale de Lobo is part of the Natural Group and is well-known for its 100% Uruguayan grass fed beef - what better place to enjoy delicious Sunday roast and all the trimmings. Every Sunday there is a 3 course set menu available for you to enjoy, with a complementary glass of bubbles to start! Find out more about Parrilla Natural Sunday Lunch

Sunday Roast at Artisan
Located just a few minutes from Maria Luisa beach in Olhos de Água, Artisan is a stylish spot for Sunday dining. Vintage decor, friendly service and a choice of your favourite meats, roasted to tender perfection. Save some room for dessert - all home-made, family-recipe sweet treats.
Find out more about Sunday Roast at Artisan.

Sunday Lunch at The Clubhouse
Check out the new look Clubhouse in Quinta do Lago and enjoy tasty Sunday dining with great views. A tranquil and relaxing setting for a restful Sunday lunch. Find out more about Sunday Lunch at The Clubhouse.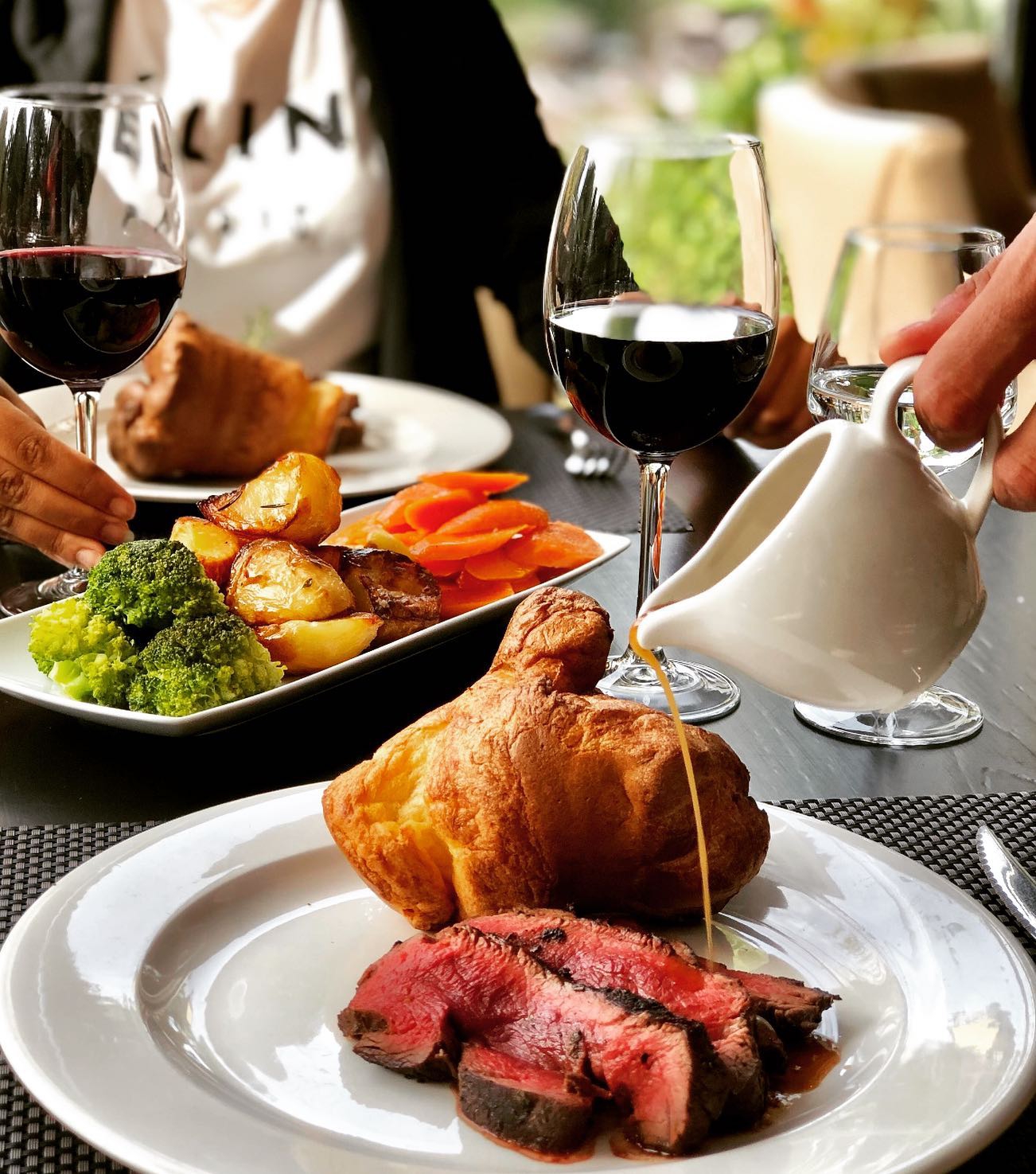 Sunday Lunch at Parrilla Natural

Sunday Beach Views
Lunch by the beach is always a pleasure. Summer is all sunshine and chilled drinks, but the winter has it charms too. Sunny days, cooler temperatures and dramatic views.
BJ's Oceanside
, near Vale do Lobo and Quarteira, is literally on the beach and is the perfect spot for a long lazy Sunday lunch. You can enjoy fabulous fresh fish and seafood with a good wine, an ice cold beer or fruity Sangria. What's more, BJ's summer Sunday lunchtime live music sessions are legendary. BJ's will stay open all year in 2020, so you can enjoy their warm hospitality on winter days.
Izzy's Beach Restaurant
in
Vale do Lobo
is what a beach restaurant experience is all about. Dine inside or make the most of the Algarve weather and take a table on the terrace. Izzy´s has a casual, relaxed atmosphere, where you can chill out and choose from a varied menu, which includes fresh fish and shellfish, Portuguese classics, steaks, chicken and more. For many, Sundays at Izzy's are what Sundays are all about, so book your table early.
Praia Dourada
- part of the
Armação Beach Club by VILA VITA Parc
, you get great food, uncluttered views and a fabulous beach lounge to enjoy your favourite drinks. Serving modern, international cuisine, there's meat from the Josper Grill, fresh seafood, burgers, poke bowls and more.
Windsurf
, on the beach in
Alvor
, is a great place to relax on a Sunday afternoon, enjoy a tasty lunch and watch the waves roll in. The menu at Windsurf includes a selection of tempting salads, delicious prawns, monkfish kebab and typically Portuguese dishes such as Cataplana and Caldeirada (Fish Stew), as well as the catch of the day. At Windsurf, the soundtrack is waves, wind and sea-birds. Enjoy a stroll along the Alvor boardwalk before or after your meal.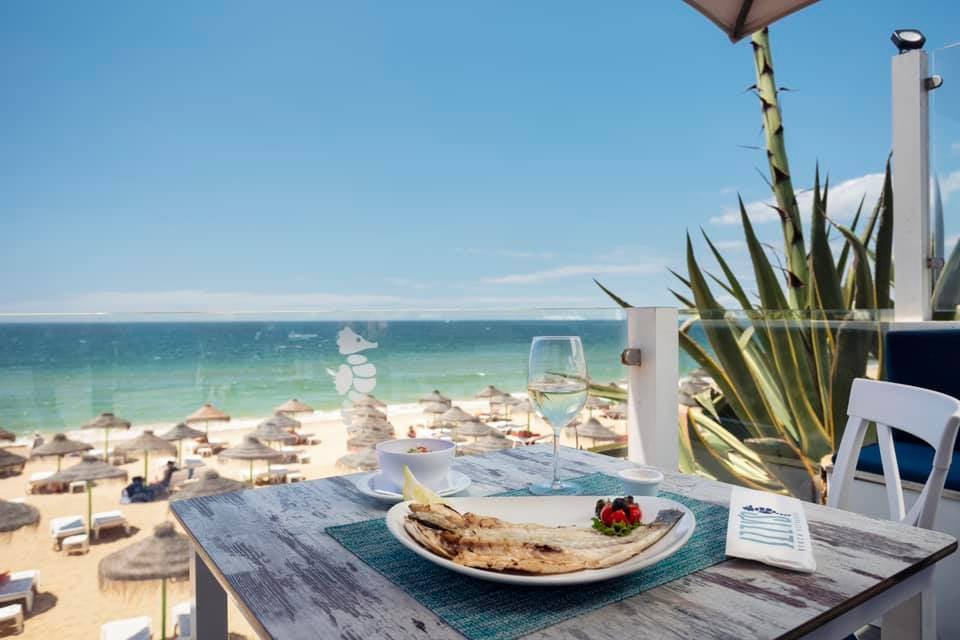 Izzy's Beach Restaurant
Portuguese flavours
Sunday lunch in Portugal is, as in many countries, an excuse for families and friends to come together, sharing food and stories. Summer menus feature grilled fish and fresh seafood, while Winter menus are feasts of slow-cooked hearty dishes that are satisfy more than just your hunger.
At
Àbabuja
you can enjoy Algarvian and Portuguese flavours along with the gorgeous views of Alvor estuary. Àbabuja is famous for it's fresh fish and seafood, cooked over charcoal, as well as the delicious Caldeiradas and Cataplanas - traditional dishes that are packed with flavours and seasoned with fresh herbs.
O Jardim das Oliveiras in Monchique. Up in the hills, just off the winding road that takes you to Fóia, the Algarve's highest point, O Jardim das Oliveiras serves traditional portuguese Sunday lunch. Slow roasted meat, bean-stew, roast kid and more. Delicious and warming. Perfect for a winter Sunday.

Sunday Sports
Sunday wouldn't be Sunday without some sports to watch. Catch all the sporting action and enjoy delicious food at Dano's at The Campus in Quinta do Lago. To enjoy your meal with a clear conscious you can spend some time on the tennis and padel courts or in the gym at The Campus beforehand. Dano's serves a great range of food all day, and there are muliple screens both inside and outside so you can watch your favourite sports.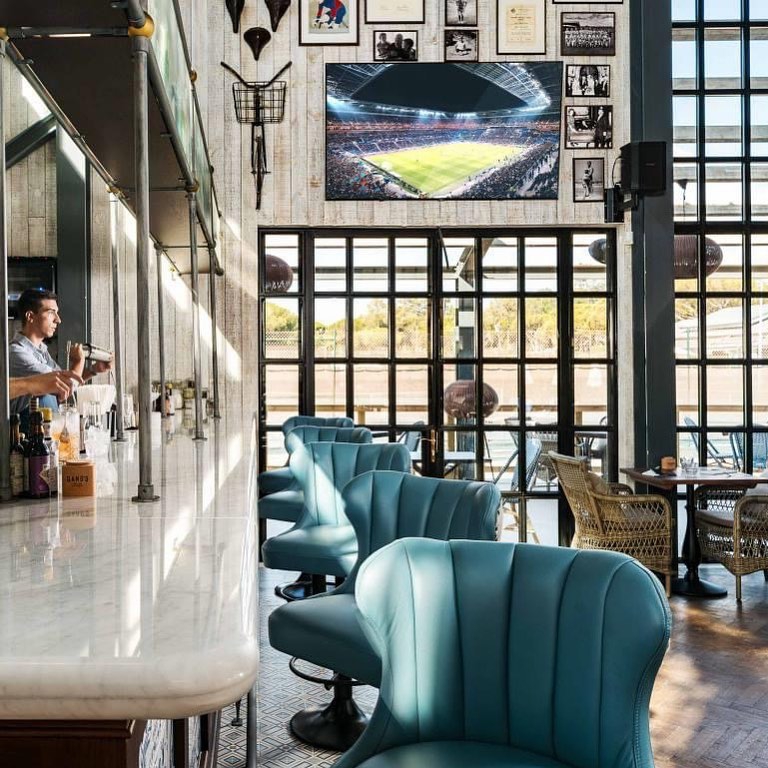 Dano's, Quinta do Lago