Travel Experts Vote Algarve as Best Destination this Summer
Hot List Inspiration Lifestyle Press Releases
We knew all along, but now it's official. The Algarve has been voted as the best holiday destination this summer by a panel of experts at Clickstay.com. 52% of the in-house travel gurus said that Portugal's southern region topped the list as the best destination, citing successful handling of the coronavirus crisis as a key factor.
Clickstay.com, a holiday home rental website featuring holiday properties around the world, says their experts cited the range of
activities
which tourists can enjoy safely as the main reason why the Algarve stands above other destinations in Europe. We couldn't agree more. The Algarve is a superb walking and biking destination and of course it's one of the very best beach destinations in the world– all reasons
why the Algarve should be your destination of choice post Covid-19
.
"Local government has done fantastic work in limiting the spread of the virus and put in sensible measures to ensure people can enjoy their holiday safely", said Tom Hughes, founder and MD at Clickstay.
"Their use of technology, such as the
Info Praia app
where tourists can access real-time information about the level of occupancy of the beach, is a great example of how the government is being innovative in its approach", he added.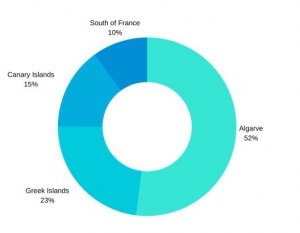 52% of Clickstay travel experts vote the Algarve as the best destination for Summer 2020.
Tourists will be able to visit the vast range of
beaches
without worrying about overcrowding, thanks to social distancing measures and
dedicated beach assistants
and each beach will have signage indicating the level of occupancy. The Algarve is famous for its magnificent beaches, many that even in the peak of summer are not particularly crowded. Check out these suggestions for
long beaches where you can escape the crowds.
Clickstay experts reason that Portugal recorded a considerably lower number of Covid-19 cases than the UK, so is considered low risk by the UK government. Meanwhile the Portuguese government believes the UK has got the virus 'under control' and is calling for a so-called 'air bridge' between the two countries, which would allow British tourists to go on holiday to the Algarve without having to quarantine.
"With city breaks pretty much a no-go this summer, the Algarve's wealth of sun and outdoor activities make it an ideal destination for a safe and enjoyable holiday", said Hughes. Clickstay's website user data has reflected the panel's decision, with a 163% increase in views of Algarve properties in May compared with April, suggesting users are preparing to book.
Clickstay.com
lists hundreds of wonderful holiday villas in the Algarve. Always a great option for a family vacation,
villa holidays
make even more sense in 2020. Staying in a holiday villa ensures your privacy and safety, as you share the space only with your own travel group. Most villas are so well set-up that you need never leave the comforts of your home from home, unless the urge to explore becomes too great. And of course, if you want a beach day, no matter where you stay in the Algarve, there's a beach nearby.  
---
MY GUIDE VOUCHERS
- support local business by purchasing a
My Guide Voucher
for your favourite Algarve restaurant, activity or service. All revenue goes directly to the local business. Buy a voucher now and help support the local economy while giving yourself something to look forward to.