VILA VITA Parc leads the way for sustainable luxury tourism in the Algarve
Editorial Inspiration Lifestyle
Green has never been more gorgeous
Our Top Experiences and Tours in Algarve:
If youʻre booking your trip to Algarve last minute, we have you covered. Below are some of the top tours and experiences! Sustainable tourism

is a hallmark of

VILA VITA Parc,

the Algarve's leading luxury resort. Known for setting the bar high in all aspects of its operation, from its 2 Michelin star

Ocean Restaurant

to its award-winning hospitality, the resort has invested in knowledge and procedures that aim to keep its ecological footprint as low as possible, using

reverse osmosis of sea water

,

organic farming

and supporting local crafts.

Environmental concerns, luxury and tourism are not always seen as compatible concepts. It takes the will and vision of a resort such as

VILA VITA Parc

to show that not only are they compatible, they are beneficial to all. Winner of the World Travel Awards

World's Leading Luxury Green Resort

in 2015 and 2016, nominee for the 2020 World Travel Award

Europe's Leading Green Resort

, and a certified

TUV Eco Hotel

since 2015, VILA VITA Parc shows that being green doesn't mean you have to settle for anything less than the best in terms of luxurious hospitality.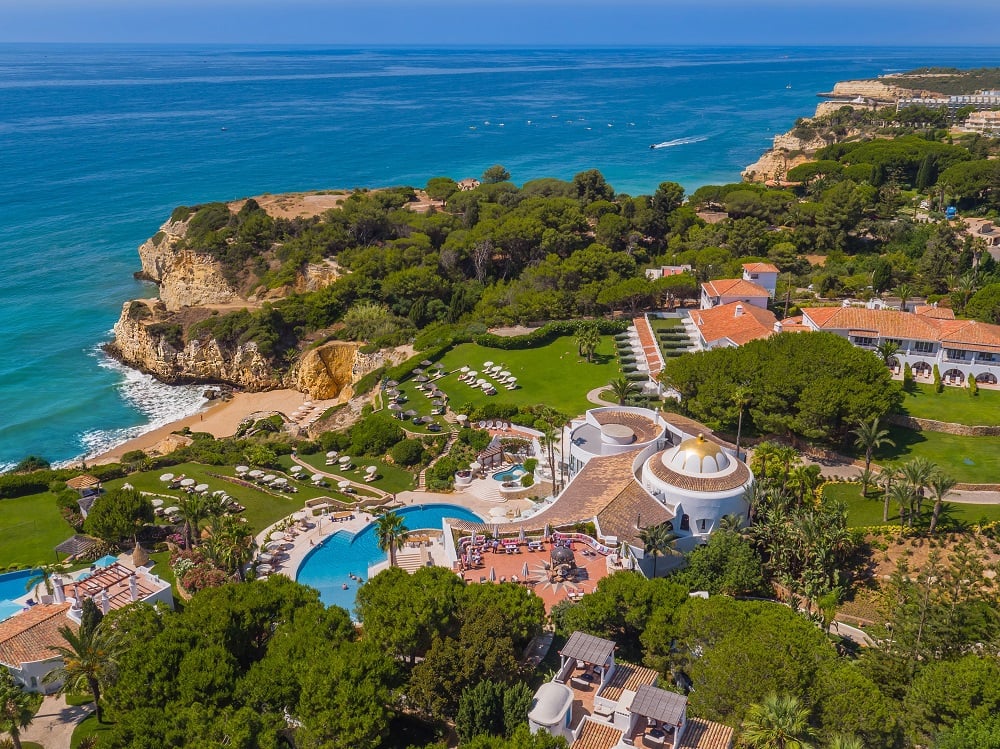 From its opening in 1992, one of the most notable features of VILA VITA Parc are the
vast gardens
, which account for over 60% of the total resort area. This was a massive statement of intent that, at VILA VITA Parc, nature was welcome and would be cherished. A veritable army of gardeners plant, trim, water, prune and nourish the sub-tropical and Mediterranean gardens. There are around 5.000 palm trees dotted around the resort, mixed in with local olive trees and colourful flowers. Tired plants are even relocated to a nearby nursery for some TLC whenever required before returning to resort.
Such lush gardens require a lot of watering although the prevalence of native flora helps reduce water consumption. With the vast Atlantic at the resort's doorstep, VILA VITA Parc implemented an
innovative sea water reverse osmosis
method in 2015. The water treatment system, with a capacity of 440m3 per day, collects water from the ocean which, after disinfection, makes its way into the underground treatment tanks. The water is then filtered so that it becomes free of any impurities, before being desalinated by osmosis, becoming apt for general use. All of the water used to maintain the resorts gardens, and all the water in its
7 swimming pools
and
3 lakes
now comes from the Atlantic via this method. The use of revese osmosis has allowed the resort to reduce its public network water consumption to just
30%
. As an added bonus, the process will allow VILA VITA Parc to produce its own salt.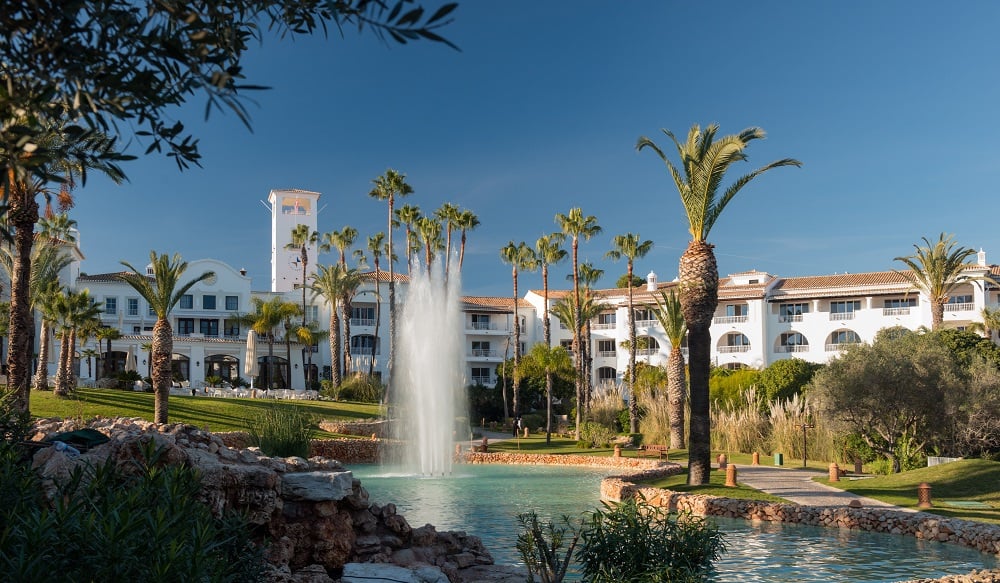 The resort also looked to make changes on land and updated its fleet of vehicles to hybrid and electric vehicles, resulting in an
166% reduction
in the use of fossil fuels. And the first
TESLA
charging station in the Algarve is located at the resort.
There are many other ways in which VILA VITA Parc aims to be sustainable. Their Alentejo farm,
Herdade dos Grous,
provides organic meat from free-range animals, fruit and vegetables for the resort restaurants. In fact, such is the commitment to using local and quality produce at VILA VITA Parc, the oranges used at the resort come from the nearby area of Silves, with a bio system production. The oranges are harvested less than 24 hours before arriving at the resort and being served up as one of the best and freshest natural orange juices in the world. Menus changes seasonally at all the resort restaurants. This guarantees a delicious range dishes featuring seasonal and local ingredients, which not only reduces the environmental footprint but also ensures a freshness and quality that can't be found in ingredients travelling from abroad.
All corks and candles at the resort are recycled and the resort supports local crafts such as
Porches Pottery
whose decorative pieces can be found all over the resort. Guests can use traditional woven straw baskets as beach bags and in the restaurants, the salt and pepper shakers are made from cork and ceramic.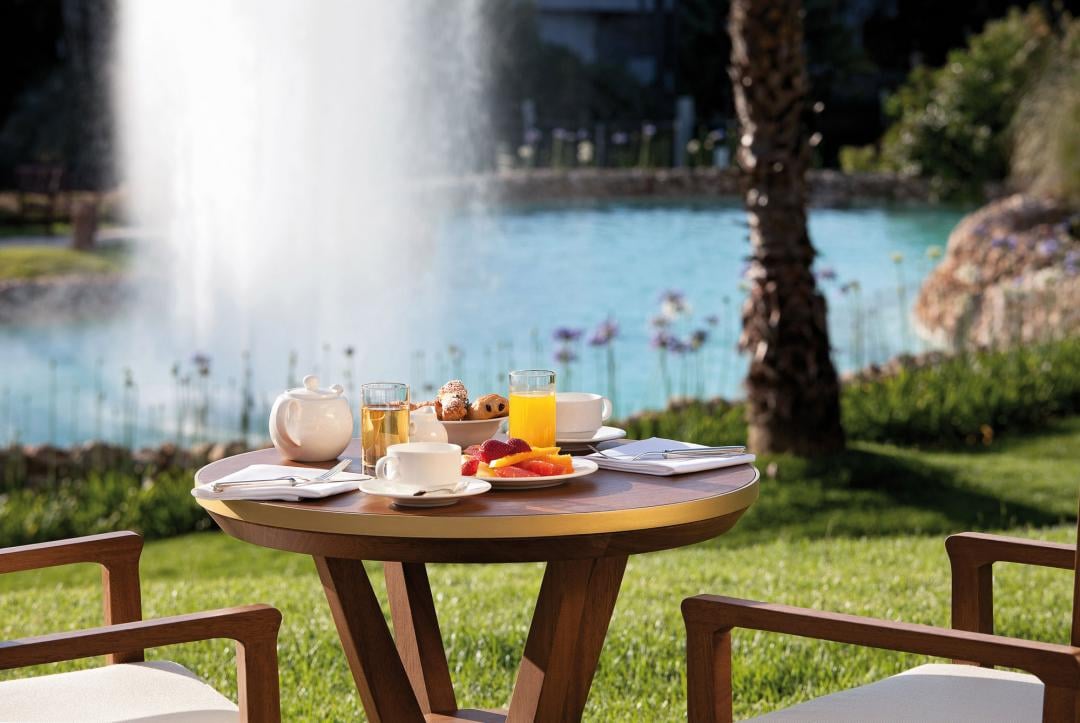 VILA VITA Parc isn't just a haven for humans. The lush gardens are perfect for the release of
rehabbed birds
, an ideal first step back into nature. The resort collaborates with R.I.A.S. - a wildlife rehabilitation centre in the Algarve - and when a bird is due to be released, guests and local schools are invited to witness the special moment.
VILA VITA Parc's efforts don't end at the resort gates. The hotel supports a range of initiatives such as
Operation Green Mountain
(in collaboration with
Zoomarine
) which has led to the planting of over 50.000 trees in various locations around the Algarve, and
Operation Clean Beach
which organizes beach clean-ups across the region.
Armação Beach Club
, inaugurated in summer 2019, is located on an idyllic 200-metre-long golden sandy beach bordering the Salgados nature reserve in the neighboring town of Armação de Pêra. As part of the development and expansion of the Armação Beach Club, VILA VITA Parc is committed to the conservation of the beach and the surrounding area, ensuring that sustainability is top of mind including the preservation of the marine life, with a firm commitment to reduce the usage of plastic bottles at the beach club/resort, not use plastic straws and use biodegradable packaging.
VILA VITA Parc is located in Porches, Algarve in southern Portugal.
Tel: + 351 282 310 100
email: frontoffice@vilavitaparc.com