The Best Cocktails in the Algarve and Where to Drink Them
Food & Drink Hot List Inspiration Lifestyle
Cocktails are good mood in a glass, pairing perfectly with sunshine and seaside. Grey and dreary does not a cocktail make. Magical mixology brings colour, vibrancy and flavour, giving life to our daydreams. Modern-day mixologists are like wizards of old, lifting spirits, creating moods and casting spells with their magical libations. Cocktails are a treat, a holiday vibe, a fun time and a promise of more. What's not to love?
Below are some suggestions for where to find great cocktails in the Algarve, to be enjoyed with sea-views, smiles and sunshine.
In Faro
COLUMBUS BAR
With a beautiful setting by
Faro
's old town portico, Columbus is a gorgeous bar with vaulted arcades, cool stone terraces with azulejos on the walls, and a view across to the harbour. Hosting regular live music and DJ sessions, Columbus is known for its original and creative cocktails. Popular with locals and visitors alike, it's a cool weekend hang-out as well as a great end-of-day spot.
Suggested Cocktail - Sr. Professor
All the cocktails at Columbus come with added theatre, and Sr. Professor is the perfect example. Made with CRF Brandy, Lagavulin whisky, Chambord, cigar syrup, coffee and bitter chocolate.
Columbus Bar, Praça Dom Francisco Gomes, 8000 - 168 Faro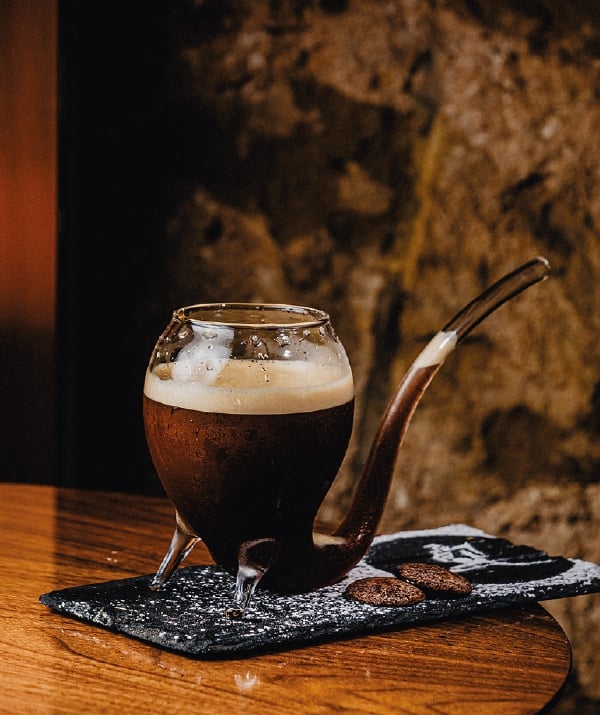 In Quinta do Lago
BOVINO
Known for succulent, sizzling steaks, Bovino in Quinta do Lago is also famous for fabulous cocktails. The cocktail menu is inspired by old-world apothecary remedies and natural ingredients. The innovative cocktails that make great use of local and natural products have won several prestigious awards over the years. The cocktail menu is updated regularly and there is always something special, creative and delicious to enjoy.
Suggested Cocktail - Dancing Bees
Adamvs Gin, Don Cristina, Orange, Salted Honey, Verjus, Sparkling Wine
Inspired by bees, when looking for food, they communicate with their hive through dance. When they dance, they are saying that a food source was found and that the hive should follow them to reach the food source. This cocktail is made with 100% Portuguese ingredients and is not only delicious, it's good for you too, soothing sore throats with its anti-bacterial properties.
Find out more about
Bovino
and
Quinta do Lago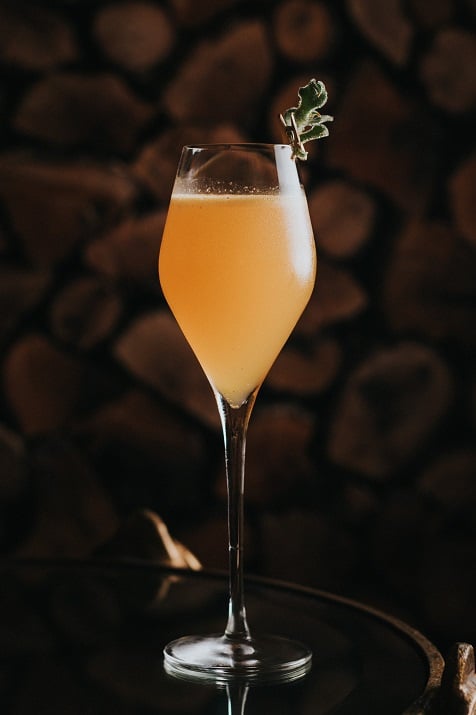 UMAMI
An elegantly sophisticated restaurant serving modern Japanese cuisine, UMAMI overlooks the lake at Quinta do Lago, making it a perfect spot for sunset sipping of cocktails featuring Japanese flavours. Throughout the summer there are live music sunset sessions on the terrace, making UMAMI one of the most popular spots in the resort for classy sunset cocktails.
Insider tip - you can enjoy dinner and drinks at UMAMI in the evening, or just drinks in the afternoon.
Suggested Cocktail - Beauty
Made with Grapefruit Aperitif Pampelle Roku Gin, Wild berries tea, Yuzu, Plum Bitter, FT Elderflower Tonic, Sparkling Wine "Vertice Rosé".
This is UMAMI's signature cocktail. Beauty is synonymous with light and deliciousness. Very fruity with plum and citric notes, yet at the same time dry and refreshing.
Find out more about
UMAMI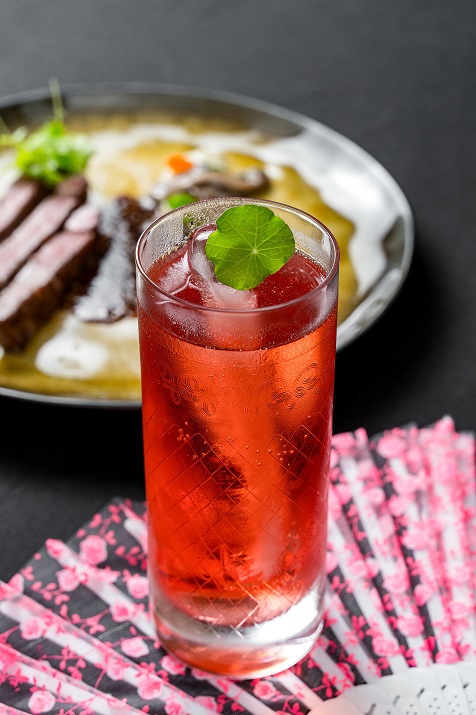 JULIA'S
Julia's is a long-running and very popular restaurant and bar set on the beach between Vale do Lobo and Quinta do Lago. Open all year round, it's a fabulous venue for celebrations, weddings and parties, as well as a spot where you can enjoy great, fresh food in a lovely setting. There is a sea-level beach bar, a lounge bar, and a large upper level terrace and indoor dining room, and there are regular live music sessions here too. Julia's is open all day and it's cocktail time whenever you say so.
Suggested Cocktail - Mojito
The secret to Julia's ever-popular Mojitos is they are blended with mint from Morroco which packs a powerful flavour punch.
Find out more about
Julia's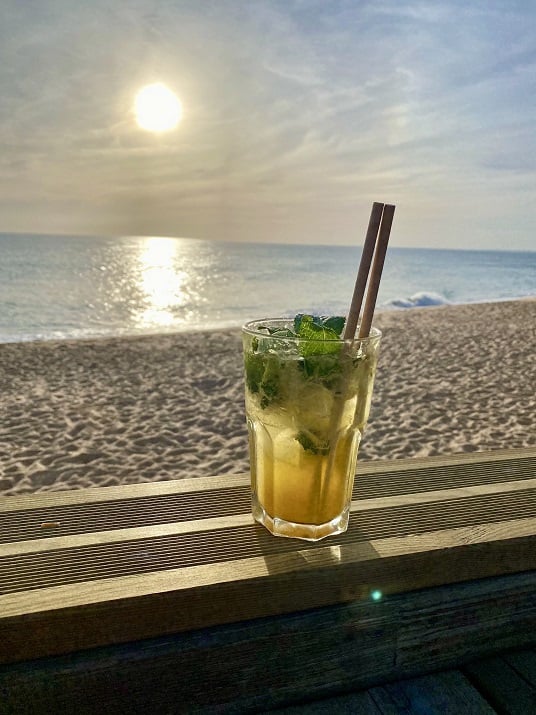 By VILA VITA Parc
PRAIA DOURADA at Armação Beach Club
Stylish and relaxed, Praia Dourada is an all-day beachside restaurant and lounge bar, one of award-winning
VILA VITA Parc
's beach restaurants. Daybeds tempt you to indolent days in the sun, with the occasional break for a dip in the sea. Serving fresh and delicious food, from breakfast through to dinner, you decide when it's cocktail o'clock, with a great range of expertly prepared cocktails to choose from.
Suggested Cocktail - Sunset
Created with Tito's Vodka from Texas, Yuzu purée, a citrus and vegetable sorbet and natural coconut water.
Find out more about
Praia Dourada
.
OASIS BAR at VILA VITA Parc
Overlooking the lush gardens of VILA VITA Parc, the Oasis Bar is known for its quality beverages and its dedication to the art of blending. The choice of drinks is truly outstanding, as the 82 page Drinks Book testifies. There are whiskies and whiskeys, brandy, sake, liquers, wines, gins, vodkas from around the world, signature cocktails and classic favourites.
Suggested Cocktail - Kelp
Inspired by the sea, Kelp is made with Isle of Harris Gin, cucumber, salicornia and sugar kelp syrup.
Find out more about
VILA VITA Parc
and Oasis Bar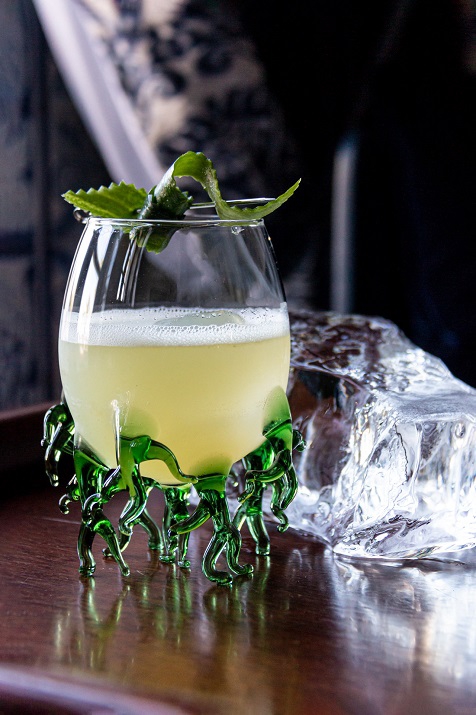 In Portimão
NOSOLOAGUA
Stylishly cool, NosoloAgua is the summer spot for fun, sounds, food and good times. A beach and pool club on the beach at Praia da Rocha, NoSolo is famous for sunset sessions and summer parties. Tasty fusion food, fresh sushi and chilled drinks to be enjoyed on the Balinese beds, with your toes in the sand and the waves lapping at your toes.
Suggested Cocktail - Champagne with friends
OK, not a cocktail, but gather your friends and settle in for a day of sunny fun and champagne on ice.
Find out more about
NoSoloAgua
in Praia da Rocha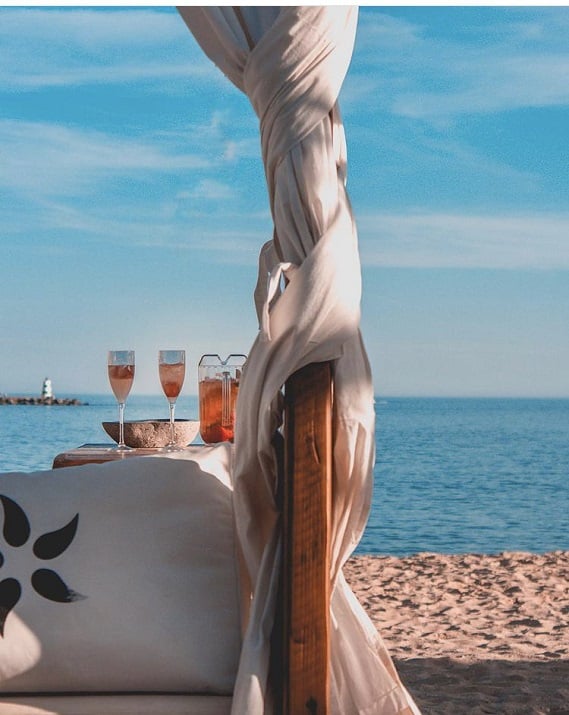 GREEN HEART @CLOQUE
New for 2022,
Green Heart @Cloque
is a little slice of magic. Located on the cliffs between Praia da Rocha and Praia do Vau, the views from the terrace are simply stunning. Set in a traditional white with blue trim building, the inside is cosy while the outside is spacious and all about those views. The menu is packed with healthy and fresh options, from breakfast to late.
Suggested Cocktail - Green Heart Sangria
A star in the making, the Green Heart Sangria is an aromatic and summery basil and melon delight. To be sipped with friends with your eyes on the views.
In Alvor
BOLAN BAR
Bolan Bar is an institution in Alvor. Located on the main street sweeping down to the harbour, it's a fun, relaxed, family-run bar and a must-visit when in Alvor. Dressed in reggae colours and with a fabulous playlist, the bar itself is small and most of the clientele spills out into the street and onto the benches, enjoying mellow evenings, watching the world go by, drink in hand. A place to make new friends and enjoy laid-back evenings.
Suggested Cocktail - Caipirinha
Reckoned to be the best Caipirinha around, this is Bolan Bar's signature drink. Made with Cachaça and limes, these Caipirinhas are the perfect, zesty summer drink.
Bolan Bar, Rua Poeta João de Deus 2, 8500 - 026 Alvor.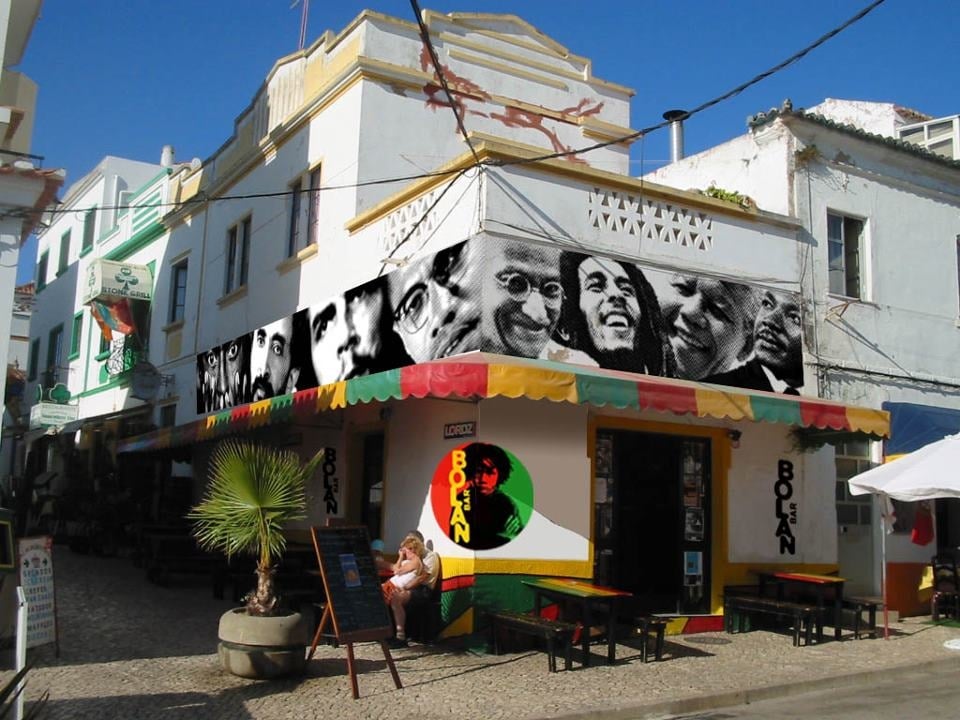 MOURISCO BAR
With intricate, Moorish décor and an extensive cocktail menu. Mourisco has been serving creative blends for over 30 years. Centrally located in Alvor, inside the bar décor is as unique as the drinks list with arches, mosaics and colourful tiles, while outside, there is street seating with a front-row view for people watching.
At Mourisco you can enjoy all the favourite classics as well as a range of martinis, non-alcoholic and signature cocktails.
Suggested Cocktail - Walking Dreams
Zacapa 23, Portuguese Amarguinha liquer, grapefruit juice and home-made eucalyptus syrup.
Mourisco Bar, rua Frederico Ramos Mendes, 40, 8500 Alvor