Zoo Diaries from Lagos Zoo: Feeding Time
Family Fun Inspiration Lifestyle
At Lagos Zoo life continues as normal. Although the zoo is closed to the public during lockdown due to coronavirus, for the animals, it's business as usual. They're basking in the sunshine, swinging from the trees, and welcoming new members to their expanding families.
Check out the video below for a behind the scenes look at life at Lagos Zoo.
Lagos Zoo
is located in the countryside to the north of Lagos. Home to over
150 different species
of animals, the zoo houses wallabies and lemurs, spider and capuchin monkeys, gibbons and chimpanzees, pygmy hippopotamus, bob-cats, meerkats and prairie dogs. There are flamingos and pelicans, otters and pygmy goats, colourful toucans and parrots. When you visit the zoo you will get the feeling that the animals reign supreme here and the human visitors are allowed glimpses into the life of thriving animal communities. Some of the
animals wander freely
– you may cross paths with wallabies, pelicans and peacocks.
The zoo takes part in captive breeding programmes to help ensure the conservation of threatened species. And it is home to a thriving group of
African penguins
, a threatened species. Humans and penguins can
swim side by side
at the specially designed swimming pool, separated by a glass wall.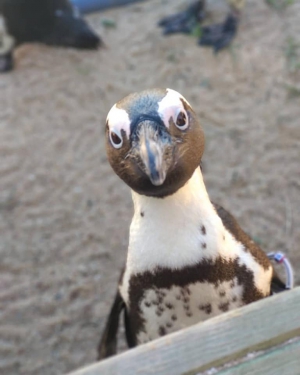 Right now, even though the zoo is closed to visitors, the daily activities remain largely unchanged. Everyone needs to eat, so that means the keepers have to stick to their daily routine of feeding, along with the usual care and welfare work that they do. And at this time of year, there are babies being born which means extra care must be taken.
The video below gives a fabulous insight into the different diets and habits of the zoo's residents. A huge amount of fruit and vegetables is required each day and the zoo has agreements with local supermarkets to supply produce that may be less than beautiful but is perfect for consumption. Fish is also needed for the otters, pelicans and for the penguins. They have a special diet - sprat that comes from France.
Find out more about
Lagos Zoo
.