The ultimate beach villa? Villa Hibiscus Beach House by VILA VITA Collection
Family Fun Hot List Inspiration Lifestyle
Our Top Experiences and Tours in Algarve:
If youʻre booking your trip to Algarve last minute, we have you covered. Below are some of the top tours and experiences! There are many wonderful villas in the Algarve. And then there is Villa Hibiscus. More than a holiday home, Villa Hibiscus is an immersive experience in boho beachside living, sumptuous surroundings and proximity to the bounties of the natural world – luxury by nature. It is without doubt one of the outstanding beach villas in the Algarve.

Situated by and with direct access to Galé beach (literally just a few steps from house to beach), at Villa Hibiscus everything you need is on the doorstep yet never intrudes. The villa is set on ample gardens overlooking the beach. The interior is beautiful - shades of sea and sand that complement the setting perfectly. Quality is assured in both décor and service - Villa Hibiscus is part of the

VILA VITA Collection

, an array of outstanding, private, beach-front villas by

VILA VITA Parc

, where every detail is carefully crafted to ensure comfort, ease and enjoyment. Check out the Factsheet below for a full list of the quality facilities.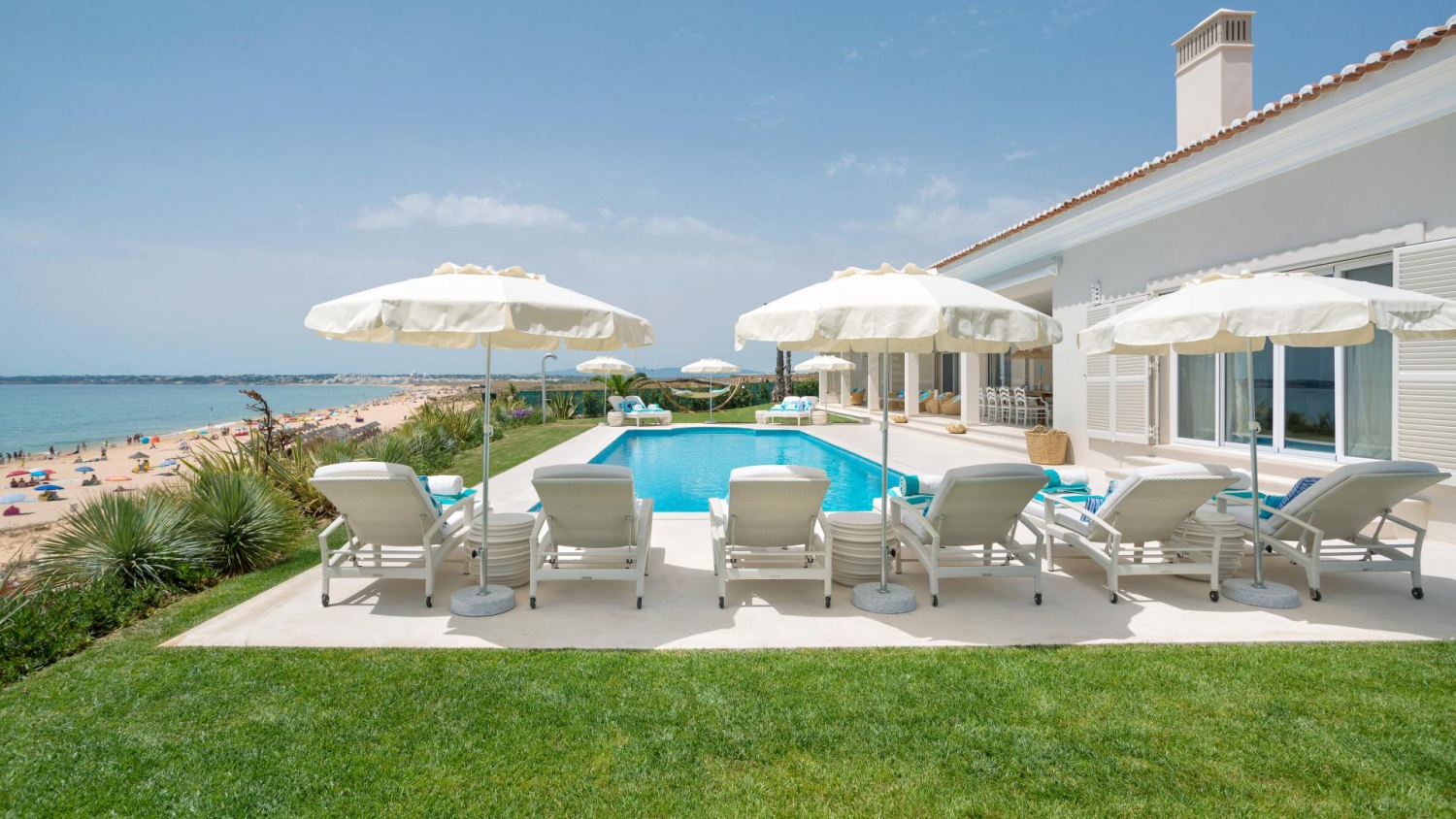 The sense of easeful living is palpable at Villa Hibiscus, aptly named for a flower that is associated with elegance, beauty and sunshine. The 5 bedroom villa, 600sqm property is filled with light, offers unbeatable ocean views and a fabulous outdoor area where you can relax by the pool, overlooking the beach, and enjoy al fresco life on the terrace. Choose to have the in-house chef create meals to suit your tastes and requirements, and the butler to cater for your every whim.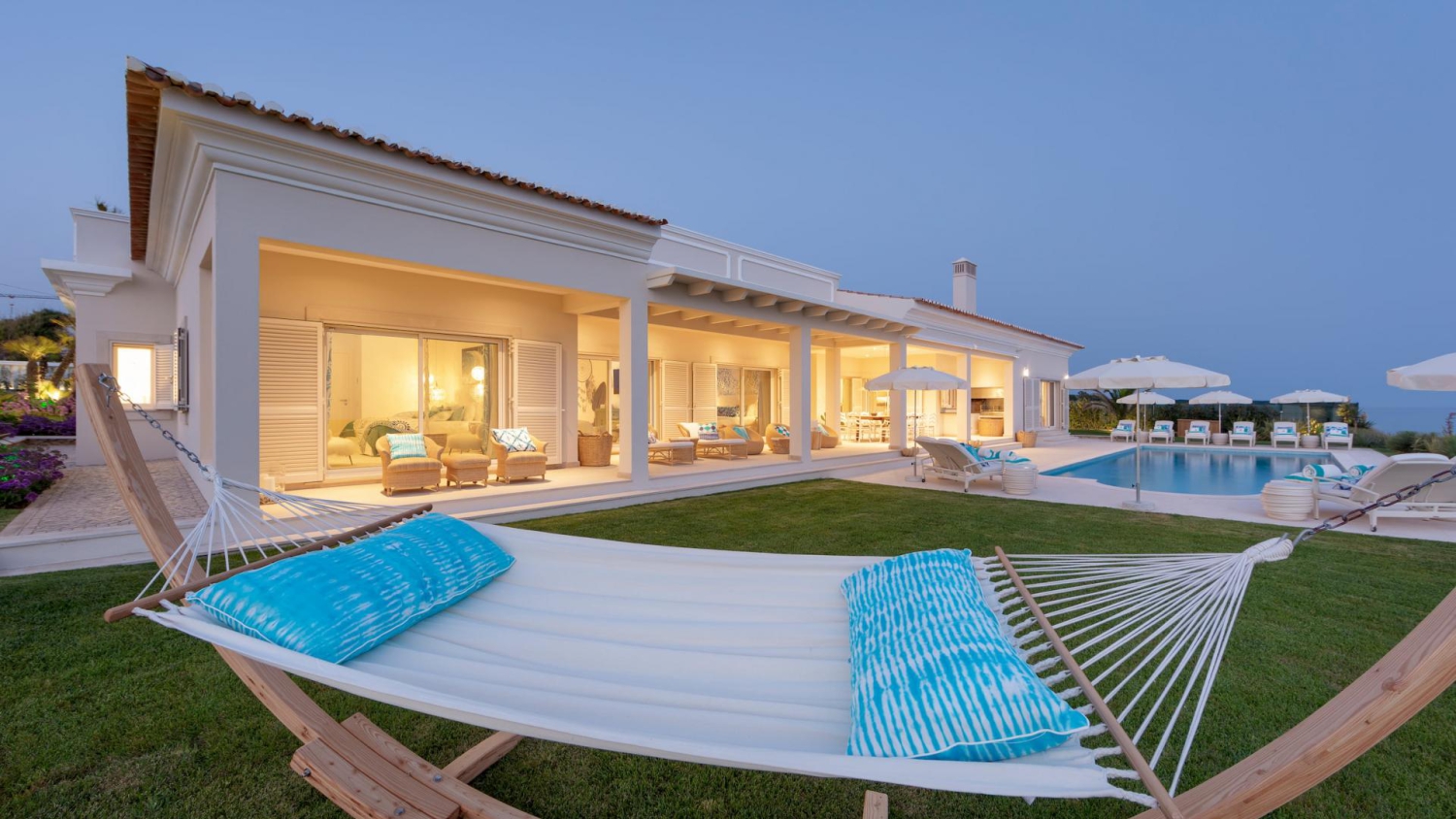 Villa Hibiscus location
The villa is on Galé beach. This is a long, broad expanse of fine sand, stretching westwards. The Salgados Nature Reserve is right by the villa, and there are wonderful walks and trails to enjoy. Perfect for birding, biking and leisurely strolls. Towards the Western end is the
Armação Beach Club by VILA VITA
– a collection of outstanding beach restaurants, beach day-beds, cocktails and watersports.
Towards the East there are several smaller cove beaches with rock pools to explore, and the busy resort of Albufeira is nearby (10kms to the centre) with an endless array of restaurants, bars, shops and things to do. Close enough for ease, distant enough for tranquility.
Villa Hibiscus Beach House snapshot
5 bedrooms
6 bathrooms
500 m2 interior
Sleeps 10
See full details of
Villa Hibiscus amenities and facilities
.

Book Villa Hibiscus Beach House
For availability and rates, and to enquire about booking visit
Villa Hibiscus Beach House