Why Buy an Investment Property in the Algarve?
Editorial Lifestyle
Invest in Portugal Webinars explains the advantages
Our Top Experiences and Tours in Algarve:
If youʻre booking your trip to Algarve last minute, we have you covered. Below are some of the top tours and experiences! Why buying an investment property in Portugal, specifically in the Algarve, makes sense. Good rental yields from Airbnb properties, low interest rates, good capital appreciation, low property tax, strong tourism and a stable and peaceful society are some of the factors. Property in the Algarve

is generally recognized as being a sound investment. Portugal is on everyone's hot list at the moment, not just for holidays and short visits, but for

investment and relocation

. The Algarve is one of the most attractive regions in the country, with strong tourism, offering a fabulous lifestyle with an excellent climate and a gorgeous, naturally beautiful setting.

In addition, there are attractive

tax incentives

for expats in the Algarve, and a range of pathways to tax

residency

and actual residency, giving access to the European space. So investing in property in the Algarve isn't just about sunshine and leisure. It makes sound financial sense too, and at the moment is a very attractive option for Americans and Canadians looking for more affordable living and healthcare while enjoying a fabulous lifestyle in one of the safest countries in the world.

Obtaining expert advice on the best places to invest, on how to apply for a mortgage, how to apply for a visa to Portugal, or how much rental income you can expect, is vital. And the best and most up-to-date information is provided by those on the ground, local property brokers who know the Algarve property market inside out.

Ideal Homes Portugal

is an award-winning real estate agency working across the Algarve. Through their regular Ideal Homes TV vlogs (see the

Ideal Home Youtube

channel) and online webinars, they provide a wealth of information on the property buying process, legal requirements, mortgage updates and taxation advice – all free of charge.

Thinking of moving to Portugal? need to know about visas and bank accounts? about schools and healthcare?

WHY INVEST IN PROPERTY IN THE ALGARVE

Lifestyle

The Algarve is one of the most popular leisure destinations in the world, with a superb climate, top class restaurants, golf courses and facilities. The beaches are pristine, there is fresh air to breath, and healthy local food to enjoy. Considered the 6

th

safest country in the world in 2022, Portugal is a stable country. Authentic and laid-back, the Algarve is becoming more cosmopolitan while remaining true to its roots.

While the superb lifestyle is definitely an attraction, it is by far the only reason why investing in the Algarve makes sense. There are strong practical and financial arguments in favour too. Portugal topped International Living's 2023 Global Retirement Index, which rates numerous factors when ranking a country.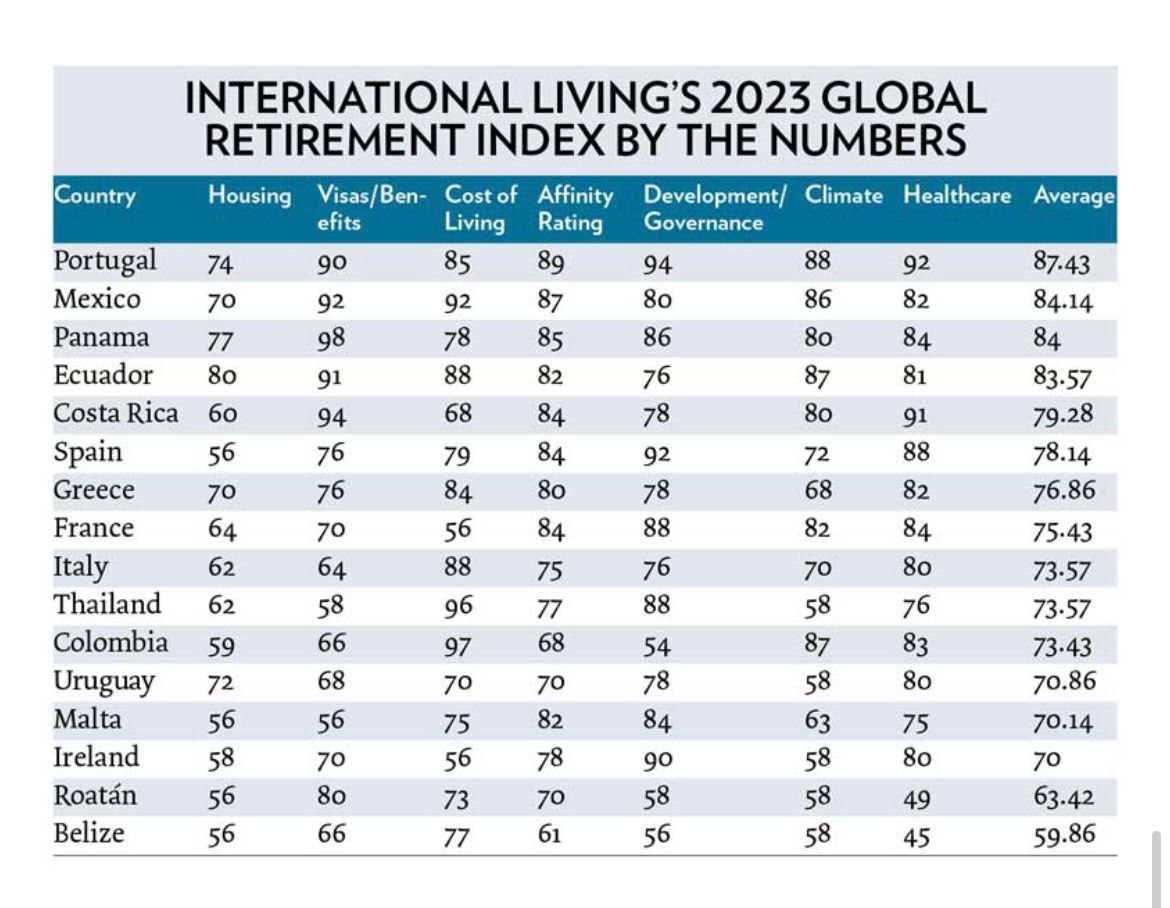 Low interest rates
Ideal Homes Portugal has an in-house mortgage department and according to their Central Bank licensed broker, Portuguese banks are typically lending up to 70% with a maximum term of 30 years, for applicants up to 75 years old. Variable mortgage rates from 4%, fixed rates from 4.75%.
If you are 50+ years of age with 2500€ monthly net income, it is possible to get finance up to 80 years of age to 80% of the purchase price.
"
The mortgage process is also very simple in Portugal for non-EU-buyers, making it a fantastic time to invest.
," says Chris White, CEO of Ideal Homes Portugal. He adds, "The demand from overseas investors is only getting stronger. The time to get into the Portugal market is now."
Market and mortgage conditions do change, so expert advice is essential to get the best options for you.
Current interest rates are between 4 - 5% compared to 6 - 7% in the USA.
Capital Appreciation
The capital appreciation on your investment in the Algarve is also important. Property prices in Portugal have been rising since 2012. A well-selected investment apartment, for example a well-located and appointed luxury 1 to 3 bedroom apartment, can realise a significant capital appreciation in just a few years, in addition to the not-insignificant rental revenue generated.
Rental return on investment
As a very popular tourism destination, properties in the Algarve can generate excellent rental income.
Rental yield on average is among one of the highest in Europe
, statistics show that gross rental income in Portugal ranges from 5% to 10%. There is a market for a wide range of properties, from one-bedroom apartments to luxury villas. If you are planning to buy an investment property, the services of a good rental management company can really help maximize the rental income, while also taking care of the obligations such as property checks and immigration reporting.
A good real estate broker will be able to talk you through the figures and potential of each property, based on real-life scenarios, so that you can make an informed decision.
Tax is levied on rental income, however, under the simplified tax regime, 35% of rental revenue is automatically considered profit (your actual profit may in fact be higher). That 35% is taxed at 25%, which means a tax rate of 8.75% on gross revenue.
Tax Incentives and Residency
Portugal offers a range of attractive incentives for expats. In addition to the Golden Visa programme (residency via property investment), the
NHR – non habitual residence
programme – allows that some foreign income will be exempt from Portuguese tax; foreign pension income benefits from a special fixed low tax rate, and local 'high value' employment is also taxed at a lower rate than usual.
People of any nationality (including non-EU/EEA citizens) can potentially qualify for NHR if they have not been resident in Portugal within the previous five calendar years.
Property Tax
Property taxes in Portugal can be relatively low, especially when compared to the USA. On average, property tax in Portugal runs to just 5 - 10% per year of USA property taxes.
Easy Access
Nestling in the south-west corner of Europe, the Algarve is nevertheless very accessible with a huge array of flights to Faro airport from all over Europe and further afield. Lisbon and Porto airports also attract a huge amount of international traffic, with multiple airlines operating routes from the USA and Canada. There are connecting flights from Lisbon to Faro, or alternatively, a straight 2.5 hours drive south will get you to the Algarve.
The abundance of low cost flights in and out of Faro also means that, once settled in your new property in the Algarve, you can easily explore the rest of Europe on short trips at great prices.
The lure of a sunny new life in the Algarve is strong. To help ensure you get the best possible outcome, expert advice is essential. Reputable locally based agents know the markets, and know the best opportunities. Having their assistance is the first step in successfully investing in property in Portugal.
Don't forget - registration is now open for the free "Invest in Portugal" webinar series by Ideal Homes Portugal.