Top 7 Algarve Gems by Travel Expert Peter Jenkins
Editorial Hot List Inspiration
Secret spots and family favourites in the Algarve
Recently named the World's Leading Destination,  Portugal holds a special place in most wanderlust-traveler's hearts. To find out what makes this destination tick, My Guide Algarve caught up with Portugal-aficionado and managing director of luxury villa specialist, Sun-hat Villas & Resorts, Peter Jenkins, to get some inside tips on one of the most visited corners of the country, the Algarve.
I have long loved the sun, scenery and soul of Portugal, but a particular regional favourite of mine is the southern region of the country, the Algarve – boasting fabulous
weather
with over 300 days of sunshine each year, it is not hard to see why it is so loved by locals and tourists alike.
During the 1990s, I lived and worked in the Algarve, so I experienced a lot more than the region's amazing beaches and crystal clear waters - the destination's most thrilling experiences come from the lesser known gems; hidden spots, sea-view cafes and secret beaches.  
Ria Formosa Natural Park
 Start the day with something completely new - a relaxing excursion out of
Faro
on a catamaran. Head to Cais Portas Do Mar, for a river cruise through the
Ria Formosa Natural Park
. You'll take a pit stop via four of the Algarve's best-kept secrets, the islands of Armona, Culatra, Farol and Deserta.
Keep a lookout for the flamingos with their pastel pink feathers glowing in the setting sun and the famous egrets, known for swooping low over the lagoons.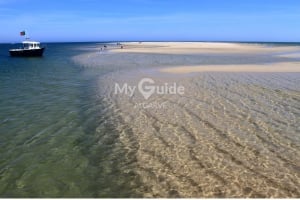 Shopping in Loulé
There are some great
shopping centres in the Algarve
but for a more traditional shopping experience, Loulé is a great option.
Loulé
is one of the largest residential towns of the inland Algarve, but that doesn't mean it lacks character. This traditional Portuguese market town is a popular day trip, offering explorers views of historic monuments and lively food stalls. Loulé has a vibrant cultural life too with some fabulous annual music and dance festivals, the new
Luza Algarve Festival of Light
and
Art Catto Gallery.
If you're a foodie, then pick your fish and veg from the
produce market
here, you'll find the prices are cheaper than supermarkets, and this is all local produce! Saturday morning is the best (and busiest) time to visit as that's when lots of local small farmers set up stalls in the streets by the market.  
Caldas de Monchique
A favourite on our trips to the Algarve is the hillside spa,
Caldas de Monchique
. Dating back to Roman times and a former hot spot for Portuguese royalty, this wellness retreat deep within the Algarve countryside, among the
Monchique hills
, is dotted with mosaic thermal baths and therapeutic mud pools. The natural spring alkaline waters are said to heal many ailments.  
Surrounded by vibrant green olive trees and fragrant herb bushes, this spa is a tranquil paradise of green. The central square at Caldas has a lovely café and there are beautiful walking trails in the area.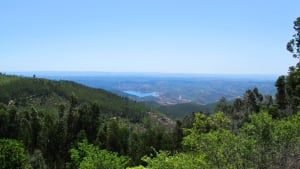 Fish, Tipico Style
 Head over to
Lagos
, known for its walled Old Town, ochre cliffs and Atlantic beaches, for a typical and delicious dining experience at 
Restaurante Adega da Marina
. Grilled fish, seafood and meat are the staples here, served in generous portions with fresh salads and delicious wines. What's not to love?
Stroll along the clifftops by 
Praia do Camilo
, which was rated #2 on 'things to do in Lagos' on TripAdvisor and is just one of several
amazing Lagos beaches
. You'll be led down to the sand by a spiraling wooden staircase, giving you a bird's eye view of the landscape below; clear green waters, golden cliffs and bathers lapping up the Algarve sun. Or check out the amazing landscape at
Ponta de Piedade
– a fantasy landscape of caves and grottoes carved by nature.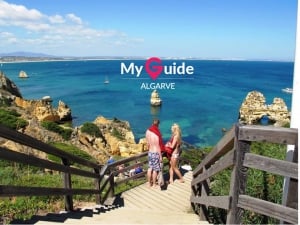 Praia Fluvial de Alcoutim
 Head to the 'deep Algarve' where you'll discover a true local secret – a hidden manmade river beach, the
Praia do Pego Fundo
. Alcoutim is a small inland town in the Eastern Algarve, on the border with Spain and overlooking the Guadiana River. A small sandy beach has been made on the banks of the Ribeira de Cadavais, which flows into the Guadiana, just outside the town. Tucked away in a valley, this spot is typically frequented by locals and is a refreshing oasis on a hot summer day. The beach, which boasts the
Blue Flag
is supervised during the summer months and the beach is also considered to be an Accessible Beach, with ease of access for impaired mobility.  
Caves of Benagil
The village of Benagil is well-known for its colourful fishing boats that are scattered along the beach and its ochre-coloured cliffs that seamlessly blend into the sand below. The famous
Benagil cave
is just 150 m from the beach, to the east, and is an amazing large natural cave, with several apertures allowing sunlight to stream through.
The best way to see this magnificent part of the coastline is by boat and there are frequent
boat trips
 taking locals and tourists out to sea to explore the coastline. Rent a kayak or take a guided tour through the waters. The Benagil caves were labeled "the most impressive sea caves in Europe" and were listed in the world's Top 10 Coolest Caves according to the Huffington Post in 2014.
If exploring caves isn't for you, never fear as this is one of the best beaches around – directly facing south, this coastline is ideal for soaking up some rays.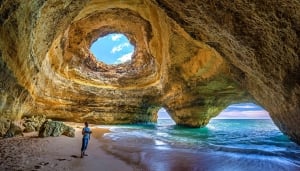 Go back in time in Silves
This is one of the Algarve's most historic sites… and what a pleasure it is to have wandered these streets. Home to medieval churches, a fabulous castle atop the hills, the streets and buildings oozing history,
Silves
is just 20 minutes from the coast.
 Once the capital of the Algarve, the oldest building is said to date back to the 8
th
 century. The arched roman bridge spans the Arade river and storks lazily ride the thermals. Memorable at any time, Silves is utterly unforgettable during the annual
Medieval Festival
, when the whole town embraces its history and transports visitors back to a different age.  
Feeling inspired by Portugal's southern province? Make it a trip to remember, take a look at Sun-hat's stunning range of luxury Algarve villas.  
About Sun-hat Villas & Resorts
 Sun-hat Villas & Resorts is one of the UK's leading ABTA luxury holiday specialists.
 
Founded in 2001, Sun-hat offers holidaymakers a selection of almost 1,000 handpicked lavish private villas and high-end resorts in some of the world's most desirable locations.
 
The team at Sun-hat have a combined experience of over 200 years in the travel industry and are well placed to create bespoke travel experiences for each and every customer.
 
Sun-hat began by focusing on Portugal and has become a well-known and respected Algarve specialist. As the company has grown, so has Sun-hat's location portfolio and the team is now able to offer luxury properties in over 40 destinations, including resorts in Majorca, Menorca, Ibiza, Tuscany, Sicily, Lanzarote and Barbados.
For more information, visit 
www.sun-hat-villas.com
.
YOU MIGHT ALSO LIKE