Top 10 things to spot in the Algarve
Arts & Culture Inspiration Top 10
Keep your eyes wide open to spot these things that make the Algarve such a special place.
Our Top Experiences and Tours in Algarve:
If youʻre booking your trip to Algarve last minute, we have you covered. Below are some of the top tours and experiences!

There are so many tourist attractions to choose from, fun things to do and sites to visit in the Algarve, it's easy to miss the natural wonders and interesting reminders of local heritage that make the Algarve such a special place.

Here we've listed our Top 10 things to spot as you travel around the Algarve.

Arbutus berries (Medronho)

Medronho is a traditional Portuguese drink made from the attractive red berry-like fruits of the arbutus tree, which can be found growing wild in the Algarve. It's a potent tipple, certainly not for the faint-hearted, and is often sweetened with honey to make it more palatable.

Considering the arbutus tree thrives in poor soil with little water, it's quite surprising to see the beautiful strawberry-red berries (pictured above) that it produces. The berries are easy to spot if you're out in the Algarve countryside in late October to December, particularly in the hills of Monchique and around the Barragem do Arade in Silves. At this time of year, you may also spot local farmers picking the berries – it's an arduous task as it takes between seven and 10 kilograms of fruit to make just one litre of Medronho.

You'll spot arbutus trees if you take an Algarve Jeep Safari. It's a great day out and a perfect way to learn more about the 'real' Algarve. You'll get an opportunity to taste Medronho too, but if you fancy sampling this local snifter, be warned - the crystal clear liquid may look harmless enough, but very few Algarve farmers who make Medronha have a distillation license, so much of the liquor produced is 'moonshine' with an alcohol content that can be as high as 50%. Probably that's why it's referred to as Aquardente (firewater). Cheers!

Azulejos

It's hard to travel through the Algarve and not spot azulejos. The colourful glazed ceramic tiles were brought to the region by the Moors and used widely to decorate the interiors and exteriors of their buildings and monuments, as well as to adorn public places, create signage, and illustrate scenes from history and religious events. In fact, the list of uses is endless.

Produced for over 500 years, azulejos are not merely ceramic tiles, they are art and are an important part of Portuguese history. Stroll through Olhão, Faro, Silves, Portimão, Lagos, or any Algarve city or town for that matter, and you'll be wowed by the frontages of buildings tiled with azulejos. Check out the walls of São Lourenço Church near Almancil, they're decorated with blue azulejos depicting the story of the village's patron saint. Stop to rest your legs in the pretty Largo 1º de Dezembro gardens in Portimão and you could find yourself perching on a piece of art – the backs of the public seats are scenes from history, created with blue and yellow azulejos. From east to west Algarve, you'll spot azulejos - there are some great examples to see and photograph.

Birds

The Algarve is a popular destination for avid bird watchers, but you don't need to be a confirmed 'twitcher' to enjoy spotting the numerous species that breed in the region, or the many migrating birds that stop-off in this southern-most tip of Europe. To date, 386 species of birds have been observed in the Algarve, but this number increases every year.

It's hard to miss the Hoopoe in the Algarve; probably one of the most attractive resident birds of the region, it favours grassland, so look out for it on the Algarve's golf courses between April and August. The colourful European Bee-eater is also easy to spot in much of the region at the same time of year – you may hear its distinctive whistle-like call before you see it!

In the far east of the region, Castro Marim's small nature reserve is a wintering ground for the Greater Flamingo, Avocets, Spoonbills, Black-winged Stilts and many species of duck. The site is also visited by countless other birds and is the only breeding ground in the country for Short Toed Larks.

More than 200 kinds of birds regularly visit the wetlands of the Ria Formosa Natural Park, which stretches along the Algarve's east coast. The area is recognised internationally as an important site for numerous breeding, wintering and staging (migrating birds that rest or feed) water-birds, including Egrets and Ibis. You are also likely to see Kingfishers and Purple Swamp Hens here.

Moving west, there are several sites along the coast where you'll have the chance to spot a wide range of birds; Quinta do Lago, Lagoa dos Salgardos, Ria de Alvor and Paul de Lagos, to name but a few. Sagres, on the rugged far west coast of the Algarve, probably offers the best chance of spotting seabirds anywhere in Europe and is the location for an annual autumn bird watching festival, which attracts keen bird watchers from around the globe, to observe some of the more unusual perching migrants.

One of the largest birds-in-flight that you're likely to spot in the Algarve is the stork. You can spot storks nesting in towns and cities and in the countryside, on chimneys, electricity pylons, telegraph poles, atop tall trees and high walls. Storks are monogamous and return to their nests each year. They're a revered and protected species in Portugal, that's why you'll see so many old commercial chimneys rising up above new builds –it's against the law to destroy any structure that's home to nesting storks .  

For more help with spotting birds in the Algarve, you can download this excellent bird watchers leaflet from Turismo de Algarve's website. It has photos of various birds as well as a map of all the best bird watching sites.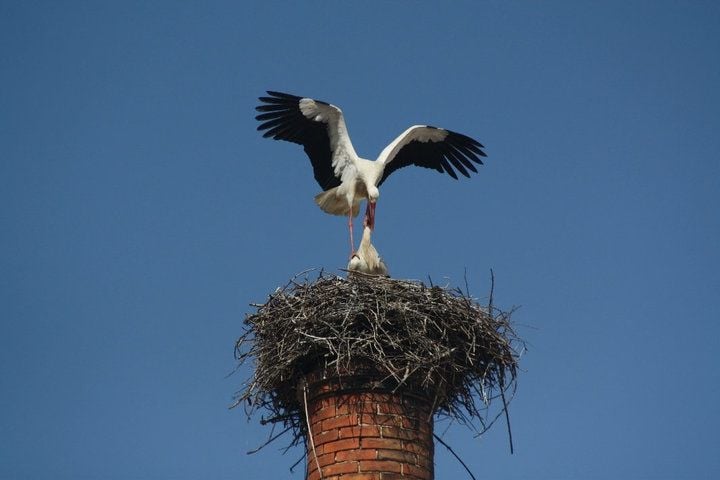 Carobs
Carobs, or Alfaroba, aren't the most attractive fruits of the Algarve, but they're worth their weight in gold – literally!  Carob pods, which hang from magnificent evergreen trees, turn from green to brown and are ready to harvest in August. You'll see local farmers carob-picking around the middle of August; knocking the pods from the trees with long sticks and gathering them into sacks ready to sell. Regardless of the size of the pod, each seed inside weighs exactly the same. For this reason, in days gone by, carob seeds were used to weigh diamonds, silver and gold. The modern usage of the word 'carat' is taken from the Latin name of the carob tree - Ceratonia Siliqua. The carat also became a measure of purity for gold; 24-carat indicating that the gold is 100% pure.
Aside from the historic use of carob seeds as a weight and measure, the pods themselves have a high nutritional value and, once ground into flour, are used as a healthier alternative to cocoa powder. The seeds are also processed to make locust bean gum, which is used as a natural thickener in food products. In addition to culinary uses, carob is often added to cosmetics, pet food, and even insecticides.
The carob (alfarrobeira) tree is a common sight in the region's countryside, so you won't have any trouble spotting it. But keep your ears open too; a single tree can sustain an amazing number of bees, so if you're close to a carob tree, you just might hear a buzzing in the air.
Chimneys
Look up to the roof tops in the Algarve and you'll spot some of the region's most intricate and beautiful works of art – chimneys.
The ornate structures are unique to the Algarve and it's not unusual to see an old house with four or five chimneys. You may find this quite surprising given the region's mild year-round climate, but there is an explanation. The construction of chimneys in the Algarve started in the 1700s and it was at that time that decorative chimneys became a sign of a homeowner's wealth. I'm not sure who started this trend, perhaps it was the initiative of an astute stone mason, but the deal was, the more difficult and detailed the chimney, the longer it took to build and the more it cost. It was common to be asked by your stone mason: "How many days of chimney would you like?"
A number of the older and particularly elaborate chimneys around the region clearly have a Moorish influence, although the Arabs didn't build chimneys at all. Beautiful chimneys are part of the charm of the Algarve's old buildings and some of the newer examples you'll see, although now mass-produced, are still more decorative than the average flue. See if you can spot the Algarve's oldest functioning chimney - built in 1713, it features the figure of a woman with outstretched hands and you'll find it atop a cosy little restaurant in the village of Porches.
Cork
Portugal is the world's main exporter of cork and it's the cork produced right here in the Algarve that's considered to be the global best. Cork has many uses, from being the main insulation material used in the building of ships, to table mats, protective packaging and, of course, bottle stoppers.
The Algarvean municipality of São Brás de Alportel is historically linked with the cultivation of cork oak and the production of the world's most superior wine corks, but you'll spot cork trees in other areas of the Algarve too. Many can be seen in the Monchique hills and around the Silves countryside. Cork oak (Quercus Suber) trees are easy to spot - more often than not, you'll see cork trees 'stripped' of their bark (the cork), exposing their reddish trunk. Each cork oak tree can survive for up to 200 years and once a tree reaches 25 years of age, it can be stripped of its cork once every 9 to 12 years without causing damage to the tree. It's the only tree that's able to regenerate its bark.
More recently, there has been a growing trend to craft cork into fashion items such as handbags, mobile phone cases, umbrellas and even articles of clothing. So, as well as looking out for cork trees in the Algarve hills, keep your eyes open for shops selling cork products, like Casa Gineta in Loulé, where you can buy the latest fashion accessories made from the bark of the amazing cork oak tree.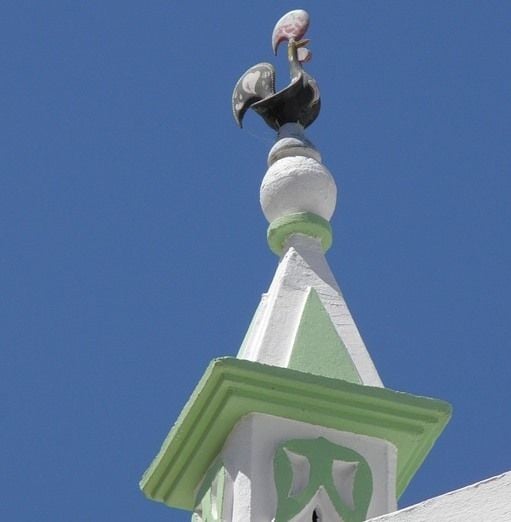 Olives
Olives are a way of life here in the Algarve. The region's climate and soil composition make it the perfect place for Olive farming. Olive trees, bearing their fascinating fruits, can be spotted across most of the Algarve, even in cities and towns. Many of the trees you'll see will be centuries old, in fact in the village of Pedras d'El Rei, near Tavira, stands what is believed to be the oldest olive tree in Portugal and the oldest living thing in Portugal too. This awesome specimen is over 2000 years old.
Dubbed a 'Mediterranean superfood', the wide use of olive oil in cooking is claimed to be extremely beneficial to health, not to mention delicious. The Algarve is home to the award-winning Monterosa Olive Oil, produced in Moncarapacho, where olives are grown and handpicked to ensure quality. There are several great restaurants in the Algarve that specialise in healthy Mediterranean dishes: Hexagone in Carvoeiro offers a menu of contemporary Mediterranean cuisine, while fine Italian Ristorante Belmondo in Porches, serves up genuine Italian food. Further east, chef Heinz Beck at The Conrad's Gusto in Quinta do Lago, will wow you with his stunning gastronomic creations from the Med and beyond. Check out our full list of restaurants and spot those serving Mediterranean food.
Pottery
Take a drive down the Algarve's Estrada Nacional (N125) and you won't win any prizes for spotting artesanato shops and outlets offering traditional pottery, but you may note that there are rather more in and around Porches, between Guia and Lagoa. That's because Porches was and still is the centre of the pottery industry in the Algarve.
The art of potting in the region dates back to before Medieval times, but in the Sixties this traditional craft was in decline. Then along came Irish artist Patrick Swift and his Portuguese colleague Lima de Freitas, who made it their mission to revive the tradition of hand-painted Portuguese pottery. They founded Porches Pottery in 1968 and, it's thanks to Patrick and Lima, that today we can admire and buy a wide range of vividly colourful pottery in the Algarve. You'll spot pottery in many stores in the region – from village gift shops to shopping malls and even supermarkets, and there are styles, colours and designs to suit all tastes. A piece of Algarve pottery makes a great gift or souvenir; from small trinkets to larger works of art, save some space in your suitcase!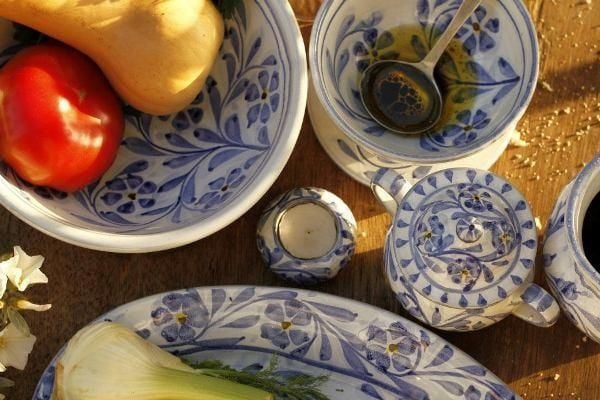 Roman ruins
You could spend an entire holiday in the Algarve spotting Roman ruins. Many have earned themselves a brown tourist sign, but there are countless more that are unmarked and often equally as interesting.
The Romans certainly knew how to build; from roads, bridges, aqueducts to elaborate villas, so many have stood the test of time. The Romans were not only skilled builders and plumbers, they were artistic too. Reminders of the fine mosaics they used to decorate their buildings can be seen at several ruin sites - at Cerro do Vila in Vilamoura, you can see the remains of what were once magnificent mosaic floors. Another well-known site is Milreu, north east of Faro, where you can tour the ruin of an amazingly large and grade Roman villa.
The Ponte Romana in Silves is an excellent example of a structure built to last and, although now closed to traffic, you can use it to cross the Ria do Arade on foot. Tavira has a Ponte Romana  too, but this so-called Roman bridge is believed to have been built much later in Medieval times, and rebuilt after the great earthquake of 1755, but it's still well worth including on your 'spotting' list.
Much further west in the county of Vila do Bispo, there's a chance to spot the only remains of a Roman villa to be found on an Algarve beach. During the 1755 earthquake, waves of the Tsunamis that battered the Algarve coast uncovered the remains of a 2000 year old Roman structure at Boca do Rio. This ruin gave great insight into life in the area in Roman times - a bathhouse, warehouses and a fish salting and conserving factory were discovered, along with mosaics and frescoes which are on display in the Museum of Lagos.
Roman ruins are still being discovered today in the Algarve, so keep your eyes peeled, you never know what you might spot on your travels.
Wild asparagus
Wild asparagus plants are plentiful across the Algarve countryside, but you really need to know when and where to look if you want to spot this vegetable growing wild. Â 
Early spring is the best time to catch these little gems, but don't expect them to jump out at you. The lethally thorny asparagus bushes look the least likely bearers of tender green shoots, and you need to crouch down and look underneath the prickly branches to the base of the plant. If you strike lucky, you'll spot one, two or maybe three new shoots, which look unmistakeably like traditional asparagus. If you want to collect asparagus to eat, don't come back later – each new shoot grows at a remarkable rate, giving you a window of around 10 to 15 minutes to catch a fresh asparagus while it's still tender enough to be consumed.
If the conditions are right, warm and damp, you could return home with a nice little catch. But be warned, the Algarve's wild asparagus is particularly bitter, so check out some recipes that use cream or eggs to balance out the bitter flavour.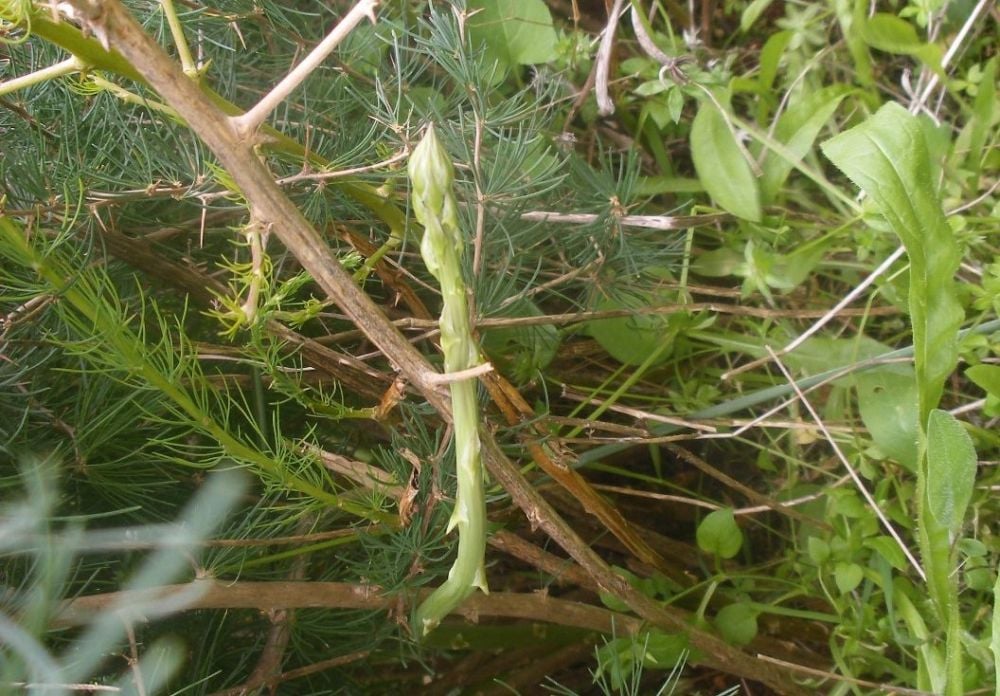 You might also like