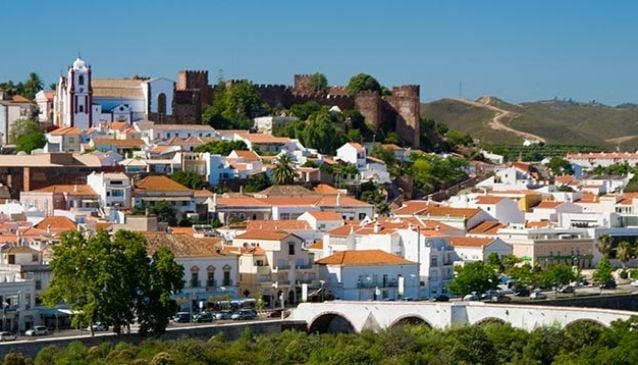 Guide to Silves, Algarve
Arts & Culture Inspiration
Silves is bursting with culture, history and charm. It's a great place to visit any time of year.
Silves, the ancient Moorish capital of the Algarve is a charismatic town steeped in history. A great place to visit at any time of the year, there are plenty of things to do and see here. The town nestles against the hills on the banks of the Arade river, surrounded by orange and lemon groves, and backed by it's emblematic castle. Bring your camera - photo ops abound among the winding, cobbled alleys. If you can, visit during the fabulous Silves Medieval Festival - a fun celebration of Silves history.
What to see
Silves Castle: Silves was the capital of the Algarve during Moorish rule, so it's not surprising that one of the town's main attractions is the remains of its Medieval castle. The imposing red sandstone walls rise up above the town - a sight to behold as you approach Silves, particularly at sunset, as the castle fairly glows in the soft light.. If you're interested in the history of Silves and you appreciate breath-taking views, a visit to the castle is a must.
Opening times: Daily, 9am to 6pm (later during the summer). There's a small charge for entry.
Silves Cathedral : Silves Cathedral stands adjacent to the castle. Built in the 13th Century it's listed on the National Register of Monuments in Portugal and is considered one of the main Gothic monuments of the region. Take a look inside – there are ancient tombs on the floor of the cathedral and the internal architecture features Gothic stone rib-vaulting. It's well worth a look.
Opening times: Mon to Sat, 9am to 5.30pm.
Entry is free, but you're invited to make a small donation.
Cross of Portugal: Situated on the outskirts of the town, it's easy to overlook the Cruz de Portugal. You'll find it on the eastbound EN124 as you leave Silves. Dating back to the 15th or 16th century, this beautifully crafted limestone cross stands three metres tall and is an excellent example of Gothic art – it would be a shame to pass it by.
Roman Bridge: The Ponte Roman which crosses the Arade River at Silves, is testimony to the excellent workmanship of the Romans and is part of the roman legacy in the Algarve. It has stood the test of time and although it's now closed to heavy modern-day traffic, you're still able to walk over the bridge and stop to admire the great view down river and across to the town.
Ancient buildings: As you stroll around the town's cobbled streets and along the riverfront, look around you – there are many fine-looking buildings from the days when Silves was a rich merchant's town. Don't miss the ornate chimneys and beautifully tiled facades.
Storks: Silves town is a great place to see Great White Storks - just one of the many awesome things to see in the Algarve. Just look up and you're sure to spot many nesting birds on chimney's, high buildings and even the castle walls.
What to do
Visit the archaeological museum: Silves has its own Museum of Archaeology, which houses a wide range of artefacts discovered in the area, some of which date back to the Stone Age period. The museum is built around an old Moorish well, now a National Monument and the centrepiece of this interesting archaeological collection.
Location: Rua da Porta de Loulé 14
Opening times: Daily, 10am to 6pm - no entry after 5.30pm. (Closed 25 Dec to 1 Jan.)
There's a small entry fee with special rates for groups, children and over 65s.
Visit the festivals and fairs: There's usually something going on in Silves, particularly during the summer months - from music festivals to traditional street fairs. The biggest fair of all is the annual Medieval Fair, which takes over the town and runs for 10 days during August – it's worth planning your visit to make sure you catch it!
Visit the theatre: Silves has its own very special theatre on the corner of Rua Candido Reis (behind Lidl). Having been closed for many years, Teatro Mascarenhas Gregório was lovingly restored and brought back to life by Silves Council. The building is reminiscent of a grand London West End theatre, only in miniature. A variety of musical and theatrical performances are staged here – many in English.
Take a river cruise: You can take a lazy cruise up river. Board the river trip from the fishing village of Alvor, and meander past Portimão and up the estuary. The boat docks at Silves and allows ample time for passengers to explore the town before the return journey.
Relax: Silves is a great place to simply chill out! It has a wide choice of restaurants and pavement bars where you can watch the world go by while you enjoy a cake and a coffee, a cold beer or a freshly cooked meal - all at a very reasonable price. Stroll around the town's narrow streets and you'll come across many quaint local stores, gift shops and artist's studios. There's a daily market too, which spills out onto the streets on a Saturday morning; it's a hive of colourful activity, with local farmers selling their produce.
Exercise or play a round: The riverfront is the perfect place for a jog and there's a series of Life Trail Wellness Stations on the riverbank, all of which are free to use. Silves Municipal Swimming Pool is also alongside the river and includes a small gymnasium and three pools, the largest of which is 25 metres and has eight lanes.
If you're stopping in the area, you can play a round of golf on one of two excellent golf courses, which are within easy reach of the town. Silves Golf, part of the Pestana Group, is an 18-hole par 70 course, in a serene natural landscape, just 10 minutes' drive from the centre of town. For the accomplished golfers, the Oceanico Faldo, designed by Sir Nick Faldo, is not far out of town and offers a 6598m par 72 championship course.
Enjoy live music: Silves is historically the cultural centre of the Algarve and it attracts accomplished musicians from across the globe, many of whom have settled in the area, so there's no shortage of quality live music in and around the town. These are some of the main music venues in Silves:
Art'aska (opposite the river) is the place to go to listen to an eclectic mix of international artists and enjoy some great wine and tapas in a casual and friendly environment. If you're a musician yourself, go along to the regular Jam Session on Sunday evenings.
Café Inges in Rua do Castelo (next to the Castle) is a charming bistro with regular music nights, where artists perform a variety of styles including Jazz, Latin, Brazilian, Gospel and Blues – outdoors in summer and indoors during the cooler months.
Quinta Bar is 5km out of town, but well worth the trip. Set in the tranquil surroundings of Quinta da Figueirinha, this venue is a musical oasis in the Silves countryside, hosting performances by superb vocalists and musicians, with good food and friendly people. Plus, Quinta Bar has regular open mic sessions for those who love to be in the spotlight. Open most days all year round, but particularly great on summer Saturday afternoons.
Take a wine tour: Quinta do Francês is a Family Estate. It sits in 8 hectares of vineyard, just west of Silves town, on the Odelouca River Valley. You can enjoy a guided tour of the winery and cellar, or simply taste the wines!
Allgav Tuk Tuk tours offers some great tours to the town of Silves and also to some wineries in the Algarve. A great way to explore the area!
Explore: There are countless places to explore around Silves. If you fancy a run out, take the EN124 out of Silves, towards São Bartolomeu de Messines, you'll spot brown signs on your left, directing you to the Barragem. Don't pass them by! The first route snakes around the hills. It is a tarmac road, but very windy, so be prepared. Sit it out and you'll reach the Barragem do Arade – great for walking, cycling, birdwatching, fishing, relaxing or simply taking in the spectacular views and fantastic sunsets. Further along the EN124, shortly before Messines, the second sign points to the Barragem do Funcho. Follow the signs through Amorosa and then turn left as directed. Look out for a 'Barragem' sign to the right. This road will take you to the Funcho Damn, an awesome piece of engineering. Do make sure you keep to the tarmac roads at all times though!
Where to eat
You won't struggle to find a place to eat in Silves that suits your palate and your purse. You'll find many excellent seafood restaurants in the town and, if you're partial to a tasty Piri Piri, the restaurants opposite the river will be right up your street - just follow the aroma of charcoal and chicken.
Many of the town's traditional eateries offer a lunchtime dish of the day 'Prato do dia'. Normally there's a choice of a fish or a meat dish, served with all the trimmings and guaranteed to satisfy the healthiest of appetites. The more modern cafes will display their menus outside to tempt you in; from tapas, omelettes, crepes and pizzas, to wraps, toasties and delicious cakes. Or you can choose from the A la Carte lunch and dinner menus offered by many of the larger establishments.
Here are a few suggestions:
Quick bites
Café e Companiha – right in the centre of town. The perfect place to meet up for a lunchtime bite. Extensive choice of food and drinks, and free WiFi.
Value-for-money
Ponte Romana – just across the old bridge, this delightful Portuguese restaurant is a great place for lunch or dinner. An excellent choice of traditionally cooked food, plus a fascinating collection of old sewing machines and a wine cellar.
Ù Monchiqueiro – opposite the river, this is the place for hearty, value-for-money, Portuguese cuisine.
Quality and style
Café Inges – bistro/restaurant nestled beside the castle walls. Well presented, well cooked food in an atmosphere that oozes ambiance.
O Barradas – just out of town, this converted country farmhouse is absolutely charming. A wide choice of beautifully cooked food and excellent wines.
Recanto dos Mouros – great location, with a stunning view of the castle. Quality Portuguese cuisine with many fabulous specialties such as wild boar.
Rui Marisqueira – within a short walk of the river, Rui's is famous for its fresh seafood, cooked to perfection.
Where to stay
Part of the charm of Silves town its lack of large hotels and high rise apartment blocks. Silves does have one hotel and there are many holiday lets and guest houses in and around the town.
Here are a few to check out:
Casa das Oliveiras – this family-run guest house, located 6km from Silves centre, is a great base for discovering Silves town and the surrounding area.
Colina dos Mouros – popular with tourists looking for a quiet refuge, this reasonably- priced, three star hotel blends easily into the Moorish background. It's worth staying there just for the picture postcard views of Silves town, which capture the castle in all its glory.
Quintal do Castelo – if you want to experience life in Silves, Quintal do Castelo should tick all your boxes. Located in the historic centre of town, inside the old castle walls, there is a choice of three houses to rent and a beautiful communal garden and pool.
Quinta da Figueirinha – looking for something different? Quinta da Figueirinha offers self-catering accommodation, situated on a bio-agricultural farm, just a few kilometres from Silves centre.
The practical stuff
On-street parking is free in Silves town, but some of the streets are very narrow and unsuitable for large vehicles and motorhomes. If you're mobile, the best bet is to park in the large free car park on the river front and walk from there. Motorhomes are permitted to park up in the area around the swimming pool and there is also a new purpose-built car park for travellers, situated on the right as you head west out of town past the Continente store.
Unfortunately, although charming, Silves' hilly cobbled streets and steps leading to the top of the town aren't ideal for wheelchair users or those with limited mobility (not to mention high heels). However, the riverfront car park is a perfect place to stop and the area along the riverfront is largely flat, with good walkways. There are also wide pedestrian areas towards the bottom of the town, which are flat and accessible. There's good access by road to the Castle and Cathedral, so no one should have to miss out on seeing the sights.
There's a tourist office on the riverbank and also one near the Castle - just along from Largo do Município, where you can ask for help and information and pick up the current guide to what's on in the region.
Open from 9am to 6pm, Monday to Friday.
Transport – There's a taxi rank opposite the river, which normally has plenty of free taxis waiting to take you to your destination. If you need transport to and from Faro Airport, you'll probably get a better deal by booking ahead with one of the transfer companies.
There's a good public transport service in Portugal. EVA offers a regular bus service across the Algarve and to Lisbon, and is a cheap way to get around. The EVA website is available in English.
Portugal has an excellent rail network too, which offers a low cost way to travel. Silves has its own station (Estação de Silves), located just outside the town. You can get more information and use the easy online booking system on the Comboios de Portugal website (available in English).
If you'd rather hire a vehicle, there are numerous hire companies offering good deals.
Supermarkets – There are a number of small grocery shops and supermarkets in the centre of town. To the east there is a well-stocked Lidl store, with great freshly baked bread. To the west, you'll find a good choice of goods at Continente, including fresh fish, meat, bread and cakes.
WiFi - Many of Silves' cafes and restaurants offer free WiFi and there are free zones at the municipal swimming pool and in the Largo do Município (in front of the Council Offices).
Banks – There are a number of banks in Silves town; most have cashpoint facilities. Millennium BCP and NOVO Bank have English-speaking staff.
Police Station – The GNR (Guarda Nacional Republicana) office is situated on Rua Drº Francisco Vieira nº3 (near the top of the town) T: 282 440 290
E: ct.far.dslv@gnr.pt
Medical Centre – Silves Centro de Saúde is located to the east of the town on Rua Cruz de Portugal (near the Cruz de Portugal monument).
The Centre is open from 8am to 8pm, Monday to Friday. It has a minor emergencies and treatment facility, and will treat holders of EHICs (European Health Insurance Cards).
Veterinary care – If you're travelling with pets, you may need a vet. There are a number of veterinary surgeries in Silves that are open during normal working hours. Jabutivet on Rua Candido Reis is open from Monday to Saturday T: 282 445 648 (English speaking).
Post Office – Silves has a main Post Office (CCT Silves) in the town, on Rua Correio. It provides all the normal mail services and you can also pay A22 Toll Fees over the counter – just take your vehicle registration number.
Payshops – you'll spot a few shops displaying the 'Payshop' sign. The one in the centre of town offers an internet / printing service – handy if you need to run off your boarding passes. You can also pay A22 Toll fees here, top up Portuguese network mobile phones and even buy a Lotto ticket!
Library – Silves Municipal Library is a modern building behind Praça Al'Muthamid (the square with the fountains). You don't have to be a member to browse the reference books, newspapers and magazines, and there are often art or other interesting exhibitions that are worth dropping in to see.
Enjoy your visit!

For information on other areas of the Algarve read our Algarve Travel Guides.
Written by:
Michele Frasca
PUBLISHED: Mar 6th 2020