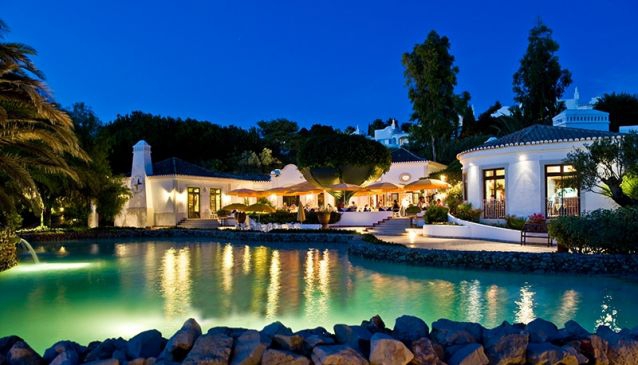 Christmas and New Year at Vila Vita Parc
Food & Drink
Vila Vita is the ideal choice for a luxurious festive season.
If you're searching for an extraordinary destination to spend the festive season, or looking to find an exceptional restaurant for your special celebration meal, then read on….
The Five Star Vila Vita Parc Resort and Spa in Porches was built with supreme luxury in mind. Set on a clifftop, overlooking the Atlantic Ocean, the Resort boasts an outstanding range of top class facilities and aims to provide its guests and visitors with the best possible experience.
This Christmas and New Year Vila Vita Parc has created an excellent programme of events, including a unique New Year Package, designed to be enjoyed by everyone. From hot chocolate by the fireplace and a special visit from Santa Claus on Christmas Eve, to the ultimate in gourmet dining experiences and a spectacular firework display to help you see in 2016.
Here's what's in store
Guaranteed to put a smile on young faces (and some older ones too) Santa Claus will be visiting Vila Vita Parc at 4pm on Christmas Eve, with a sack full of surprises, plus hot chocolate and cake will be served by the fireplace. But don't overdo the cake! Christmas dinner is at 7pm in the Bela Vita Restaurant, or you can opt for the Gourmet Dinner in Vila Vita's Ocean Restaurant, which currently boasts two Michelin stars. The dress code for both is evening chic.
The big day
Christmas lunch at Vila Vita is scheduled for 12.30pm. Again you have two choices: dine in the Biergarten Restaurant or, if you prefer traditional fare, the Bela Vita Restaurant promises la crème de la crème of Christmas roast dinners.
If you'd rather dine a little later, the Adega Restaurant will be offering their A la Carte menu from 6pm, or you can choose to indulge in a special Christmas dinner with wine pairing in the intimacy of the Wine Cellar.
Christmas prices
Bela Vita Christmas Eve: Adults €65.00. Children are entitled to 50% discount (4-12 years).
Ocean Christmas Eve: Adults €180.00.
Biergarten Christmas Day: Adults €25.00. Children are entitled to 50% discount (4-12 years).
Bela Vita Christmas Day: Adults €75.00. Children are entitled to 50% discount (4-12 years).
Adega Christmas Day Night: A la Carte.
Wine Cellar Christmas Day Night (maximum 12 people): Adults €100.00. Children are entitled to 50% discount (4-12 years).
See in 2016 in Style
Vila Vita's packed programme of New Year events will leave you spoilt for choice. From a fun-themed party for the kids to a six-course gala dinner, firework display and more. Plus, the Resort has created a unique New Year Package which includes the best of everything Vila Vita style.
The count down
Start counting down at 6pm with Annabella's Kids Park fun-themed party. Especially for the younger 'revellers', it's designed to 'get the party started' for children from four years of age.
Also at 6pm, the Adega Restaurant will be presenting a superb New Year's Eve menu and there will be live music too. If a gourmet dinner at the Michelin Starred Ocean Restaurant is more your bag, then don your black tie and evening wear and prepare for a seven-course banquet at 7pm. If you have the kids with you, then you might want to opt for the more casual atmosphere of The Biergarten Restaurant, where dinner will be served at 7.30pm.
New Year's Eve cocktails will be shaken and stirred in the Oasis Bar at 7pm and Vila Vita's Grand Ball kicks off at 7.45pm. This black tie event comprises a six-course Gala Dinner, live entertainment, music and dancing, as you continue the countdown to midnight. When the clock strikes the hour, a spectacular firework display will light up the New Year sky, but the party doesn't stop there – the fireworks will be followed by a disco and late night buffet.
When the party's over…
…it's time to chill out. Vila Vita will be serving a buffet breakfast between 7.30am and 10.30am. But if that's a tad too early for you on New Year's Day, there's no need to hurry - New Year's Day Brunch will be available from 12 Noon to 2.30pm.
New Year prices
Adega New Year´s Eve Menu with live music: Adults €145.00. Children are entitled to 50% discount (4-12 years).
Biergarten New Year´s Eve Dinner with music: Adults €38.00. Children are entitled to 50% discount (4-12 years).
Ocean Black Tie Seven-Course Gourmet Dinner: Guests and Non-Guests €275.00 per adult
New Year's Eve Ball: Guests: €285.00 per adult (includes New Year´s Day Brunch). Non-Guests: € 250.00 per adult Children are entitled to 50% discount (6-12 years).
The full package
New Year will only happen once in 2016, so you're entitled to make a real occasion of it. To help you, Vila Vita has put together a unique package which balances fine dining with relaxation and leisure – it really is the full package!
Between 29th December and 2nd January you are invited to stay at the Resort and enjoy the following perfect blend of activities:
Daily buffet breakfast in the restaurant.
Special festive luxury in your room on arrival.
Vila Vita Grand New Year´s Eve Ball.
New Year´s Day Brunch.
One 50 minute anti-stress massage, in the Vital Spa.
Free use of the swimming pools, Jacuzzi, saunas and steam bath.
9-hole Pitch & Putt golf course.
18-hole Putting Green (clubs and balls are available at a charge).
18-hole crazy golf.
Package prices
Single occupancy from €280.00 per room, per night.
Double occupancy from €400.00 per room, per night.
The package is applicable for a 3 night stay in a Deluxe room. Rates include VAT and service charge.
Additional nights can be booked at Best Available Rates.
Gastronomic highlights
Throughout the festive season, there's an opportunity to tantalise your taste buds with Vila Vita's Gastronomic Highlights. From champagne and cocktails, caviar and salmon, oysters, tapas or an extra special afternoon tea – it's all on the menu.
A member of The Leading Hotels of the World, Vila Vita Parc Resort and Spa is the ideal choice for a festive winter break, a special celebration, or simply to spoil yourself and those you love. Find out more about this quality Resort here. [new window]
See the Vila Vita website or contact the Resort for full terms and conditions applicable to the events featured in this article.
PUBLISHED: Oct 15th 2015 | UPDATED: Jun 9th 2017