Casa Velha: Embracing Portuguese Heritage at Quinta do Lago
Editorial Food & Drink Inspiration Lifestyle
Casa Velha in Quinta do Lago embraces its Portuguese heritage with a new menu for 2023. Indulge in delicious classics with a modern twist, showcasing traditional flavours, crafted using locally sourced produce from their own farm. A meal here satisfies more than just our hunger, tapping into our need for connection with the physical world and the pleasure of sharing great food.
Casa Velha
in Quinta do Lago is, in many ways, the beating heart of the resort, the nexus from which all else has come. It was here at the old farmhouse (the original
Casa Velha
) that André Jordan sat in the sunshine one day, and envisaged a place of leisurely living, surrounded by the natural beauty of an area blessed by nature.
Fast-forward from the 1970s and Quinta do Lago is today one of the leading luxury resorts in the world, offering excellent golfing and sporting facilities, a sunny lifestyle, privacy and tranquillity. (See our
2023 Guide to Quinta do Lago
)
The old farmhouse became a restaurant and an iconic venue for all those who visited the resort over the years, a delicious thread of continuity that accompanied Quinta do Lago's growth from infancy to its current status as a top leisure destination and coveted place to live.
Always deeply connected to its physical place in the world, in 2023
Casa Velha has embraced even more closely its Portuguese identity
, with a menu that showcases traditional flavours, local produce and the timeless pleasure of sharing good food with those we love.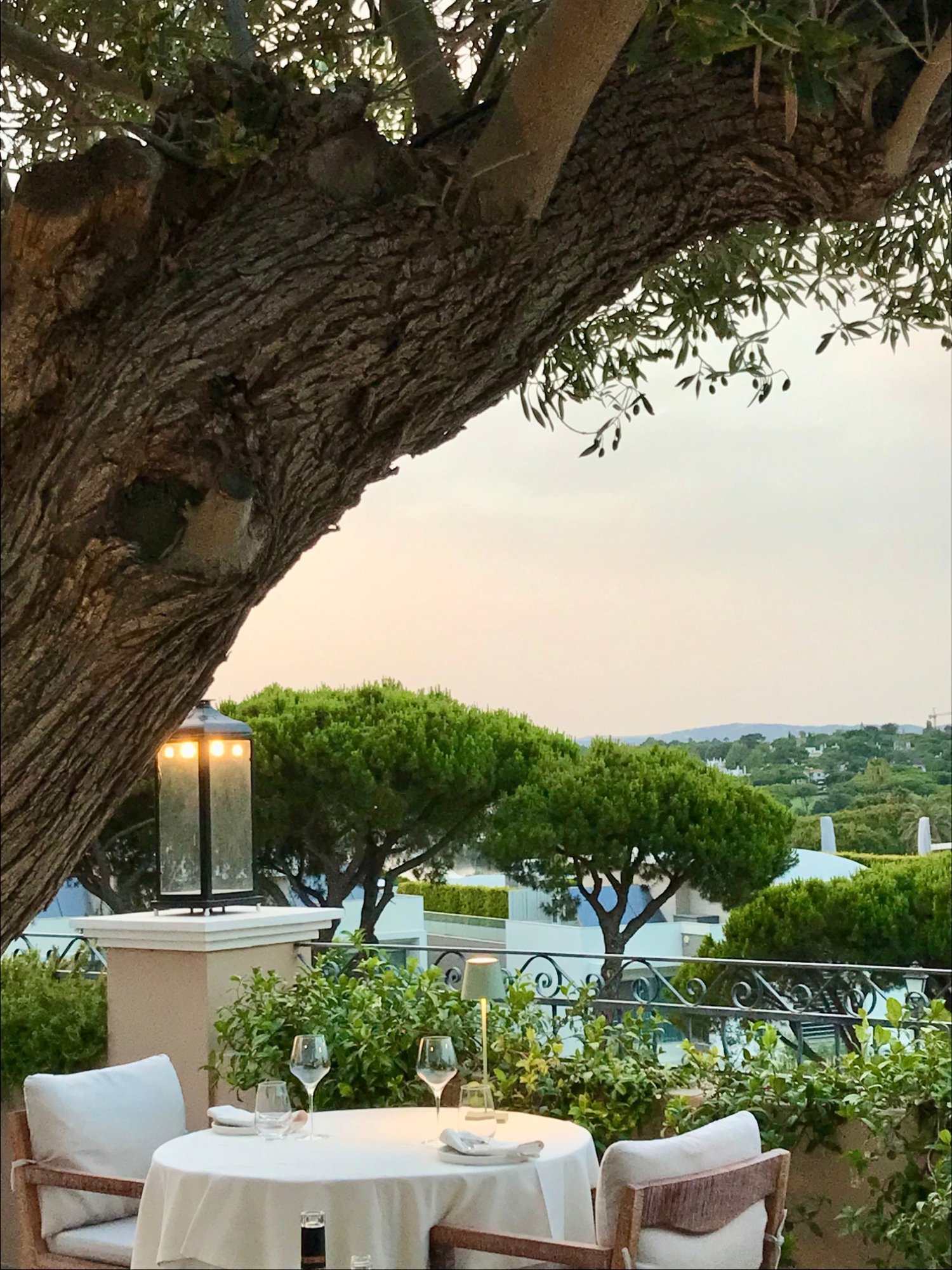 A Return to Portuguese Roots - Embracing the Heritage
In an era where fusion cuisine and international flavours often dominate the culinary scene, Casa Velha's return to its roots, focusing on authentic Portuguese dishes that evoke a sense of nostalgia while tantalizing the taste buds, is very welcome. This dedication to preserving and celebrating Portugal's gastronomic heritage fits perfectly with Casa Velha's history and the restaurant's setting. The open-air terrace is particularly evocative, with olive trees and aromatic citrus trees by the tables, and with gorgeous views across the resort and towards the ocean.
From Farm to Table - Embracing Local Produce
Intrinsic to Casa Velha's ongoing emphasis on local and traditional flavours is its commitment to using locally sourced produce, some of which is grown right on their own farm. The
Q Farm
is located near the driving range and you can often see the fresh herbs, vegetables and fruit being collected for use in the resort's restaurants.
Those that love Portuguese food know that the apparent simplicity of dishes often hides deep, rich flavours, that satisfy more than just our hunger and speaks to a connection with the land and nature, a connection that is all too easily lost in today's busy world. Simple pleasures are respected at Casa Velha, such as the
freshly baked bread
and
hand-churned butter
, made by the restaurant's chefs, or the
Peixinhos da Horta
(Little fish from the garden - green beans in tempura) – simple yet satisfying.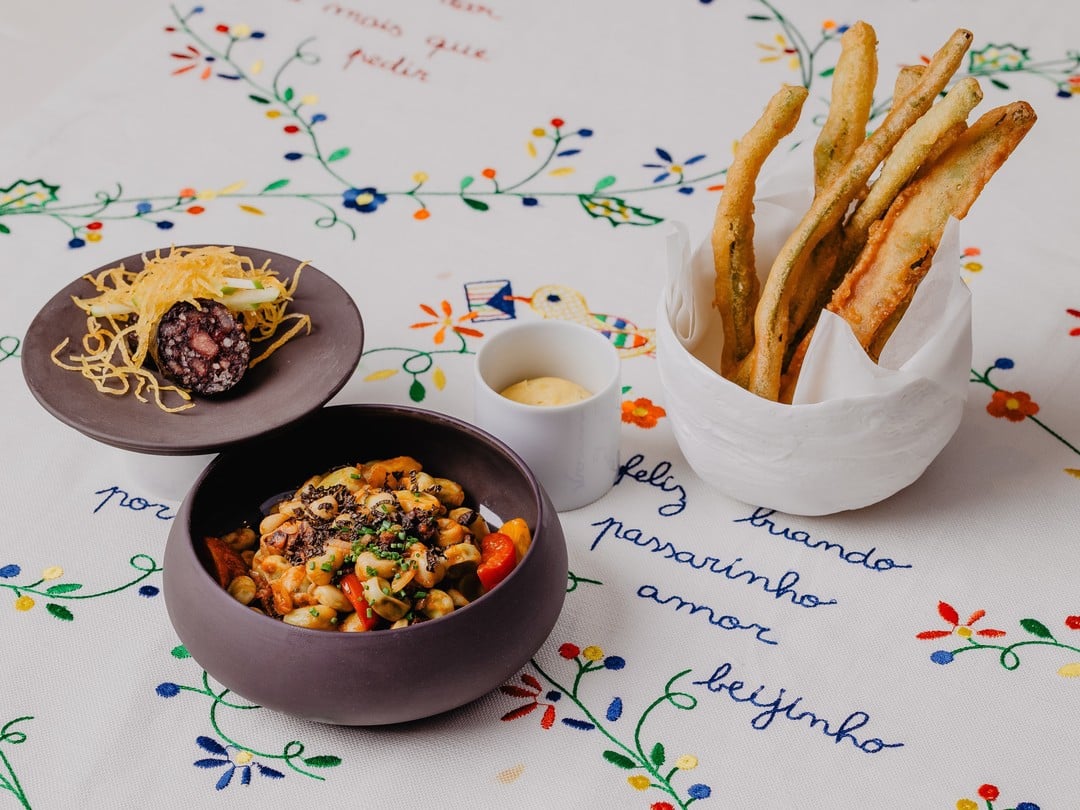 A Modern Twist on Portuguese Classics
While Casa Velha remains deeply connected to tradition, it also embraces innovation and a meal here will satisfy today's cosmopolitan diners. The new menu features a modern interpretation of beloved Portuguese classics, infusing each dish with contemporary techniques and creative presentation. The result is a wonderful fusion of the familiar and the exciting, catering to both traditionalists and adventurous diners.
A perfect example is the
CV Cod Fish
– Casa Velha's take on the ever-popular Bacalhau à Brás. Unlike the traditional version, at Casa Velha, the dish arrives with each ingredient separate and distinct, and is finished at the table by the server, releasing richer flavours amid a creamier texture, and the result is outstanding.
While much of the produce used at Casa Velha is local, excellent food from other regions of the country also features, such as
Bolota Pata Negra
from the Alentejo, and cheese from
Azeitão.
The dessert menu remains true to local flavours with figs, orange blossom and fresh fruits to tempt you, as well as a creative and delicious take on the very Portuguese
Coffee and a Pastel de Nata
– highly recommended.
Whether you're a food enthusiast seeking a cosmopolitan yet authentic taste of Portugal or a traveller looking for a dining experience that captures the essence of Quinta do Lago, Casa Velha is sure to captivate.
Casa Velha is open for dinner, Monday to Saturday.
Advance booking is advised.
See the menu or make a reservation here
Casa Velha is just one of Quinta do Lago's excellent restaurants.
You can also dine at:
Casa do Lago - mediterranean cusine and seafood by the lake
Bovino - the resort's signature steakhouse
UMAMI - modern Japanese dining and exquisite sushi