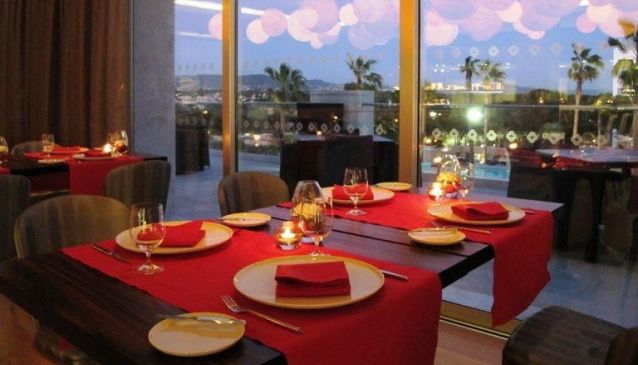 Christmas and New Year at the Conrad Algarve
Food & Drink
Festive fun, food, fireworks and fantasy at the Conrad Algarve.
The Conrad Algarve is the perfect choice for a Five Star Festive Season. This modern, luxury hotel is situated in the glorious southernmost region of Portugal, with its year-round mild climate and an estimated five hours of sunshine a day during December and January. What's more, the Conrad Algarve has created a very special festive programme to help you, and your family and friends, to celebrate Christmas and see in the New Year together.
Conrad Algarve's Christmas starts on 1st December
Festive High Tea: Between 2pm and 5pm every day throughout December, you can catch up with friends and family over a delicious high tea. Indulge in Pastry Chef Roberto Horta's festive delights, complemented by the hotel's Private Reserve of Dilmah teas - guaranteed to warm up any chilly December afternoon.
Advent Brunch: Every Sunday during December, Conrad Algarve's Louro Restaurant will be serving a festive buffet brunch. The mouth-watering menu will feature regional specialties, and a flute of Espumante is included in the deal. In addition, there will be live entertainment and Kids Club activities, so you can make it an afternoon treat for all the family. Reservations are required, so plan ahead and book now.
Christmas by Heinz Beck
Gusto is the Conrad Algarve's signature gourmet restaurant, headed-up by Heinz Beck, who is renowned for producing an amazing realm of taste sensations. This Christmas, you're invited to experience an exquisite six-course Christmas Eve dinner, or to spoil yourself and your nearest and dearest, with a stunning five-course Christmas Day Lunch – both meals are accompanied by live entertainment in the elegant, modern ambiance of Gusto.
Christmas Eve at the Louro Restaurant is a four-course occasion. Traditional cuisine with a contemporary twist, a special menu for children and live entertainment throughout the evening, make the Louro a great choice for a celebration family dinner.
If simply thinking about a multi-course feast leaves you feeling replete, then Louro Restaurant's Christmas Day Brunch may be just the alternative that you're looking for: a buffet of tempting dishes, with a children's menu, a flute of Laurent-Perrier and plenty of festive entertainment – perfect!
Christmas times and prices
Festive High Tea: 2pm to 5pm. €22 adult / €14 child (6-12 yrs) / €12 Champagne upgrade.
Advent Brunch at Louro: 12.30pm to 4pm. €49 adult / €29 child (6-12 yrs).
Christmas Eve at Gusto: 7pm. €130 adult / €90 child (6-12yrs).
Christmas Eve at Louro: 7pm. €85 adult / €55 child (6-12 yrs).
Christmas Brunch Buffet at Louro: 12.30pm. €77 adult / €38 child (6-12 yrs).
Christmas Day lunch: 12.30pm. €95 adult / €55 child (6-12yrs).
Three great ways to see in the New Year
A gourmet dinner, a champagne buffet or a lavish night in Manhattan – yes, Manhattan, New York! However you choose to count down to 2016, the Conrad Algarve invites all guests to salute the midnight hour with a spectacular fireworks show and to join them in the Ballroom for some superb After Party entertainment.
The choice is yours
Choose Gusto's eight-course celebration dinner and expect cuisine prepared with passion and designed to delight. A bottle of Laurent-Perrier Champagne is included with the meal, plus there will be live entertainment.
Alternatively, count down to midnight at the Louro Restaurant with an exceptional celebration buffet and wine pairing. A bottle of Laurent-Perrier champagne per couple is included and a special children's menu will be available to please the younger dinners. All this and live entertainment too!
The Conrad's New Year's Eve Gala is the main event. The hotel's Ballroom will be transformed into the world famous Studio 54, which opened in Manhattan on New York's Lower East Side in the late1970s. It's in the recreated Studio 54 that a five-course celebration dinner with wine pairing and a bottle of Laurent-Perrier Champagne, will lead you up to the fabulous firework show at midnight. Then you can continue to party until 2am, with the Suprema Band, supported by a terrific DJ, who will take you back in time to Manhattan, to relive the timeless sounds of the 70s and 80s.
The morning after
Wake up to a New Year Festive Brunch in the Louro Restaurant. Packed full of Portuguese specialties and washed down with a flute of Laurent-Perrier Champagne. Don't worry, there will be time for a lie in – Brunch will be served from 12.30pm until 4pm and the Kids Club will be running activities and games to keep its young guests entertained.
New Year's times and prices*
Gusto's New Year's Eve gourmet dinner: 8.30pm until 2am. Adult €250, Child €170 (6-12yrs). Prestige wine pairing offered at €65. Includes one bottle of champagne per couple, fireworks show and After Party entertainment.
Louro's New Year's Eve celebration buffet: 8.30pm until Midnight. Adult €190 adult / €110 child (6-12yrs) fireworks show and After Party entertainment.
New Year's Eve Gala: 8.30pm until 2am. Adult €265. Child €145 (6-12yrs). Includes one bottle of champagne per couple.
New Year's Day Brunch: 12,30pm until 4pm. Adult €70. Child €40 (6-12yrs).
The kids are alright!
No need to worry who'll be taking care of your kids while you party into the early hours. The Conrad's unique babysitting service is available on request on New Year's Eve. Little C Palace will be serving a special children's buffet, and there will be games and activities, movies and a sleeping zone.
Price: € 75 child (4-12yrs).
Choose the Conrad Algarve this festive season and you won't be disappointed, but there's far more to celebrate about this leading hotel. Set within the Algarve's 'Golden Triangle' in fashionable Quinta do Lago, The Conrad offers a range of special packages to help you to enjoy its exceptional facilities and make the most of your stay in the region. You can find out more about the Conrad Spa's special offers, golf deals, leisure activity packages and more on the hotels website.
____________
*Premium wines can be reserved in advance for meals at the Gusto and Louro restaurants. Wine pairing and other beverages are not included in the price of meals. For full details visit the website [new window].
See the Conrad Algarve website [new window] or contact the Resort for full terms and conditions applicable to the events featured in this article.