Mizu Restaurant - Contemporary Japanese Cuisine
Food & Drink Inspiration
An authentic Japanese and fine dining experience at VILA VITA Parc
Mizu Restaurant
, offering contemporary Japanese cuisine, is the most recent addition to
VILA VITA Parc
's outstanding restaurant options, which includes 2 Michelin star
Ocean Restaurant
, and is set to become one of the finest Japanese restaurants in Portugal.
Open since February 2017, Mizu is an
authentic Japanese cuisine
and fine dining experience. The stereotypical idea of sushi and little else featuring in Japanese cuisine is completely debunked at Mizu. The menu is varied and crafted with care to offer delicious dishes that are representative of Japanese cuisine while also playing to the culinary strengths of the Algarve. Primacy is given to fresh, seasonal and local vegetables and fruit, while fish from Algarve waters features on the
Teppanaki
menu and in the sushi. Special mention for the Tuna used at Mizu - it is locally sourced from an Algarve company that, such is the quality of the fish, exports much of its tuna directly to Japan, where it is highly prized.
As befitting its setting at the award winning, luxury VILA VITA Parc resort, home to the exceptional
Cave dos Vinhos
and host to the biennial
Fine Wines and Food Fair
, Mizu restaurant offers a stylish yet understated and uncluttered Japanese inspired decor. Set at the resort's Clubhouse, Mizu has fabulous ocean views - a beautiful complement to the seafood inspired dishes on the menu. The service is impeccable and knowledgeable, the staff are all aficionados of Japanese culture and cuisine and are happy to share their insights and guide your menu choices if desired. There is the option to dine a la carte or to have a more direct and interactive experience at the Teppanyaki table, which can seat ten, and where a set menu of 6 different courses is available.
Our a la carte culinary voyage through Mizu's dishes was captained by the restaurant Maître D whose food options were magnificently paired with some of the
premium saké
available at the restaurant - saké that is as far from the harsh, potent, clear liquid that generally springs to mind when one thinks of saké as you could imagine. Appetizers of Edamame (soy beans in their pod with Fleur do Sal), followed by wild salmon and an aromatic seaweed salad (Kaisou salad), accompanied by a Dassai 50 Sparkling Nigori Junmai Daiginjo saké - a sparkling, fresh cloudy, saké that was delicious.
The best known dish of traditional Japanese cuisine (Washoku), Sushi features on UNESCO's intangible cultural heritage list. The sushi produced at Mizu by Chef Antonio Muniz is a created with immense care and pride in upholding the high standards and Portuguese tuna features strongly. We also sampled delicious gyozas (dumplings) - a chicken and a bio vegetable version and crispy tempura kings prawns and vegetables.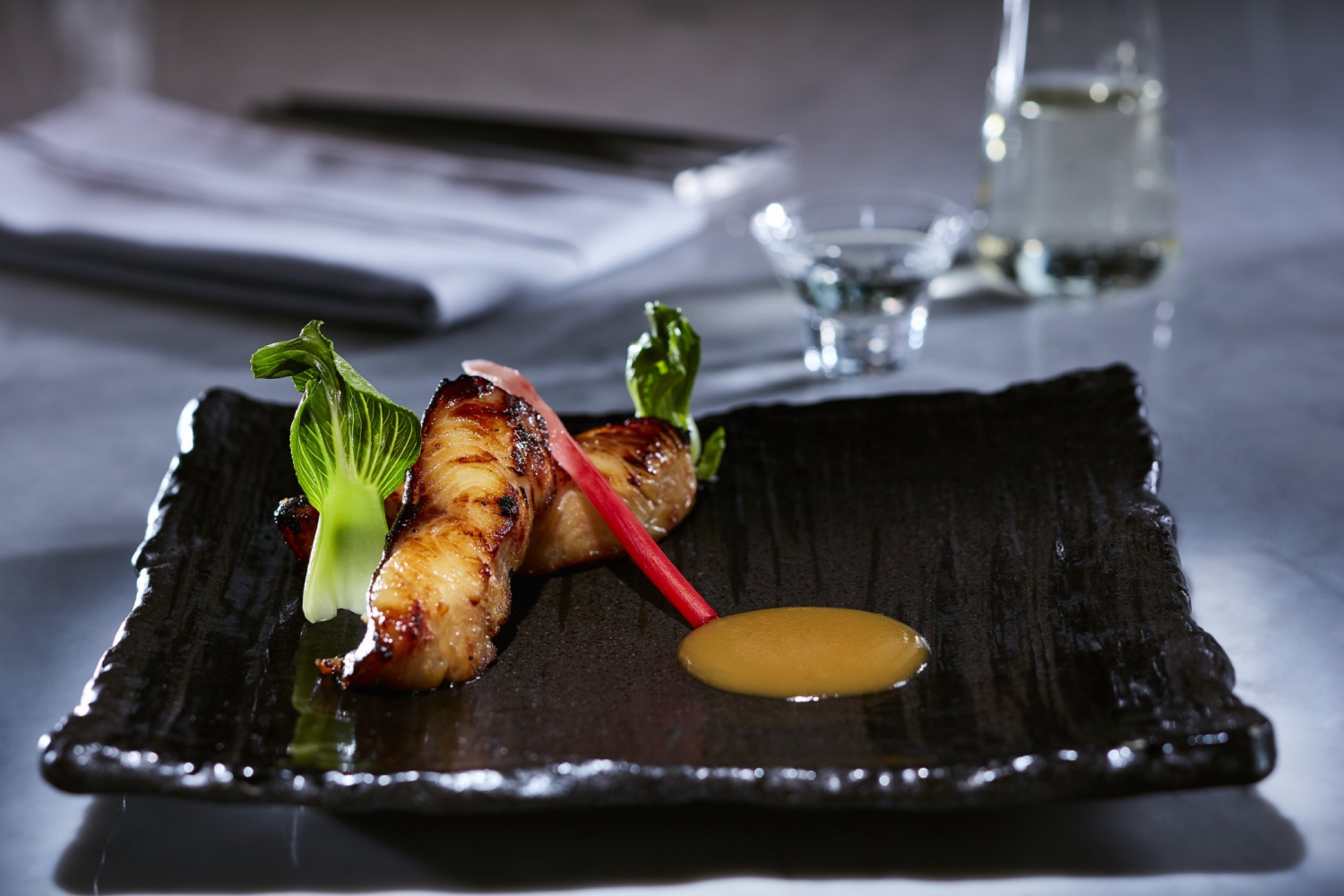 The standout dish was the
Black Cod
- marinated and slow grilled over Japanese Binchontan white charcoal on the Algarve's first
Robata
grill. The Mizu sommelier suggested an unorthdox pairing with this dish. Instead of saké, we enjoyed the cod with
Rozes White Rerserve Port
and the result was a beautiful blend of Japanese and Portuguese flavours.
As tradition dictates the feast ended with green tea - but here it is served as an ice cream, not tea. The ice cream accompanied the coconut namelaka (similar to panna cotta) and basil sorbet.
It is said that the first Europeans in Japan were Portuguese - passengers from a Chinese ship that was blown off course and washed ashore by chance in 1543. It is no accident that the fragrant, delicate Japanese cusine that so values fresh seafood and seasonal, local produce has found a fine dining home at VILA VITA Parc.
Mizu Restaurant, VILA VITA Parc is open Thursday to Monday for dinner only.
Reservations and enquiries to VILA VITA Parc - tel: +351 310 100; email - restaurantemizu@vilavitaparc.com 
Find out more about 
VILA VITA Parc
YOU MIGHT ALSO LIKE