Best Guide to Albufeira, Algarve 2023
Adventure Family Fun Inspiration
Albufeira offers a diverse mix of, family attractions, nightlife and natural beauty.
Albufeira is a coastal city, renowned for its club culture, beach bars, lively restaurants and endless entertainment. Every year thousands of holiday makers are drawn to its stunning beaches and exciting nightlife.
But, there is another, more tranquil side to the party capital of the Algarve. Around 40 minutes drive or transfer from Faro Airport, Albufeira is central to the region's main tourist attractions and a great base for exploring the Algarve. If you don't want to venture too far, there are countless areas of natural beauty, peaceful countryside and stunning beaches to discover, just beyond the busy city, making it an ideal destination for all ages, including those who prefer to get some sleep before the sun comes up!

If you want to explore further afield, then hiring a car is a great way to explore the Algarve.
What to see
Old Town: Albufeira has an interesting past. Once occupied by the Romans and the Arabs, some believe it has been inhabited since prehistoric times. If you want to experience the history of Albufeira, take a stroll through the cobbled streets of the Old Town. The 18th century-built Santa Ana Church in Largo Jacinto d'Ayete has become a local landmark and is worth a look. In Praça de Republica you'll find Albufeira's Archaeological Museum, which houses a small collection of artefacts dating from the Stone-Age to the 17th century.

---
TIP - Albufeira Old Town - Free Guided Walks
Every Thursday (except public holidays) you can join a free guided walk of the historical sites of Albufeira old town. In English and Portuguese, these walks are a great way to discover a different side of Albufeira.
Advance registration is required.
Find out more about Albufeira Old Town Guided Walks

---

The Strip: Modern and worlds apart from the Old Town, The Strip runs from the northern end of Albufeira down to the golden beach of Oura. In high season it buzzes with activity day and night. The Strip spills over into the side streets and is bursting with shops, restaurants, bars and nightclubs - it never sleeps! Some of the best nightlife in the Algarve is found here.

Paderne: This traditional village is 13km from the city and a great example of rural Algarve. There are a number of monuments worth seeing in the village centre: the old bridge and watermill, and a couple of churches - 16th century Nossa Senhora da Esperança and the 18th century Nossa Senhora do Pé da Cruz. You can also visit Moinho do Leitão a renovated windmill, just below the village centre in Cerca Velha - look out for the brown tourist information sign.
If you're in the area in over Christmas and New Year, you'll catch Paderne's Medieval Festival and in February you'll get to experience Carnival - Paderne's very own Mardi Gras. The main attraction for walkers and cyclists however, is the beautiful trek up to the Moorish Castle. It's quite a hike, but if you make it to the top, you'll be rewarded by magnificent castle ruins and absolutely stunning views.
Find out about Paderne Medieval Festival 2022
If you appreciate art, don't leave Paderne without a visit to Corte Real. This charming gallery's strapline is aptly "art for art's sake" and is home to a wide range of quality work by international artists.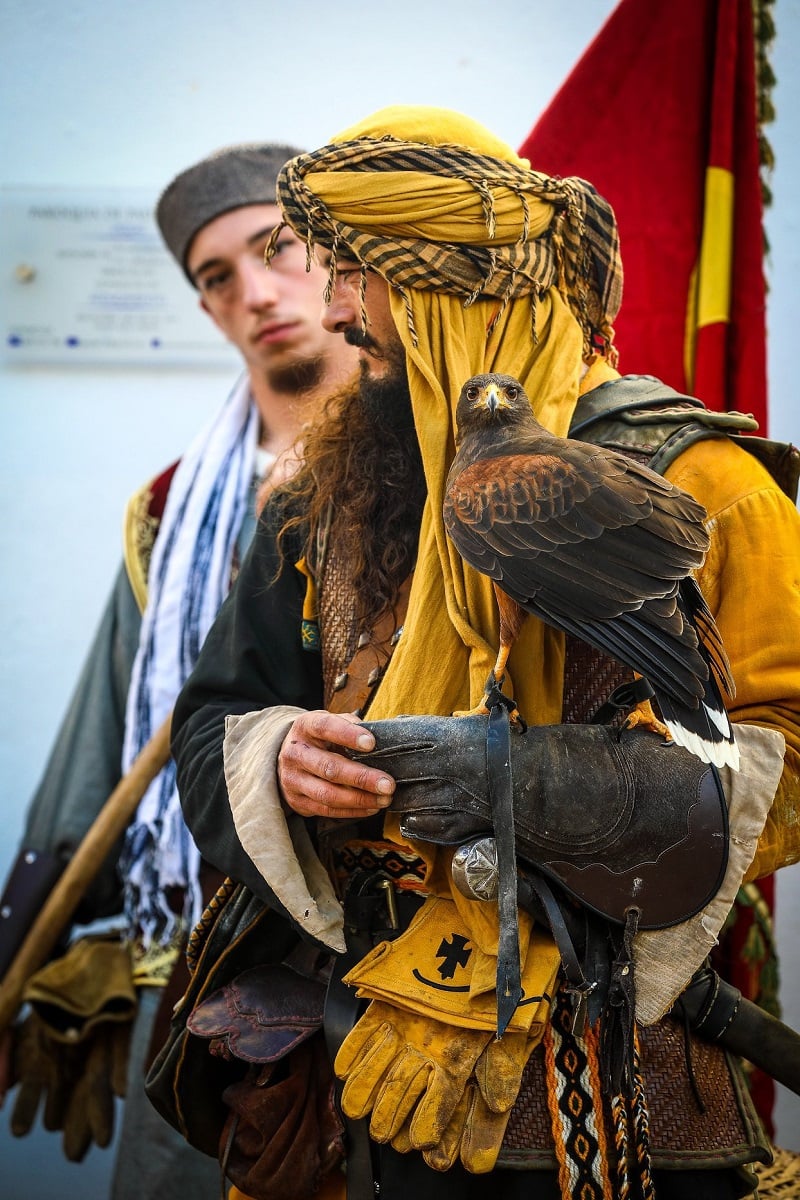 Paderne Medieval Festival
Olhos de Água: Six kilometres along the coast from the city you'll find Olhos de Água. This typical fisherman's village is popular with families and more mature sun-seekers. There's a good range of accommodation here and a choice of excellent seafood restaurants overlooking the ocean. The magnificent Olhos de Água beach is flanked by pine-covered rocky cliffs and, when the tide is out, look out for the freshwater springs bubbling up through the sand.
Praia dos Pescadores (Fisherman's Beach): Cast yourself back in time to when Albufeira made its living from the sea. To the east of the sands, you'll often see colourful wooden painted fishing vessels, which have been used for decades by the local fishermen. You can access Praia dos Pescadores via the lift down to neighbouring Peneco beach, which is an experience in itself!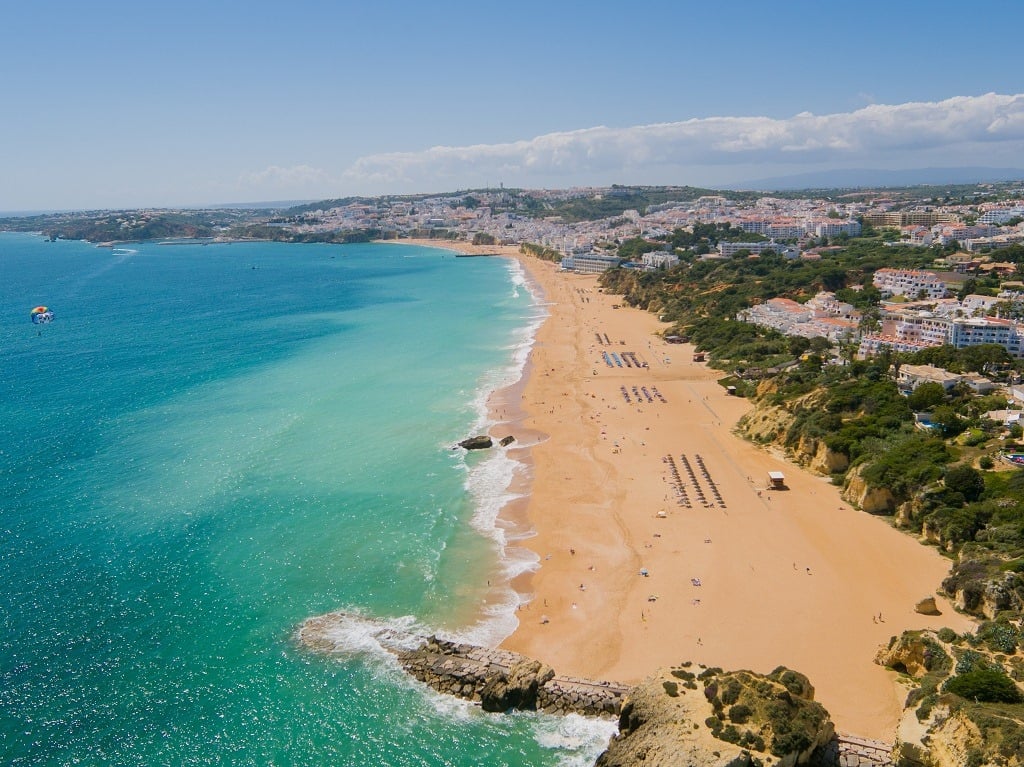 What to do
Take a walk:
Praia da Falésia is one of the longest beaches in Portugal, it stretches from Olhos de Água to Vilamoura. You can walk its 6km length on golden sand or along the cliff top - both are equally breath-taking.
To the west of Albufeira, Salgados is the place to appreciate nature. Check out the boardwalk, which stretches from Praia Salgados to Praia Grande (Armação de Pêra). It has good wheelchair access and is a flat and easy walk for those with reduced mobility. You can spot a variety of birds at Salgados Lagoon - you can't miss the pink Flamingos. And look down into the water as you cross the bridge, there are often bales of sea turtles just below.

TIP: there is an app specifically for walks in the Albufeira area, with route information, maps and points of interest. Look for Percursos Pedestres de Albufeira.
Have a beach day: If you're staying in Albufeira city, you'll find plenty of beautiful beaches on your doorstep. But, if you fancy exploring a little further along the coast, try Praia Galé, just west of Albufeira. The huge expanse of golden sand is dotted with interesting rock formations and there's a good choice of smart bars and restaurants too - perfect for a beach day. At São Rafael beach you have rock pools to explore and amazing views form the cliff tops. Praia dos Arrifes is another stunner - fine sand, sea stacks and fabulous sunsets.

Visit Albufeira Marina: Perhaps best-known for its candy-coloured apartment blocks, Albufeira Marina is a modern, purpose-built tourist complex. The Marina's moorings are suitable for all types of vessels and it offers visitors a variety of shops, restaurants and bars. It's a pleasant place to visit during the day or as the sun goes down. Hop aboard one of Algar Experience's fab boat parties trips to explore the coastline - they come and go from the marina. Join the dolphin watching trips or explore by kayak. Divers can explore the underwater world with Easy Divers.

Enjoy a family day out at Zoomarine: Open from March to October, Zoomarine is probably the biggest Algarve attraction. It has everything for a memorable family day out, from the amazing Dolphin Emotions experience to awesome waterslides and wavepools, birds of prey, 4D cinema and more.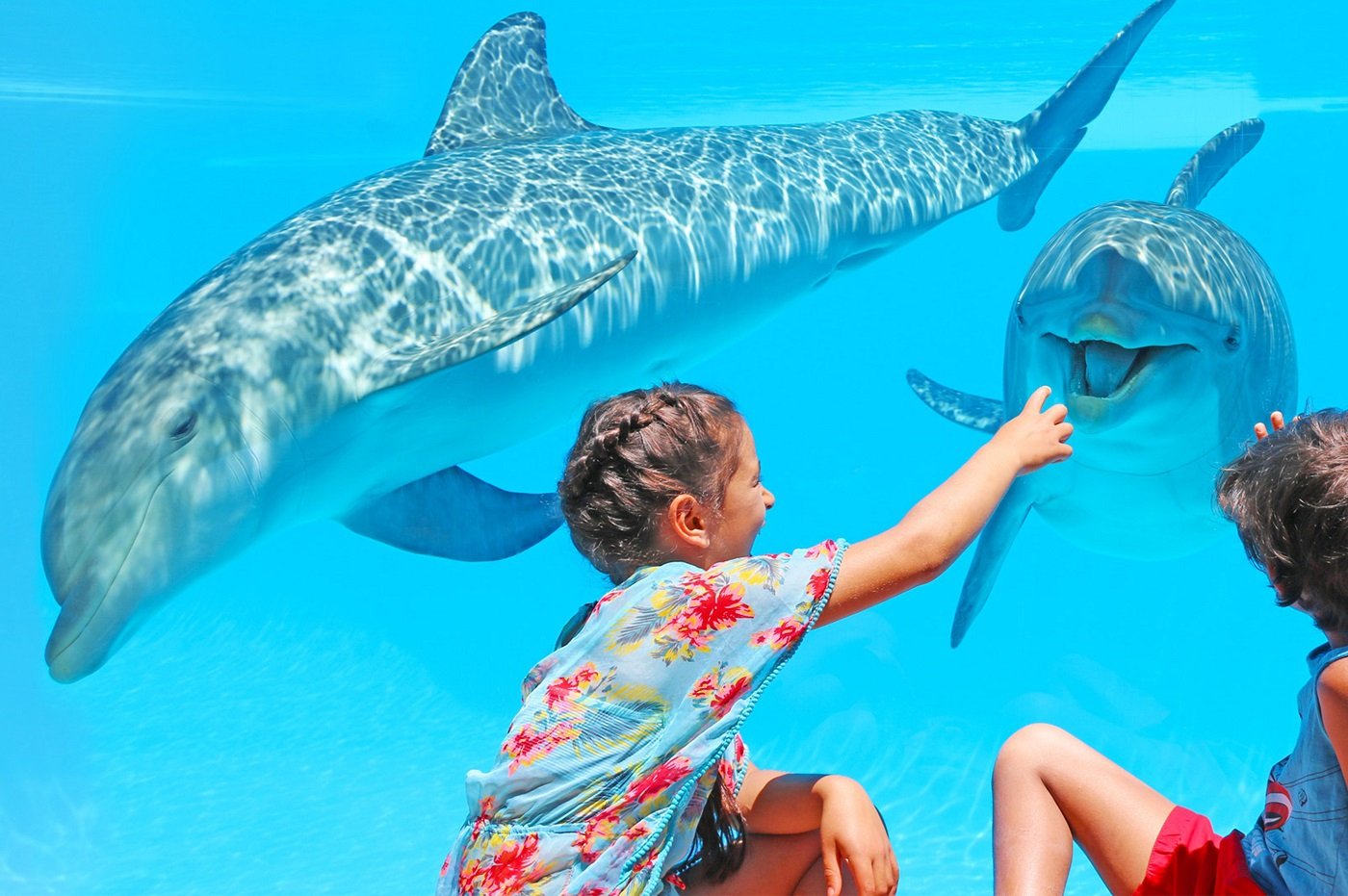 Have a day at the races: Sometimes it's nice to have a day out of the sun. Hot Wheels Electric karting is a great way to keep your teens and kids entertained, and a good excuse for you to get behind the wheel on the Algarve's fastest indoor karting track. When you completed your laps, move next door to the Hot Shot Bowling 10 pin bowling alley for some more fun.
Explore on 4 wheels: Off-roading in the Algarve is great fun and a good way to see the countryside. There are a number of companies offering off road jeep safaris and drive-yourself buggy and quad bike tours.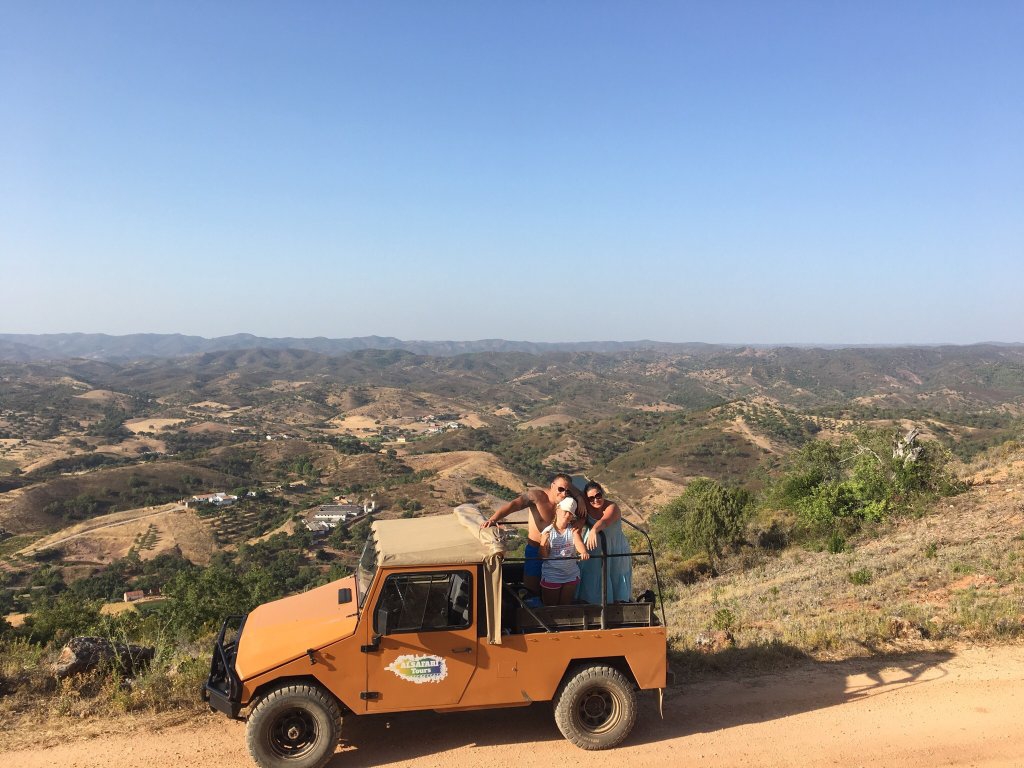 Alsafari Tours

Test your puzzle-solving and strategic-thinking skills: Mission Masters Escape Rooms are great fun experiences to enjoy with friends and family - ideal for hen or stag parties and great entertainment on a wet day! Beat the bad guys and save the day by solving the riddles, unlocking the codes and generally being a hero! All before the clock counts down to zero.
Get active: Play at being Tarzan on the Luso Aventure Park outdoor tree-top obstacle course plus a paintball battle field equals a few hours of fabulous fun for the kids, and adults too!
Go clubbing: If you walk down The Strip at night, you'll find out just how easy it is to fall under the spell of Albufeira's neon lights and vibrant atmosphere. This is the heart of city's nightlife with an abundance of clubs and bars which cater for every taste in dance music. Check out KISS Club, Liberto's and Matt's Bar - all iconic Albufeira nightlife spots.
Get in the swing of things: If golf's your bag, there's a choice of three excellent golf courses around Albufeira: Salgados Golf Course, Balaia Golf Village and Pine Cliffs Golf & Country Club.
Try out the local water sports: All manner of water sports are available along the Albufeira coast, including surfing, windsurfing, kite surfing, diving, jet biking, water skiing, banana and rings rides, pedal boats and kayaks. You'll find a good range of family-orientated water sports on offer at Praia Oura.
Celebrate New Year's Eve: Albufeira is renowned for hosting the biggest New Year's Eve party on the Algarve coast. The event spans days of concerts, music, dancing, street entertainment, food and drink, culminating on 31st at Fisherman's Beach in the Old Town, with a mega fireworks display to welcome in the New Year.

For New years Eve 2022 / 2023 Albufeira Carpe Nox is back!
Over 180,000 people welcomed 2020 in Albufeira, with a fabulous party. For this year, and after an enforced absence, the party is back and it's bigger than ever!
Expect stunning Skydiving fire and light shows, amazing light, lazer and fireworks, and fabulous live music. All this on the beach, by the ocean and in the sky. Don't miss it.

Find out more about Albufeira Carpe Nox 2023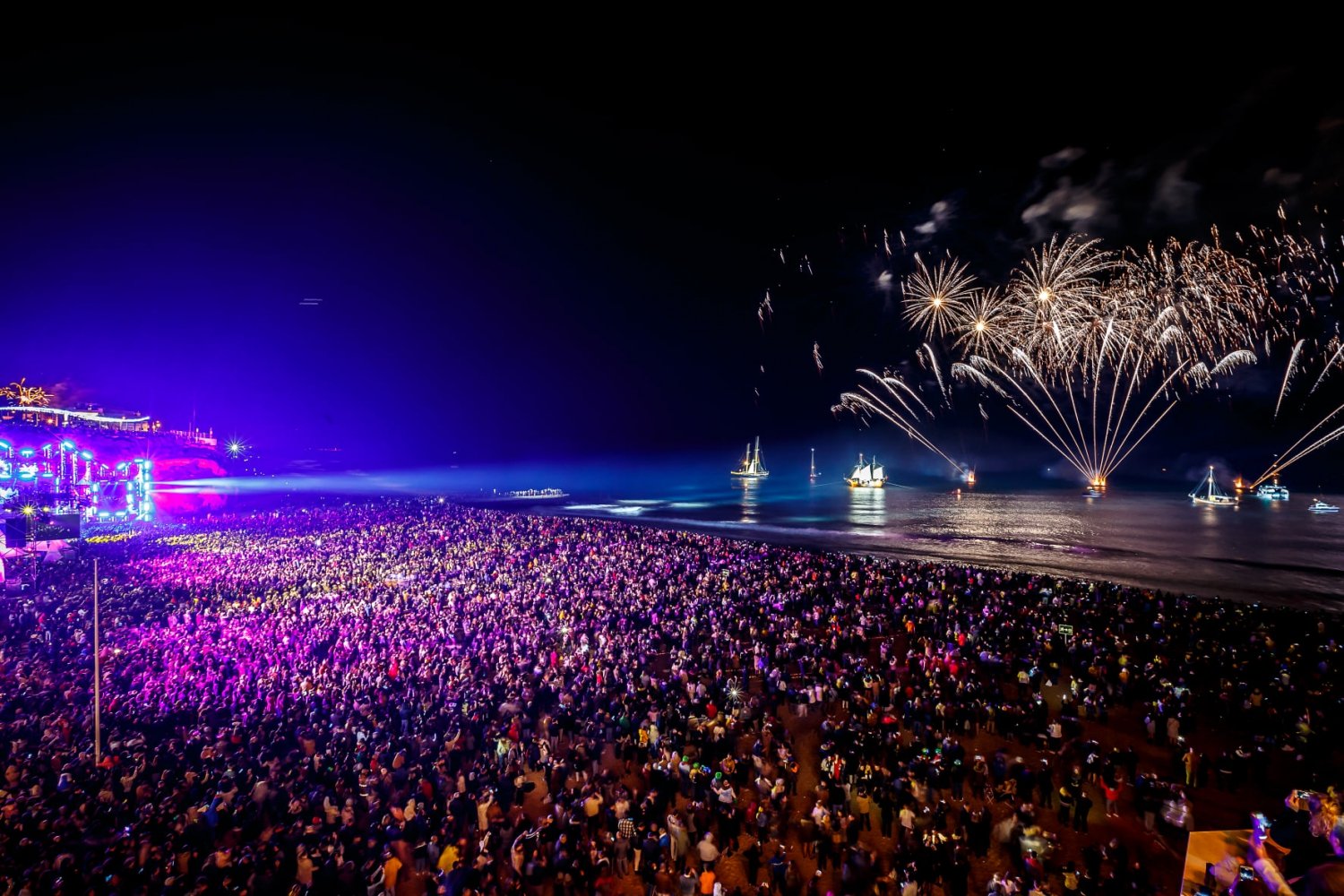 New Year's Eve 2019/2020

Shop til you drop: Not only are there are plenty of shops in Albufeira itself, the county is home to one of the Algarve's biggest shopping centres - Algarve Shopping. Situated close by in Guia, the two storey mall is packed with shops promoting top brands, restaurants and fast-food diners. Plus there's a multi-screen cinema showing all the latest films, usually in the original langugae. Parking is free and there's a regular EVA bus service which stops at the mall.

Where to eat, play and stay
W Algarve opened in 2022 and brings the W brand's high energy, fabulous hospitality and unique style to the Algarve. Located just to the west of Albufeira, the resort offers sea-view accommodation, superb dining, fun by the pool and vibrant luxury. Join the fun at the WET DECK with regular parties by the infinity, sea-view pool, relax at the Away Spa, or feast on the views from the Sea Sky Lounge at Paper Moon restaurant.
Find out more about W Algarve
Find out more about Paper Moon
Find out more about WET DECK
Find out more about Away Spa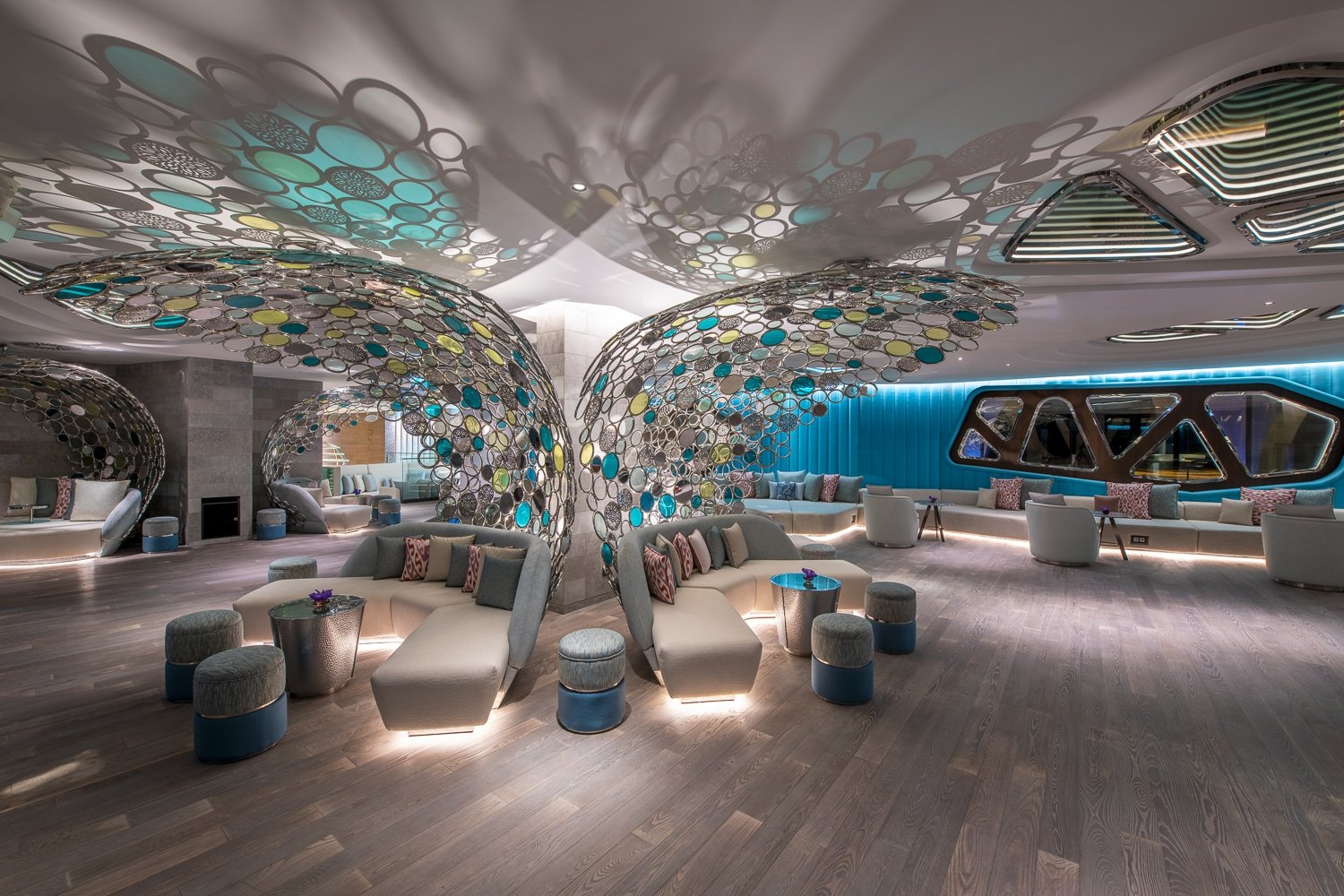 W Algarve

Looking for the ultimate beach villa? Check out the amazing Villa Hibiscus Beach House. Literally steps from Galé beach, the location couldn't be better. Add in sumptuous, boho, beachside luxury and you are set for an unforgettable experience. The decor is shades of sand, sea and sunshine, and the service just what you would expect for a unique property that is part of the five star VILA VITA Collection. Simply outstanding.
Find out more about Villa Hibiscus Beach House.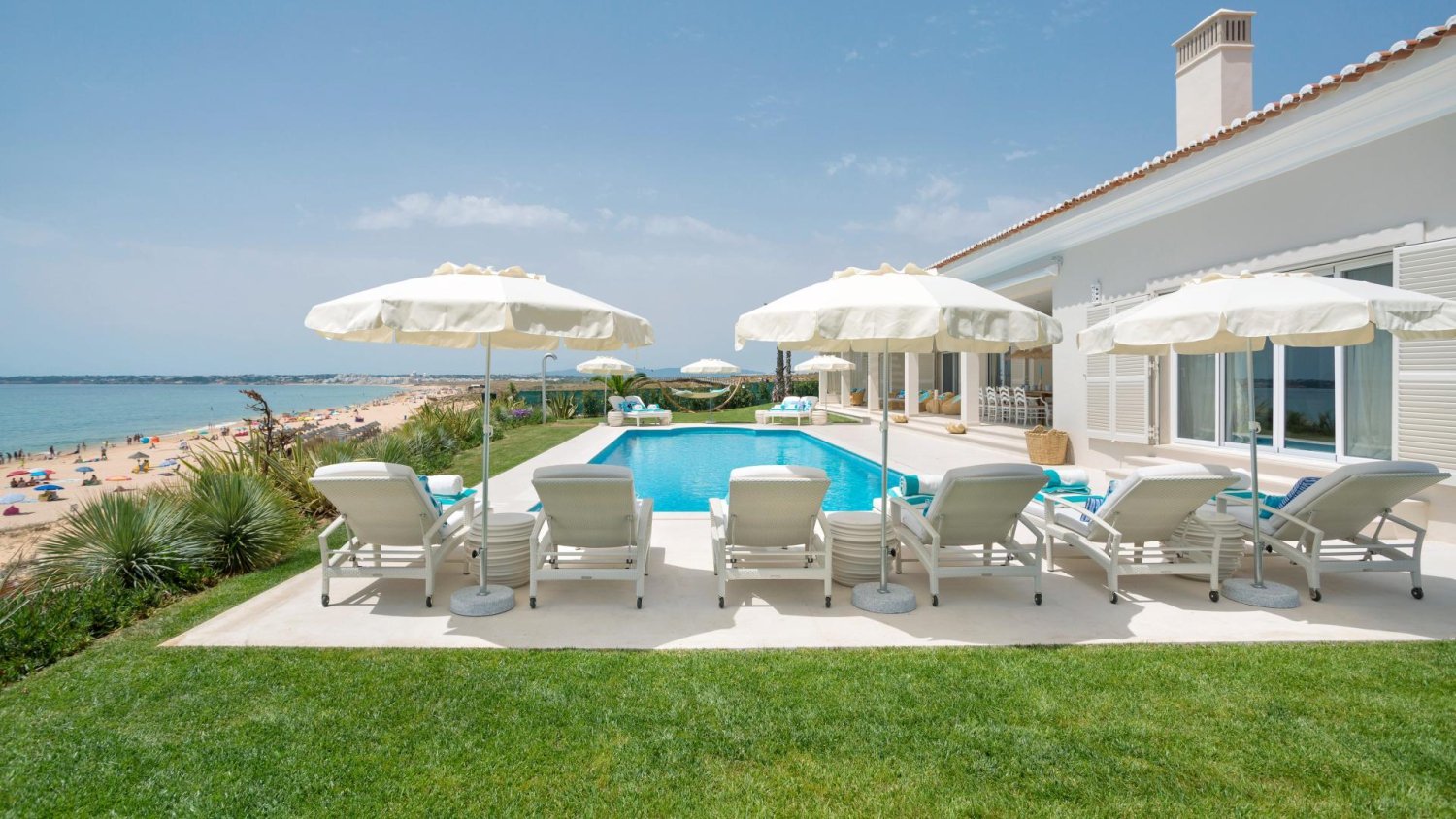 Just about every type of international cuisine is available in Albufeira and, if you adore ocean fresh fish, you're in the right place!
The practical stuff
Driving and parking
The town centre is generally busy, particularly during peak season. If you have a large vehicle, it's best to avoid the narrow lanes around the Old Town. However, the main roads are wide and traffic management is good. A series of roundabouts along Av. dos Descobrimentos act as excellent landmarks - each showcasing an eye-catching work of art, from colourful worms and giant watches, to leaping dolphins.
There are managed car parks in and around the town centre. The multi-storey on Rua 25 de Abril is located close to the beach, while the car park just off the nautical roundabout on Av. dos Descobrimentos is an easy place to leave your car if you're planning to explore the town on foot. There's also limited-time Pay and Display street parking across the city - you'll see the international parking sign and the words "Zona Pago". The wardens are quick to fine you, so make sure you buy and display your ticket and return before the expiry time.
Disabled access
Many hotels in Albufeira are wheelchair friendly and the main paved walkways around the town are suitable for wheelchairs and those with reduce mobility. There's a lift down to Peneco beach, one of many Albufeira beaches classed at Praia Acessiveis, meaning that they comply with disabled access requirements such as ramps, footpaths and walkways, adapted toilet facilities and parking places. Rocha Baixinha Nascente, Salgados and Maria Lui­sa beaches offer amphibious chairs, so people with reduced mobility can enjoy bathing in the sea. If you would like the use of an amphibious chair, you need to contact the local lifeguard when you arrive at the beach.
Tourist info
The main tourist office is located on the N395, at the entrance to the city. It has its own parking area and is open from Monday to Saturday, 9am to 7pm (closed on Sundays and public holidays).
Tel: (+351) 289 599 502 email: posto.turismo2@cm-albufeira.pt
Local services
Transport -Taxis operate from official taxi ranks and there are several ranks around Albufeira. Alternatively, hotels, resorts and restaurants will be happy to call a taxi for you. If you need transport to and from Faro Airport, you'll probably get a better deal by booking ahead with one of the transfer companies. Or, you can use the bus service. There's a good public transport service in Portugal. EVA offers a regular bus service across the Algarve and to Lisbon, and is a cheap way to get around. The EVA website is available in English.
Albufeira Bus Station is 1.6km from the Old Town and almost all EVA bus routes to and from the city start and end here.
GIRO is Albufeira's own network of buses that offer cheap local travel. You can download the information leaflet and route map here.
Frota Azul operates a service to and from other local towns such as Silves and Monchique, great if you want to explore inland Algarve. You can download timetables from their website - available in English.
Portugal has an excellent rail network too, which offers a low cost way to travel. Albufeira has its own station, it's located in Ferreiras, about 5kms from the centre of town. You can get more information, download timetables and use the easy online booking system on the Comboios de Portugal website (available in English).
With everything on hand and an excellent transport service, there's really no need to rent a car if you're visiting Albufeira. However, if you do want to hire a vehicle, there are many hire companies offering good deals.
Supermarkets - There are numerous supermarkets in Albufeira, including a Continente superstore within the Albufeira Shopping complex, Pingo Doce (two), Lidl and Aldi, all of which are easily accessible with their own car parks.
WiFi - Many cafes and restaurants in Albufeira offer free WiFi. There is also a Municipal Access Point in Cerro da Alagoa, near the council buildings.
Banks - There's no shortage of banks and cashpoints in and around the city. You'll find all banking services and friendly English-speaking staff at Millennium bcp in Albufeira Shopping .
Police Station The main GNR (Guarda Nacional Republicana) office in Albufeira is on Estrada Vale de Pedras, not far from the bus station. T: 289 590 790.
There's also a dedicated support number for tourists. T: 289 513 203.
Medical care â Located on Urbanização Alto do Caliços, Albufeira's Centro de Saúde has a minor emergency and treatment facility, and will treat holders of EHICs (European Health Insurance Cards). T: 289 598 400. There are also numerous private clinics in the Albufeira area. Primary healthcare provider The Orange Medical Centre in Albufeira, offers a multi-lingual GP service and access to a range of medical specialists and tests.
Main hospitals with 24 hour emergency departments are located in Faro and Portimão.
Veterinary care If you're travelling with pets, you may need a vet. There are a number of veterinary surgeries in and around Albufeira. Cli­nica Veterinária de Albufeira in Beco da Cocheira, just off the N395, is easy to access and offers an emergency service. Opening hours are Monday to Friday, 10am to 1pm and 3pm to 7pm, and Saturday 10am to 1pm. T: 289 589 621 Emergencies: 913 341 526.
Post Office The main post office is on Avenida 5 de Outubro Nº 8-10 and is open from Monday to Friday, 9am to 12.30pm and 2pm to 6pm.
Payshops look out for the red Payshop sign. Handy for paying A22 Toll fees, buying phone cards, topping up Portuguese network mobile phones and even buying a Lotto ticket! There are 14 Payshop agents in Albufeira - the kiosk at the municipal market is a Payshop.
Enjoy your visit!

For information on other areas of the Algarve read our Algarve Travel Guides.