Junior Competition Tennis Coaching at Algarve Tennis and Fitness Club
Inspiration Lifestyle Sports
Algarve Tennis and Fitness Club (ATF) is well known as a fabulous spot for tennis, padel and fitness classes. The facilities are great, the atmosphere is friendly and relaxed, and all levels of players are welcome. And now, with new coach Ricardo Gomes, ATF is ramping up its competition tennis coaching for juniors and seniors.
ATF, located next to Vale do Lobo and Quinta do Lago, is a very active sports centre. There are tennis courts, padel courts and a range of fitness classes and activities on offer. The club runs regular social tournaments for both tennis and padel, as well as tennis holidays for groups and individuals. ATF is a friendly spot and welcomes players of all levels. You can hire out courts and equipment for a few games of fun during your stay in the area or join the club and benefit from membership.
Tennis is at the core of ATF and there is a team of coaches available for both juniors and seniors. Coaching for children is a particular focus, with the emphasis on forming well-rounded athletes. Coaching is available for children from the age of 4.
Junior Competiton Coaching
For young players looking to up their game and improve their results, the ATF Junior Competition programme offers personalized private or small group coaching, multiple hours per week. Sessions are set to each player's level and guided by professional coaches.
Emphasis is placed on competitive, results-driven tennis, not just in the Algarve but also throughout Portugal and even internationally. The ATF tennis coaching academy delivers a solid foundation for players who wish to advance in the world of tennis.
New ATF coach
Ricardo Gomes
is in charge of the Junior Competition coaching programme and not only coaches but is available to accompany players to tournaments. A highly ranked junior player, Ricardo has helped develop some outstanding international junior players. See the Bio below.
To learn more about the Junior Competition coaching programme at ATF, contact the club at
sports@algarvetennisandfitness.com
or find out more about
Algarve Tennis and Fitness
.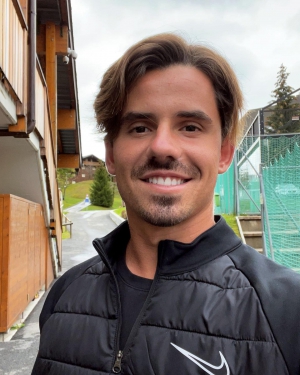 Ricardo Gomes:
As a Player:
Lived 1 year in a spanish academy (Equelite)
Lived 2 years in a Portuguese Academy (Felner Tennis Academy)
Top 5 Under 12 (National ranking)
Top 3 Under 14 (National ranking)
Top 3 Under 16 (National ranking)
Teams National Champion Under 16
Top 300 TE (Tennis Europe)
Number 1 Under 18 (National ranking)
Portuguese National Team Player
1° Division National Champion
ATP Doubles Ranking with 16 years old
As a coach
:
Course from Portuguese Federation
Worked at CTP (Clube de Tenis do Porto)
Trained Luis Miguel Saraiva (Number 2 National Ranking, Top 60 Tennis Europe)
Trained José Maria Perez (ATP ranking in 2017)
Worked at "The Campus" (Quinta do Lago)
Trained Kit Henderson (Tennis Europe and ITF player)