Valentine's Ideas for Romance in the Algarve
Food & Drink Inspiration Lifestyle
Romantic suggestions to suit all budgets
Our Top Experiences and Tours in Algarve:
If youʻre booking your trip to Algarve last minute, we have you covered. Below are some of the top tours and experiences!

If you want to wow the one you love this Valentine's Day, here are ideas for great Valentine's experiences in the Algarve. Whoever you're trying to romance and whatever your budget, we've got you covered. If you're not actually in the Algarve on 14th February, don't worry – plan your Valentine surprise now to enjoy with the summer sun or on your next romantic getaway to Portugal. And if you are here on the 14th check out these great Valentine's Day offers to wine and dine in style.

Falling in love happens in an instant of magic. Staying in love requires a little effort, so here are ideas for Valentine's Day in the Algarve to keep the romance alive and to suit all budgets.
 
Free Romance
A walk on a beautiful beach at sunset, or along the cliff-top paths that cover the Algarve. You'll tick the romance box for sure and it doesn't have to cost a penny. Get extra points if you bring a bottle of bubbly to enjoy as the sun sinks below the horizon. See more ideas for
free things to do in the Algarve
.
Dinner for two
There are so many
wonderful restaurants in the Algarve
serving a wide range of cusines, from
Portuguese
dishes and local seafood, to
steak houses
, fusion cuisine, Indian,
Nepalese
cusines and more. For Valentine's Day, some offer special menus - click the links below for details.
Sandbanks, Vale do Lobo
– special lunch menu €30 per person. Lunch by the sea, overlooking Vale do Lobo beach.
Restaurante A Vela, Carvoeiro
– special menu and live music €26 per person. Delicious Portuguese inspired dishes and home-made desserts
Restaurante Àbabuja, Alvor
– special menu €50 per couple. Portuguese flavours with a fabulous view over the Ria Alvor (and great Valentine's decorations too).
Praia Dourada Beach Restaurant
, Armação de Pêra – special menu €32 per person. Modern, fusion cusine by the sea.
Parrilla Natural, Vale do Lobo
– special menu €55 per person. Sumptuous food in a stylish setting.
Wild Fire, near Vilamoura
- special menu €40 per person. There's a great choice of dishes on the special menu, catering for carnivores and vegetarians.
Artisan, Olhos de Água
– special menu and live music €90 per couple. A modern palate and a vintage soul sets Artisan apart.
For something different….
Wine Cellar Dining at VILA VITA Parc
. The amazing wine cellar (
Cave dos Vinhos
) is 9 metres underground and home to around
11.000 bottles of wine
. For Valentine's there is a special 5 course menu with tailored wine pairing. This is just one of
VILA VITA Parc's Valentines offers.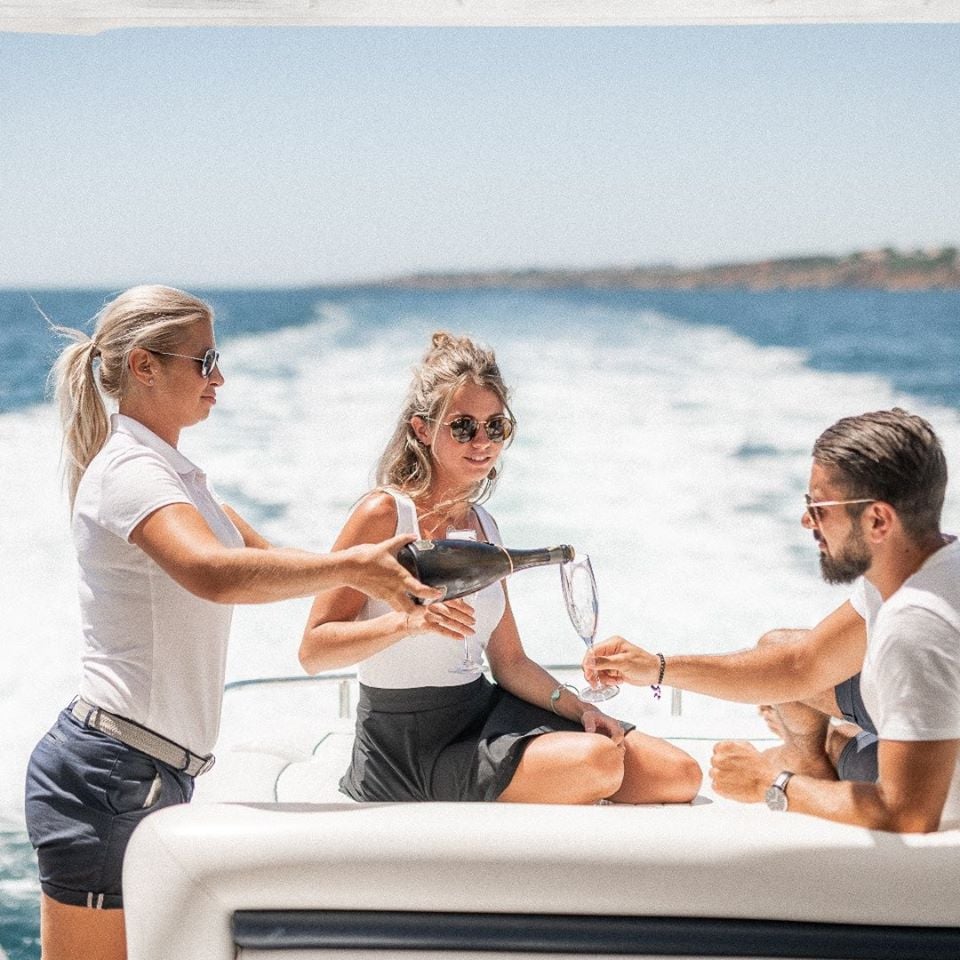 Something Special
Sweep the one you love off their feet and out to sea. To enjoy on Valentine's Day or to save for later, a
sunset cruise
along the Algarve coast is something special. Sip champagne and contemplate the beauty of the world in the company of your favourite person.
Azure Luxury Charters
has an enticing offer especially for Valentine's - book now to get a special
Valentine's Sunset Cruise discount
and sail anytime up to June 2020.
Stay onland but
off-road
with a fun
sunset Jeep Safari
.
Alsafari Tours
runs great trips through the Algarve countryside where you can learn about the local traditions, see life in the inland villages and even taste some of the local firewater and honey. The
sunset safar
i gives you amazing sunset views from elevated points in the Algarve hills, a beautiful panorama sloping down towards the coast. Includes dinner at a countryside restaurant.
Love Adrenaline
If love is a leap of faith, then say "I love you" by jumping out of a plane together. Now, that's a Valentine's Day experience to remember.
Skydive Algarve
, Alvor, offer amazing
Tandem jumps
where, following briefing and training, you get to jump out of a plane at 10.000ft, securely strapped to your instructor. Keep your eyes open on the way down – the views are the best! There's a special
discount on Tandem Jumps
available now.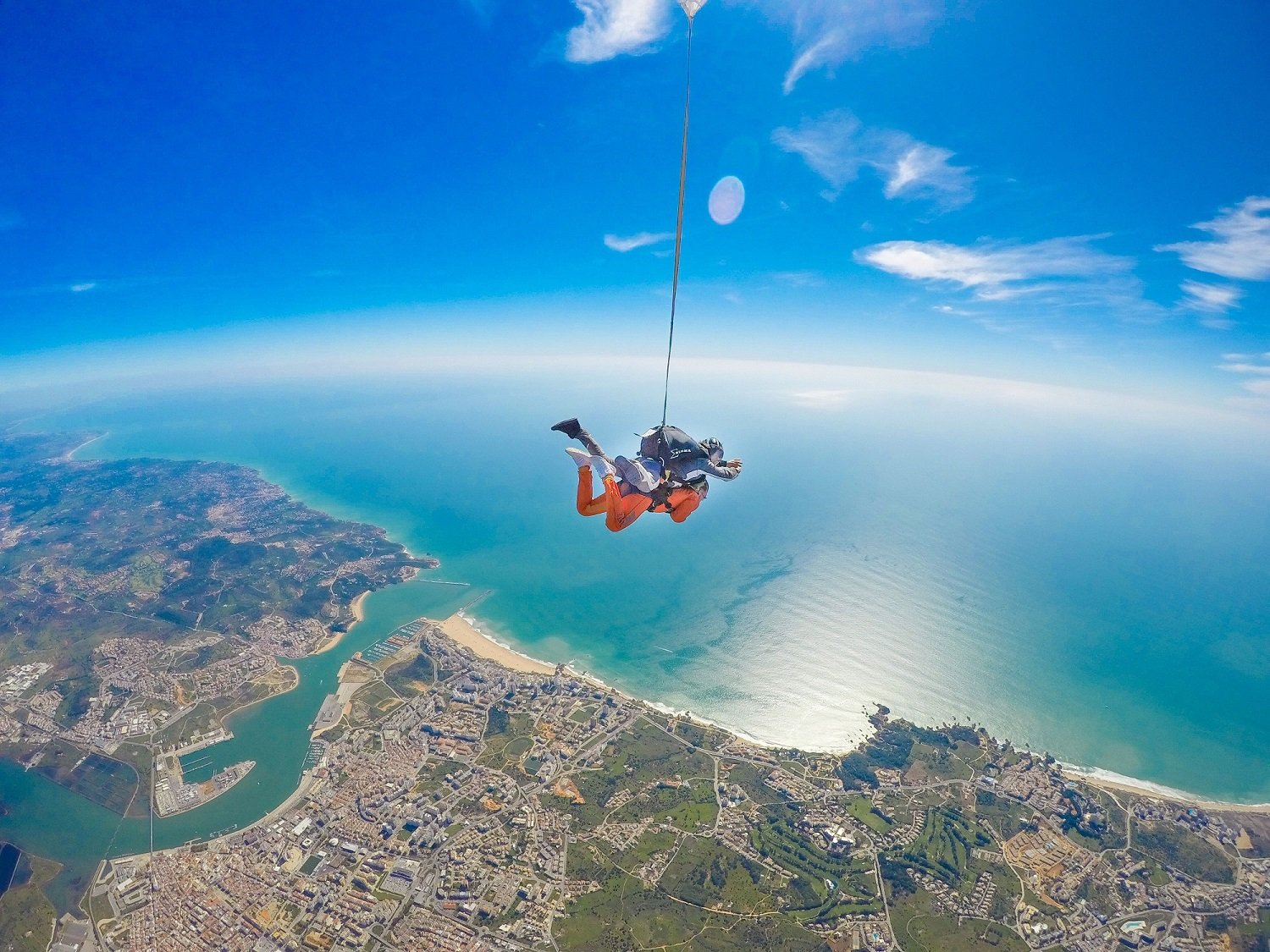 A Gift that Endures
Art is a thoughtful and enduring gift to offer your favourite person. Each piece of art is in itself unique and choosing a piece to offer as a gift makes it personal and makes the recipient feel very special.
ArtCatto
, in Loulé has some beautiful pieces by international artists, such as the piece below by
Dom Pattison
.
LiR Gallery
in Lagoa is a wonderful gallery to browse, set above the workings of the local wine co-op. You can shop at the gallery or at their online shop.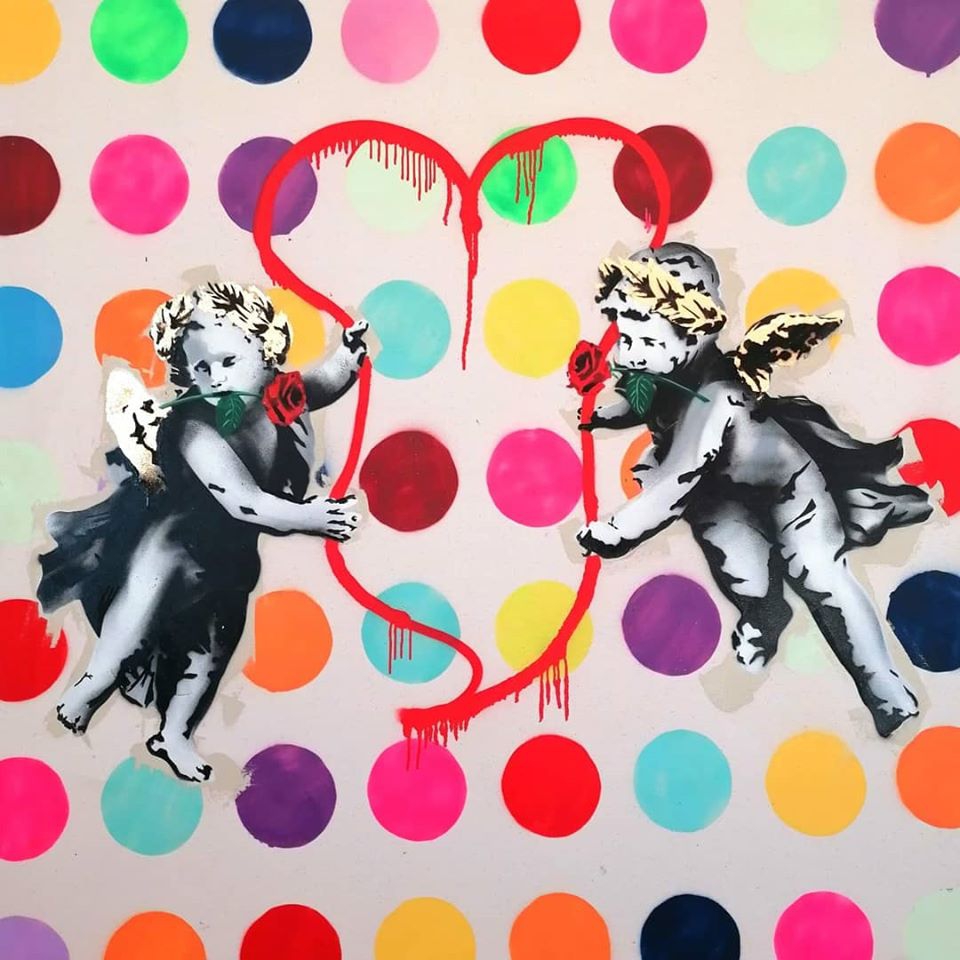 YOU MAY ALSO LIKE