FAQ - Travel to Algarve, Portugal this summer
Family Fun Hot List Inspiration Lifestyle
Your questions answered about summer holdiays in the Algarve this year
Amid the constant stream of ever-changing information out there about travel to and from Portugal this summer, people are confused about travel and what they can expect in resort. We answer your questions about travel to Portugal and holidays in the Algarve this summer.

So, what can you do this summer in the Algarve? Pretty much everything!
Fun is back, and the Algarve is the place to enjoy it.

The beaches are open and as gorgeous as ever. Restaurants are open and the food still tastes amazing, especially served al fresco with sea views. Clubs, parties and festivals are all back on the agenda. The coast is calling you to discover its caves and coves on a boat trip. Off-road adventures await you in the sparsely populated countryside. You can surf, play golf, tennis and padel. Zoomarine is open with a limited capacity but with all the fun. It's summer as you always imagined, just with some masks.

Update - April. 2022
From Sat. 23rd April, masks are no longer required anywhere, except on public transport, taxis and rideshares, in hospitals, pharmacies and care homes.

Below we answer some questions about travel to Portugal and what you can expect your summer in the Algarve to be like.

NOTE: the information below refers to 2022 where confirmed information is available. Before travelling, do check the requirements in place for your travel dates for both travelling from and returning to your location, on official government sites.


TRAVEL
Are there flights to Faro airport?
2022: Yes. There are flights between Portugal and EU countries, Schengen area countries, the UK and other countries. Book early though, as demand is high for 2022.
Do I need to show a test or be tested when I arrive in Portugal?
From 1st July 2022, neither tests nor vaccine certs nor recovery certs are required to be shown upon entry to Portugal
Do I need to quarantine when I arrive in Portugal?
2022: Currently, most travel to Portugal does not require quarantine.

What about the return journey?
Check with your destination's official government information for the specific conditions.
Can I drive to Portugal from Spain?
2022: Yes, borders are open.
Do I need to wear a mask at the airport?
From 23. April 2022 masks are no longer required, except on public transport, in hospitals and care homes.
Can I still get a taxi or a private airport transfer from Faro airport?
Yes, taxis are available and you can pre-book your airport transfer to be there upon your arrival.


USE of MASKS

From 23. April 2022 masks are no longer required, except on public transport, taxis and rideshares, in hospitals and care homes.

Do I have to wear a mask all the time? No, not all the time, However, masks are mandatory indoors in public spaces, eg. Supermarkets, public transport, shopping centres.
What about walking from my hotel to the beach or a restaurant?
No mask is required, you can choose to use a mask in the open if you wish. Always have one with you for when you want to go inside.
Do I have to wear a mask on the beach?
No, no masks are required
BEACH DAYS
Algarve beaches are magnificent. And there are so many of them, most rarely get over- crowded, and some are so vast there is always plenty of space for everyone. Check out these
long beaches where you can escape the crowd.
Can I go to the beach?
Yes! Beaches are open and gorgeous.
Are watersports allowed?
Yes, watersports are allowed such as surf, SUP, jet skis and
parasailing
.
Can I buy a Bola de Berlim on the beach?
Yes, the Bola de Berlim sellers are in action!
Are beach restaurants open?
Yes, they are. As most seating is outside at
beach restaurants
, they are perfect options for tasty food or a cold drink.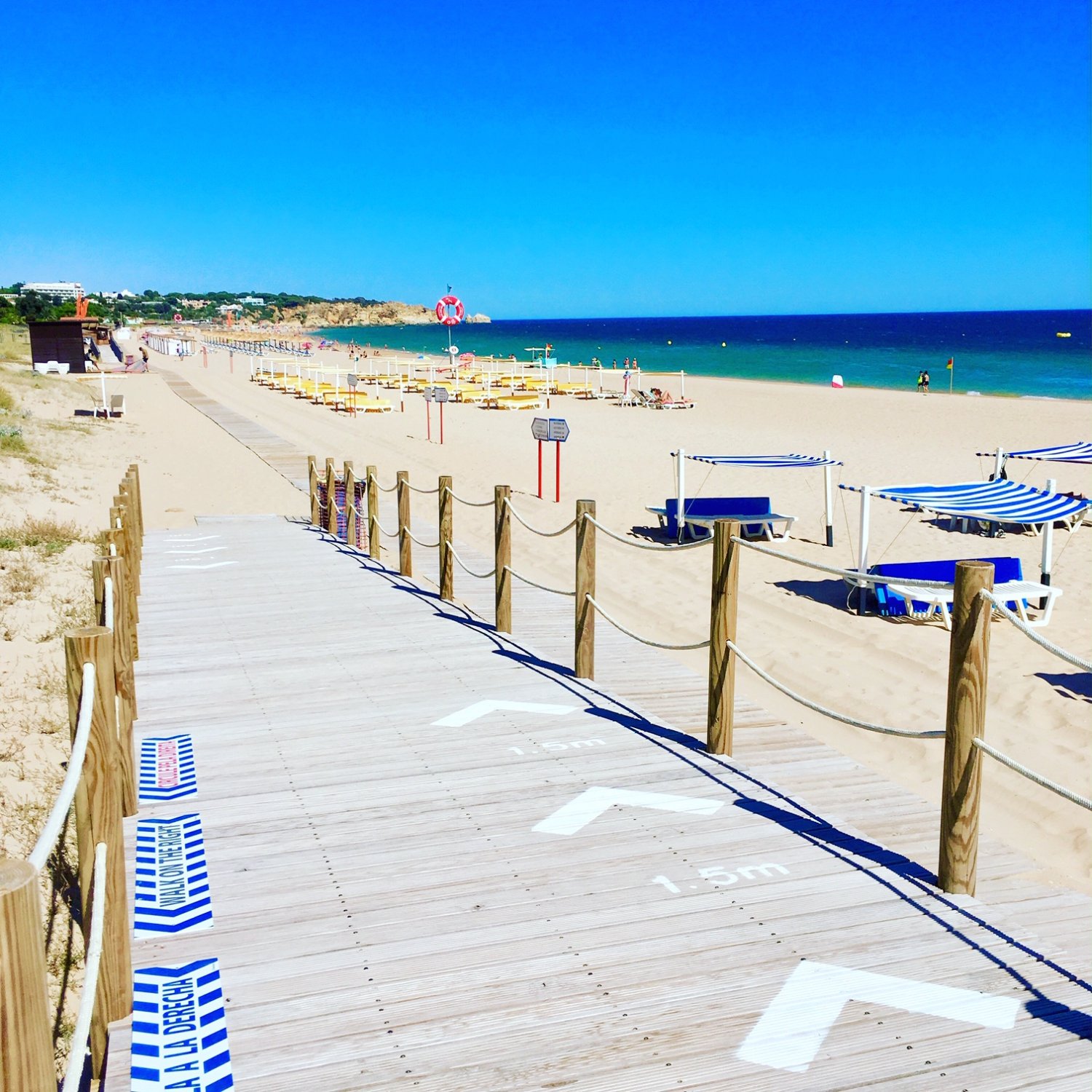 WHAT'S ON and WHAT'S OPEN
Are shops, restaurants, bars open?
Yes, they are open and ready to welcome you.
Is there any live music?
Yes, several venues have live music and DJ sessions. Check our Events Calendar to see what's on.

What about Nightlife?

Algarve nightlife moved into the sun during the pandemic with lots of beach clubs and sunset parties, not to mention boat parties! In 2022, nightlife is back with parties, clubs and festivals all on the agenda! Check out this round-up of the best Algarve nightlife

Bonus! Festivals are back in 2022! Check out our guide to Festivals in the Algarve - from huge international music festivals to local and traditional celebrations.
What about sport?
You can play golf, mini golf, tennis, padel, footgolf, do some biking, hiking, surfing or SUP, explore by kayak, scuba dive or explore by boat. There are plenty of options for active fun.
Can I use swimming pools?
Swimming pools, at hotels, resorts and theme parks, as well as public pools and clubs such as
NosoloAgua
are open for you to enjoy.
Can I take a boat trip?
Yes.
Boat trips
along the coast, to
Benagil
and to
Ponta da Piedade
, as well as along the
Ria Formosa
are up and running. Advance booking is required .
And Boat Parties are back! Sunset sessions, live music and DJ sets at sea. Check out
Belize Boat Parties
, departing from Albufeira.
What about Zoomarine and theme parks?
Yes, they are open for 2022. Plan your visits ahead of time, and check for discounts when buying directly online.
All information is correct at time of publication, however conditions may change over time.
You may also like:
Check out this guide by
TUI about travel to Portugal