Vital Wellness at Vila Vita Parc: Discover Yoga, Ayurveda and Health Workshops
Inspiration Lifestyle Retreats & Relaxation
Our Top Experiences and Tours in Algarve:
If youʻre booking your trip to Algarve last minute, we have you covered. Below are some of the top tours and experiences!

Discover optimal well-being with Vila Vita's Vital Wellness programme - Ayurveda treatments, yoga and women's health workshops, for optimal mind and body balance.

All set within the gorgeous grounds of the award-winning 5-star resort and hosted by

Vila Vita Spa by Sisley Paris

.

Vila Vita Parc is offering a new wellness and well-being program that features a variety of national and international guest practitioners, including Achyuta Veda, Marta Gomes, and Shri Parveen Nair. These experts will be visiting the resort from May 2023 to provide workshops and treatments aimed at improving overall health and optimizing the body and mind connection.

In addition to the regular treatments and yoga classes at Vila Vita Spa by Sisley Paris, guests can also enjoy a range of new offerings, including Ayurveda Treatments, Chakra Healing Workshops, Private Yoga Classes, Yoga & Ayurveda Weekend Workshop and Women's Health Workshops.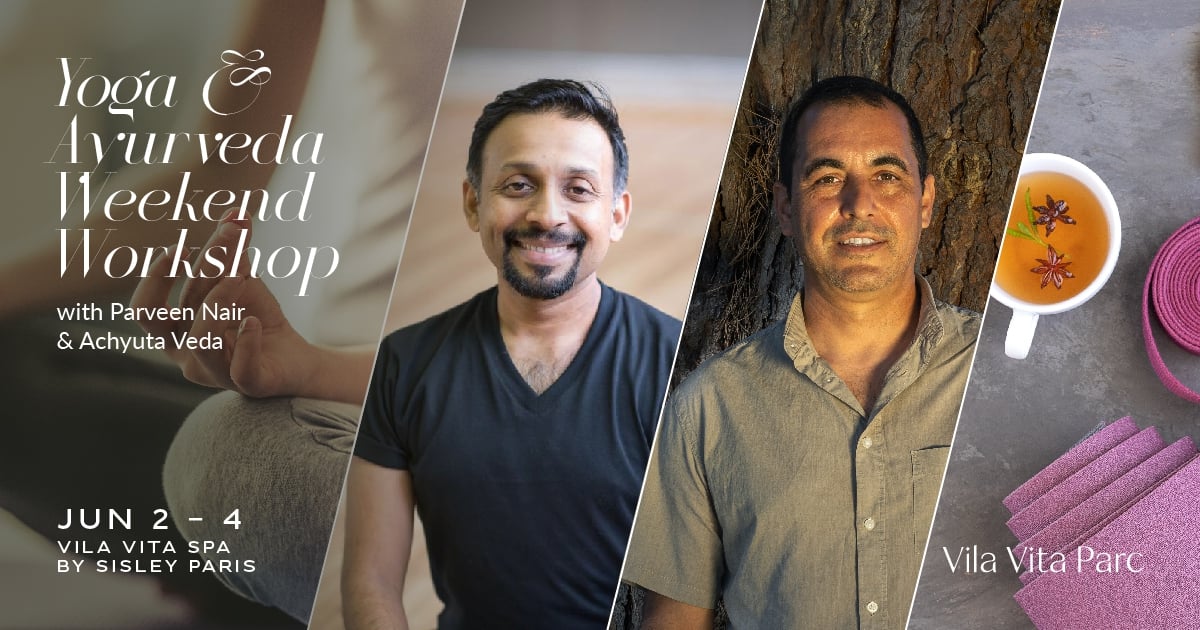 The
Ayurvedic Treatments
are designed to rejuvenate the body and soothe the mind. Renowned therapist Achyuta Veda is at Vila Vita Parc throughout May and June 2023 for Ayurvedic consultations and treatments such as Ayurvedic classic full body massage, Marma Therapy and Pranic healing, Ayurvedic Head massage, Indian reflexology and Chakra opening massage among others.

Private Yoga Classes with Praveen Nair focus on developing body awareness and overall health. Available from 30th May to 1st June, you can join a private Iyengar Yoga class with Praveen Nair. Learn how to use props, such as a chair, not only as a support to standing and balancing asana, but also to bring awareness to parts of the body that one may not be able to reach, caused by the preoccupation with the superficial appearance of the pose.

Praveen Nair and Achyuta Veda come together in sharing knowledge during the Yoga & Ayurveda Weekend Workshop. This is a 2 ½ day programme where you can find joy and balance through fluid movement, satsang lectures and restorative practices, in the beautiful surroundings of Vila Vita Parc.

Therapist Marta Gomes will facilitate the Women's Health Workshops, which cover health and fitness topics, breathing techniques, pelvic awakening movements, nutrition and lifestyle tips. Held every Thursday, the workshop are suitable for all ladies regardless of age or body type. The workshop themes are Good Food for Women's Health, Pelvic Awakening Movement, and The Power of Breathing.
All the workshops, treatments and classes are open to resort non-residents, and must be booked in advance, Click the links above for more details on each or see the Vital Wellness brochure
here
Vila Vita Parc is an outstanding luxury lifestyle resort in the Algarve, offering Michelin star dining, beautiful surroundings and ocean views, all paired with fabulous hospitality. The Vila Vita Spa by Sisley Paris is a tranquil haven of quality treatments by professional therapists using fabulous products. Find out more about
Vila Vita Spa by Sisley Paris