Vendici Properties Local Spotlight: Dunes Beach Restaurant
Family Fun Hot List Inspiration Lifestyle
Our Top Experiences and Tours in Algarve:
If youʻre booking your trip to Algarve last minute, we have you covered. Below are some of the top tours and experiences! The Vendici Local Spotlight shines on Dunes Beach restaurant. Set on Praia do Garrão beach, right by the boardwalk, this is a super spot for breakfast, lunch and dinner, plus everything in between. Vendici Properties, experts on the Quinta do Lago and Vale do Lobo areas, share their experience of this friendly beachside eatery. Vendici Properties

is an independent, and hyper-local real estate agency located at Martinhal in Quinta do Lago. With their in-depth local knowledge, they not only know all the best properties and developments but also some fabulous spots for food, drink and fun. And Dunes ticks all those boxes, and then some.

Set right on the beach and at the start of the boardwalk that runs from Praia do Garrão over to Quinta do Lago and the Ria Formosa trails,

Dunes

is a friendly and relaxed venue. Serving tasty food and chilled drinks, it's a super place for seaside dining all year round. Sports fans can enjoy all the action on multiple screens and there are regular live music sessions too. With more than a hint of Irish in its DNA, you can count on great pints of Guinness, super hospitality, and a fun and relaxed vibe.

In the article below, read about the Vendici team's visit to Dunes.

Find out more about

Vendici Properties

Find out more about

Dunes Beach Restaurant
---
DUNES BEACH RESTAURANT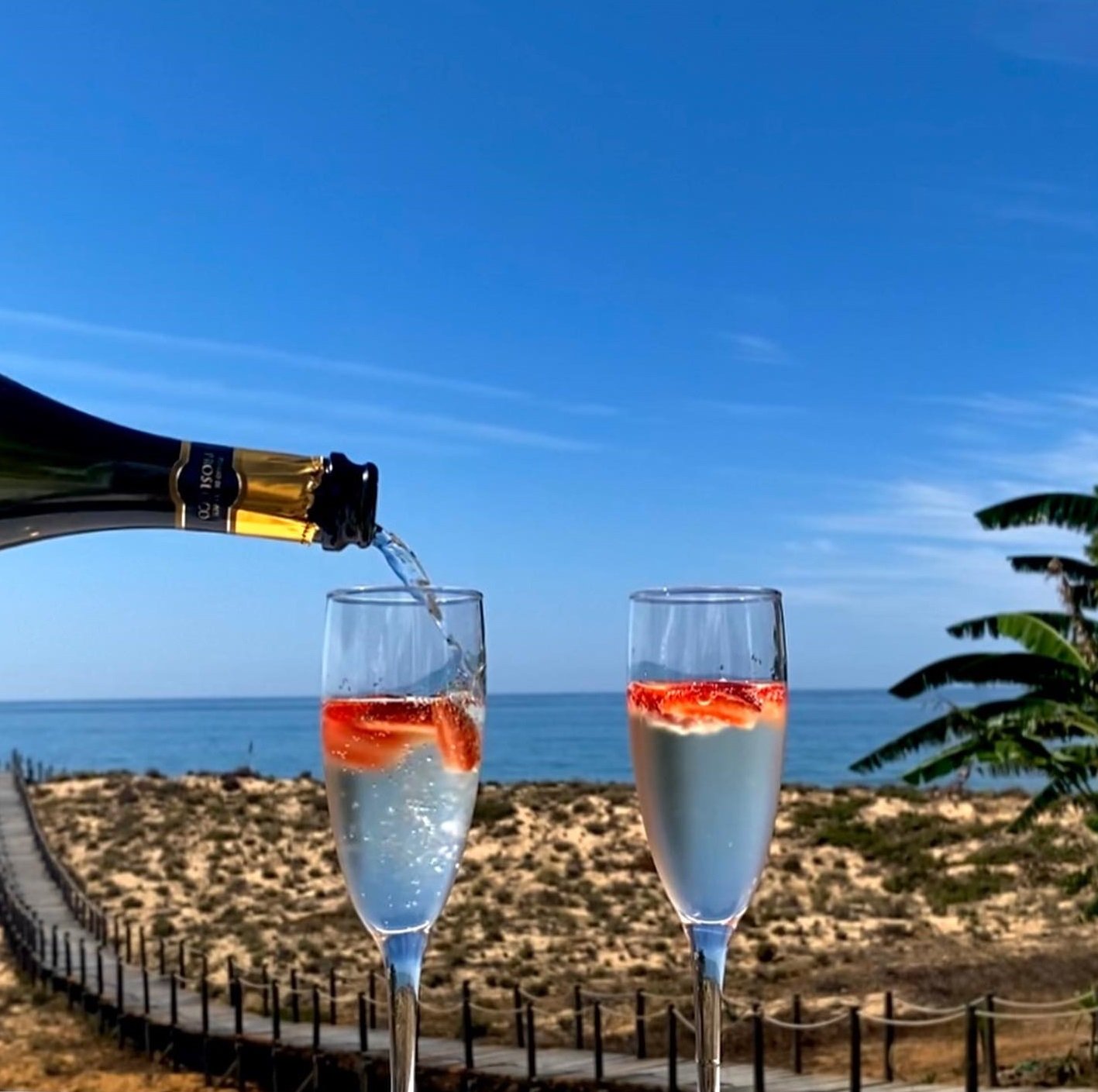 I recently had the pleasure of visiting Dunes Beach Bar at Garrao Beach, I was really impressed with the range of offerings that cater to diverse tastes and preferences.
The standout feature is the beautiful views of the Boardwalk, ocean, and sand dunes which can be seen from the indoor and outdoor areas of the bar, which are thoughtfully divided into different sections. This ensures you have plenty of choice, whether you want to experience an indoor cosy cafe feel, an al fresco coffee experience, a traditional bar experience, or a beachside restaurant vibe.
Dunes offers service all day from 9am until late, and you'll discover a variety of different atmospheres depending on the time of day you visit.
You can enjoy a quiet brunch available until 1pm and start your morning with the fresh sea air, you'll find a fantastic selection of coffees, smoothies, hot and cold drinks, fresh juices, toasties, egg dishes, croissants, pancakes, granola, ice creams, pastries, and cakes.
Lunch time is busy and served from 1-5pm. From Lunch onwards they offer a great menu that includes quality Portuguese and grilled dishes of fish, prawns, and chicken. They also offer salads, vegetarian, and vegan options. There are some very appealing pub food options that pair very well with a drink while watching a sports game on one of the many indoor and outdoor tvs throughout the bar. This is a great go-to spot for Sports fans, as the bar covers GAA, Hurling, Soccer, and all the rest. Definitely a great place to go to have fun!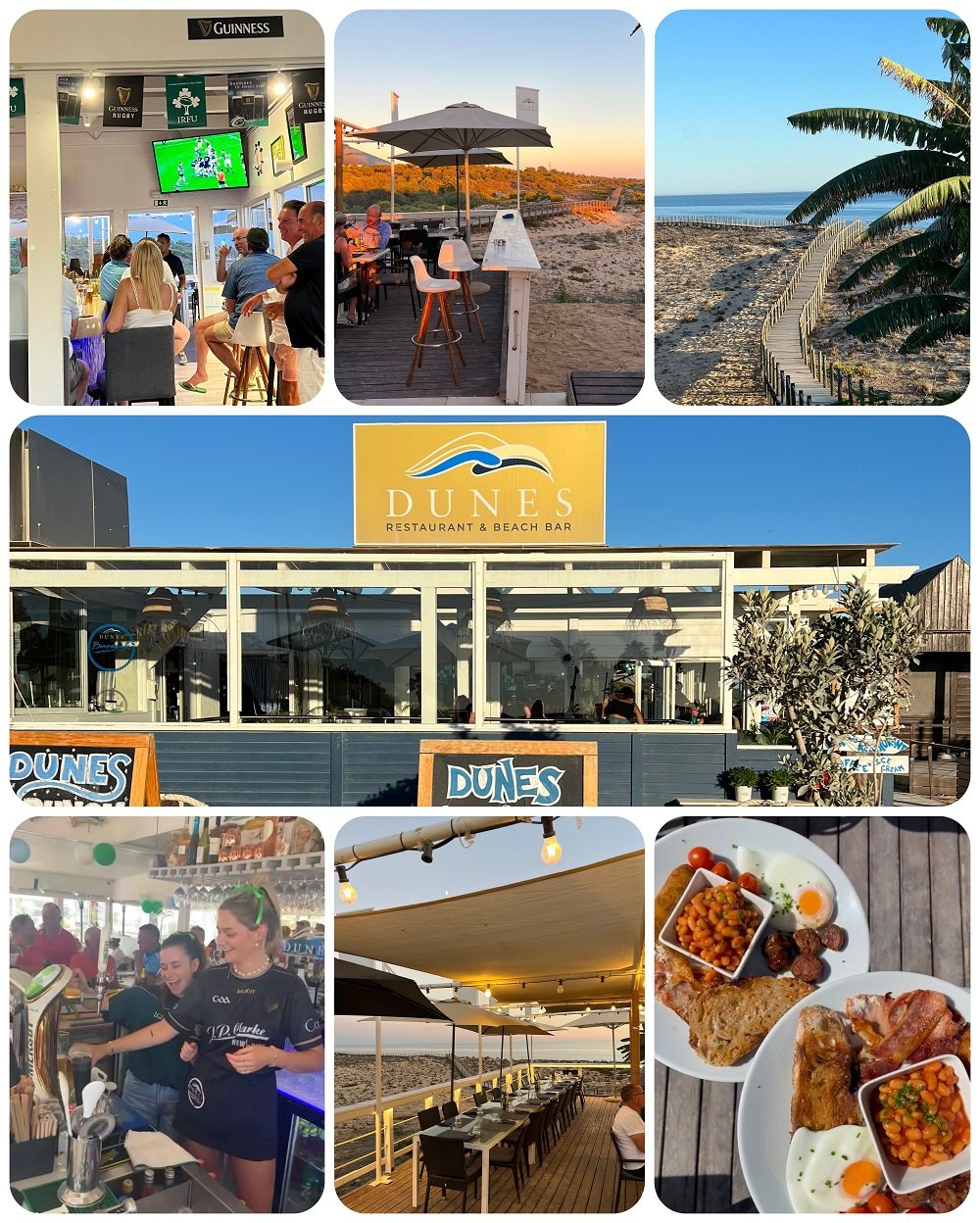 There is a distinctive blend of Ireland meeting Portugal as they offer a great fry-up, great Guinness, many Irish staff members, so the experience can feel like home away from home for Irish visitors. The bar has multiple owners of different nationalities, which is evident in its diverse and welcoming atmosphere. The staff are very friendly, and you can find relaxed or lively atmophere at different times of the day, depending on what you'd prefer.
Dunes is perfect for group gatherings and parties such as
Day 2 Wedding parties
, with live music acts every weekend, and special menus available during the summer. Cosy indoor areas and hot food make it ideal for a visit this winter!
See the original Vendici Properties article