Top 10 Algarve Beaches
The best beaches in the Algarve for families, for walking, surfing and relaxing
Find the best beaches in the Algarve! From small cove beaches with sea caves to long stretches of golden sand, the Algarve has some of the most beautiful beaches in the world. Here's our guide to the region's top beaches.

Boasting some of the cleanest and most scenic beaches in Southern Europe (see our Blue Flag beach score!), one of the Algarve's star attractions is without doubt the stunning coastline. Long expanses of soft, golden sand, secluded coves backed by ochre cliffs and topped by vibrant green pines. Each beach is a gem waiting to be discovered, each with it's own unique charm. Explore some of these fabulous sands and see for yourself why the Algarve is consistently on the list of best beach destinations in the world.
Meia Praia- near to Lagos, the name literally means half beach. the other half is Alvor beach (another favorite!). Meia Praia is popular with families, walkers, surfers and naturists (at the eastern end) and is a long, spacious stretch of beach backed by sand dunes and villas. There are plenty of beach restaurants to choose from and access is an easy walk from the various parking areas, across the train tracks that run into Lagos town. (if you prefer cove beaches, check out the many stupendous beaches on the Western side of Lagos, near Ponta de Piedade).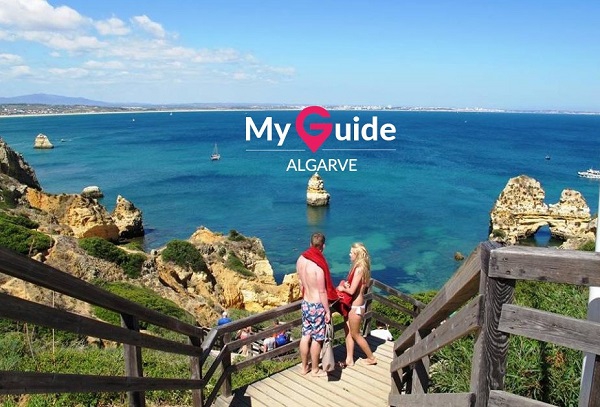 View from Praia do Camilo across to Meia Praia
Praia do Amado- One of the main surfing beaches in western Algarve, this beach is typical of this windswept west coast, unspoilt and natural. For years, only surfers would make their way here, but increasingly, the west coast is becoming more and more poular. The water temperature can be a bit lower than on the south coast, and the currents tend to be stronger, so vigilance is advised. There are some great coloured stones to be found here - a lovely momento.
Praia Três Irmãos- near to Alvor, at the eastern tip of Alvor beach, this section is a sheltered, popular, and very scenic spot. To the west you have miles of white sands, to the east lovely coves beaches that you can explore at low tide. As and added bonus, there are some great beach restaurants in the area.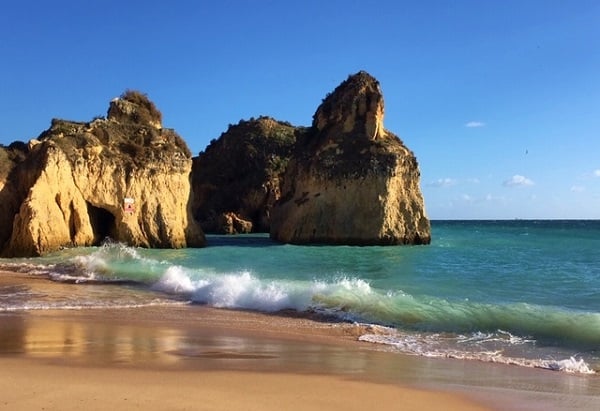 Alvor - Praia dos Tres Irmãos
Praia da Marinha- Between Carvoeiro and Albufeira, this beautiful beach features some great seastacks and a double-arch rock formation off the shore which are very popular with photographers. It is one of the most characteristic Algarve beaches - and one of the most photographed! The beach is very popular too with divers and snorkellers as the water is incredibly clear. However do note that access is by a set of steep steps. One of the best ways to appreciate the beauty of this area is by taking a leisurely boat trip along the coast. If you do, another fabulous spot near to Marinha beach is the famous Benagil sea cave - a huge, natural dome cave and openings in the cave roof that allows the sunlight ti stream through.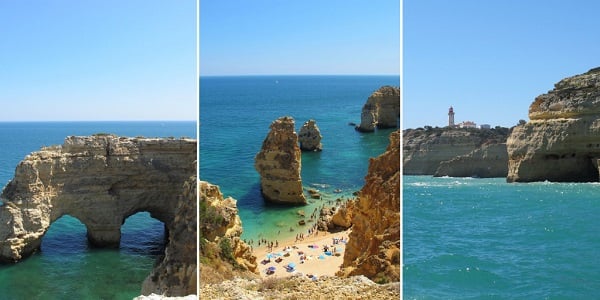 Praia da Marinha and coast
Ilha de Tavira – the more eastern the beach, the warmer the water. The Ilha da Tavira is great for swimming and uninterrupted sea views across the Ria Formosa natural park Access to the eastern Algarve beaches is by ferry from Tavira town centre. There is a regular service and just making the journey is an adventure in itself.
Faro island – This beach has formed into a long sandspit with just a wall to protect the buildings from the rigors of the ocean. The Island is accessed by a single road across a rather narrow bridge. There is a very laid back feel here and you can actually enjoy two quite different beach experiences. On one side of the island is the Atlantic ocean and miles and miles of clear sands. On the other you have the calmer waters, packed with marine and wildlife of the Ria Formosa Natural Park. It is close to Faro airport so you can watch planes come and go across the Ria Formosa wetlands. We recommend taking a boat trip to explore the Ria Formosa - it is stunning.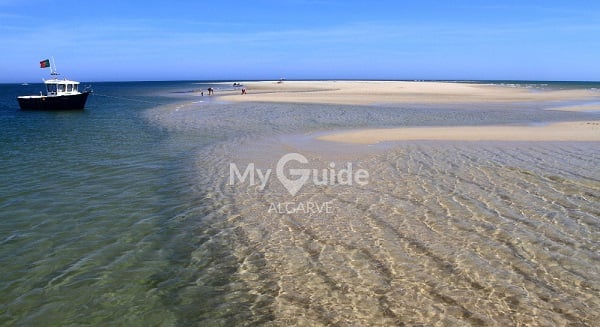 Ria Formosa
Galé Beach- This is a centrally located Algarve beach, near to Albufeira with interesting rock formations to the eastern side and some restaurants nearby. It can be busy in summer months and is popular with families as there are plenty of rock pools crying out for children to explore them.
Martinhal – is in a long bay in front of the elegant Martinhal resort and close to Sagres. It can get quite windy here but for this reason it is great for windsurfers, there is a classic beach restaurant and views across to the harbour where Royal Princes have been known to drop anchor.
Praia do Vau- This popular beach can be found between Alvor and Praia da Rocha in a horseshoe bay. When it is low tide you can walk around the rocks to Praia da Rocha, along several coves beaches. To the west of Praia do Vau is Praia do Alemão - a beautiful stretch of beach that leads towards the coves and rock formations at Prainha. Exploration at low tide is a must here - the natural beauty is simply staggering. The yellow clay (argila) that is found in this area is said to be good for arthitis and a whole range of skin conditions, so it is quite usual to see people with various parts of their bodies covered in yellow mud!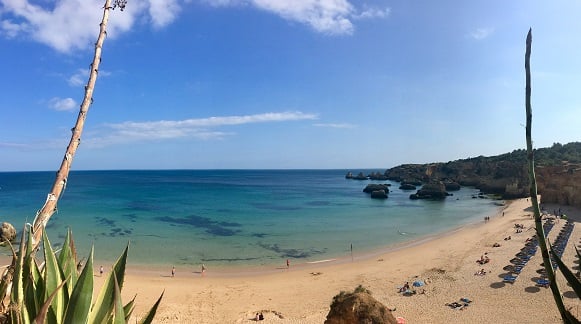 Praia da Falesia- This lovely beach has a huge expanse of golden sands backed by dramatic red cliffs, perfect for long walks and with great views along the bay. Centrally located, near to Vilamoura and the golden Triangle. There are several access points at either end of the cliffs. This is perfect to watch the colours of the sky deepen in the sunset.

Check out the Top 10 Beach Restaurants in the Algarve.

YOU MIGHT ALSO LIKE