Hurrah for Spas
Mini Break
Ultimately, it'll leave your mind replenished and your purse strings tight
The premise of the Algarve Spa Week is elegant in its simplicity: 7 days, 11 spas, any treatment, 50% off.  That's it.  It's an opportunity to try the treatments you've always wanted but can't really afford, or simply to indulge in your favourite luxuries without the guilt of spending a fortune.  Ultimately, it'll leave your mind replenished and your purse strings tight.
Held from the 16th to 23rd March and 19th to 26th October 2013, a highlight in the Algarve events calendar, each Algarve Spa Week sees the spa divisions of some of the region's most luxurious resorts and splendorous hotels offer their services for a fraction of their usual cost.
Delectable treatments designed to smooth your skin and repose your muscles include lime and ginger peels, chocolate wraps, Swedish and Thai massages, and Thalasso treatments that harvest the therapeutic powers of the sea.  Don't believe it?  Now's your chance to challenge the theory.
There are plenty of treatments for him and her, as well as a smattering designed for couples, all of which can be booked directly with the participating Algarve spas.  Some of these spas are so fond of Algarve Spa Week they extend their offers throughout the year. Check out the Real Thalasso Spa at the Grande Real Santa Eulalia Hotel in Albufeira or the Real Marina Spa in Olhão that offer 50% discounts on selected treatments each day, all year round.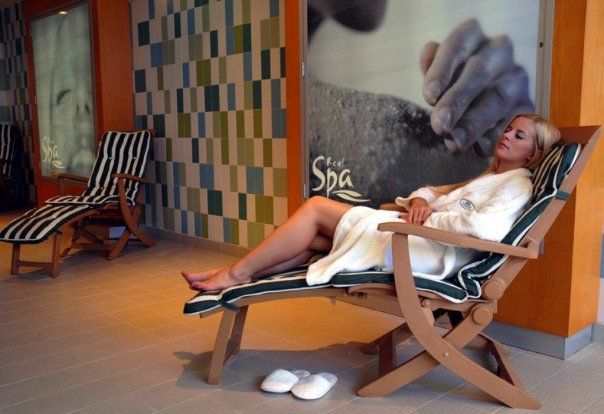 To avail of Algarve Spa Week's great offers, simply call the particpating spas and book your treatment. Details can be found below and on the Algarve Spa Week website
Participating Spas:
Seven Spas, Hotel Vilamoura; 289 032 0950
The Spa by Blue & Green, Lake Hotel, Vilamoura; 289 320 733
Grande Real Sta Eulalia, Albufeira; 289 598 000
Real Marina Hotel & Spa, Olhao; 289 091 300
The Almond Tree Welness Spa, Crowne Plaza Hotel, Vilamoura; 289 381 911
Vila Monte Resort, Montecarapacho; 289 790 790
Angsana Spa Tivoli Marina, Vilamoura; 289 303 777
Elements Spa Tivoli Victoria Hotel; Vilamoura 289 317 400
Finisterra Spa, Martinhal Resort, Sagres, 282 240 200
Bela Vista Spa, Hotel Bela Vista, Praia da Rocha, 282 460 280
Sayanna Wellness, Epic Sana, Olhos d'Agua, Albufeira 289 827 270