Algarve Chefs Week is back!
Food & Drink
8 chefs, 8 restaurants, 8 menus....1 price for 1 week only
Now in it's 4th edition, the Algarve Chefs Week is a delicious concept. 8 chefs at 8 restaurants in 8 hotels at 1 price for one week only – 23rd to 30th May. This is a fabulous opportunity to enjoy specially crafted menus by some of the Algarve's leading chefs at a very enticing price.
This year, the menus, created exclusively for Algarve Chefs Week, play to the strengths of local Algarve flavours and traditions with plenty of seafood, herbs, local fruit and vegetables. The menus are designed to be a voyage of dicovery of the rustic deliciousness that the Algarve can offer, featuring the flavours of quail, suckling pig, carob, medronho, figs, honey scented with rosemary and so much more......The extra ingredient in each dish is the flair and skill of each chef.
In this it's 4th year, Algarve Chefs Week features once again the fabulously luxurious Conrad Algarve resort, represented by Chef Andrew McGie and Louro Restaurant. Best known perhaps for its great Sunday Brunch, Louro Restaurant offers great inside and outside dining. The Sheraton Algarve resort set amid acres of gentle hills, umbrella pines and ochre cliffs, is also a participant in Algarve Chefs Week. Restaurante O Pescador, which specializes in seafood, will offer some enticing and original dishes created by Chef Osvalde Silva. And at Restaurante Cilantro at the Hilton Vilamoura, Chef André Simões has created a menu of Mediterranean and Algarvian flavours. Before or after a meal at Cilantro we highly recommend a cocktail at the Rubi Bar. Throw away your pre-conceived ideas of tired, old cocktails and enjoy inventive, delicious cocktails, with or without alcohol, presented with a large measure of theatrical magic.
The 2014 edition of Algarve Chefs Week will be launched in the arrivals hall at Faro airport. Lucky passengers arriving at Faro between 3 and 7pm on the 22nd May will be treated to tasty treats, tapas and desserts, accompanied by delicious juices and wines. Not a bad way to start a visit to the Algarve.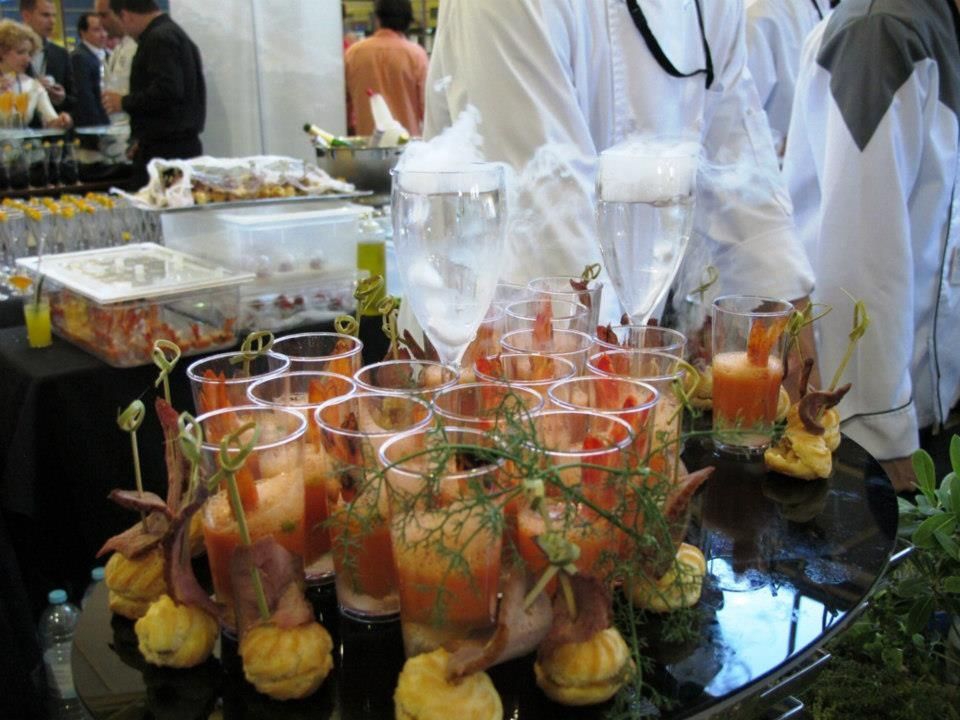 Additional information:
The special menus available at the participating restaurants during Algarve Chefs Week are available for dinner only, price €30 per person, excluding drinks.
Reservations should be made to each individual restaurant (see list below).
Those with reservations for 3 or more menus enter a draw to win a complementary weekend at one of the participating hotels.
Algarve Chefs Week supports the local charity CASA Centro de Apoio ao Sem Abrigo, donating €1 per menu to the charity.
Participating Chefs and Restaurants
• Chef Andrew McGie - Restaurante Louro, Conrad Algarve;
+351 289 350 700
• Chef Osvalde Silva - Restaurante O Pescador, Sheraton Algarve;
+ 351 289 500 100
• Chef Miguel Lourenço - Restaurante The Olive Tree, Hotel Vale d'Oliveiras;
+ 351 282 380 560
• Chef André Simões - Restaurante Cilantro, Hilton Vilamoura;
+351 289 304 000
• Chef Jan Stechemesser - Restaurante À terra, Praia Verde Boutique Hotel;
+351 281 530 600
• Chef Marcos Sousa - Restaurante Moonlight, Salgados Grande Hotel;
+351 289 244 200
• Chef Bruno Rocha - Restaurante EMO, do Hotel Tivoli Victoria;
+351 289 317 000
• Chef Ricardo Ferreira - Restaurante Pepper´s Steakhouse, Hotel Tivoli Marina Vilamoura; +351 289 303 303