SUP - Stand Up Paddle in Lagos
Adventure Inspiration Sports
Explore Ponta de Piedade and the gorgeous caves on a SUP tour from Lagos
SUP
or
Stand Up Paddle
is a great way to explore the beautiful coastline at
Ponta da Piedade
near Lagos, Algarve. Join a SUP tour for a fun few hours at sea.
SUP, short for
Stand-Up Paddle, is a relatively new sport that is super popular worldwide. It's perfect for paddling around lakes and lagoons (the
Ria Formosa
is perfect for this) or you can do it in the sea and surf some waves.
Doing
SUP
on the sea is a great experience and loads of fun! The Algarve seas are perfect to do SUP in summer, because the water is generally calm as well as being nice and warm. The coastline around
Lagos
, in the western Algarve is jaw-droppingly gorgeous. The myriad of cove beaches in the area and amazing rock formations and caves at
Ponta da Piedade
make this a unique, fantasy landscape that has to be seen to be believed.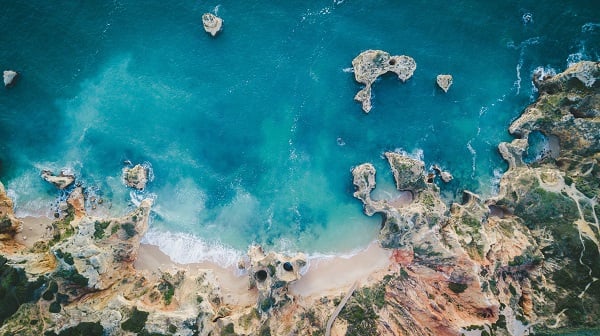 We asked our friends and experts at
Seabookings.com
what's one of the best ways to discover Ponta da Piedade and they recommend a
SUP tour from Lagos
. Here's why.
1. Learn a fun sport
Luckily, SUP is
super
easy to learn
! You stand up straight or on your knees on one of the big and stable boards. By using a paddle, you move around in the water. Easy right?
Of course, our experienced guides will teach you all you need to know about SUP! Once you know the basics, just grab your board and hit the sea! You will see how easy it is and for sure you'll love doing SUP in Lagos!
So that's one of the reasons why
SUP is the best way to discover Ponta da Piedade: you get to learn a easy and super fun sport, that you can also do in other places. 
2. Do something sporty during your holidays
The second reason why SUP is the best way to discover Ponta da Piedade is a tick in the plus column for all the active travellers: You get to stay fit while doing some sightseeing!
SUP
is a nice sport because you use many different muscles. During the SUP Tour in Lagos you train your legs, arms, shoulders and even your core! Awesome, right? It's pretty much a full-body-workout, in the most beautiful setting - the sea! But, you don't have to be a SUP ninja - anyone can learn to SUP and it doesn't require special strenght or skill to master.
Do the tour
in the morning and you will be energised for the rest of the day. You can relax without feeling guilty about tucking into delicious
portuguese food
or enjoying some wine - after all you started the day doing sports!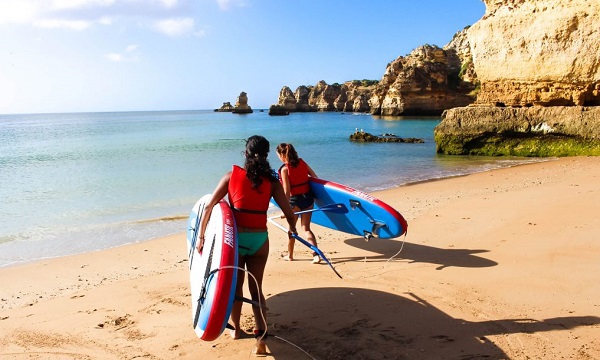 3. See Ponta da Piedade from up close
If you join us on a
SUP Tour in Lagos
, you will get as close to the impressive caves and grottos of
Ponta da Piedade
as possible! A SUP Tour in Lagos is as much, if not even more fun than a
boat trip
because you can paddle inside some of the caves and through some of the impressive natural arches of Ponta da Piedade.
During the 
SUP Tour in Lagos, you can see the stunning rock formations that are so characteristic for the south coast of Portugal from up close! Your experienced guide knows the best way to explore the famous caves and grottos of the area.
That's why SUP is the best way to discover Ponta da Piedade: you get so close to the Ponta da Piedade and all the little caves and grottos surrounding it.
4. Take home some fun photos of a great experience
During your
SUP Tour in Lagos
, our guide will take beautiful photos of you in front of the amazing and unique landscape. After the tour, we'll send you the photos for free!
And we can assure you that the photos taken in this surrounding are always beautiful. The blue waters in the stunning light early in the morning or in the afternoon make for some amazing colors. This way you will always have
something to remember it by and to share it with your friends!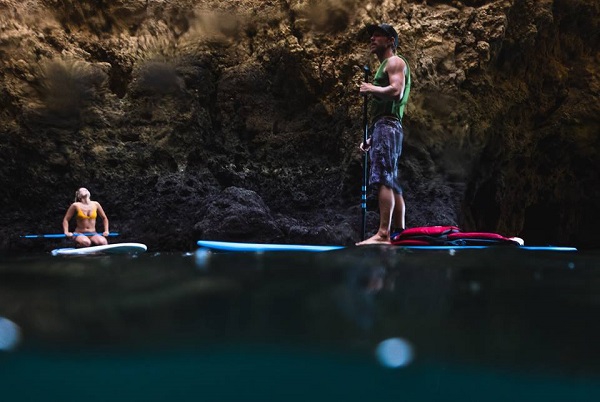 5. A lot of fun with new friends
One of the most convincing reasons why SUP is the best way to discover Ponta da Piedade is that you will have a whole lot of
fun
during the tour! We always go out in small groups with nice people! Maybe you can go out for breakfast afterwards with your new friends. Our fun and super friendly guides will also make sure you all have loads of fun during the tour!
Find out more or book your spot on the
SUP Tour in Lagos
.  
This article was written in collaboration with
SeaBookings.com
who are experts on all things
maritime in Portugal
- boat trips, sea activities like surfing and SUP, coasteering and more.
You might also like: