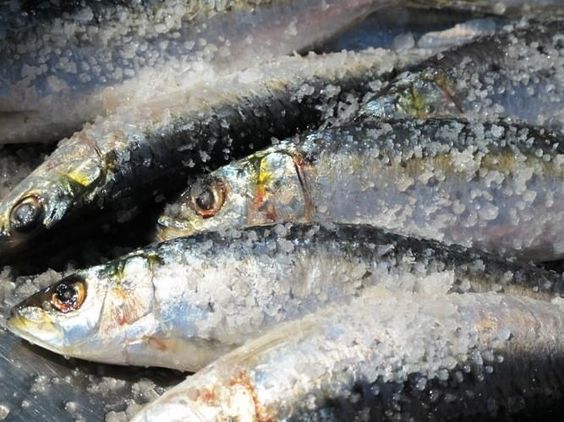 Top 10 Portuguese Food
fresh, tasty, hearty and made with love
Enough to make your mouth water, Portuguese food combines a maritime bounty of fresh fish with the robust flavours from the hills. There is a lot to discover in both food and wine, and the seasoning influenced by Portugal's Moorish and Roman past. Check out our Top 10 of Portuguese food, served at Portuguese and regional restaurants. Special mention for Ábabuja restaurant in Alvor which is famous for it's seafood grilled over charcoal; for Porches Velho where traditional portuguese food is made with love and pride; Adega restaurant at VILA VITA Parc which serves portuguese flavours in a 5 * setting and Windsurf, where the food and the beach views are as algarvian as you can get.
Frango Piri Piri (chicken piri piri)
If you haven't tried it, this is the best chicken ever, EVER! Grilled to perfection with a secret blend of spices, this is one of the most popular dishes for visitors and has to be tried at least once. The chickens used are small but absolutely packed with flavour. Served with a fresh salad and home-made chips, this is a winner everytime.
Sardinhas grelhadas (grilled sardines)
By the beach, in the towns, even in the hills, grilled sardines are the epitomy of summer to most locals and many visitors. Seasoned with salt, popped on the grill and then served up with a tomato salad and new potatoes - tasty and healthy! Wash it down with a chilled Vinho Verde and you will be converted for sure. Try eating the sardines like a local - using your fingers, and on a slice of bread to catch all those Omega 3 juices.
Bacalhau (Salted Cod Fish)
Cod is a staple of Portuguese cuisine and they say there is a different cod recipe for every day of the year. Salted cod, not fresh cod is used in Portugal (salting is the traditional way of preserving fish - pre-freezer days). This can be an acquired taste with the strong flavours of the salt and meatier texture of the fish but nonetheless a real taste of portuguese food. Cod is a very versatile fish and is usually the star of the show on Portugese Christmas dinner tables.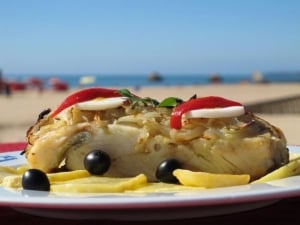 Arroz de Tamboril (Monkfish and Rice)
This delicacy is worth a try for the uninitiated. The Monkfish is chopped into chunks and mixed with rice, tomatoes, spices and lots of really fresh herbs. It is so tasty and wholesome. A popular dish with locals, you will find it on the menu in many places, try a seafood restaurant for specialities. There are lots of variationson this dish - you can find Octopus Rice, Seafood rice, Codfish Rice - all delicious.
Cozida à Portuguesa (Pork and Cabbage Stew)
This is a hearty, country dish where slow cooking allows the full impact of the flavours to hit your tastebuds. Pork meat is used - all sorts of cuts - mixed with plenty of cabbage and other vegetables. A regular on portuguese restaurants Sunday Lunch menus.
Feijoada (bean stew)
Another rustic dish that can be coast or country. A traditional Feijoada is made with pork, sausage, cabbage and beans. In the Algarve you are likely to find a Feijoada de Buzinas - which is made with Whelks or a Feijoada de Choco, made with cuttle fish. All are very tasty, quite filling and very healthy dishes.
Caldeirada (Fish Stew)
A mixed fish stew usually containing some shellfish and white fish with potato, tomatoes, peppers and onions as the base. The secret to a good Caldeirada, apart from the fish of course, is the correct layering of the various ingredients so that the flavours mix properly. A generous spalsh of white wine and lots of herbs completes the recipe.Combining rich flavours, this is a very Algarvian dish and is served at the table from the large pot it was cooked in.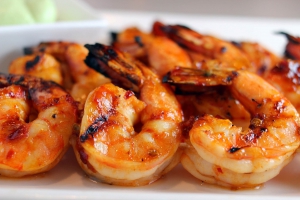 Camarão (prawns)
Boiled, fried, peeled or with heads and all, prawns are always a great option. It's hard to beat prawns fried with lots of garlic and some piri-piri for a full flavour punch. Keep an eye out for some of those large tiger prawns - grilled over charcol, they are totally delicious.
Pastel de Nata (Custard pastry)
Portugal's favorite sweet treat. Small open pastries with a sweet custard filling and a carmelised sugar topping, you can find Pastel de Nata is every coffee shop in the land. The pastry should be flakey and light, the filling creamy, eggy and sweet. The best Patel de Nata are actually known as Pastel de Belém, as they are made in the Belém area of Lisbon and their recipe is a closely guarded secret since the very first pasteis were made 1837. These delicious little cakes are available around the world, including China.
Doce Fino do Algarve (marzipan sweets)
Doce Fino are the small marizpan treats shaped and sculpted in different forms, usually fruit but also animals and even people, beautifully coloured and amazingly lifelike. Made from almond paste, they are part of a tradition that can trace its roots back to the Moorish times. An excellent dessert, they also make a great souvenir gift.

YOU MIGHT ALSO LIKE