Salema
A quaint seaside village on the Algarve's west coast with Dinosaur footprints!
Salema is a quaint seaside village on the Algarve's west coast, with a popular beach with dinosaur footprints!. Find the best restaurants in Salema, popular walking trails, bike rides and things to do in Salema, one of the Algarve's most charming fishing villages.Â

Follow a winding road through a deep valley from the EN125 in western Algarve and you arrive in the petite fishing village of Salema. Nowadays, one side of the valley houses the original village, with it's fishing cottages lining a road to neighbouring Burgau. The other hillside has become host to holiday apartments with enviable views out to sea.
With it's small size and quaint homes, Salema still retains plenty of the original charm. There are still a number of local fishermen who now enjoy celebrity status.. watching the tourists who are watching them.
Salema beach is very pleasant, family friendly and clean with amenities close at hand including cafes and restaurants right on the waterfront serving fresh fish. It is ideal for keeping an eye on the kids while relaxing and watching the view. It is perfect for a laidback family holiday and tends to attract people seeking peace and quiet. And, pretty amazingly, there are dinosaur footprints on the rocks at the western end of Salema beach!
There is a wide variety of accommodations dotted about the valley, including guesthouses, a hotel and private villa accommodation with spectacular views of the bay. Some are a steep climb on foot but it is certainly worth it for the views. VILA VITA Parc has some beautiful villas, the VILA VITA Collection, overlooking the beach is you want to add some luxury to the beach experience.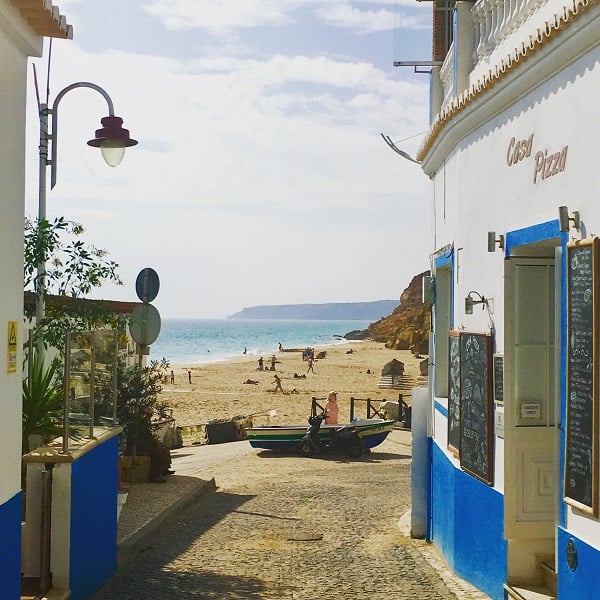 The road to Burgau takes you through a beautiful unspoilt valley which marks the beginning of the Costa Vicentina national park. It is ideal for a walk or a challenging bike ride through nature. The coastal road between Salema and Burgau, by Forte de Almadena, has some amazing views, but some pretty steep inclines too.
The village has a few shops and amenities including a bank machine. An Intermarche supermarket can be found further along the EN125 as well as a gas station.

You might also like: