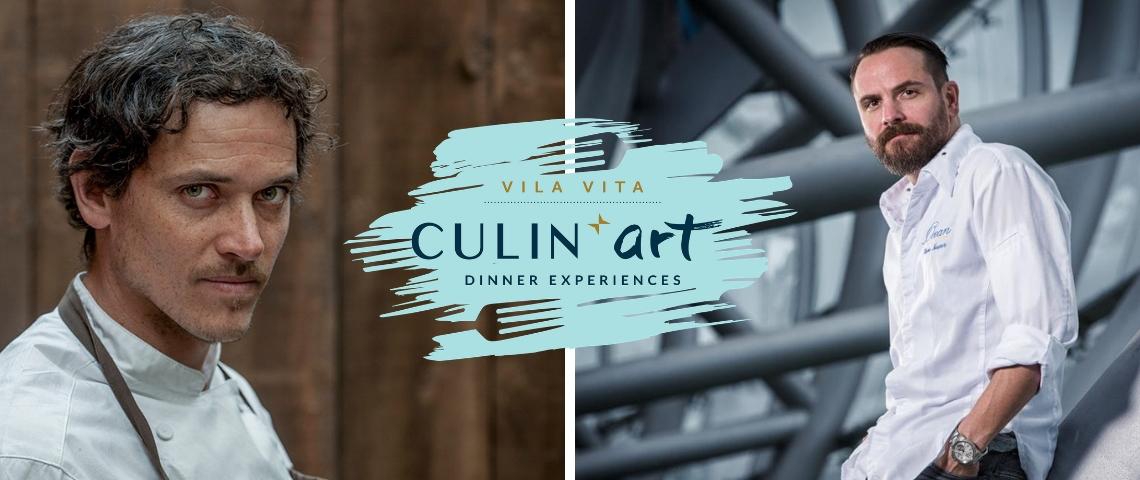 Culin'Art Dinners at VILA VITA Parc
4-Hands dinner collaborations with top international and national chefs at VILA VITA Parc
Sat Nov 17th 2018
---
Rua Anneliese Pohl

,

Alporchinhos

,

West Algarve

,

Porches
https://www.myguidealgarve.com/events/culinart-dinners-at-vila-vita-parc
---
Ocean Restaurant
MAKE ENQUIRY
Event Details
Celebarte the culinary arts with 4-Hands Culin'Art Dinners at VILA VITA Parc. Exciting collaborations between the resort's resident chefs and top international and national chefs are set to wow foodies and gourmands in a series of special events at the Algarve 5* resort, throughout 2018.

17th Nov. 2018 - Chef Rodolfo Guzmán joins Chef Hans Neuner at 2 Michelin Star Ocean Restaurant for an exciting 4 hands collaboration and gastronomic experience. Both chefs are passionate about using local, seasonal produce and allowing humble and sometimes overlooked native ingredients to shine in innovative dishes. Chef Guzmán, from Chile's BORAGó restaurant - distinguished in 2015 as the second best restaurant in Latin America and in 2018 one of the 50 Best Restaurants in the World - showcases traditional Chilean ingredients, from the land and sea, influenced by the traditonal food of the Mapuche people. His creations will harmonize beautifully with the creative cooking of Chef Hans Neuner, where instrincially portuguese flavours and dishes are transformed into delicious works of art, while keeping the faith with their local roots.

For €230 per person (drinks excluded), guests will have a unique opportunity to taste the extraordinary gastronomic creations of two of the biggest names in worldwide gastronomy, in the casual elegance of the Ocean restaurant, featuring sublime views over the Atlantic Ocean. Wine pairing is available for €125 per person.

For more information and reservations contact Ocean Restaurant at info@restauranteocean.com or +351 282 310 100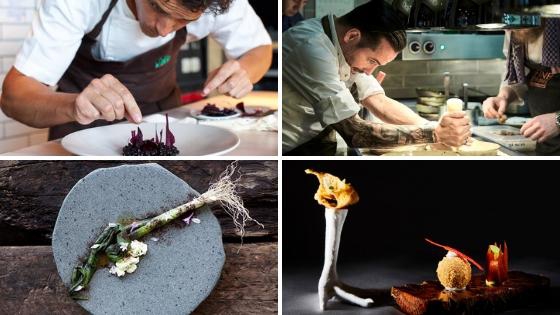 More about the Culin'Art Dinner Series at VILA VITA Parc

Following the hugely successful Four Hands Dinner Experience featuring chefs Hans Neuner and Christian Bau at Ocean Restaurant, holder of 2 Michelin stars, VILA VITA Parc is once again bringing something new to the portuguese food scene. The series of 4-Hands Culin'Art Dinners are a celebration of different cuisines and a joyful collaboration between top chefs, passionate exponents of their craft. Diners will be treated to unique menus, in a once-off pairing of skills and with the outstanding hospitality of VILA VITA Parc.

---
Happening throughout 2018, here are the previous Culin'Art Dinners dates:
Guest chef Chakall - 20th July at Whale Restaurant, VILA VITA Parc.
Chef Chakall
is a mediatic and inspired chef, with a passion for flavour fusion and travel. With several books published and his own TV show, Chef Chakall loves to showcase fresh and vigorous flavours. For the
4 Hands Culin'Art Dinner
at
VILA VITA Parc
, Chef Chakall joins with
resident chef Alessandro Puleo
and together they will create a magical menu of Argentinian and seaside flavours - a menu that fits perfectly with the setting with views across the infinity pool and Atlantic ocean.
The menu will feature Mini-Provoleta Cheese with Parma Ham, an Empanada Duo, a Rib-eye Steak with Chimichurri, Salsa Criolla and Rustic and Sweet Potatoes, and for dessert, a typical Rogel Pie. Chef Alessandro Puleo will be complementing this surprising menu with the fresh flavours of a Prawn Taco and a Rock-Bass Ceviche.
The eclectic menu will also be paired with a selection of fresh cocktails and accompanied by the sounds of a live DJ and saxophone player.
The menu is available for €55 per person, excluding beverages, and for €100 including wine and cocktail pairing.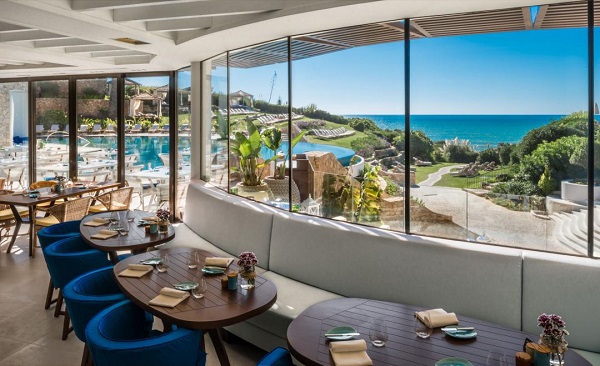 Adega Restaurant
is VILA VITA Parc's home to Algarve and Portuguese flavours, where the best of traditional portuguese cusine is celebrated.
Chef Nuno Barros
, from 1300 Taberna restaurant in LX Factory, Lisbon, joins the Adega team for one evening only. Portuguese flavours with a dash of creativity for added delciousness.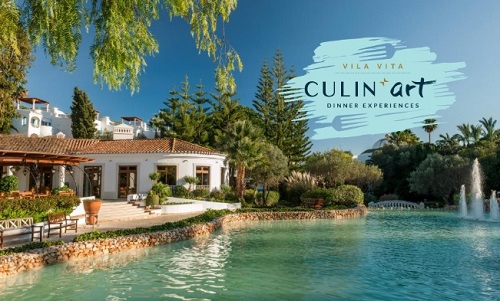 Resident Chefs Luís Rodrigues and Amândio João will open their kitchen to Chef Nuno Barros and together they will craft a menu that celebrates Portuguese flavours using the best national, local, seasonal and organic products.
The
6 course menu
pays homage to intrinsically Algarvian dishes, created with modern techniques and flair, seasoned with pride in local flavours.
The menu includes the famous Pickled Algarve Carrots, Smoked Tuna with "montanheira" salad, Xerém with Razor Clams, Oysters and a selection of sausages from Monchique, "Carapau Alimado" mackerel in olive oil and garlic and famous Octopus with Sweet Potato from Aljezur on the Costa Vicentina.

Wines from the excellent Quinta de Sant'Ana estate in the Lisbon region will be available to accompany the dishes.

Price per person €55 excluding drinks.
5th and 6th May 2018 - at Mizu-Teppanyaki Restaurant
Mizu Japanese restaurant
serves contemporay Japanese cuisine and is the setting for the first Culin'Art Dinner. Resident
chef Isa Pires
welcomes
Chef Daniel Rente
from Sushi Avenida Café in Lisbon. Together they will create flavours of the best of Japanese gastronomy.
Price per person: €60 excluding drinks.
See the menu below.
Mizu 4-Hands Menu by Chef Daniel Rente and Chef Isa Pires


Himalayan Salt Rock Sashimi (Chef Daniel Rente)
- Semy Fatty Tuna, caramelized Onion, Kizame Wasabi, Maracujá over Himalayan Pink Salt Stone.

Hammachi Sashimi (Chef Daniel Rente)
- Australian Yellowtail Sashimi, Samphire and Wakame Salad, Pesto and Black Salt Vinagrete.

Kombu Jime Toro Nigiri
- Aged Fatty Tuna Nigiri (Resident Mizu Chef)

Mille-Feuilles Tuna Tartar (Chef Daniel Rente)
- Tuna Tartar, MilFoil Pergamena, Kimchi.

Wagyu Truffle (Chef Daniel Rente)
- Wagyu Tataki, Truffle, Shimeji Tempura.

Tuna Foie Gunkan (Chef Daniel Rente)
- Tuna Gunkan, Fois Gras, Caramelized Red Onion.

Gindara No Saikyo-Yaki
- Black Cod, Miso Saikyo (Resident Mizu Chef)

Mizu
- Fuji Apple, Miso, Seaweed (Resident Mizu Chef)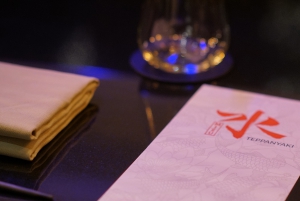 Mizu Japanese Restaurant, VILA VITA Parc