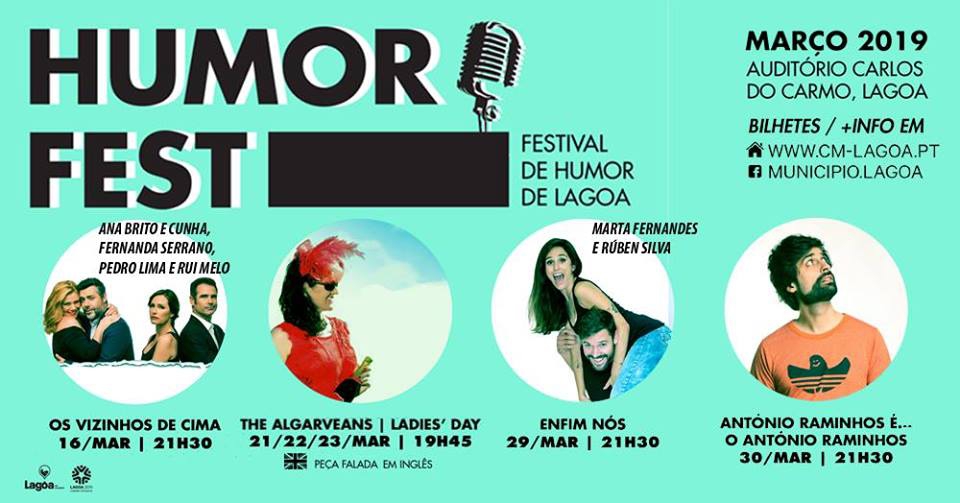 Humorfest Lagoa 2019
A programme packed full of great humor and comedy
Sat Mar 16th 2019 to Sat Mar 30th 2019
---
Algarve
,

Carlos do Carmo Auditorium

,

Lagoa
https://www.myguidealgarve.com/events/humorfest-lagoa-2019
BOOK NOW
Event Details
Humor Fest comes to Lagoa with a programme packed full of great humor and comedy.

Ana Brito and Cunha, Fernanda Serrano, Pedro Lima and Rui Melo will be on stage at Lagoa Auditorium to present the comedy 'Os Vizinhos de Cima' on March 16th. The English play 'Ladies' Day' by The Algarveans Theatre Group, runs from March 21st to 23rd and, on 29th Marta Fernandes and Rúben Silva with the piece 'Enfim, Nós', and finally, António Raminhos with his stand up show.

PROGRAMME
16th March | 9:30 pm
Os Vizinhos de Cima
Ana Brito e Cunha, Fernanda Serrano, Pedro Lima and Rui Melo

'Os Vizinhos de Cima' is a comedy that reflects on married life and sexuality through two couples living in the same building. A fresh and agile text in which Cesc Gay approaches with irony and humor subjects such as coexistence, courage, sex, love and appearances ...

21st, 22nd & 23rd March | 7.45
The Algarveans - Ladies' Day
English comedy

'All the charm of Calendar Girls and The Full Monty, with a good dollop of Dinner Ladies'

Life is one long, hard slog for fish-filleting foursome Pearl, Jan, Shelley and Linda. But could their fortunes change when they head to Ladies' Day at Royal Ascot? Factory hairnets and overalls are replaced with fascinators and frocks as they hit the roots for an unforgettable day out. Secrets are spilled with the champagne and friendships are tested. But if the ladies' luck holds, they could hit the jackpot - and more besides ...

29th March | 9:30 p.m.
Enfim Nós
Marta Fernandes and Rúben Silva

Zeca and Fernanda are about to spend their first Valentine's Day together since they started to live under the same roof. The night promises to be full of surprises ... after all, the two have news to tell. Everything would have been perfect if a small domestic accident hadn't resulted in the two of them being forced to spend the night locked in the bathroom.

30th March | 9:30 p.m.
António Raminhos is.....
António Raminhos is ... António Raminhos ...

With a solid career and reputation for packing theatres all over the country, he presents himself again in Lagoa this time with a stand-up comedy show based on his experiences on this planet that he is only visiting, and then back to the distant star where he was born ...

For ticket prices and sales, click the BOOK NOW button above.