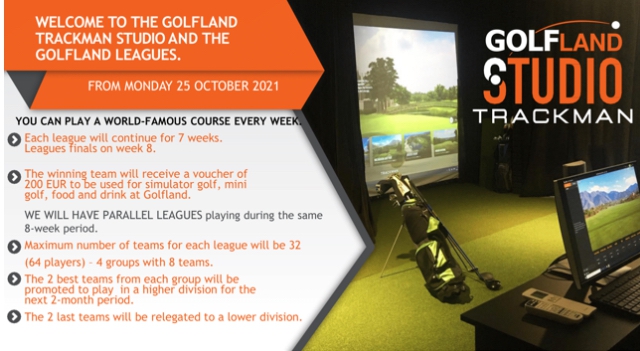 Event Details
Join Golfland's fabulous Trackman Studio Golf League. Play a famous course each week, compete against other teams, improve your golf and have fun! Plus, there's a prize to be won!

Golfland is a super family entertainment park plus a centre for avid golfers. There's mini-golf, a bar and restaurant, and Trackman Simulators that allows you to play the world's top courses.

The Golfland Trackman Studio Golf League kicks off on 25th Oct. and runs throughout the year. Each league runs for 8 weeks. And each week you can play a different world-famous course - St. Andrews, Pebble Beach, Le National....
The Trackman Simulators allow you to experience some of the world's most famous golf courses in amazing detail. Play is smooth and all the data is shown with spot-on accuracy.

The league is designed to be fun and sociable and there is no entry fee for each league - you just pay for the green fee per match which is €15 per player.
The winning team receives a €200 Golfland voucher.

See all the details about the league and how to join in the image below.

For more information and to sign up for the league, click the BOOK NOW button above.