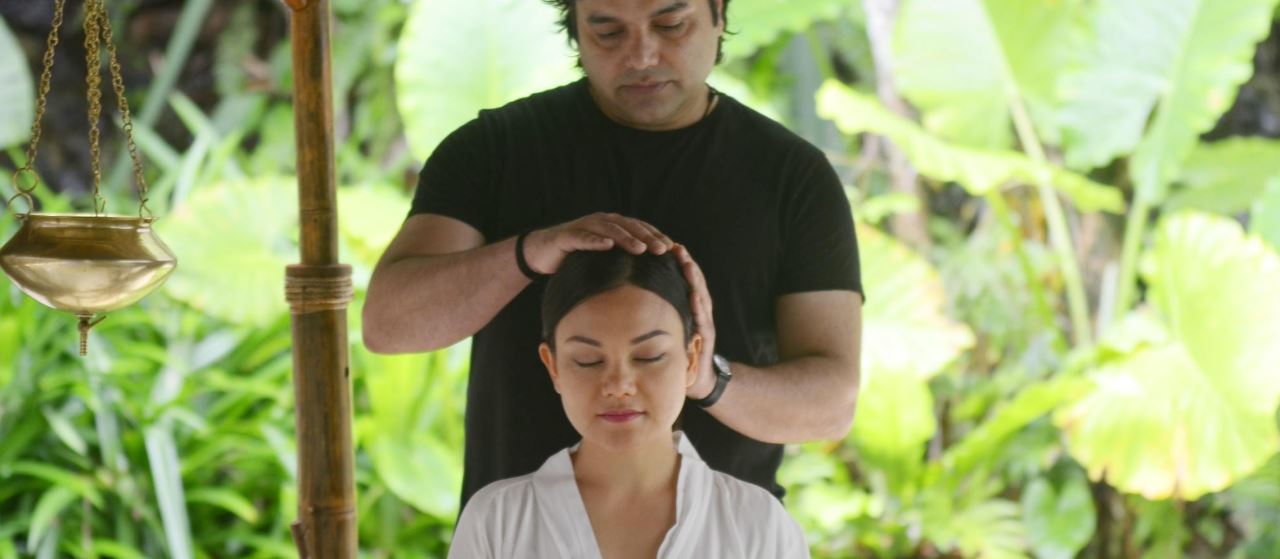 Suraj Varma at VILA VITA Spa by Sisley
One of the world's best holistic therapists at VILA VITA Parc
Sat Sep 25th 2021 to Sat Oct 16th 2021
---
Rua Anneliese Pohl

,

Alporchinhos

,

Porches
https://www.myguidealgarve.com/events/ayurvedic-guru-at-vila-vita-parc
---
Vila Vita Parc Resort & Spa
MAKE ENQUIRY
Event Details
Suraj Varma, one of the world's best holistic therapists, specialising in Ayurvedic treatments, will be at VILA VITA Parc Spa by Sisley.

Guests and non-guests of VILA VITA Parc are invited to enjoy individualised treatments, targeted to their own personal needs from 25th September to 16th October 2021.

Considered one of the very best therapists, Suraj Varma's treatments are known for their long term results in managing backache, stress, insomnia, poor circulation and sore muscles, among others. The treatments are a combination of the best of traditional therapies, including Ayurvedic massage, Prana Healing and Reflexology, with a variety of western techniques such as Aromatherapy, Lymphatic Drainage and Hot Stone Therapy.

Surja's treatments always begin with a 20-minute consultation where he pinpoints the main areas to address and defines the best technique to do so. No treatment is the same, as it is tailor-made to suit each client's profile and specific needs.

Treatments available:

Kerala Karma | 90 minutes | 195€
A traditional treatment based on Ayurvedic principles to achieve total relaxation and a renewed sense of energy. The journey begins with a body polish exfoliation, warm shower, followed by Brahmanam, a nourishing Ayurvedic massage, then a soothing facial with specialized movements to reduce wrinkles and create a radiant glow.

Ayurvedic Holistic Balancing | 120 minutes | 220€
An intensive treatment that aims to completely de-stress the guest, then correct imbalance between the tridoshas (Vatha, Pitha, Kapha) and is especially helpful for those suffering from poor memory, lack of energy, headaches, insomnia, and spondylitis. After a detailed consultation, treatment starts with a herbal oil scrub followed by Abhyanga-Ayurvedic warm oil massage incorporate with hot stone massage. The massage techniques used work on balancing the seven charkas in the body. The treatment concludes with Shirodhara, a deeply relaxing procedure that pours warm Ayurvedic oil on the 'third eye' area of the forehead.

Marma Deep Tissue Massage | 75 minutes | 170€
An ideal treatment for those who spend long hours at a desk or on the computer, or those whose bodies may be stressed from workouts. The treatment is designed to release deep seated tension in the body and to promote circulation. Dosha specific Ayurvedic oils are massaged in tot he key points of the body.

For more information or to book follow the ENQUIRY link above.
To book a treatment call (+351) 282 310 100 or (+351) 282 320 351,
or email spa@vilavitaparc.com.

About VILA VITA Spa by Sisley
The first Sisley branded spa in Portugal. Over 17,000sq ft of luxurious, graceful and contemporary styling, inspired by the Algarve's magical sea-caves, await you. Tranquil tones of blue and green evoke the ever-changing colours of the ocean, while the apertures and lighting evoke the natural openings in the the caves, creating a tranquil retreat from the rigors of daily life. Already a haven of relaxation, VILA VITA Parc's wellness offering is enhanced by the state-of-the-art spa, bringing even greater well-being to all who visit.

About Surja Varma
Suraj Varma learned from his father the power of healing through touch. He then continued his education at the prestigious Ayurvedic Hospital at Coimbatore in Kerala, India, after which he joined the 5-star Sheraton Doha Hotel in Qatar. Here he was promoted to Senior Therapist while having the opportunity to work with high profile clients such as Sheiks, politicians from all over the world, business leaders and professional athletes.

Surja's reputation, acquired through his natural healing ability and highly empathetic approach, grew throughout the years, resulting in opportunities such as being hired by the renowned British Spa brand E'Spa to create unique signature treatments, and being invited by Dr. Mosaraf Ali, founder of the renowned The Integrated Medical Centre, in London, to join his practice. He was also invited to collaborate with the Blakes Hotel as a therapist consultant and with the award-winning Chancery Court Spa as a Senior Therapist. Nowadays he travels the world as a freelance Holistic Therapist, collaborating with some of the world's best Spas in a regular way. His name and treatments have already been featured in prestigious publications such as Vogue or Tatler.


---
Other Events from Vila Vita Parc Resort & Spa