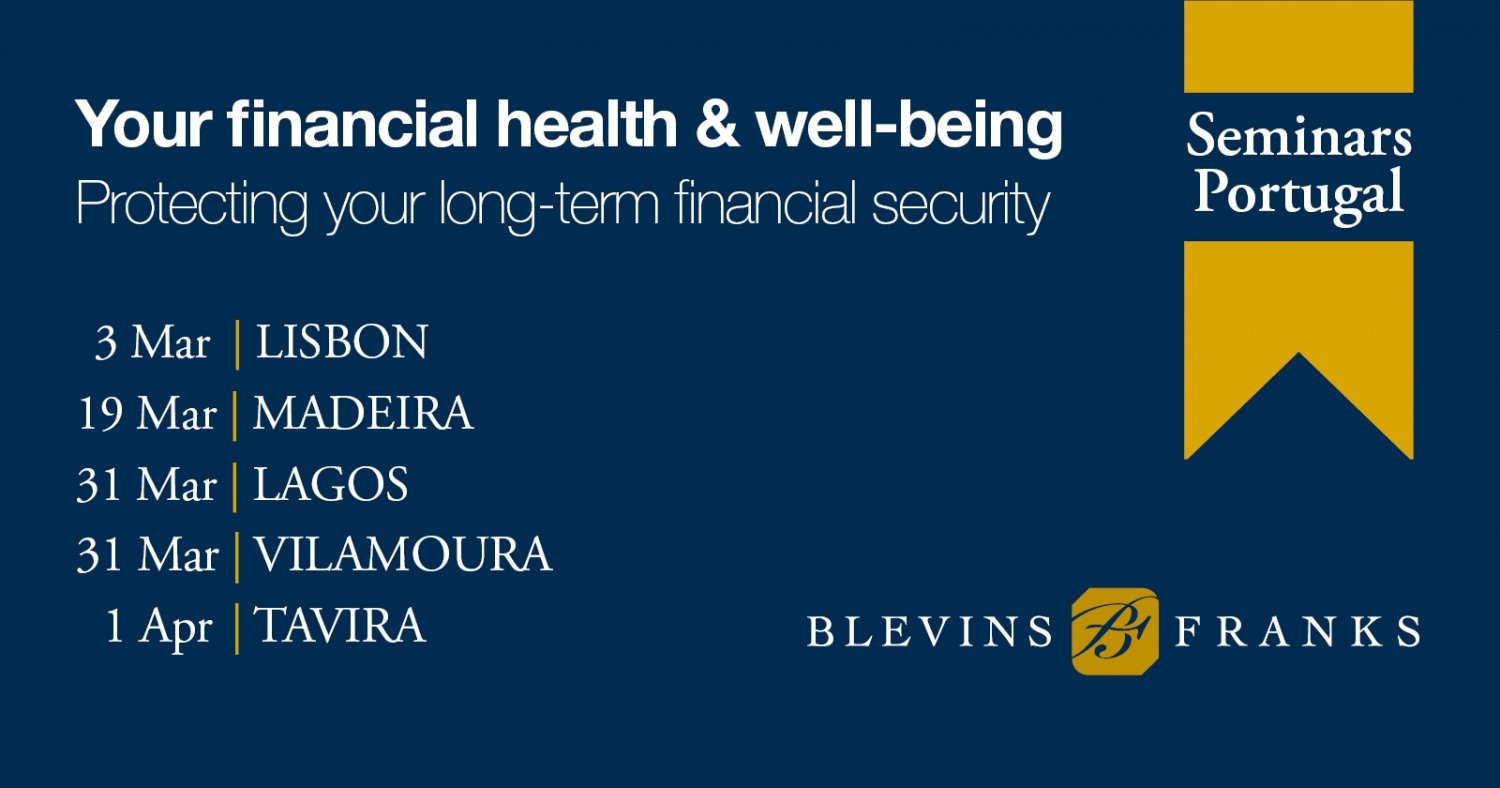 Your Financial Health & Well-being: Belvins Franks Seminars
Protecting your long-term financial security
Tue Mar 3rd 2020 to Sun Mar 22nd 2020
---
Ed. Ansifi, EN 125

,

Algarve
https://www.myguidealgarve.com/events/your-financial-health-well-being-belvins-franks-seminars
---
Blevins Franks
MAKE ENQUIRY
Event Details
Blevins Franks seminars in Portugal, discussing your financial planning in Portugal, with a focus on changes to Non-Habitual Residency tax allowances and updates on the impact of Brexit as well as estate planning and a financial health check.

Blevins Franks hold seminars twice a year at various locations in Portugal, aimed at expatriates already living here as well as those still planning their move. Their seminars this spring discuss holistic financial planning in Portugal, with a focus on:

Brexit update – what we know now and what you need to do
Non-Habitual Residence changes – lump sum pension transfers and tax allowances
Estate planning – planning for life's advances and your family's future
The right time to invest – what have we learned from the past
Choosing investments – property vs liquid assets, and the rollover relief
Financial health check – how regular holistic reviews protect your wealth
The seminars are held in a variety of locations including the Lisbon area, Madeira and several locations in the Algarve.
Use the links below to reserve your place online, call 289 350 150 or click the

Enquiry

button above.
Lisbon area:
3 March |
ESTORIL
Madeira
19 March |
FUNCHAL
The Algarve
31 March |
LAGOS
31 March |
VILAMOURA
1 April |
TAVIRA
If you can't make these seminars but would like to be informed about future Blevins Franks events,
sign up for their eNewsletter
and you will also receive seminar invitations, delivered to your inbox.
Blevins Franks Financial Management Limited (BFFM) is authorised and regulated by the Financial Conduct Authority in the UK, reference number 179731. Where advice is provided outside the UK, via the Insurance Distribution Directive or the Markets in Financial Instruments Directive II, the applicable regulatory system differs in some respects from that of the UK. Blevins Franks Trustees Limited is authorised and regulated by the Malta Financial Services Authority for the administration of trusts and companies. Blevins Franks Tax Limited provides taxation advice; its advisers are fully qualified tax specialists. This promotion has been approved and issued by BFFM.