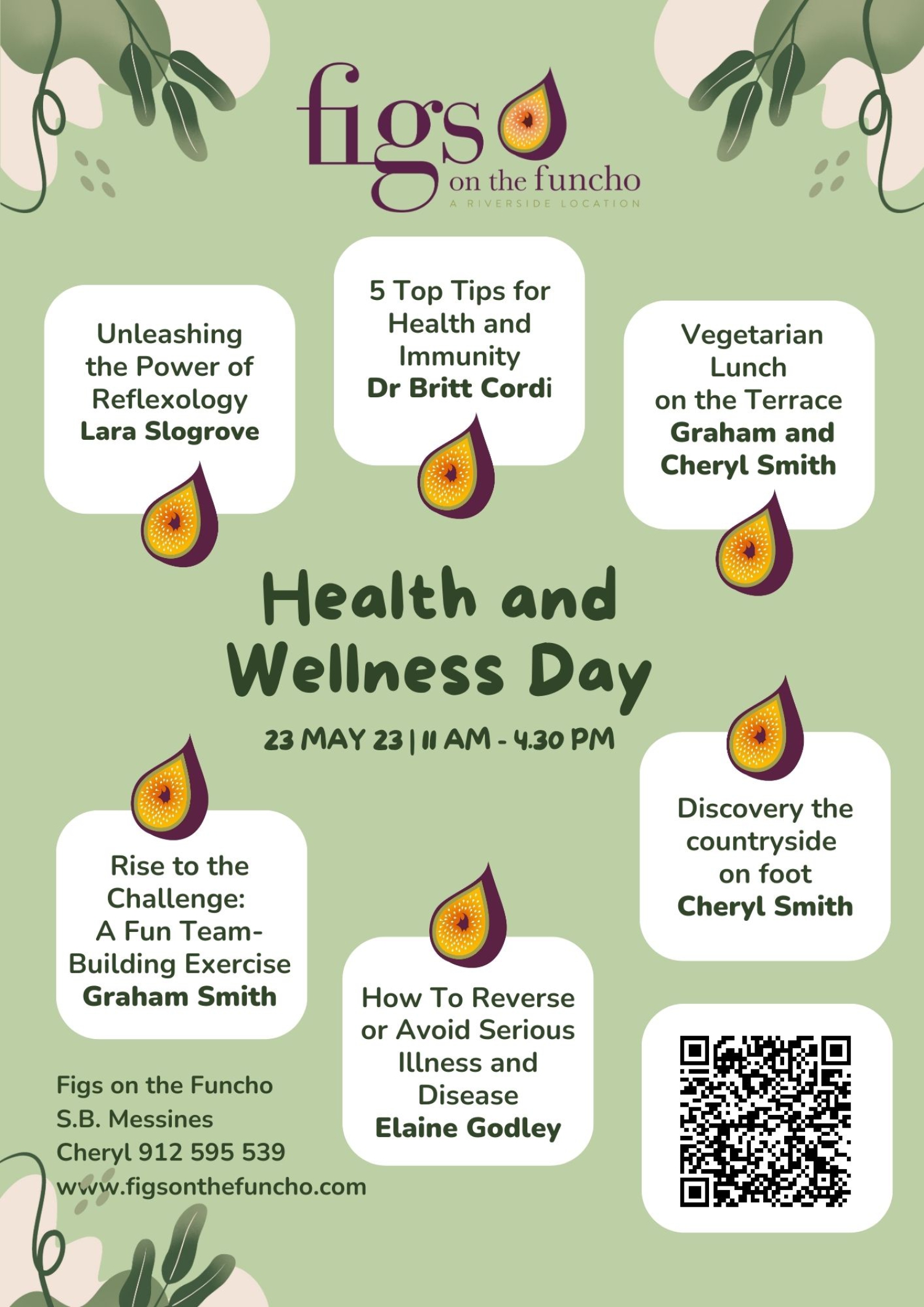 Health and Wellness Day with Lunch at Figs on the Funcho
Tue May 23rd 2023 at 11:00
---
Algarve
,

Monte Ribeira, Sant'ana

,

N A8

,

S.B. Messines

,

Algarve
https://www.myguidealgarve.com/events/health-and-wellness-day-with-lunch-at-figs-on-the-funcho
BOOK NOW
Event Details
Join us for a day of health and wellness at Figs on the Funcho, where you'll leave feeling refreshed and rejuvenated, ready to tackle life's challenges with renewed energy and motivation.
Begin the day by learning easy and relaxing techniques to improve your well-being, including hand reflexology with Lara.
Britt will talk about boosting your health and energy and share her top tips about immunity-boosting diets and superfood, followed by a fun team-building session with Graham.
After a delicious vegetarian lunch, Elaine will share her knowledge on natural approaches to wellness and disease prevention.
And to end the day enjoy a restorative walk, led by Cheryl, to allow yourself to connect with nature in the Algarve countryside and recharge your mental and emotional energy.

Health & Wellness Day - 23rd may 2023
€25 per person
Advance booking is required
Click the BOOK NOW button for details and tickets
🍃🍃 Itinerary 🍃🍃
Arrive for 11:00 for coffee/tea and a nutritional snack before we kick off our first workshop.
🍃 Unleashing the Power of Reflexology
The day will start with easy relaxing and calming techniques that you can do for yourself at home. Lara will explain the touch points on your hands and feet followed by a demo on how to do a hand reflexology session on yourself.
👧 About Lara Slogrove
Lara understands that every body has a story to tell. She strongly believes that when our bodies are balanced, pain-free, and feeling good, we can be our best selves and fully enjoy our time with loved ones. Whether you're seeking a soothing massage or a targeted treatment to address a particular issue, Lara is here to help. With over 25 years of experience, she is confident that she can meet your expectations and help you feel your best.
Passionate about rehabilitation work and restoring balance to the body, Lara Slogrove is a professional South African Sport Massage and Beauty Therapist. With over 25 years of experience, her unique technique involves listening to the body through massage and targeting areas of concern to relieve discomfort. Lara obtained a National Diploma at the Technikon of Witwatersrand in Johannesburg in 1993 after completing 3 years of study. She offers an array of massages and treatments including relaxing Swedish massage, deep tissue massage, rehabilitation treatments, manual lymph drainage, reflexology, and sport massage.
🍃 5 Top Tips for Health and Immunity
Britt will talk about how you can boost your health and energy through very simple steps, which are backed up by the latest research. She will reveal what an immunity boosting diet contains and show you how you can improve your general wellness and energy levels through superfoods such as wheatgrass juice. Refreshing superfood health drinks will be served.
👧 About Dr. Britt Cordi
Dr. Britt Cordi is the founder of Britt Superfoods, an international company producing organic, raw, vegan superfood juices, rich in natural nutrients. She has PhD in cell biology and has discovered the health benefits of wheatgrass juice and other Superfood juices through her research and also through her own health issues.
She works closely with health practitioners who recommend health enhancing natural foods to their clients to improve their health and wellness. She is passionate about applying a holistic 360° approach to health.
Britt regularly travels around the UK and Europe enthusing others through her talks on the latest research into how to maintain and improve our health through natural health foods.
🍃 Rise to the Challenge: A Fun Team-Building Exercise
Graham will organise a fun activity as a group to help foster a sense of camaraderie and improve relationships between network members/participants.
🤦‍♂️ About Graham Smith
As one of the co-founders of Figs on the Funcho, Graham draws on over 30 years of experience in the IT industry, where he has successfully led large teams through transitions to more effective and efficient ways of working. He understands the importance of team building and believes in fostering collaboration and camaraderie through fun and engaging activities. Graham is passionate about helping groups not only work well together, but also enjoy the process.
🍃 Vegetarian Lunch on the Terrace
A nutritional vegetarian lunch served on the terrace overlooking the hills populated with cistus shrubs blooming with the gorgeous white rock rose flowers.
🍃 How To Reverse or Avoid Serious Illness and Disease
Elaine shares her wisdom and experiences on how to reverse serious illness and disease using a natural or integrated approach to wellness and how to avoid becoming sick.
👧 About Elaine Godley
Elaine is a multi-award-winning health and wellbeing mentor, behavioural psychologist, published author and speaker who beat 4 cancers and kidney disease. She now shows others how to reverse or minimise risk of serious illness through her DISCPlus online health programme.
🍃 Walk in the Algarve Countryside
Cheryl will lead the out-and-back walk, starting from Figs on the Funcho, and will follow the path along the river Funcho and pass through pine and cork forests before reaching the Sant' Ana church perched on the hill. The walk will take roughly an hour.
👧 About Cheryl Smith
Cheryl and her husband, Graham, offer a variety of walking and painting packages in the Algarve region. With a passion for Portugal, Cheryl loves to experience the area's culture, cuisine, and natural beauty. Her focus on well-being and work-life balance is evident in her approach to planning holidays, which prioritise mindful connection and joyful living. With over 20 years of experience in the Algarve, Cheryl is dedicated to sharing her love of the region by exploring new beaches, restaurants, and traditional villages, ensuring an unforgettable experience for all.
Health & Wellness Day - 23rd may 2023
€25 per person
Advance booking is required
Click the BOOK NOW button for details and tickets