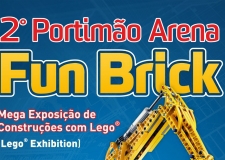 Event Details
Remember building with Lego? This exhibition is not just for the kids!

Between 16th August and 4th September, Portimão's Trade and Exhibition centre welcomes the 2nd Portimão Arena Fun Brick Exhibition.

This is a mega exhibition of building with Lego. It will feature the largest city with buildings in the country, covering over 90sqm of a single table, with approximately 5 million colourful Lego pieces, designed and built by a single collector.

OPENING TIMES
2pm - 8pm, Mondays to Thursdays
2pm - 10pm, Saturdays
10am - 11pm, Sundays

PRICES :€3.50 - Adults | €2 - Children dos 4 to10 years.

Well worth a visit.