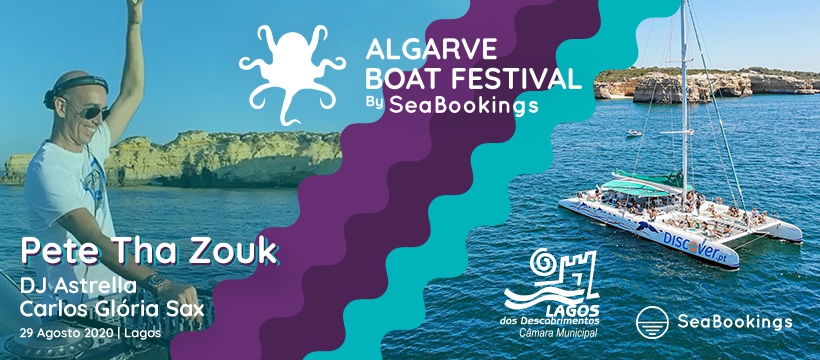 Algarve Boat Festival by Seabookings
A socially distant festival at sea!
Sat Aug 29th 2020
---
,

Algarve
https://www.myguidealgarve.com/events/algarve-boat-festival
---
SeaBookings.com
MAKE ENQUIRY
BOOK NOW
Event Details
Algarve Boat Festival - private parties on multiple boats, dancing to the same sounds, to make one big boat show! DJ sessions, open air dance floor, good vibes and socially distant. 29th August 2020. Book now - places are limited!

The Algarve Boat Festival takes place on 29th August to mark the traditional 'Banho 29', a day usually filled with activities, sports, fun and parties. This year the fun moves to the sea.

Seabookings, with the support of Lagos Camâra and Lagos Marina, hosts the Algarve Boat Festival where multiple boats come together at sea to dance and enjoy the great sounds. There is one central stage-boat, reserved for DJs and staff only. They'll pump out the sounds to the multiple boats that join the festival. Each boat is it's own dance floor, close to but separate from other boats, with limited places available.

With the vast ocean to enjoy, fresh air to breath and fabulous sunshine to lift your spirits, each boat becomes the best possible dance floor in 2020.

In its first edition, the Algarve Boat Festival line-up features top Algarvian DJ Pete Tha Zouk, along with DJ Astrella and Carlos Glória Sax to make the boats dance to the rhythm of the summer.

The Festival starts at 3:30 pm an amazing setting in front of emblematic Praia Dona Ana, and will last for 3 hours.

Tickets can be purchased online, through the festival website or email.
Click the BOOK NOW button above.

There are options for individual ticktets on boats such as the beautiful and traditional Bom Dia boats, from just €15 per person, or full boat charter. If you're a boat owner, you can book to bring your own boat.

For those who are unable to be physically present, the Festival will be available to everyone through live streaming.

Please note that due to Health and Safety restrictions in place, there is limited capacity. The event follows the guidelines issued by the Directorate-General of Health of Portugal (DGS).